It has been over 2 months of war following Russia's invasion of Ukraine. Many restaurants in Miami are doing their part in the relief effort by hosting events to raise money for those affected by the war. Food has a unique ability to unite people. In desperate times it is an indispensable part of not only nourishment but also joy and care. A meal can bring warmth even to where it's been lacking for many days in a moment's time.
World Central Kitchen is a non-profit organization that provides meals at times of disasters. WCK's team arrived at the Polish-Ukrainian borders almost immediately after the war broke out, feeding thousands of people crossing to safety. During harsh weather conditions, refugees were handed warm soups, stews, and hot chocolate. Over the following weeks, WCK continued to set up facilities across Ukraine's neighboring countries of Poland, Moldova, Romania, and Hungary, as well as throughout Ukraine's cities and villages. To this day, WCK has served over twelve million meals in more than 330 locations.
Many of Miami's restaurants have also joined the relief fund, with proceeds going to World Central Kitchen and other organizations. Here's how Miamians can contribute to the efforts:
Baires Grill
Baires Grill is an Argentinian grill chain with five locations across Miami. In collaboration with Mayor Francis Suarez and the City of Miami Commissioners, they have launched a campaign to help Ukrainian refugees receive transportation, housing, and employment at one of Baires Grill locations. Diners of Baires grill continue to support the restaurant's efforts.
Baires Grill has multiple locations across Miami. For more information, visit their official website.
COTE
COTE Miami is offering their hand-crafted Peace for Ukraine cocktail as part of their ongoing initiative to support Ukraine. COTE, America's first Korean Steakhouse, is offering the cocktail at both their Miami and NYC locations. Crafter by their principal bartender Sondre Kasin, the cocktail is a mix of Chopin Vodka, Lustau Fino Sherry, lemon juice, mango syrup, and blue salt and flowers—a beautiful homage to the colors of the Ukrainian flag. Half of the proceeds of each cocktail, which is sold at $20, will be donated to World Central Kitchen.
COTE is located at 3900 NE 2nd Ave, Miami, 33137. For more information, visit their official website.
I Knead More
I Knead More is a concept bakery located in Downtown Miami that provides the city with baked goodies and pastries made from quality ingredients while showcasing bold flavor profiles. Now through mid-May, the bakery is selling Pampushky—traditional Ukrainian garlic bread flavored with an aromatic topping of fresh dill and parsley. Proceeds from Pampushky sales will go towards World Central Kitchen.
I Knead More is located in Downtown Miami. You can order from their official website.
LEKU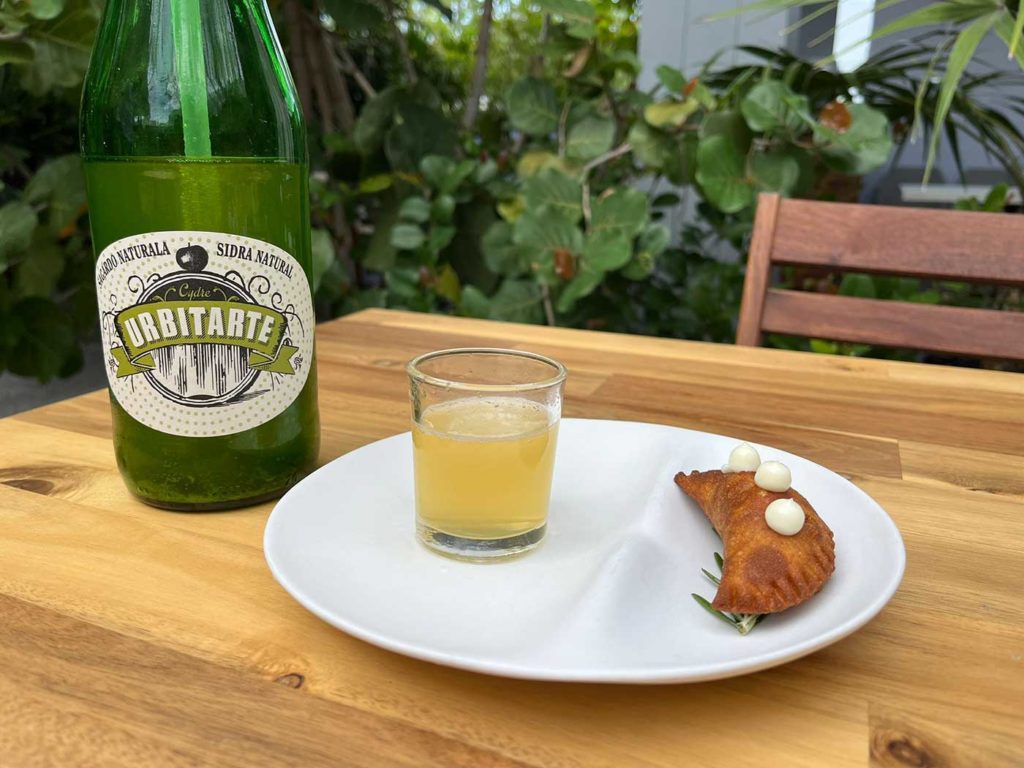 LEKU is an award-winning restaurant that brings the experience of dining in Spain's enchanting Côte Basque to Miami. Located inside the notable Rubbell Museum, LEKU is surely a venue not to be missed by the Miami epicurean. Furthermore, recently the restaurant unveiled its newest offering—a traditional Basque appetizer. The Talo Txistorra is a small chorizo empanada accompanied by a shot of natural cider. Priced at $5, all the proceeds from its sales will be donated to support the efforts of World Central Kitchen.
LEKU is located at 1100 NW 23rd St., Miami, FL 33127. For more information, visit their official website.