For some restaurants, wine selections are an afterthought. For others, wine is just as important as food. At these six hot spots, wine lovers will find a treasure trove of tasty vino.
Costa Med
Dish Miami readers know that Costa Med is the go-to spot for Mediterranean food. But did you know that Costa Med also boasts an impressive wine list? Enjoy one of Key Biscayne's best wine selections at this intimate eatery, where guests can savor rare finds while dining on steak tartare, seared scallops, lobster ravioli, and veal chop. As you'd expect, the wine list leans on European selections but there's something for everyone.
Costa Med is located at 260 Crandon Boulevard, #46, Key Biscayne, FL 33149. For more information, visit their official website.
Happy Wine
Happy Wine on Calle Ocho lives up to its name: You can't help but feel happy when you lay eyes on the vast wine selection at this humble shop. Pick up a bottle – or five – off the shelf to build up your home bar or just enjoy your wine on-site. The United States, Italy, Argentina, Spain, Chile… These countries and many more are represented among the hundreds of bottles up for grabs. If you do choose to drink here, Happy Wine offers tapas galore including garlic shrimp, Spanish tortilla and croquettes.
Happy Wine is located at 5792 SW 8th Street, Miami, FL 33144. For more information, visit their official website.
Margot Natural Wine
After numerous delays, Margot Natural Wine in Downtown Miami is finally open. The natural wine bar from the team behind the city's beloved bar Broken Shaker was worth the wait. The beautiful venue features over 75 wine selections across the spectrum: reds, whites, skin contact, and more. Because the menu is so vast, we suggest opting for the $30 flight, which rotates regularly and includes three generous pours. Food-wise, the menu is small but mighty with items like fondue, ham and chips, and salmon crudo.
Margot is located at 21 SE 2nd Avenue, Miami, FL 33131. For more information, visit their official website.
Osteria Del Teatro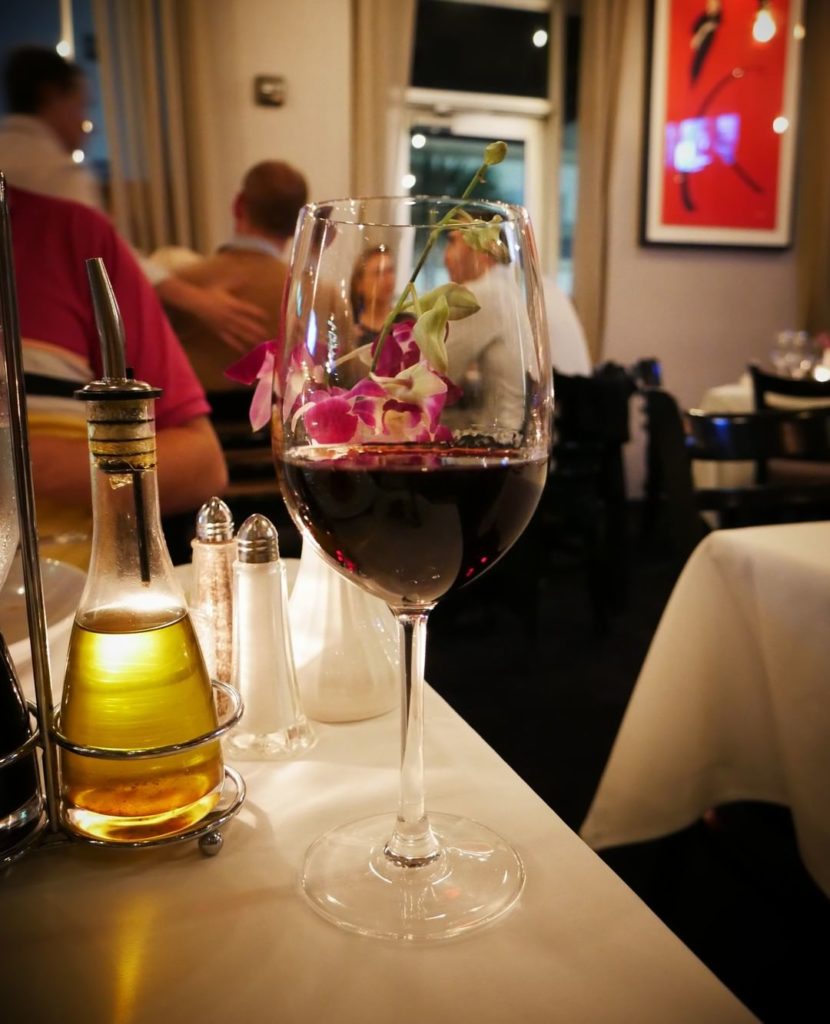 Miami Beach's Osteria Del Teatro is known for not only its delicious food, but its extensive menu. That extends to its wine list, which is home to dozens upon dozens of memorable bottles. While indulging in delectable bites like spaghetti puttanesca, veal scallopini, and mushroom polenta, choose from wines from France, Germany, New Zealand, and – of course – Italy. There's too much to list in this paragraph, but suffice it to say, there's a lot of drinking to be done here. Pro tip: Ask about the "verbal specials."
Osteria Del Teatro is located at 1200 Collins Avenue, Miami Beach, FL 33139. For more information, visit their official website.
Red South Beach
When a wine list is recognized by Wine Spectator, you know you're in for a treat. Red South Beach has wowed diners for years, delivering an unmatched dining experience. A big reason for its longevity: quality AND quantity. The South of Fifth steakhouse not only cooks up succulent steaks galore, but also serves up a constantly rotating wine list with selections from across the globe. It'll take multiple visits to make a dent in the menu, and no two visits are alike except in quality. Visit on Wednesdays for 50% off most bottles.
Red South Beach is located at 801 South Pointe Drive, Miami Beach, FL 33139. For more information, visit their official website.
Toscana Divino
You won't find a larger wine selection than the one at Toscana Divino in Brickell. There are more than 2,000 bottles available for your enjoyment. And yes, you read that number correctly. While Toscana Divino's wine list can be intimidating – especially for newbies – the restaurant's stellar service will help you find the perfect selection.
As you've likely guessed, there is a ton of Italian wines on the list, but other countries are well represented throughout, too. You can easily spend your whole day here just drinking wine… Yet you should definitely get some food as well. Some highlights: the crab salad, Berkshire pork chop, and lasagna.
Toscana Divino is located at 900 South Miami Avenue, #185, Miami, FL 33130. For more information, visit their official website.