With Thanksgiving right around the corner, so many local eateries are cooking up a serious feast. From an abundance of prix-fixe menus and pick-up dinner options celebrating the glorious Turkey Day to boozy nighttime brunches and world cup specials, this month is sure to put a little gobble in your hobble (aka pep in your step).
Here are 15 specials, promos, and events to plug into your calendar.
Hutong Launches New Monthly Dark Brunch
Who says you can't have brunch for dinner? Hutong certainty won't stand in your way! In fact, the restaurant has just kicked off its new monthly "Dark Brunch," which will run from 7 p.m. until late at night.
Guests can indulge in unique dishes and curated cocktails starting at $98 per person for two hours of free-flowing drinks; an upgraded package with a bottle of Santa Margherita Sparkling Rose ($120 per person) or a $155 per person option which includes a bottle of Taittinger Champagne.
Highlights from the menu include the eatery's signature dishes such as the Spring Vegetable Bao and Pan Seared Roasted Pork Bao, as well as unique options such as Wasabi Okra or Wagyu Beef Millefeuille to start and Duck Fried Rice or Ma La Beef Tenderloin as an entrée. Wrapping the meal up on a sweet note, guests can opt for the Ginger Chocolate Mousse or Sweet Umami.
Hutong is located at 600 Brickell Ave, Miami, FL 33131. For more information, visit their official website.
RED South Beach Kicks Off New Sunday Brunch
On Sundays, from 11:30 a.m. to 2:30 p.m., you can now enjoy RED chef Peter Vauthy's new extravagant twist on brunch. For $89, guests can indulge in brunch with unlimited Telmont Champagne + mimosas, bellinis, and bloody marys. Those looking to up the ante can opt for the $149 option which comes with Ruinart Rose champagne and a selection of cocktails, while those ready to go all out can grab the $349 option with 2012 Veuve Clicquot La Grande Dame and a selection of cocktails.
Menu highlights include unlimited options like blue crab ravioli with crab cream, truffle pasta with porcini and black truffle cream, oysters on the half shell, and more. Entrées include items such as Filet Medallions on brioche, served with poached organic eggs and crab bearnaise; Lobster Pot Pie with Maine lobster, petite vegetables in cognac cream with puff pastry; Chicken & Waffles with crispy chicken thighs, house-made waffles, cinnamon crème fraiche, and wood creek maple syrup; and more.
Shoma Bazaar Celebrates the FIFA World Cup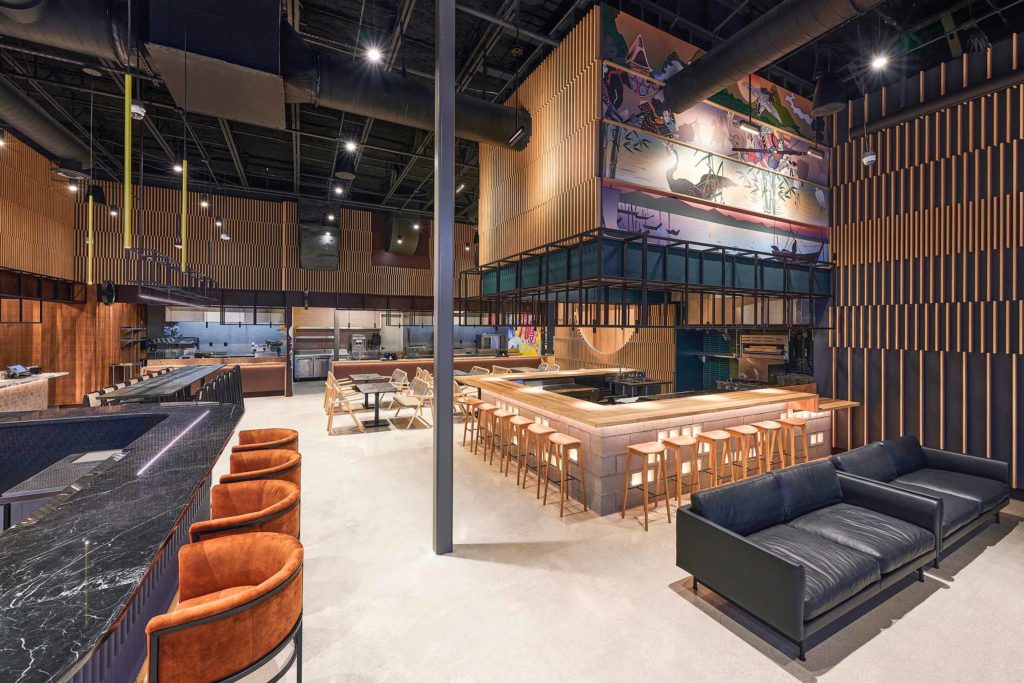 November 20 through December 18, guests are invited to Shoma to watch the tournament on their 20 by 12-foot ultra HD screen and, of course, some ice-cold brews. During this time, Shoma will be offering five beers for $5, featuring a selection of Corona, Modelo, Sapporo, Heineken, Stella, Imperial, and Quilmes beer. Once all that beer makes you hungry, you'll be able to order from over 16 of their onsite vendors.
Shoma Bazaar is located at 9420 NW 41st St, Doral, FL 33178. For more information, visit their official website.
WHERE TO CELEBRATE THANKSGIVING
Whether you'd like to let someone else do the cooking for you but still host the party yourself this Thanksgiving or you're looking to spend the night on the town, we've rounded up a few eateries that are open on Turkey Day for dine-in, take-out, or both.
4 Rivers Smokehouse
This award-winning barbecue restaurant will do the slow-cooking for you if you so choose. 4 Rivers Smokehouse will be offering a variety of proteins and sides for parties up to 20, including items like smoked turkey, boneless ham, signature Angus brisket, smoked salmon or prime rib. Main selections run between $69.99 to $199. Diners can also opt for the Fixin's Package which includes mashed potatoes, gravy, sweet potato casserole, cornbread stuffing, Southern green beans, and cranberry chutney; as well as a plethora of a la carte items. Place your order by Saturday, November 19 by visiting their website.
4 Rivers Smokehouse is located at 2660 N University Dr, Coral Springs, FL 33065. For more information, visit their official website.
Casa Isola
Miami's favorite Italian osteria is celebrating Thanksgiving with a special catering menu for you to enjoy in the comfort of your home. Priced at $250, the meal serves up to eight people and includes a 10-pound roasted turkey, a 5-pound Bourbon Brown Sugar Roasted Ham, gravy, and sautéed green beans. Guests can also choose from various half and full trays of antipasti, pasta, and secondi, as well as charcuterie boards and desserts. Menu highlights include Brooklyn-Style Baked Clams, Isola Arancinis, Rigatoni alla Vodka, Eggplant Parmigiana, and more. Check out all options and pricing on their full menu.
Casa Isola is located at 1418 20th St, Miami Beach, FL 33139. For more information, visit their official website.
COTE Miami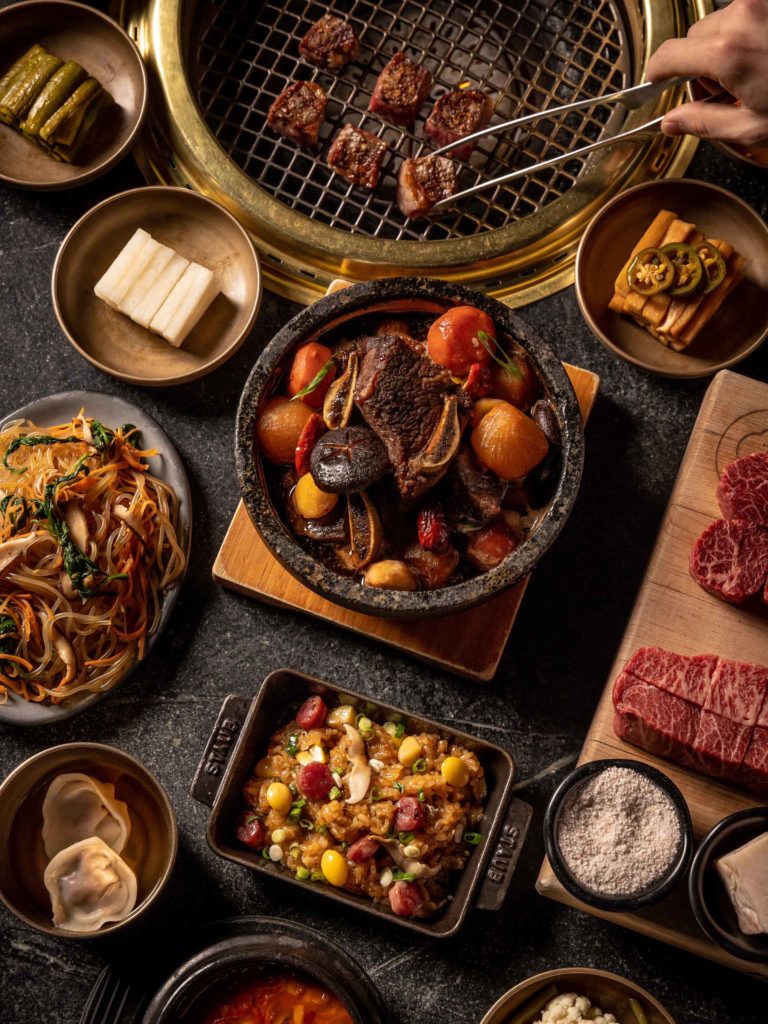 Anyone up for a Thanksgiving dinner from a Michelin-starred eatery? If so, you can enjoy COTE's "Thanksgiving Feast" ($125 pp++) which offers COTE's favorite dishes including four selected cuts of their most notable USDA Prime and American Wagyu beef, as well as a variety of fixings such as pickled seasonal vegetables and salads, fresh red leaf lettuce with Ssaam-jang; Turkey Mandoo; Savory Egg Souffle; Japchae, Korean glass noodles with mountain vegetables; Galbi Jjim, braised short ribs, Kimchi Jiggae, a spicy and tart stew with kimchi, pork belly and gochugaru; and more. Check out their full menu here.
COTE Miami is located at 3900 NE 2nd Ave, Miami, FL 33137. For more information, visit their official website.
The Key Club
Head over to The Key Club for a $72 three-course dinner. Their menu (from which you can also order all items a la carte), includes options such as Roasted Butternut Squash Soup with cardamom crème fraiche; Celery Root Tortellini with black truffle butter and sage; Whole Roasted Heritage Turkey with thyme, rosemary, and citrus; and much more!
The Key Club is located at 3015 Grand Ave, Coconut Grove, FL 33133. For more information, visit their official website.
Komodo
Thanksgiving with an Asian twist? Count us in. Komodo's exclusive Thanksgiving dinner includes items such as Cheddar Jalapeno Cornbread, served with spicy honey whipped butter; Duck Salad, with sake soy vinaigrette, cranberries, spiced pecans, and cornbread croutons; Char Siu BBQ Turkey, with sticky rice stuffing; and more.
Komodo is located at 801 Brickell Ave, Miami, FL 33131. For more information, visit their official website.
Mayami
Gather around the table for Mayami's pre-fixe Thanksgiving menu featuring items like butternut squash with duck carnitas, brown butter sage, and marshmallow; tostada de king crab, made with winter corn, huitlacoche and truffle; roasted turkey with cranberry mustard, pomme puree, and ejotes a la mancha; and an apple tartine for dessert!
Mayami is located at 127 NW 23rd St, Miami, FL 33127. For more information, visit their official website.
Orno at THesis Hotel
Niven Patel's Orno will be offering a four-course, $85 per person feast this Thanksgiving. Think Wahoo Crudo-cranberry tartare with mint as a first course, a Pumpkin Soup-crème fraiche with Pepitas as a second course and a family-style third course which includes, Wood Roasted Tilefish with farm beans and saffron aioli, Herb Crusted Turkey Roulade, Farm Creamed Spinach and Roasted Yams with honey butter. The meal culminates with the fourth course, a decadent dessert that will be revealed the day of. Orno's a la carte menu will also be available.
Orno is located at THesis Hotel at 1350 S Dixie Hwy, Coral Gables, FL 33146. For more information, visit their official website.
Osteria Morini
This authentic Northern Italian fare spot is offering a three-course pre-fixe dinner and an extensive to-go menu in honor of Thanksgiving. Priced at $75++ per person, three-course menu includes appetizers such as Burrata with pumpkin seed crumble, fig agrodolce and crispy sage; entrées like Tacchino Herb Roasted Turkey Breast with potato puree, focaccia rosemary stuffing, turkey gravy and cranberry mostarda; and desserts like Torta di Mele, caramelized apple pie with vanilla crema and caramel sauce.
Osteria Morini is located at 1750 Alton Rd, Miami Beach, FL 33139. For more information, visit their official website.
SUGARCANE Raw Bar Grill
Keep Thanksgiving easy and let SUGARCANE do its magic. Those hosting a dinner can choose the "Everything but the Turkey" package, which includes homemade "Heat & Eat Sides" consisting of brussels sprouts, mashed potatoes, cornbread stuffing, garlic-roasted green beans, marshmallow-topped sweet potatoes, sweet corn, sauteed broccoli fries, regular or truffle fries and turkey gravy. Choose 3 sides for $28 (serves 2-3), Choose 5 for $46 (serves 4-5), or Choose 7 for $65 (serves 7-8) or add on individual sides for $10 each. Homemade whole pumpkin pecan cheesecake (serves 8-10) is also available for $45 each. Keep in mind, orders must be placed by November 20.
Those wanting to dine in, can swing by on Wednesday, November 23 or Thursday, November 24 for their Thanksgiving Feast menu, which offers up a little bit of all the good stuff, including pumpkin bisque with pepitas and micro fine herbs; endive salad with fuji apple, candied walnuts, blue cheese, maple la posada vinaigrette; brined turkey; cornbread stuffing; turkey gravy; mashed potatoes; garlic-roasted green beans; glazed sweet potatoes; and more. If you're eating in, be sure to also try out their Turkey Gone Wile cocktail made with wild turkey whiskey, Campari, cardamon syrup, lemon juice and a prosecco float.
SUGARCANE Raw Bar Grill is located at 3252 NE 1st Ave, Miami, FL 33137. For more information, visit their official website.
Strawberry Moon
Goodtime Hotel's Mediterranean eatery and bar is inviting visitors and locals alike to join them in a three-course pre-fixe dinner priced at $85 per person. Diners can expect items like a Fall Endive and Apple Salad with Humboldt fog goat cheese, herbs, and aged balsamic; Herb Roasted Heritage Turkey Breast, brioche stuffed leg, sage gravy and quince cranberry; Green Bean Amandine with toasted almonds and brown butter; and more.
Strawberry Moon is located at 601 Washington Ave, Miami Beach, FL 33139. For more information, visit their official website.
Swan
Swan's $95 pre-fixe dinner menu includes appetizers like Pumpkin Soup with cranberry compote, pumpkin seed oil, and toasted pepitas; second-course dishes like Chestnut Agnolotti with black truffle and mascarpone; mains like Slow Toasted Turkey Breast and Confit Leg with truffle butter and sage; desserts like Sweet Potato Pie and more. Diners can opt for the special Thanksgiving dinner or also order a la carte.
Swan is located at 90 NE 39 St, Miami, FL 33137. For more information, visit their official website.