Somehow, there are less than two months left until the year 2022, which means we have under 60 days until our next "eat healthier" New Year's resolution and just as much time to dive face-first into all the indulgent deals we can find. To that effort, here are 11 Miami restaurant specials, events, and promos to check out pronto.
Bulla Gastrobar and Pisco y Nazca Launch New Fall Menus
Bulla Gastrobar and Pisco y Nazca are both kicking off fall with a plethora of new menu items. At Bulla Gastrobar, known for their Spanish tapas, guests can now additionally expect arroz meloso de pollo with valencia style rice, pan-seared chicken, artichoke confit, snow peas, Spanish paprika; braised oxtail with steamed rice, house-made shoestring potatoes, shishito peppers; camarones al curry tapa with sautéed shrimp, curry cream, artichoke confit, toasted baguette; cream of butternut squash with Spanish paprika, cracked pepper, cheese crostini, and parrillada de verduras with grilled eggplant, zucchini, squash, tomato, scallions, asparagus, romesco sauce.
As for Pisco y Nazca, newbies include salmon tiradito, arroz con mariscos a la norteña, sirloin with tacu tacu and salchipapas.
Bulla Gastrobar is located at 2500 Ponce de Leon, Coral Gables, FL 33134. For more information, visit their official website.
Pisco y Nazca is located at 8551 NW 53rd St A101, Doral, FL 33166. For more information, visit their official website.
Jaguar Celebrates Latin Restaurant Week
Through November 15, Jaguar will celebrate the second-ever Latin Restaurant Week with a celebratory prix-fixe menu. Priced at $35 per person, the menu will include ceviche, churrasco saltado and traditional flan de queso. Head over and support the initiative!
Jaguar is located at 3067 Grand Ave, Miami, FL 33133. For more information, visit their official website.
Mamey Launches New Happy Hour
James Beard Award nominee Niven Patel's Mamey is serving up sips, bites, and vibes at a deep discount daily from 3 to 6 pm, as well as offering live music Thursday through Sunday. Sink your teeth into $6 bites like ghee-roasted plantains with tamarind yogurt, coconut, cilantro, and crispy chickpeas; island spiced fries with homestead mango ketchup; white truffle and brie grilled cheese with homestead mango jam and Sullivan Street Pullman bread. After you have a little snack in you, start tackling the menu of $10 cocktails, $5 beers, and $7 wines and spirits.
Mamey is located at 1350 S Dixie Hwy, Coral Gables, FL 33146. For more information, visit their official website.
Meraki Greek Bistro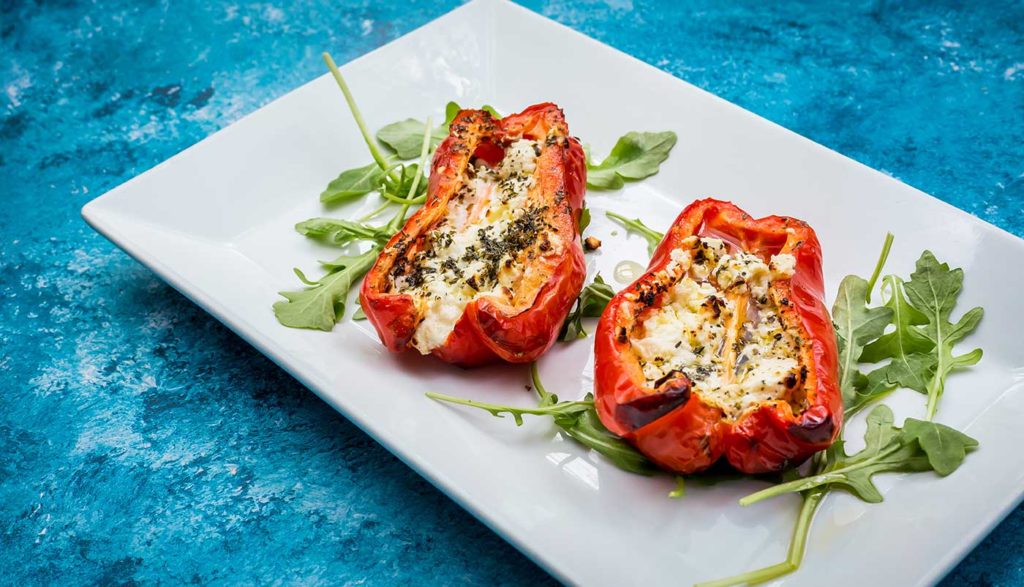 If you're not a fan of those long-haul Thanksgiving kitchen extravaganzas, leave the cooking to Meraki Greek Bistro. Guests have the option of dining in at the restaurant and enjoying a $50 prix-fixe menu including the Meraki Winter Salad with arugula, mixed greens, shredded carrots, scallions, mandarin, sliced almonds, and goat cheese, tossed with honey dark balsamic vinaigrette; stuffed portobello with sauteed spinach, grilled onions topped with mozzarella cheese; fresh branzino filet stuffed with spinach and Vlahotiri (Saganaki) cheese and lemon caper sauce served with fava and roasted baby potatoes or Kontosouvli, Greek-style pork marinated with Greek herbs and spices for over 24 hours and served with roasted vegetables and baby potatoes; homemade apple pie and a glass of Greek wine. Those who would rather stay home and still skip the cooking can grab one of two takeaway options instead: roasted lamb (half or full) with Greek salad bowl, roasted baby potatoes, and a bottle of Agiorgitiko Greek red wine or Kontosouvli with roasted veggies, Greek salad bowl, half pan of roasted baby potatoes and the Agiorgitiko red wine.
Meraki Greek Bistro is located at 142 SE 1st Ave, Miami, FL 33131. For more information, visit their official website.
Miami Sweet, an Interactive, Edible Candy Installation Opens at Aventura Mall
Art exhibit meets candy funland? Count us in! Co-founder of the Candy Kingdom and the woman who brought the Candytopia to the mall in 2019, Jackie Sorkin, is back at it with her latest incredible display, Miami Sweet. Featuring 12 individually themed rooms, including standouts like a Michelangelo painting, a Versace medusa sculpture recreated out of candy and fantastical unicorns, rainbows, and jelly bean parrots, the 20,000 square foot space is a sweet testament to Sorkin's love of confectionary delights, creativity, and art. Each piece is hand-crafted, with some using thousands of pieces of candy and taking over 200 hours to complete. While the actual pieces cannot be eaten, visitors will have the possibility to sate their sweet tooth with edible treats throughout the spaces. Miami Sweet will remain open through February 2022. General admission for adults is priced at $29, while little ones 3 and under can enter for free.
Miami Sweet is located at Aventura Mall at 19501 Biscayne Blvd Suite #2976, Aventura, FL 33180. For more information, visit their official website.
Osteria Morini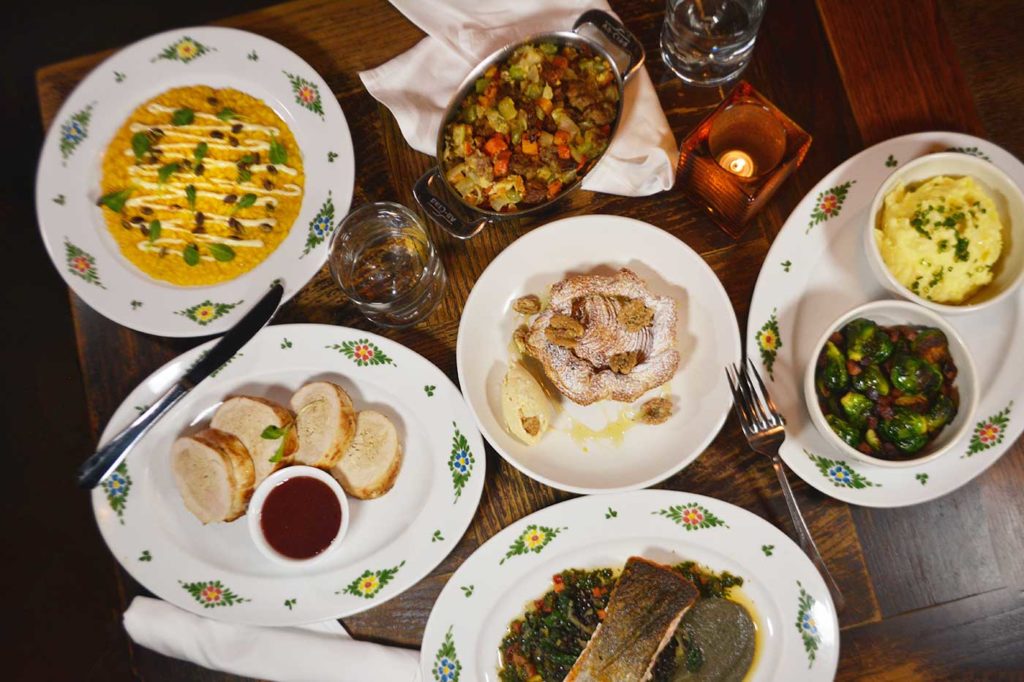 Celebrate Thanksgiving with a to-go option and a special three-course prix-fixe dinner at Osteria Morini. Priced at $75 per person, the all-day prix-fixe menu includes your choice of a seasonal cocktail and antipasti like the Crema Di Zucca, a butternut squash crema and spiced crème fraiche, and the Polipo paired with sweet potato caponata and brown sugar pumpkin seeds; pietanze including the Tacchino turkey with morini stuffing, pommes purée, cranberry jus and brussels, Capesante pan-seared sea scallops served with warm cauliflower purée and apple mostarda, Tagliata NY strip loin paired with endive, potato terrine, and sugo, the Cappelletti truffle ricotta raviolis with prosciutto, and a sweet dessert to end your meal—Torta Di Mele, an apple and raisin bread pudding with an apple cider reduction topped with vanilla ice cream.
Alternatively, pick up a Thanksgiving to-go package that's shareable for up to three people and available to pre-order until Tuesday, November 23. Think items like roasted delicata squash with candied pumpkin seeds, Morini stuffing paired with Italian sausage, mortadella, parmigiano, and chicken, turkey roulade with pistachio, and a choice of pie.
Osteria Morini is located at 1750 Alton Rd, Miami Beach, FL 33139. For more information, visit their official website.
Pubbelly Sushi Gets Boozy With It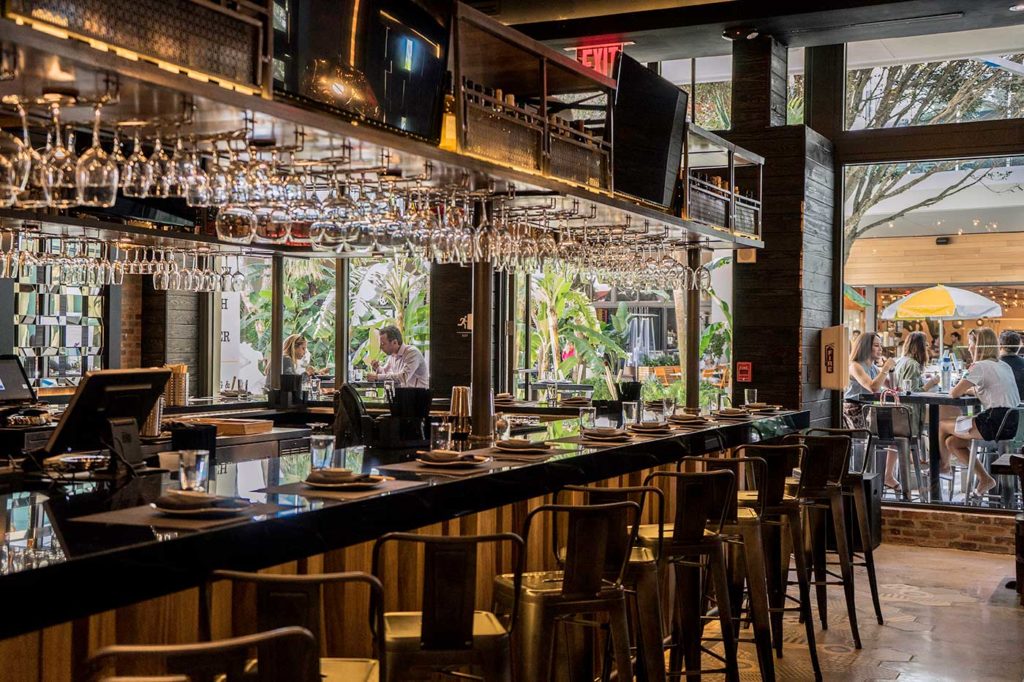 Pubbelly Sushi's Aventura location has just acquired their liquor license and launched their full bar, and we're ecstatic over it. Head over to celebrate by ordering a few cocktails with your butter krab roll. Think wasabi martini with deep eddy vodka, pineapple, a hint of wasabi, fresh yuzu, and muddled Thai basil; toki pineapple express with Hatozaki whisky, pineapple puree, and lemon; sakura blossom martini with Brugal 1888, pomegranate liqueur, passion fruit, and lime; and so much more. Bottoms up!
Pubbelly Sushi is located at 19565 Biscayne Blvd Suite 936, Aventura, FL 33180. For more information, visit their official website.
Public Square Launches Monthly Wine Night
South Miami's American fare sweetheart officially kicked off a monthly wine night taking place every fourth Wednesday of the month from 6:30 to 8 pm. Guests will be able to sample a variety of rotating wines including Kosta Browne, DuckHorn, and more, paired with small plates like filet mignon bites. Mark your calendars for this month's event: Wednesday, November 24.
Public Square is located at 6915 Red Rd, Coral Gables, FL 33143. For more information, visit their official website.
River Oyster Bar Rolls Out New Menu Items
This staple classic bistro meets seafood mecca just introduced a few new times to their menu; all worth a try. Meet the river wedge, a salad with butter lettuce, roasted vegetables, feta, and green goddess dressing; crispy skin suckling pig served with creamy cheese grits and maque choux; and rare Togarashi spiced tuna with horseradish aioli, watercress salad, and parmesan.
River Oyster Bar is located at 33 SE 7th St Suite 100, Miami, FL 33131. For more information, visit their official website.
Stone Crab Season is Back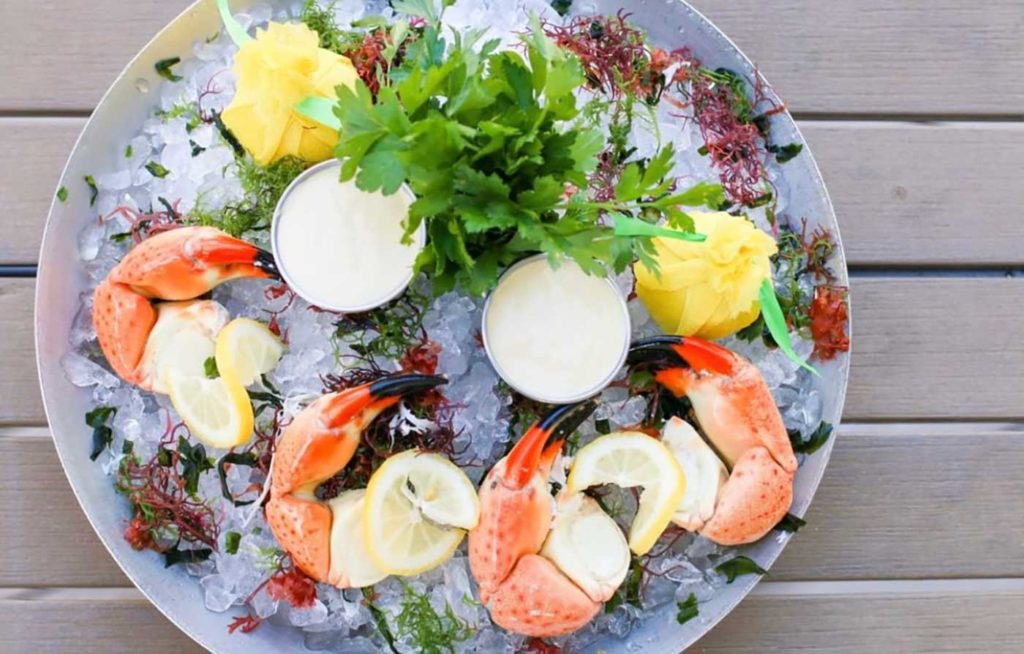 Stone crab season is finally underway, which means we get to crack into our favorite sea delight all the way through the beginning of May (the season is shorter this year, ensuring the sustainability of Florida stone crabs). Grab yours at Shooters, where they'll be served "the way mother nature intended them to be" on a bed of ice, pre-cracked with a sweet and mild mustard sauce. Joe's Stone Crab lovers can also rejoice as the eatery has reopened for its 108th season. Get them while they're hot, or in this case icy and delicious.
Shooters Waterfront is located at 3033 NE 32nd Ave, Fort Lauderdale, FL 33308. For more information, visit their official website.
Joe's Stone Crab is located at 11 Washington Ave, Miami Beach, FL 33139. For more information, visit their official website.
The Wharf Miami Celebrates Veterans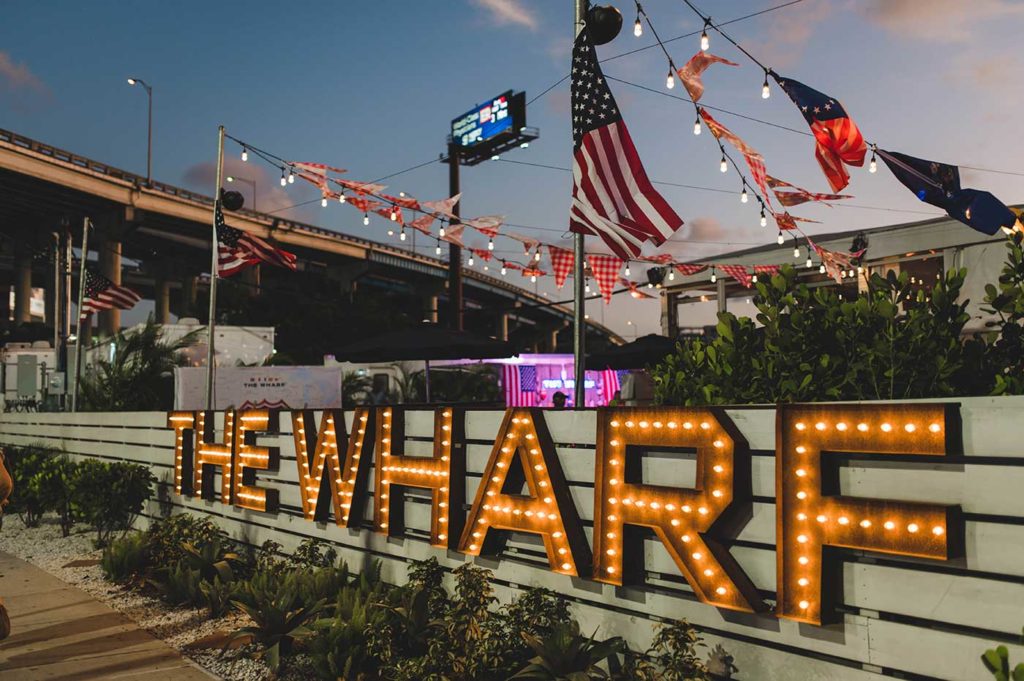 On Thursday, November 11, The Wharf Miami is honoring veterans with a complimentary vodka cocktail as well as a "Beat the Clock" happy hour between 4 to 7 pm where mules, mojitos, and margaritas start at $4 at 4 pm and go up in price every hour until 7 pm. To redeem the deal, veterans must RSVP and show their military ID.
The Wharf Miami Is located at 114 SW North River Drive, Miami, FL 33130. For more information, visit their official website.
Toro Toro Brings Sunday Brunch Back
Miami's favorite Pan-Latin steakhouse is officially bringing Sunday brunch back. Expect the goodies you're familiar with plus more, like buffet stations serving up classic breakfast staples such as omelets and waffles; the gorgeous Toro seafood tower boasting tiger shrimp, oysters, tuna ceviche aji amarillo and stone crab; and so much more. Brunch, available from noon to 4 pm on Sundays, will also feature bottomless infused mimosas and bloody marys for $20, along with live entertainment.
Toro Toro is located at 100 Chopin Plaza, Miami, FL 33131. For more information, visit their official website.
Uchi Does Happy Hour
If you haven't yet gotten your paws on Uchi's cocktails, check out their happy hour and try them all stat. Available every day from 5 to 6:30 pm, happy hour includes steeply reduced prices on cocktails, wines, and beers, tasting bites, nigiri, makimono, and more. Offered on their happy hour tasting menu are items such as hama chili, with yellowtail, ponzu, Thai chili, and orange; wagyu yakitori, with tiger cry relish and fish caramel; pork ribs with tamarind, Asian pear, and peanuts; crispy tofu with chayote, fermented fresno, and peanuts; along with multiple others.
Uchi is located at 252 NW 25th St, Miami, FL 33127. For more information, visit their official website.