This month, many local eateries are celebrating Pride Month by donating the full or partial proceeds from various sales on specials all throughout the month of June, giving you a posy of opportunities to indulge in while also doing some good. Plus, we've rounded up a handful of tasty Father's Day offerings, as well as other specials, promos, and deals.
Backroom Launches New Plant-Based Pizza & Hot Sauce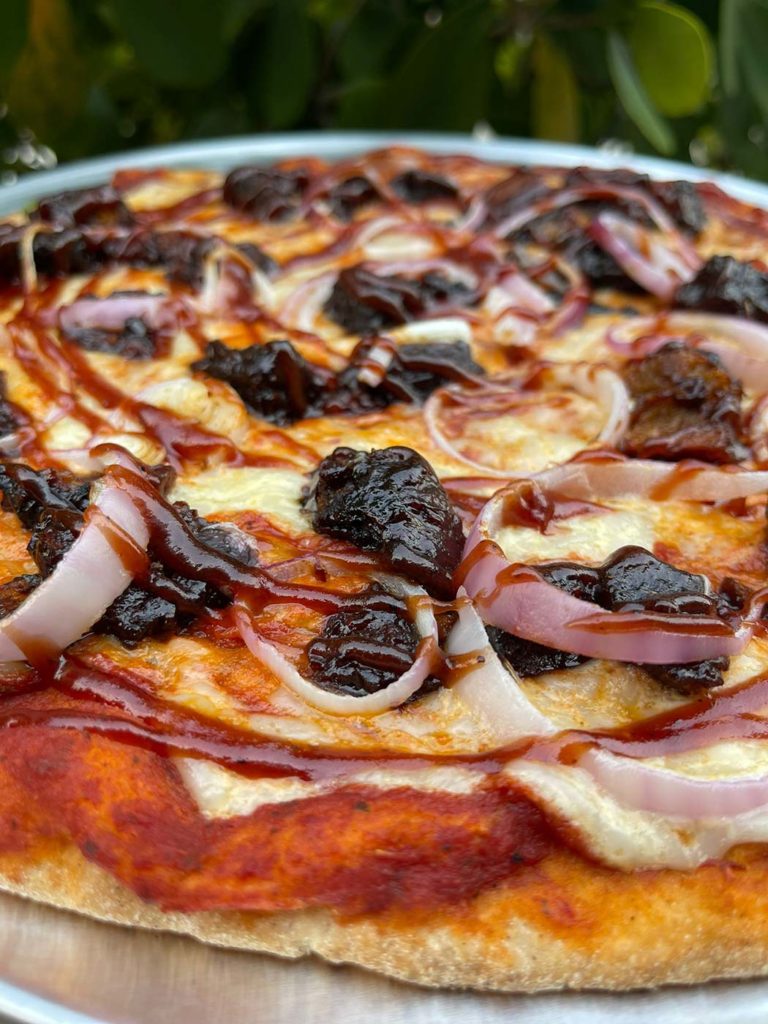 Backroom at Diya is excited to announce that they're now serving plant-based pizzas, officially making them the only entirely plant-based pizza and taco bar in Miami. The menu now features options such as meat lovers, margarita, arugula and beet, pepperoni, veggie lovers, and BBQ, all served on gluten-free crust. Additionally, the eatery is now selling their proprietary hot sauce, a three-months-in-the-making concoction by executive chef Vidya Maraj. Stay tuned for more news from Backroom, including what we hear is another exciting product poised to be featured on various menus around Miami Beach.
BBQ & Craft Company Launches Specials You Can't Resist
Brickell's "true 'que and local brews" joint, BBQ & Craft Company is throwing a few promos your way to make dining there even meatier than it already is. Guests can take advantage of their happy hour menu, which is available Monday through Friday from 3-7 p.m.— on Mondays extended from 7 p.m. to closing time. On the menu expect items like buffalo pork rinds, served with blue cheese, buffalo sauce, and honey; beef brisket sandwich with chopped brisket, watercress, smoked red onions, horseradish crème fraiche on a Kaiser roll; and prime burger made with house steak sauces, porcini mayo, and smoked gouda cheese on a brioche bun. During happy hour, well drinks will be offered for $7, tap beers for $5, house wine for $7, and bourbon/scotch for 50 percent off. BBQ & Craft is also hosting Wine Tuesdays when all bottles of wine will be half off between 11:30 a.m. and 10 p.m. and a Wednesday Ladies Night offering gals and their friends complimentary margaritas and martinis from 6-10 p.m. (at the bar only).
Jaguar Sun is Back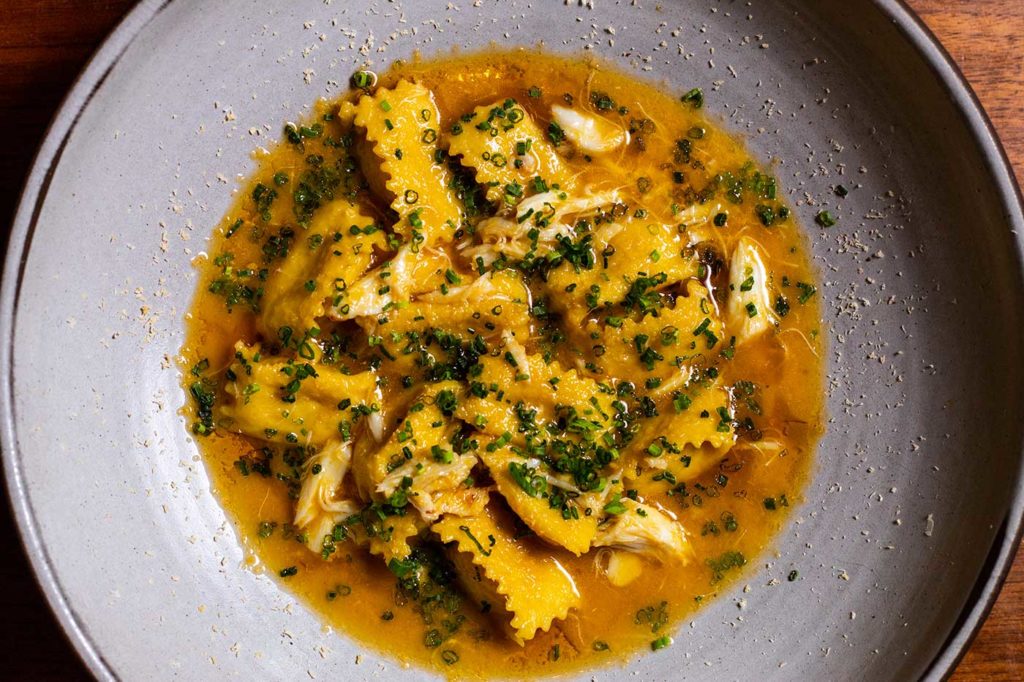 After operating Sunny's Steakhouse and hosting Gilda, the Spanish tapas pop-up concept by Juan Garrido, Chef Carey Hynes is ready to bring everyone's favorite pastas back to Downtown Miami.
The food menu will bring back signature items, like the best-selling Parker House Rolls, Bucatini with two and three-year parmesans, pecorino romano and black pepper, and Spicy Rigatoni made with pork and Benton's bacon sugo. Hynes will also be adding new dishes to the menu, including seasonal crudos and pastas.
Jaguar Sun is located at 230 NE 4th St, Miami FL 33132. For more information, visit their official website.
Shoma Bazaar's New To-Go Cocktails by BarLab
Love Shoma Bazaar's BarLab cocktails? You can now get yours right at home via UberEats. Choose from one of three cocktails and bring the party to your house. Options include la jefa, made with Santa Teresa, pineapple rum, blue curacao, and lime juice; Bella's garden, made with Ford's Gin, cucumber juice, Thai basil, and soda water; and pretty pebbles with hibiscus-infused Tito's vodka, muddled strawberry, citrus-infused agave, lime juice, lemon perfect, and strawberry passion fruit. Each bottle is $21 and contains approximately three servings. Don't forget to pair those libations with bites from any one of Shoma's 15 vendors. Note that delivery is only available within a five-mile radius of Shoma Bazaar.
Shoma Bazaar is located at 9420 NW 41st St, Doral, FL. For more information, visit their official website.
The Key Club Launches Brunch
Beginning Saturday, June 11, The Key Club is kicking off their new brunch, available every Saturday and Sunday from 11 a.m. to 4 p.m. Think a wide-ranging menu with options like smoked salmon benedict, strawberry shortcake french toast, everything croissant sandwich, blueberry blintzes, and more—all under $20. Make sure to try their signature brunch cocktail, the Full House, made with watermelon, Thai basil, lemon, and prosecco.
The Key Club is located at 3015 Grand Ave, Coconut Grove, FL 33133. For more information, visit their official website.
Pride Month Celebrations
These 4 restaurants are each doing something special to celebrate Pride Month. Take a peek and be sure to check out at least a few.
80's 305 Bar at Cafe La Trova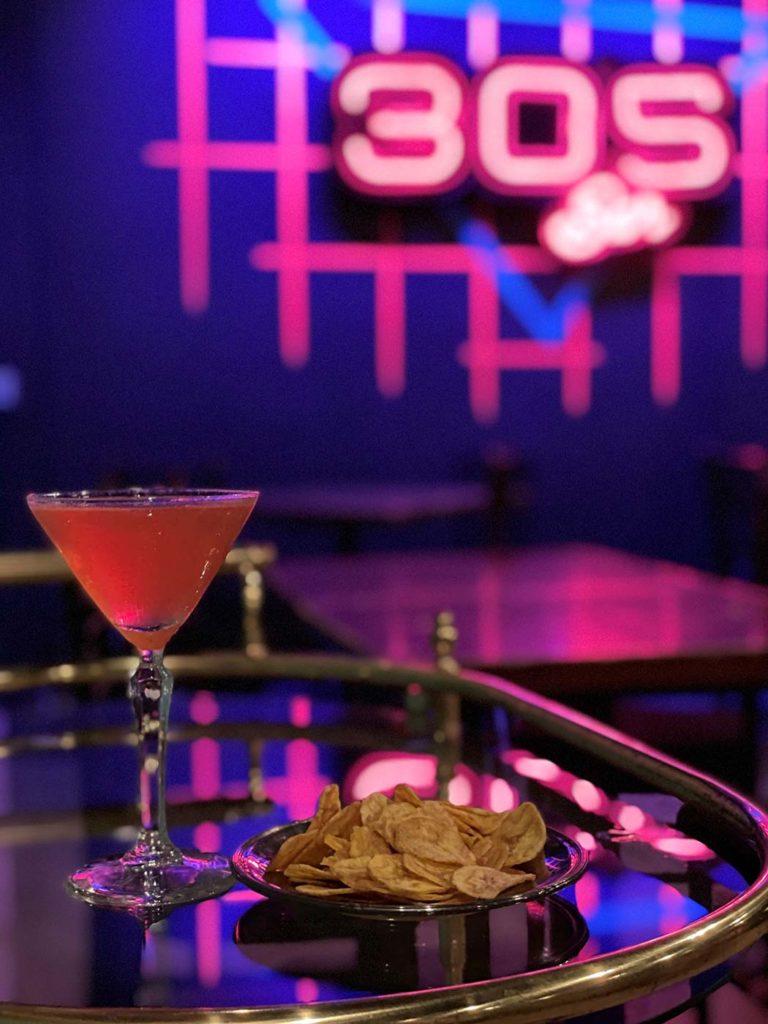 During Pride Month, 80's 305 Bar located in the back of Cafe La Trova will feature two special cocktails from which all of the proceeds will be donated to Pridelines, a Miami-local LGBTQ non-profit support center. First up: the mariquitas, made with Grey Goose vodka, Licor 43, lime juice, and cranberry juice served in a martini glass with a side of banana chips (mariquitas de plátano); and: the pink & bubbly, featuring Bombay Sapphire gin, guava syrup, lime juice, and prosecco served in a champagne flute with a lemon peel garnish. 80's 305 Bar is open every Friday and Saturday, starting at midnight with the best 80s music in town with DJ Funktual on the decks.
80's 305 Bar is located at 971 SW 8th Street, Miami FL 33130 (back bar). For more information, visit their official website.
Bodega Taqueria y Tequila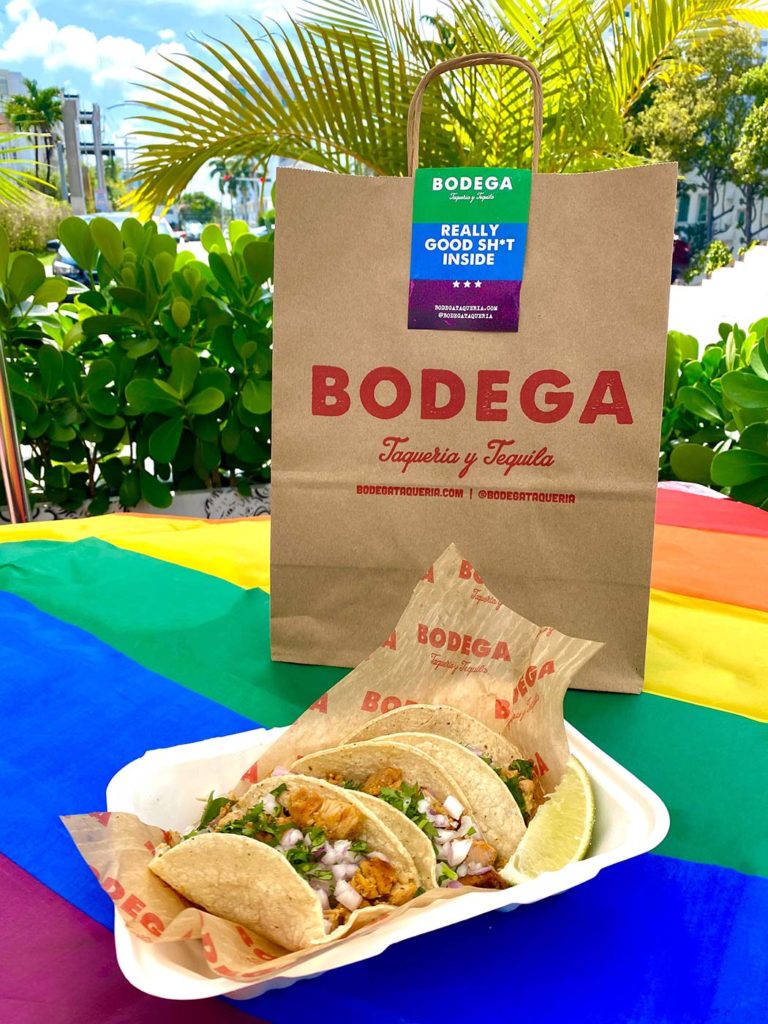 In honor of Pride Month, Bodega Taqueria y Tequila will be donating a percentage of proceeds from all Bodega app and website orders to SAVE, South Florida's longest-serving LGBTQ rights and advocacy organization, for the entire month of June at all four Bodega locations in Aventura, Fort Lauderdale, South Beach, and West Palm Beach.
Bodega is located at 1220 16th St, Miami Beach, FL 33139. For more information, visit their official website.
El Tucan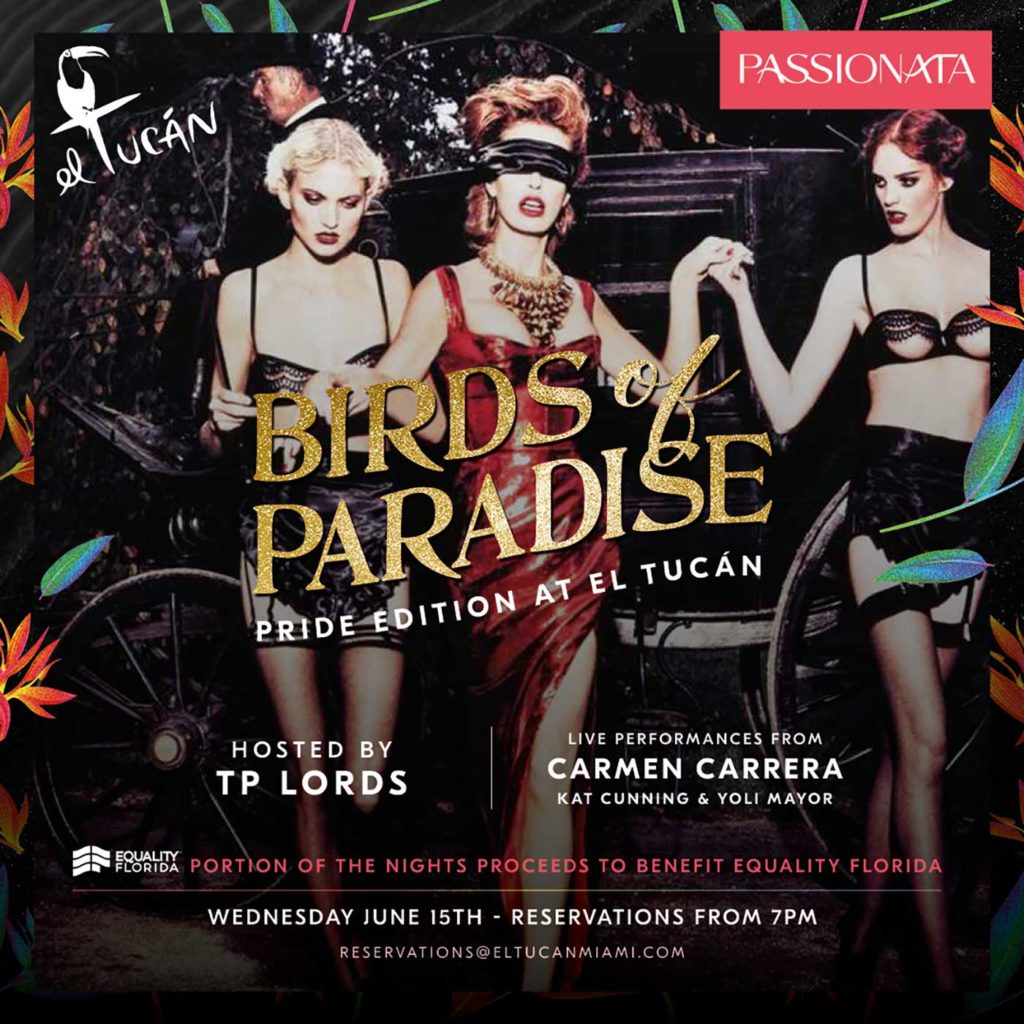 In conjunction with Pride Month, El Tucan is launching a monthly LGBTQ+ dinner party series dubbed 'Birds of Paradise.' The monthly pop-up series will feature a line-up of guest hosts, singers, dancers, and performers, a three-course prix-fixe menu, and a thoughtful charity component in which a portion of the evening's proceeds will benefit a specific LGBTQ+ non-profit. The first dinner will take place on Wednesday, June 15 starting at 7 p.m., when the eatery will transform into a supper club celebration hosted by drag queen TP (Total Package) Lords.
This month's Pride edition will feature special live performances by non-binary musician, actor, activist, and choreographer, Kat Cunning, Cuban-American Miami native singer-songwriter and American's Got Talent/ American Idol alumni, Yoli Mayor, and TV personality and transgender rights activist, Carmen Carrera.
As for food, the prix-fixe menu will include signature favorites such as the wagyu beef tataki, pineapple teriyaki salmon, spicy beef tenderloin, and truffle bucatini pasta among others. A portion of this evening's proceeds will be donated to Equality Florida.
El Tucan is located at 1111 SW 1st Ave, Miami, FL 33130. For more information, visit their official website.
Pubbelly Sushi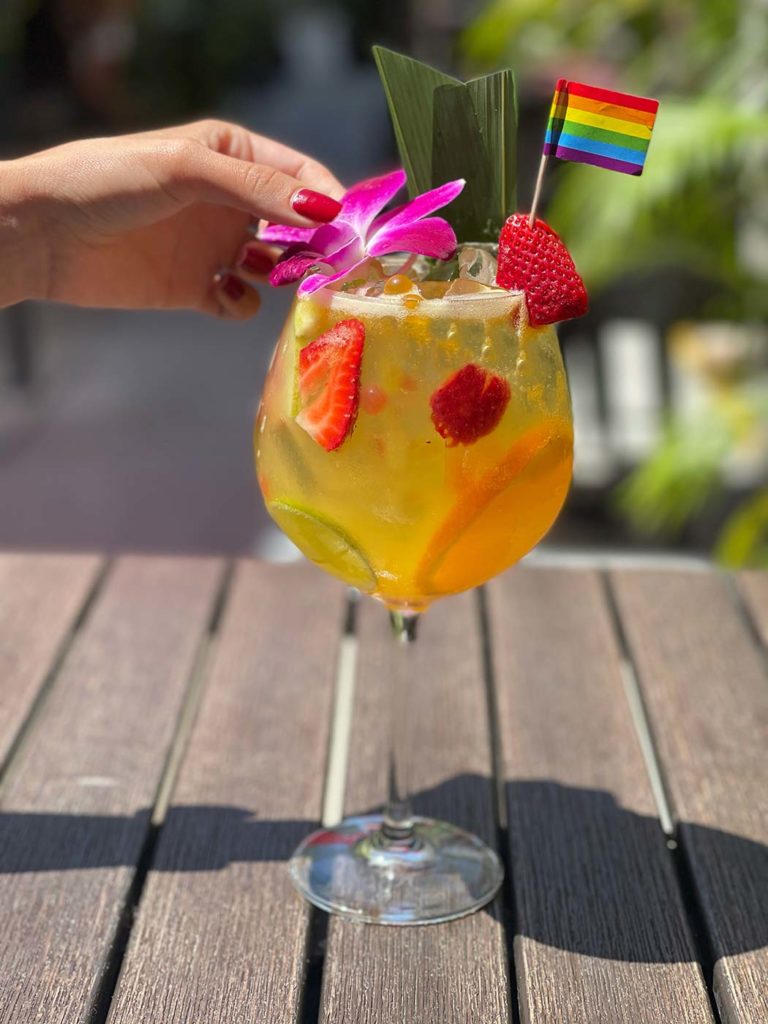 Pubbelly Sushi is celebrating Pride Month for the entire month of June by donating a portion of proceeds from their passion fruit sangria—made with Sauvignon Blanc, passion fruit foam, fresh lime juice, club soda, and seasonal fruits—to, SAVE, a local organization whose mission is to promote, protect and defend equality for people in South Florida who are lesbian, gay, bisexual, transgender, and queer. All four Pubbelly locations—Aventura Mall, Brickell City Centre, Downtown Dadeland, and Miami Beach—will be offering the limited-time-only cocktail.
Pubbelly is located at 1424 20th St, Miami Beach, FL 33139. For more information, visit their official website.
Father's Day Specials
What better way to say Happy Father's Day than by stuffing dad's belly full of his favorite things? We know none. Here are 8 spots to celebrate the man of the hour, feast-style, come Sunday, June 19th.
Casa Sensei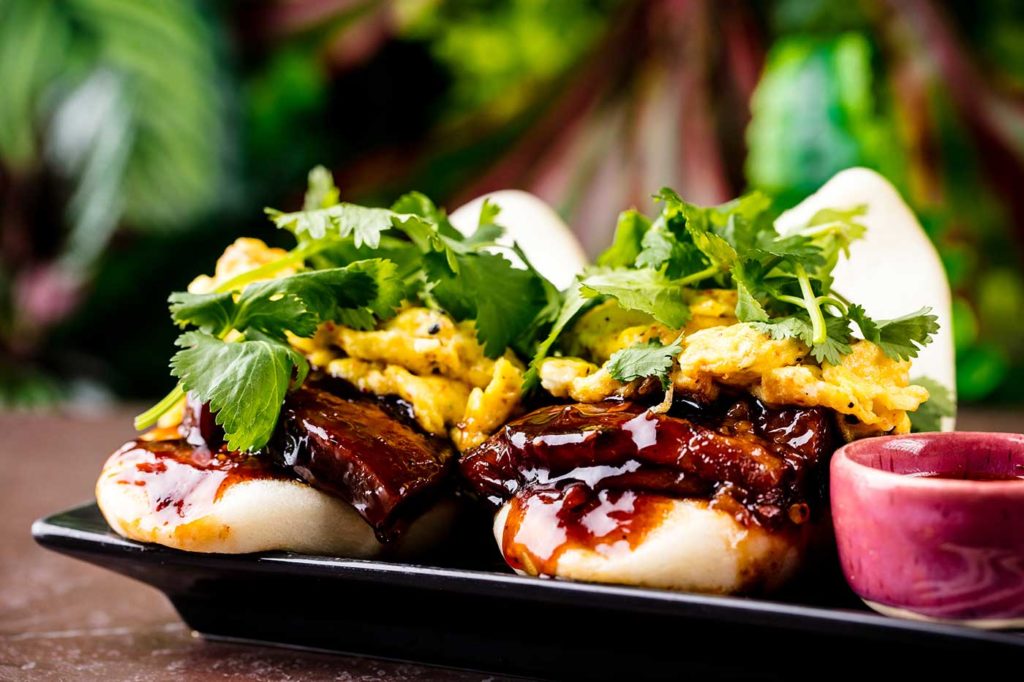 This Father's Day at Casa Sensei, all dads can enjoy the restaurant's bottomless draft beer special during their rock n roll brunch, a contemporary Pan-Asian take on the popular weekend mealtime. Expect dishes like wagyu steak and eggs, a 6oz wagyu sirloin served with two eggs cooked your way and fingerling potatoes; and togarashi fried chicken and waffles, served with sriracha maple syrup and a side of fresh fruit.
Casa Sensei is located at 1200 East Las Olas Blvd, Fort Lauderdale, FL 33301. For more information, visit their official website.
Dogfish Head Miami
Beer enthusiasts will love Dogfish Head Miami's rotating lineup of house-brewed exclusives infused with Florida's native flavors. Dad can also choose from a selection of Dogfish Head's standard fan favorites, including Hazy-O!, Blue Hen Pilsner, 90 Minute IPA, and SeaQuench Ale. Pair your brews with small bites and shareable tapas such as 24th street ceviche, made with shrimp, serrano peppers, sea quench watermelon broth, citrus, and radish; loaded waffle fries with choice of barbacoa or chicken, cotija cheese, lime crema, and waffle fries; and conch & sweet crab fritters served with honey sambal sauce.
Dogfish Head Miami is located at 437 Washington Ave, Miami Beach, FL 33139. For more information, visit their official website.
EST. 33 Thai Craft Brewery & Kitchen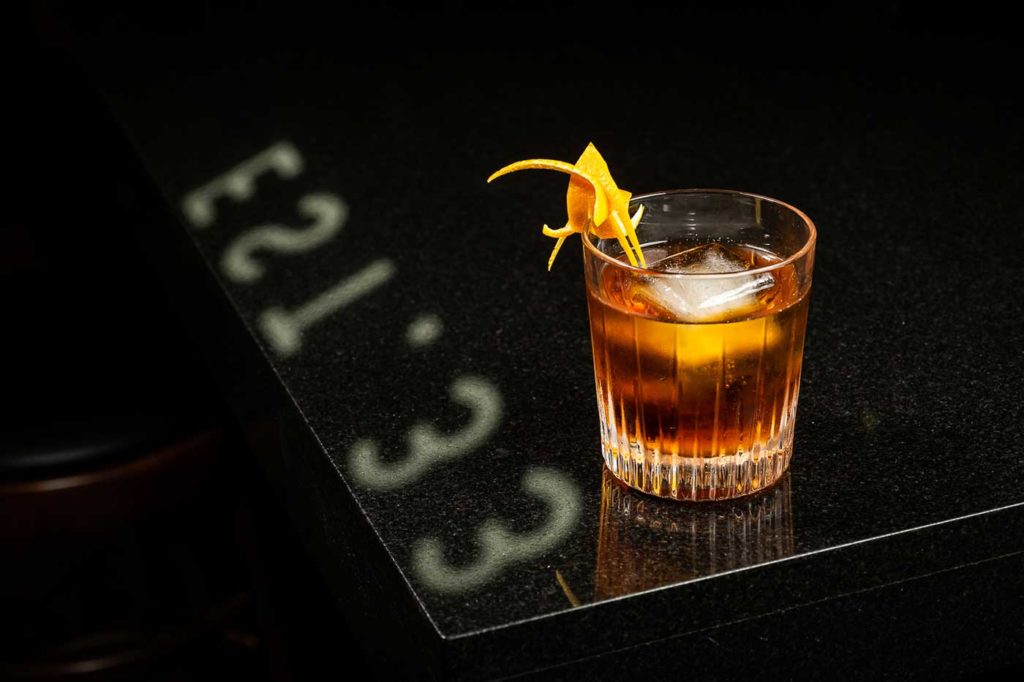 Brickell's neighborhood brewery, EST. 33 is calling all dads to "taste, tour, and enjoy" a menu of Southeast Asian flavors paired with American barbeque techniques all Sunday long. Aside from the smoked goods, dad and the family can enjoy $5 beers, $12 bourbon old fashions, $11 Lageritas, and a special curated Father's Day menu including steak and shrimp, a churrasco and shrimp skewer with roasted red onion, and Thai chimichurri and the smoke house sampler, with smoked ribs, chicken and brisket.
EST. 33 Thai Craft Brewery & Kitchen is located at 701 South Miami Ave. 4th Floor, Miami, FL 33131. For more information, visit their official website.
Lincoln Eatery
If pop likes sushi, he'll love celebrating his day at Lincoln Eatery at their Ultimate Sushi Experience. Ai Sushi will be offering a special sushi rolling class in honor of Father's Day, where you and dad learn how to stack your roll, wield a rolling mat like a pro, and slice and serve your masterpiece, all under the chef's step-by-step guidance. Tickets are priced at $29 and are available for purchase here.
Ai Sushi is located at Lincoln Eatery at 723 Lincoln Ln N, Miami Beach, FL 33139. For more information, visit their official website.
Negroni
Midtown Negroni is celebrating dads with brunch specials, including egg benedicts and burrata, and 2-for-1 brunch cocktails, such as the Nikkey Bloody Mary, Passion Bellini Sangria de Veran, and Aperol Spritz. Guests can enjoy Negroni's expansive patio and even bring their furry friends (who get their own doggie menu!).
Negroni is located at 3201 Buena Vista Blvd, Miami, FL 33127. For more information, visit their official website.
Verde at Pérez Art Museum Miami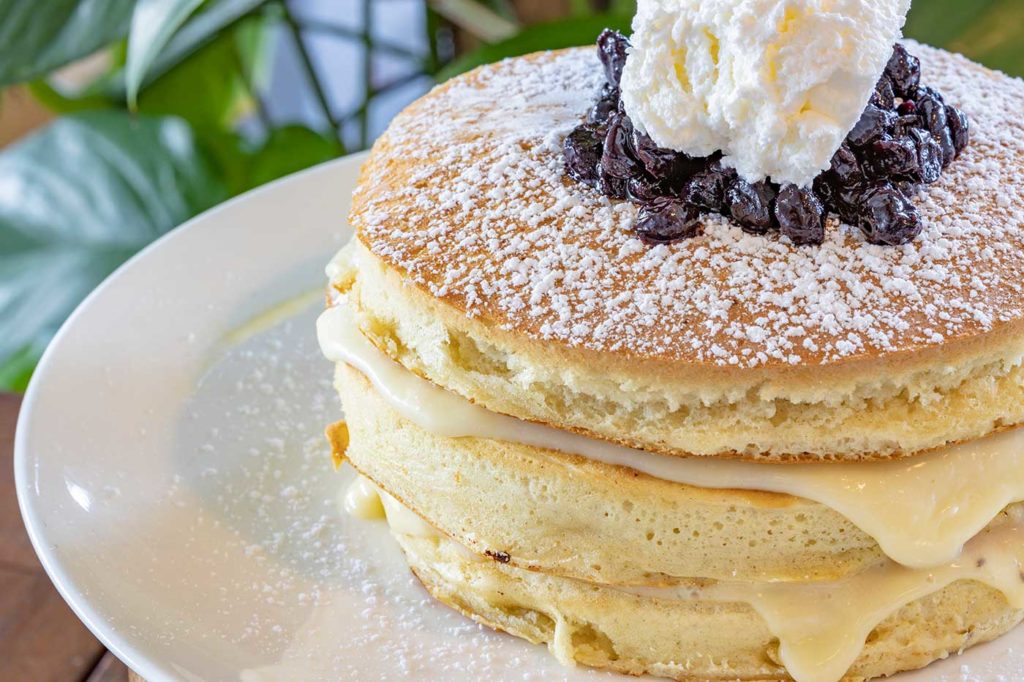 Let Dad bask in sweeping views of Biscayne Bay as he noshes down on an a la carte brunch menu Verde. Now under the direction of executive chef Jeremy Shelton, the menu includes specials such as smoked salmon benedict, served with a house-made latke, sliced tomato, smoked salmon, poached egg, hollandaise, chives, and a side salad; blueberry basil pancakes, with buttermilk pancakes, lemon curd, and blueberry basil compote; and smoked salmon toast with smoked salmon mousse, roe, pickled onion, capers, and tomatoes on grilled bread, served with a side salad. After lunch, don't forget to treat dad to a stroll through PAMM.
Verde is located at 1103 Biscayne Blvd, Miami, FL 33132. For more information, visit their official website.
Villa Azur
Spoil dad with a fine French Mediterranean meal complete with live music at Villa Azur. The restaurant will be offering a special Surf & Turf dish (priced at $280), featuring a 1.5lb lobster and 16oz 48-day dry-aged NY strip steak served with an onion ring tower, mushrooms, roasted garlic, chimichurri, bordelaise, bearnaise, and drawn butter. To make a reservation (recommended), email them here.
Wagyu Bar/Meat N Bone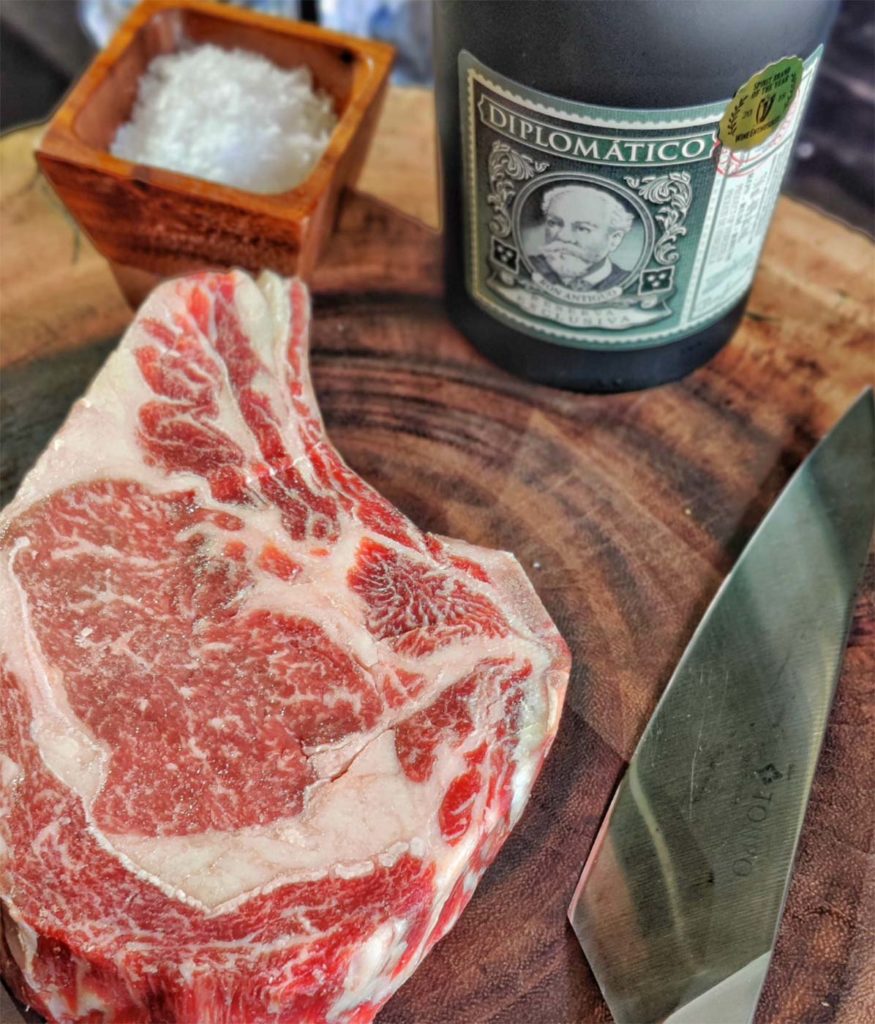 Here's one that's going to lay the love on thick. For the carnivore dad in your life, Wagyu Bar and Meat N Bone are selling a 60-day dry-aged bone-in ribeye infused with Diplomatico Rum. Priced at $96.99, the steaks are between 19-21 oz and are a limited-edition item sold on a first come first serve basis.
To purchase the ribeye, visit Meat N Bone's official website.