Okay, if we skip sleeping and working and grooming, we may just be able to fit in all of this month's new specials into our schedules—but you didn't hear this idea from us. Here are February's Miami restaurant specials, deals, events, and promos.
What to Do in Miami in February 2022
ADDiKT at W Miami Launches New Al Fresco Happy Hour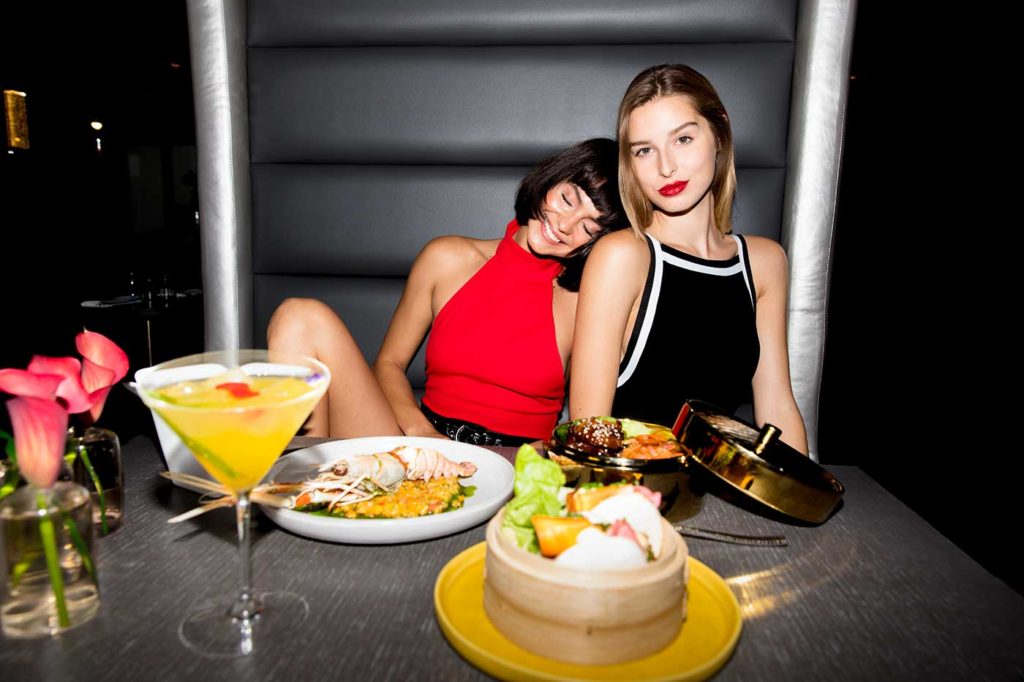 Miami's few weeks of chilly weather is the perfect time to indulge in a new outdoor happy hour. ADDiKT Modern Kitchen, located on the 15th floor of the W Miami in Brickell is now offering guests a new happy hour every Wednesday through Saturday from 7 to 9 p.m. On Fridays, guests will also be able to enjoy live music by local DJs from 7 to 10 p.m.
ADDiKT is located at 485 Brickell Ave, Miami, FL 33131. For more information, visit their official website.
Cervecería La Tropical Launches Lunch on Fridays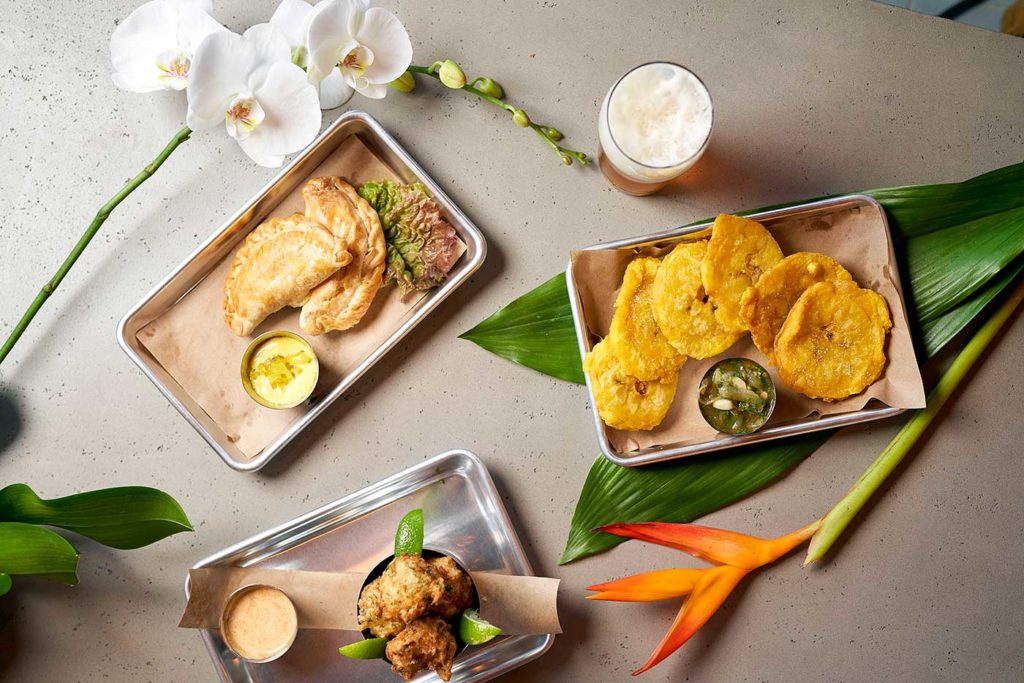 Wynwood's Cervecería La Tropical has debuted lunch service on Fridays beginning at noon. Guests can now enjoy chef Cindy Hutson's Latin-Caribbean favorites, including staples like Skin Roasted Maduros with chipotle glaze and an optional addition of pulled fork; Cuban Sandwich Empanadas with yellow mustard aioli; La Original Ambar Lager Steamed Mussels with shallots, peppers, and chorizo; Latin Lovers Flatbread with pulled pork, chorizo, churrasco, and citrus onions; and Certified Angus Beef Trifecta Burger with ground brisket, chuck, short rib and tamarind BBQ ketchup on a brioche bun. This, of course, to pad the belly with as you enjoy La Tropical's growing list of crafted brews.
Cerveceria La Tropical is located at 42 NE 25th St, Miami, FL 33137. For more information, visit their official website.
Freehold Miami Launches New Bagels & Bubbles Brunch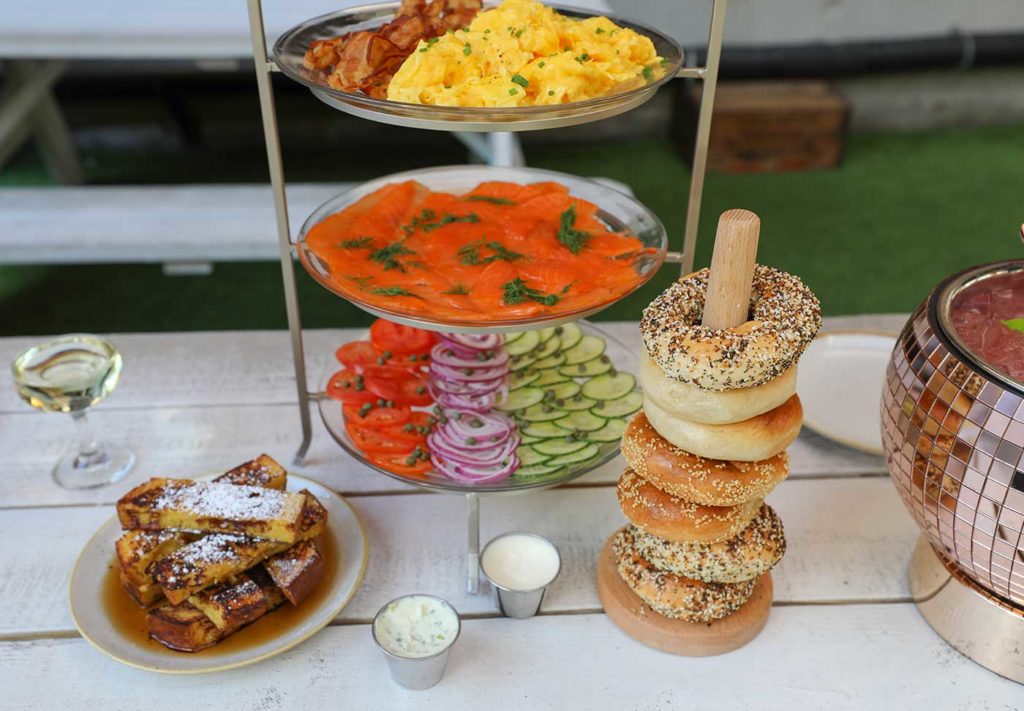 Bagel people, this one's for you. Freehold Miami just launched its new Bagels & Bubbles Brunch featuring house-made, Montreal-style bagels (pillowy delights served on a tiered tower—all priced under $20) and other brunch specials, paired with "adulting beverages" like bottomless bubbles, bellinis, bloody marys, or micheladas for an additional $40. With your bagels, expect a variety of toppers, from cream cheese, Scottish smoked salmon, and capers (or a vegan lox option made of carrots) to almond butter or house-made raspberry jam. If you're not opting for the bagels, though you seriously should, Freehold has you covered with several other imaginatively traditional brunch goods. Among them: Big Benedict on toasted brioche, with three poached eggs, hollandaise, and a choice of smoked salmon or crispy prosciutto; Chicken & Waffles with house-made buttermilk battered chicken, cinnamon waffles and spicy syrup; Yogurt Parfait and Açaí Flight featuring parfait with coconut yogurt, house-made granola and honey and açaí with almond butter, chia seed, and sliced almonds; Egg & Cheese Pizza with bacon, egg, aged cheddar, scallion, mashed potato and mozzarella; and so much more. Brunch will be offered every Sunday from 12 to 5 p.m.
Freehold Miami is located at 2219 NW 2nd Ave, Miami, FL 33127. For more information, visit their official website.
InterContinental Miami Debuts Weeks Full of Activations
InterContinental Miami's InterAct programming lineup is nothing short of wonderful. On Wednesdays starting at 5 p.m., treat your furry friends to a tail-waggin' good time at Paws Patio on the Bayside Terrace. Think free open-air fun for you and your pooch, as well as a cash bar offering "Pup-tails" like Dirty Dog Martini and Mutt Mules. Thursdays at 6:30 p.m., the hotel will host Salsa Night in the Brickell Ballroom with a live DJ spinning classic Salsa and Merengue tunes; admission is free and drinks/cigars are priced a la carte. Tuesday through Saturday from 4 to 7 p.m., enjoy InterContinental's happy hour at Toro Toro with $5 beers, $6 select wines by the glass, and $8 select cocktails. And last, but not least, check out Toro Toro's unlimited brunch buffet on Sundays from noon to 4 p.m. for a Pan-Latin feast.
InterContinental is located at 100 Chopin Plaza, Miami, FL 33131. For more information, visit their official website.
Macchialina Rolls Out New Italian Cocktails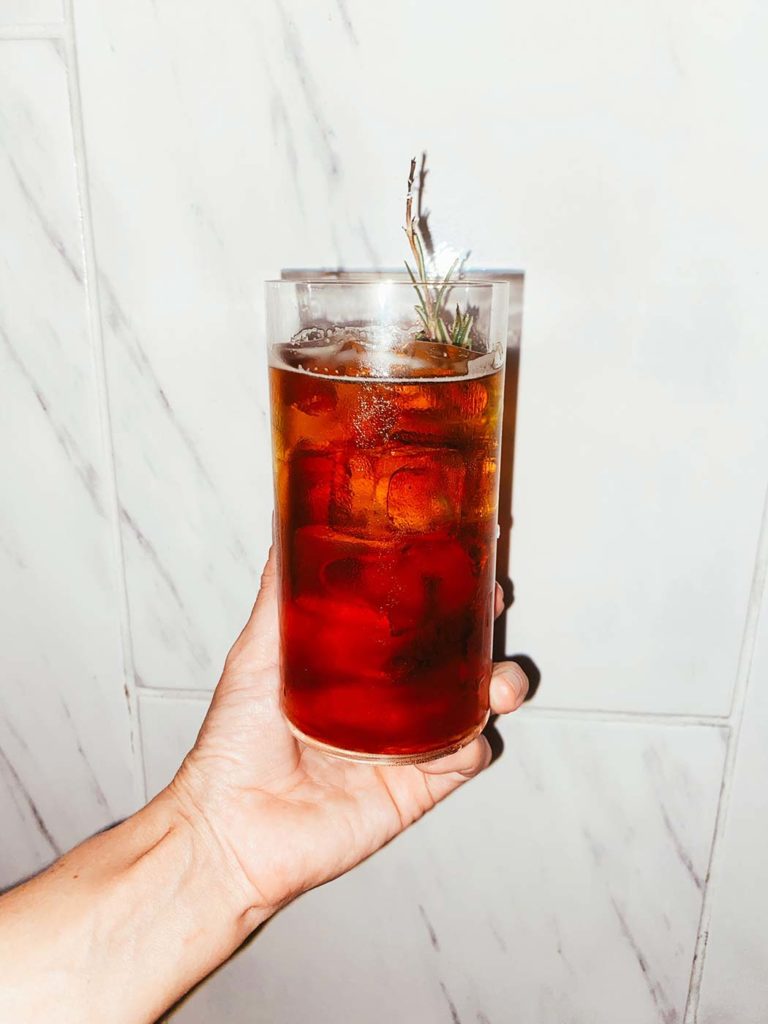 Besides their chef-driven Italian fare, Macchialina is giving guests one more reason to visit: a new cocktail list from bar maven and Managing Partner Jacqueline Pirolo and Head Bartender Eric Vincent. Macchialina describes their new list as an inventive take on classic Italian cocktails that are elevated through balance and precise execution while celebrating Italy's native spirits. Think aperitivo-style cocktails; Italian staples like negronis, spritzes, americanos and sbagliatos; a new Martini list with options like Green Gold with Grey Goose Vodka, Italicus Bergamot Liqueur, pistachio orgeat, lemon juice, and sparkling water; Care's Away, caraway-infused Cocchi Americano, Bombay Sapphire, Rittenhouse Rye, Heirloom Pineapple Amaro; and Medicini Della Madre with Del Maguey Vida Mexcal, lemon juice, ginger syrup, Giffard Banane and Galliano L'Autentico. Bottoms up!
Macchialina is located at 820 Alton Rd, Miami Beach, FL 33139. For more information, visit their official website.
Phuc Yea Revamps Menu Offerings with Funky New Dishes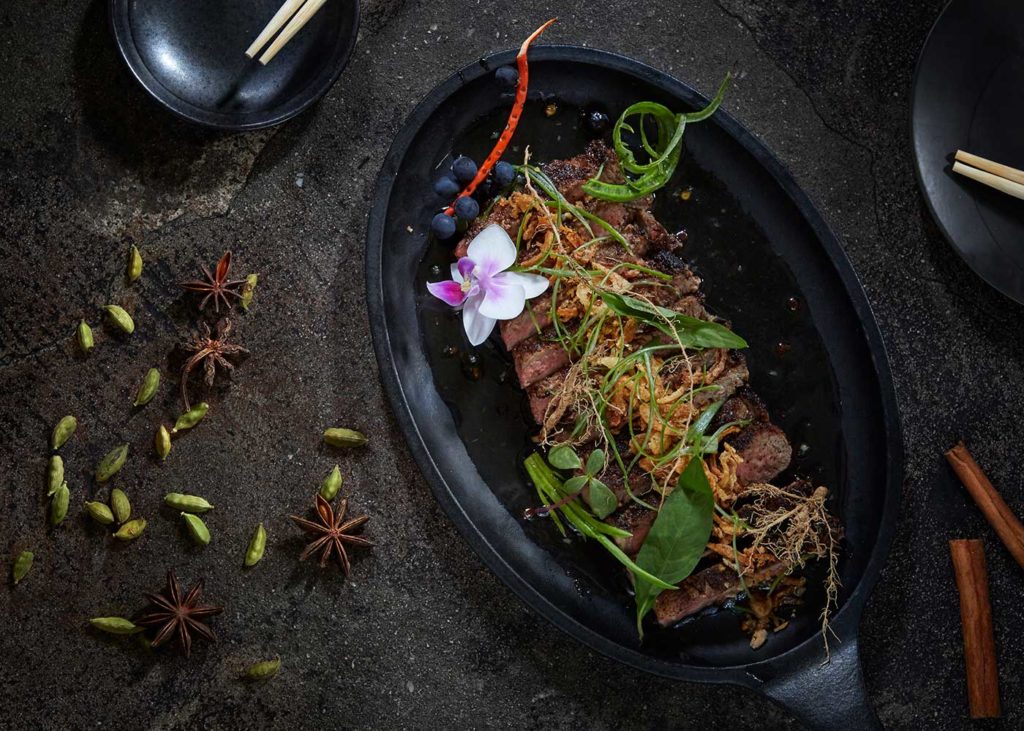 Local modern-Vietnamese favorite, Phuc Yea is doling out a plethora of new menu offerings. Co-owned by chef Cesar Zapata and Aniece Meinhold, a duo keen on consistent reinvention, Phuc Yea's new dinner menu promises to be as colorful, lively, vibrant, and funky as they come. Highlights include Millionaire Fried Rice with black truffle, black pepper, chives, and quail egg; Wagyu Churrasco served with truffled lemongrass ponzu, Petrosian paddlefish caviar, and Malden Sea salt; and Char Siu Roasted Black Cod with house-made BBQ sauce, honey, nuoc cham, soy, lemongrass, and citrus. New to the cocktail list are libations like Pass the Diesel (Espresso Martini) with Grey Goose Vodka, Cardamaro liqueur, espresso cordial and dulce de leche; An Old Man Named Gio made with Havana Club Anejo, mint, basil, lime, Alta Vista Rose Brut and Angostura bitters; 90 Miles with Havana Club Anejo, Fernet Branca, minted cola reduction, quinine, house carbonated; Bird of Paradise with Plantation & Smith + Cross Rum Blend, strawberry Campari, pineapple, allspice and lime; and Mezcalita, Amaras Espadin Mezcal, passionfruit, red bell pepper, Thai bird chili, lime and dulce de leche.
Phuc Yea is located at 7100 Biscayne Blvd, Miami, FL 33138. For more information, visit their official website.
Rusty Pelican Reveals New Menu Items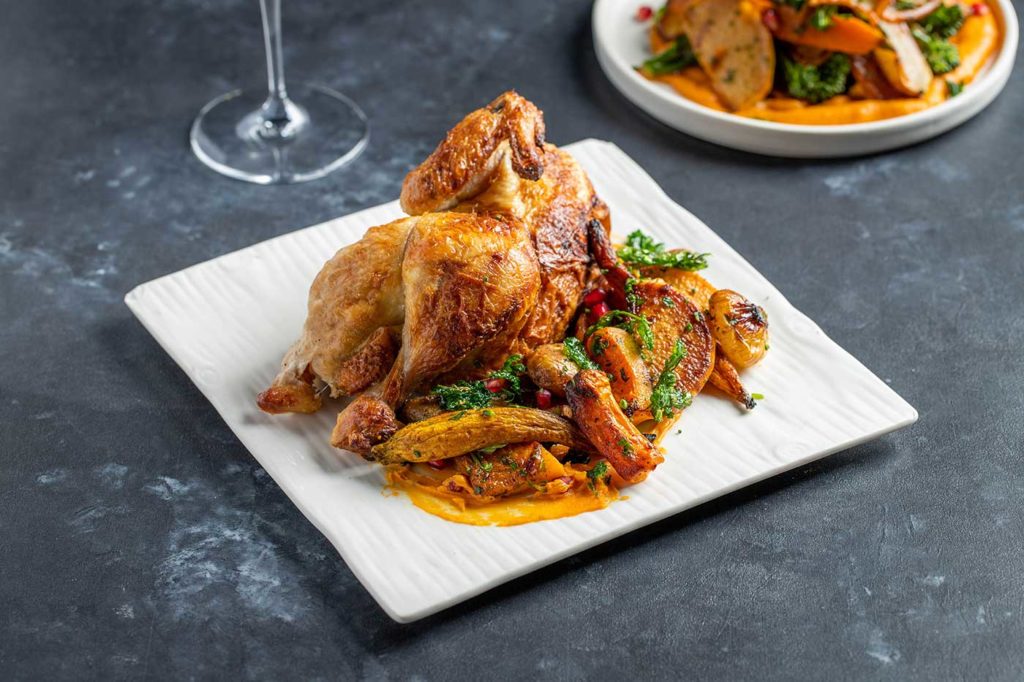 Rusty Pelican has also rolled out some new menu changes across all meal periods with the majority of newbies found on the dinner menu. Raw bar lovers can now enjoy Nikkei Salmon Tartare. Brunch's upgrades include two new raw bar options: Medium Florida Stone Crabs with mustard celery salt and aji amarillo and freshly-shucked Pink Moon Oysters. Also on the new menu: Pink Brick, Wagyu carpaccio served with black truffle butter and smoky chimichurri, prepared tableside on a brick of pink Himalayan salt; Crab Cake with roasted garlic and mustard aioli; Roasted Brussels Sprouts with Thai chili; Roasted Chicken served with honey-roasted root vegetables and sweet potato puree; and The Progressive featuring four standout cuts of beef grilled to perfection (Filet Mignon, Ribeye, Prime Skirt Steak, and Mishima Wagyu Hanger Steak); Board for Two, featuring a Whole Fried Snapper, Lobster and Shrimp Risotto, Certified Angus Beef NY Strip and smoked sweet plantain mash; and a vegan option: the Honey Roasted Root Vegetables with sweet potato puree, almondine and preserved lemon.
Three new cocktails make an appearance, too: Belle, Ketel One Grapefruit & Rose Botanical, St. Germain Elderflower, clarified lemon juice, essence of rose and plumeria; Maracuya, passion fruit vodka, passion fruit, purple basil, tarragon, and Szechuan flower; and Up In Smoke, Ilegal Joven Mezcal, Pedro Ximenez, Gonzalez Byass, Old Fashioned syrup, dehydrated blood orange, caramelized fig, and smoked eucalyptus oak.
Rusty Pelican is located at 3201 Rickenbacker Causeway, Key Biscayne, FL 33149. For more information, visit their official website.
Sushi Garage Now Offers Happy Hour Every. Single. Day.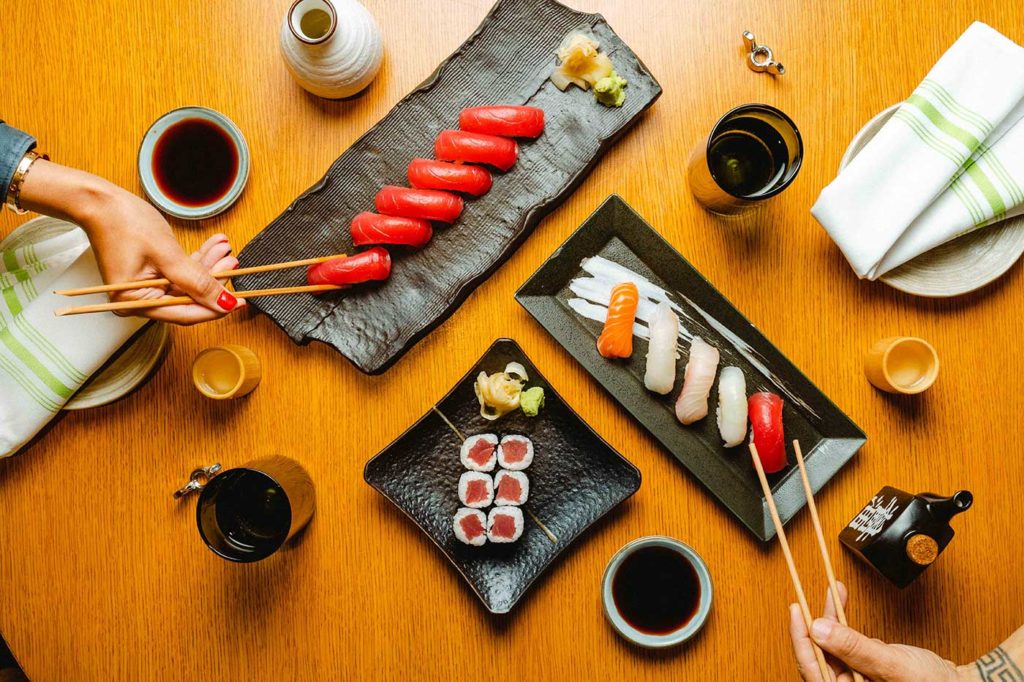 Looking for a daily happy hour? Sushi Garage has just the thing. Available every day at its three locations from 5:30 to 8 p.m., guests can hang out on the cozy outdoor patio and feast on favorites like the Korean Beef Leaf Taco; Fried Tofu with black garlic honey; sashimi and sushi; and Chili Shrimp Dumplings. Drink specials include sake starting at $11.50, beers starting at $3, wines starting at $4.50, and all specialty cocktails priced at $5.
Sushi Garage is located at 1784 West Ave, Miami Beach, FL 33139. For more information, visit their official website.
What to Do for Valentine's Day 2022 in Miami
Nothing says love like an astronomical amount of food. So, spoil your plus one with an indulgent night out on the town at any one of the following eateries, each offering a special Valentine's Day 2022 menu.
Bulla Gastrobar
Bulla Gastrobar's prix-fixe Valentine's Day menu will be available between February 11 and 14th so if you'd rather avoid the hectic "day of," you can! The four-course dinner includes a sparkling wine toast for two and is priced at $120. The menu includes options like Salmon Carpaccio with crispy capers, cornichons, arugula, mini croutons, and aioli; Pintxo Moruno, cumin marinated pork loin skewers, mojo verde, and Greek yogurt; Maine Lobster Caldoso served with Valencia style rice, shrimp, clams, chicken, sofrito, saffron, and ½ Maine lobster; as well as desserts like Cremoso de Chocolate, a three-layer chocolate genoise with vanilla ice cream, olive oil, and Maldon salt; and Bulla Apple Tarte, puff pastry, apricot marmalade, and vanilla ice cream.
Bulla Gastrobar is located at 2500 Ponce de Leon, Coral Gables, FL 33134. For more information, visit their official website.
Byblos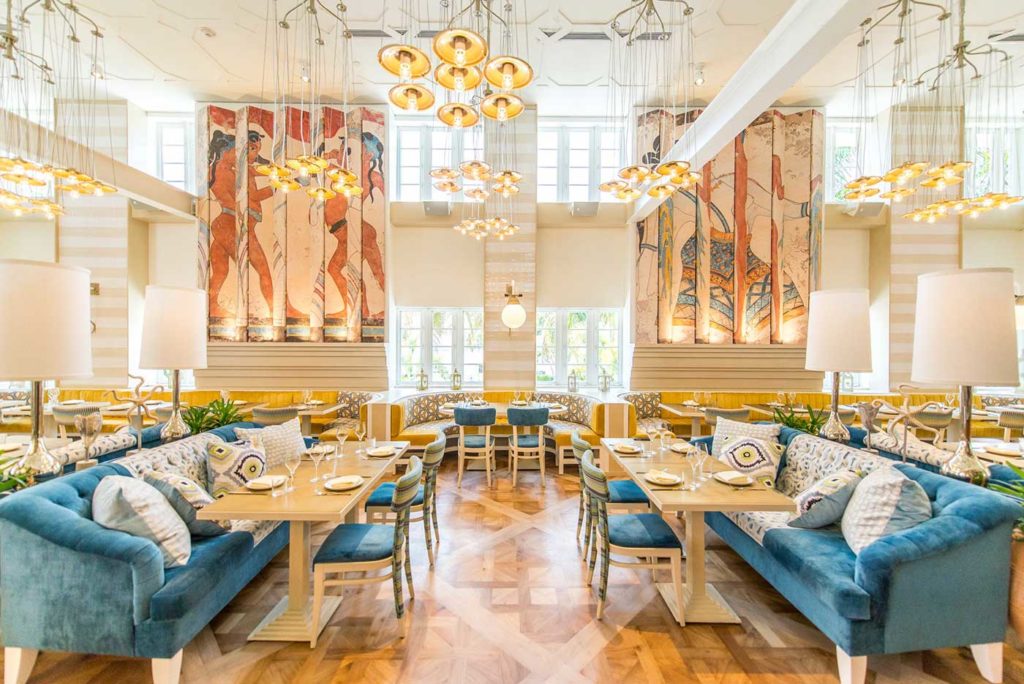 Welcome cocktail with a bouquet of flowers? We'll take it. Byblos is offering that plus a prix-fixe menu including classics like Hamachi, Truffle Pide, Lamb Ribs, Short Rib Kebabs, Atlantic salmon, Truffle Rice, and Brussels; the chef's choice of dessert; a bottle of Moet Chandon Grand Vintage 2008; and spiked tea cocktails. The entire experience is priced at $300+ per person.
Byblos is located at 1545 Collins Ave, Miami Beach, FL 33139. For more information, visit their official website.
Glass & Vine
Glass & Vine is offering those who celebrate Valentine's Day the perfect romantic garden environs, as well as a prix-fixe dinner menu priced at $65 per person. On the menu: Hamachi Tiradito with lime, avocado, olive oil, tomato, parsley, and crispy garlic; Artichoke Risotto with sunchoke, artichoke, mascarpone, parmesan, and crispy artichoke; Filet Mignon with truffle spinach puree, potato gratin, and black truffle chimichurri; Warm Brownie and Vanilla Bean Ice Cream; and so much more.
Glass & Vine is located at 2820 McFarlane Rd, Miami, FL 33133. For more information, visit their official website.
Juvia
Head over to Juvia for a romantic champagne dinner with a prix-fixe menu from 4:30 p.m. to midnight. Indoor seating is priced at $180 per person and includes half a bottle of Louis Roederer Brut for two guests. Outdoor seating is priced at $240 and includes a half bottle of Louis Roederer Brut Rose for two. Both options include four courses.
Juvia is located at 1111 Lincoln Rd, Miami Beach, FL 33139. For more information, visit their official website.
Kosushi
Kosushi executive chef Shoyo Lida has created a specially curated Valentine's Day menu available Sunday, February 13th and Monday, February 14 from 6 p.m. to close. Guests can indulge in the Valentine Gunkan (vinegared rice topped with seafood/veggies and wrapped in nori seaweed) Selection ($28), which includes fresh salmon with ikura, Miyazaki wagyu with Hokkaido uni, Hamachi with poached quail egg, truffle, and more. Lovebirds can also enjoy two exclusive cocktails: Love at First Sight, with peach vodka, Cointreau, lemon juice, and cinnamon simple syrup, or Sparks in the Air with St. Germain, Chamord, lemon juice, simple syrup, a splash of prosecco, and edible glitter. Available the weekend of Valentine's Day on Sunday and Monday from 6 p.m. to close.
Kosushi is located at 801 South Pointe Dr Unit# 105, Miami Beach, FL 33139. For more information, visit their official website.
LPM Restaurant & Bar Miami
Francophiles will delight in LPM's "Romance in Provence" themed Valentine's dinner, available on Monday the 14th from 6-10:30pm. Think French Riviera vibes, as well as a live singer, a violinist and a polaroid keepsake. As for the menu, choose from options like Carpaccio de Thon or Petit Farcis Niçois (veal stuffed Mediterranean veggies); Risotto aux Champignons et créme fraîche (mushroom risotto with crème fraîche and aged parmesan); Filet de Daurade Vivienne (marinated lamb cutlets with olive, aubergine caviar and pine nuts; Mousse au Chocolat Chaude et Glace a L'orange (warm chocolate mousse with malt ice cream) or Pavlova aux Framboises et Fruit de la Passion (passion fruit and raspberry pavlova with coconut sorbet). The prix-fixe menu is priced at $195 per person.
LPM Restaurant is located at 1300 Brickell Bay Dr, Miami, FL 33131. For more information, visit their official website.
Mayami Mexicantina
This Valentine's Day, Wynwood's Mayami is treating all ladies to a complimentary Mayamiga cocktail. The Mexican cuisine meets Tulum vibes eatery will also be offering a $65 prix-fixe menu available both indoor and outdoors. And, if you want to get really adventurous with your date, don't miss out on their insect-infused Mezcal shots.
Also new to Mayami is their "happiest" of hours with specials on items like Blue Point Oysters, Aji Amarillo Shrimp Ceviche, Mayami Sliders, and more. Libations will of course also be on the menu, including craft cocktails and twists on classics such as Smoky Margaritas and Mezcal Mules. Happy Hour is available Monday through Friday between 5 to 7 p.m.
Mayami Mexicantina is located at 127 NW 23rd St, Miami, FL 33127. For more information, visit their official website.
Meet Dalia
Meet Dalia, INK Entertainment's newest Mediterranean concept on Ocean Drive, is ringing in V-day with a prix-fixe, four-course menu priced at $125 per person including a glass of bubbly, along with a wine pairing option for an additional $60. Think items like
Oysters, Shrimp Cocktail, Greek salad, Tuna Tartare, a Mezze Sampler, and Surf & Turf; plus desserts such as Chocolate Covered Strawberries or Chocolate Baklava.
Meet Dalia is located at 640 Ocean Dr, Miami Beach, FL 33139. For more information, visit their official website.
PLANTA Queen
Calling all vegans! Treat your dinner guests to a plant-based, prix-fixe a la carte menu at Planta Queen. Enjoy favorites like the Ahi Watermelon Nigiri; Truffle Fried Rice; Red Curry and more for $75 per person. Prefer to spend the night cozying up on the couch? Planta is also offering a prix-fixe take-out menu that feeds up to two for $100.
Planta Queen is located at 3015 Grand Ave Suite 201, Coconut Grove, FL 33133. For more information, visit their official website.
Red Rooster
Red Rooster Overtown is celebrating the holiday with a prix-fixe, five-course menu priced at $85 per person, as well as a limited a la carte menu. Expect items like Scallop Crudo, Crispy Sweetbreads with grilled calamari, pistachio maaf, and asparagus; Black Bass served with grilled artichoke, arugula zhug, potato and oyster; and a choice of Dry-Aged Duck Breast, Wagyu Beef Cheek or a Lamb Shank for two. Top the night off with the eatery's A Passion for Chocolate dessert.
Red Rooster is located 920 NW 2nd Ave, Miami, FL 33136. For more information, visit their official website.
Uchi
Forget the traditional three-course dinner and opt instead for Uchi's splurgy 10-course Omakase Valentine's Day menu. Priced at $315 per person, the menu will be offered Friday, February 11; Saturday, February 12; and Monday, February 14. Highlights include their Caviar Set with .5oz of caviar, crème fraiche, meyer lemon, and Japanese sweet potato; Lobster with poached butter, citrus marmalade, watermelon radish white kimchi, and chili threads; and Duck with baby bok choy, smoked sweet plantain, and mandarin.
Uchi is located at 252 NW 25th St, Miami, FL 33127. For more information, visit their official website.