It's already February and local foodies have a lot to look forward to this month and beyond. Here's a quick list of Miami restaurant promotions and specials you should be aware of:
A Fish Called Avalon: New Takeout Offerings
For over three decades, a Fish Called Avalon has wowed guests with its amazing seafood on Ocean Drive. While the South Beach restaurant is open for dine-in, some guests might still be a little wary about sitting in a dining room during a global pandemic. The eatery understands this, which is why it's doubling down on takeout efforts with an expanded takeout menu.
The revamped selection features many of A Fish Called Avalon's greatest hits like the jumbo lump crab cake and seared sesame seared tuna, but also a plethora of comfort food classics. Some of the latest offerings include fish and chips, chicken fingers and baby back ribs. It's a nice balance of casual fare and refined cuisine that is sure to please consumers.
A Fish Called Avalon is located at 700 Ocean Drive, Miami Beach, FL 33139. For more information, visit their official website.
La Placita: New Lunch Menu
If you're looking for a new mid-day hangout, then head on over to La Placita for lunch. The Puerto Rican eatery recently debuted a $15 lunch menu that includes a number of sizable entrees.
Among these offerings are chicharrones de pollo (fried chicken chunks), grilled mahi-mahi, and carne guisada (beef stew). Sides include rice with pigeon peas, fried plantains, and beans. The menu is available on weekdays from noon to 4 p.m.
La Placita is located at 6789 Biscayne Boulevard, Miami, FL 33138. For more information, visit their official website.
Little Hen: Afternoon Tea
You'll be hard-pressed to find a cuter restaurant in Miami than Little Hen. The Midtown bistro is home to an English-inspired design straight out of a movie. Just as impressive is the food, which includes a range of breakfast and brunch fare like chicken and waffles, scones, rose petal pancakes and bananas foster French toast. One of the biggest draws, however, is something that's almost impossible to find in the 305: afternoon tea aka high tea.
The European afternoon ritual is a big deal here, with numerous prix-fixe options. Guests can enjoy a selection of petit fours, French macarons, mini sandwiches, scones—and of course—tea. Since international travel is a pain right now, this is the next best thing.
Little Hen is located at 3451 NE 1st Avenue, Suite 100/102, Miami, FL 33137. For more information, visit their official website.
Novikov: BoyChoy Pop-Up
Downtown Miami's Novikov is known for its exquisite Chinese cuisine. It's also known for its high price point – you get what you pay for, though. Enter BoyChoy, Novikov's more casual and affordable offshoot. This pop-up within Novikov is available through UberEats and offers up reasonably priced bites like Mongolian beef, sweet and sour mango chicken, bao buns, and fried rice. The menu is available daily.
Novikov is located at 300 South Biscayne Boulevard, Miami, FL 33131. To learn more about its BoyChoy pop-up, visit their official website.
The River Oyster Bar: Happy Hour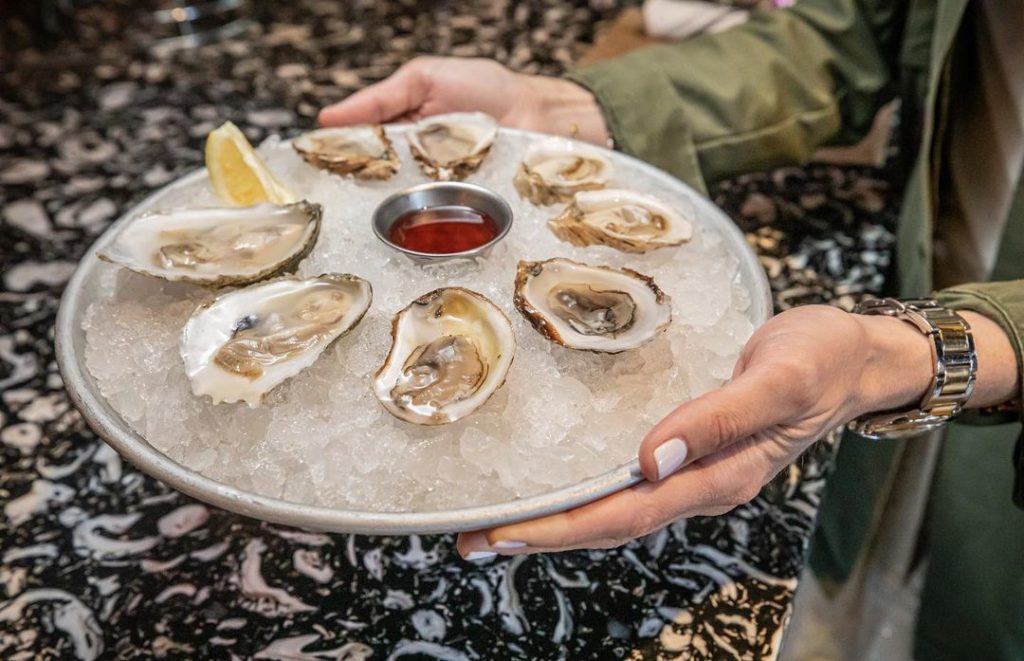 In case you missed the memo, one of Brickell's hottest spots is back—albeit in a new location. The Miami institution has reopened just a few blocks east from its original location, and that's just about the only thing that has changed. Guests can still expect the same quality food and libations that they've come to know and love over the years. That includes the happy hour selections.
From 4:30 to 7 p.m. at the bar, diners can enjoy $4 beer, $6 wine by the glass, and $6 martinis and well drinks (plus a few select cocktails). And of course, oysters are also on special; a chef's selection of oysters is available for $1.50 each. Just remember: This deal isn't available at dinner tables.
The River Oyster Bar is located at 33 SE 7th Street, Suite 100, Miami, FL 33131. For more information, visit their official website.