From boozy deals on bites and brews to lamb-filled Easter menus and bottomless brunches, this month has a little bit of something for everyone. Here are 10 specials, deals, or promos to take advantage of before May.
27 Restaurant Debuts Refreshed Brunch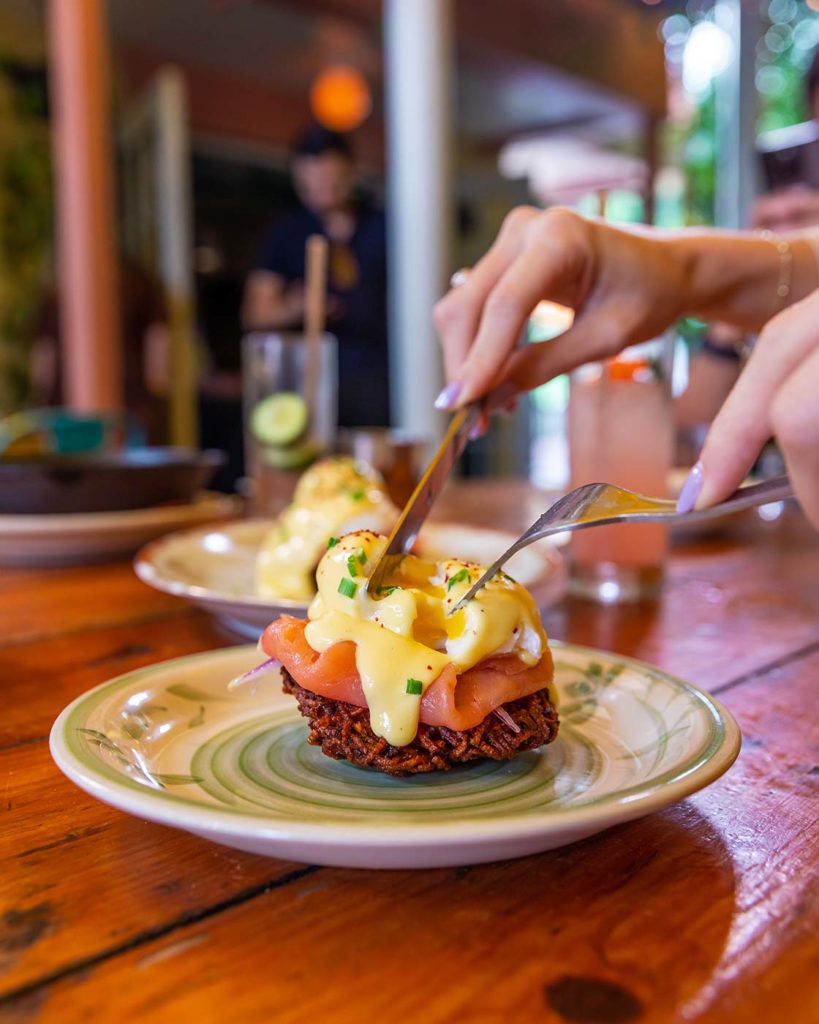 Located at Freehand Miami, 27 Restaurant, known for its global-inspired American eats set in a quaint 1930s restored house, has just launched a revamped brunch menu available Sundays from 11 a.m. to 4 p.m. On the new menu are a plethora of cocktails and non-alcoholic beverages as well as dishes such as salmon croquetas, oyster mushrooms, labneh, latke benedict, shakshuka, fried chicken biscuit and gravy, fish sandwich, kimchi fried rice, and more. Cocktail highlights include Mack's fault, made with Turkish coffee fat, washed Old Forester, rye, cardamom, and tiki bitters; Ghost of 27, made with Bacardi 4, pineapple, lime, and rosemary orgeat; Miami 75, made with Fords Gin, strawberry, lemongrass, lemon, and sparkling wine; and a Bloody Mary with Finlandia vodka, Worcestershire, seaweed flakes, and Thai chili.
27 Restaurant is located at 2727 Indian Creek Drive. Miami Beach, FL33140. For more information, visit their official website.
4 Rivers Smokehouse Launches New 'Inflation Menu'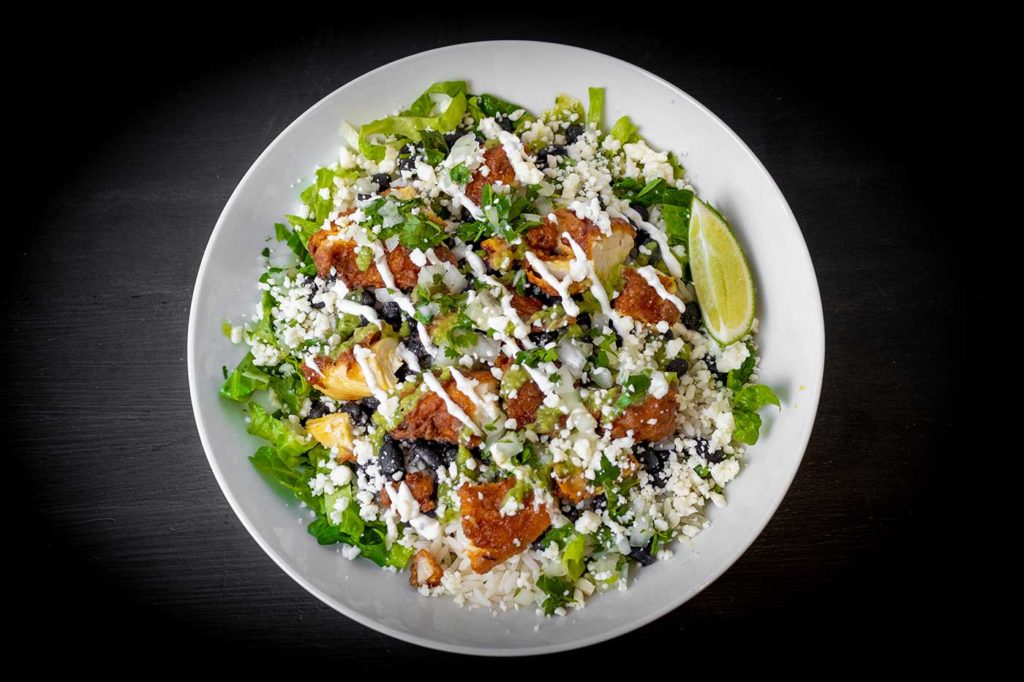 With prices on just about everything skyrocketing, Florida-based barbecue concept 4 Rivers Smokehouse decided to debut a budget-friendly inflation menu.
Think items like a barbacoa bowl—starting at $7.99—made with shredded lettuce, white rice, black beans, cilantro-lime crème fraiche, guasacaca, cilantro onion salsa, queso fresco, and a choice of piled on veggies or protein; and a buffalo chicken mac attack—$9.99— tossed with buffalo sauce, French fries, mac and cheese, jalapenos, queso fresco, and cilantro, served with a side of ranch or blue cheese. Offerings on the Inflation menu will rotate and the menu will be available for the foreseeable future.
4 Rivers Smokehouse is located at 2660 N University Dr, Coral Springs, FL 33065. For more information, visit their official website.
American Social Celebrates National Beer Day
Celebrate the hoppy national holiday with brews and bites at American Social. They'll be serving up a variety of ales, IPAs, lagers, and stouts, as well as Funky Buddha Floridian drafts for $4 or beer buckets filled with your choice of Budweiser, Bud Light, or Coors Light for $20. Cheers to that perfect frosted glass.
American Social is located at 690 SW 1st Ct, Miami, FL 33130. For more information, visit their official website.
Forte Serves Up New Weekend Brunch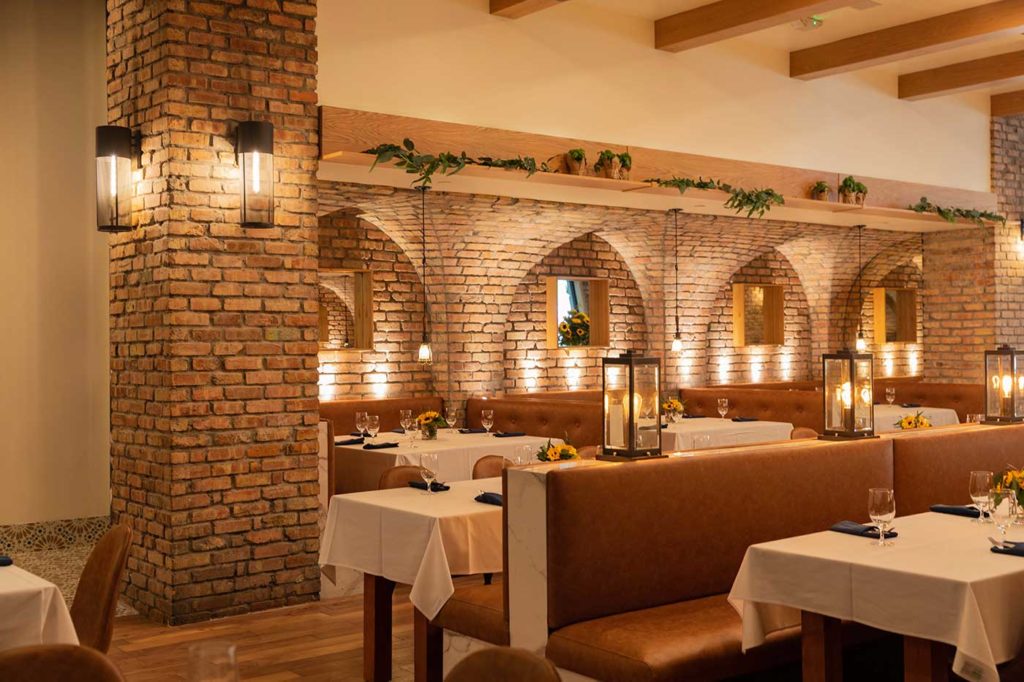 Adrienne Calvo's newest eatery, Forte, is boarding the brunch train with a weekend brunch offered Saturday and Sunday from noon to 3 p.m. Guests can indulge in favorites like ahi tuna tartare with avocado, basil, tomato, red onion, extra virgin olive oil, and lemon; whipped ricotta toast with white truffle honey and a crostini; Italian breakfast sandwich with prosciutto, salami, mortadella, fried egg, fresh mozzarella, tomato, and arugula; and the bongiorno pizza with bacon, cheese, onion, and egg. Guests can also give their taste buds an extra treat with a glass (or bottle) of Chef Adrianne's very own wine – the full-bodied Napa Valley Cabernet Sauvignon. A full cocktail and wine menu are available.
Forte is located at 45 Miracle Mile, Coral Gables, FL 33134. For more information, visit their official website.
Mayami Mexicantina Introduces New Happy Hour, Brunch, and Revamped Dinner Menu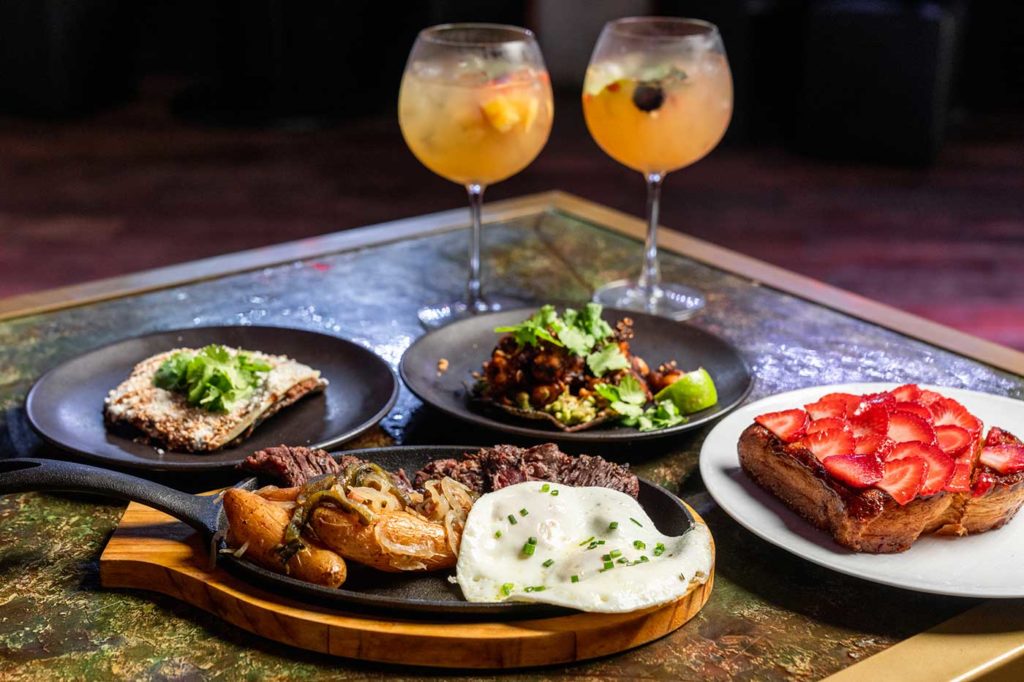 Led by executive chef Juan Carlos Flores, Mayami Mexicantina's menu doles out Mexican fusion fare alongside creative cocktails. The eatery recently launched a new happy hour, which now has more menu items including blue point oysters, aji Amarillo shrimp ceviche, Mayami slides, and more, plus a cocktail list with twists on classics such as smoky margaritas and mezcal mules. Simultaneously, Mayami has launched a new brunch menu that features dishes such as Mayami wagyu sliders with bacon onion jam, gruyere, and nusky bacon; Japanese pancakes topped with cajeta maple syrup and seasonal berries; filet mignon truffle eggs benedict, with truffle hollandaise, poached eggs, and fillet mignon on an English muffin; and huevos rancheros with salsa tatemada, frijoles refritos, over-easy eggs, sour cream, and cotija cheese. As for those new dinner dishes, expect whole branzino with a sea salt shell lit on fire, a 32oz prime tomahawk steak made with pickled seasonal veggies, a veal demi-glace, and more.
Mayami Mexicantina is located at 127 NW 23rd St, Miami, FL 33127. For more information, visit their official website.
Miami Diner Toasts to National Beer Day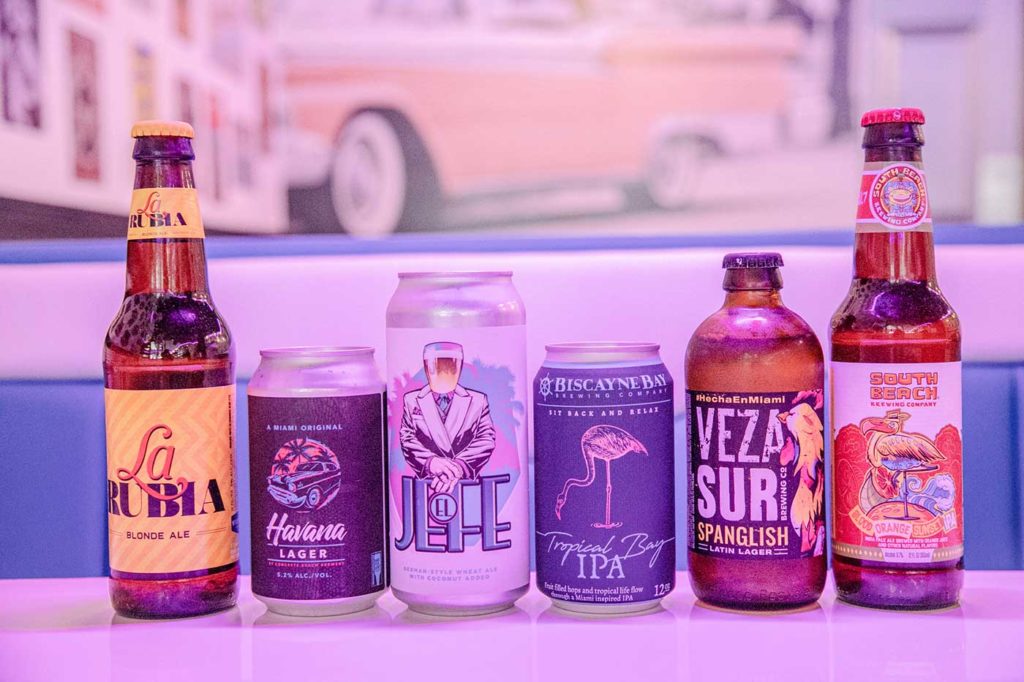 On April 7, National Beer Day, Miami Diner's South Beach location invites beer-enthusiasts to celebrate the holiday with the class pairing: beers and burgers. Sip on favorites from Miami Diner's extensive local craft beer selection for $5 throughout the day. On tap are beers like Wynwood Brewing Co.'s La Rubia, South Beach Blood Orange, El Jefe, Havana Lager, Tropical Bay IPA, Tank Freedom Tower, and Pops Porter. When you get hungry, order any of Miami Diner's 13 burger creations, including options like the Miami OG burger with double patties, caramelized onions, crispy bacon, swiss cheese, and fried egg; pina burger with grilled pineapple and caramelized onions; and the Texas burger with jalapenos, crispy bacon, cheddar cheese, and BBQ sauce.
Not available to visit the eatery on National Beer Day? Check them out on Sundays when they host a weekly brunch party with bottomless mimosas and Bloody Marys for $20 as well as live DJ entertainment. Menu highlights include the breakfast burger topped with fried eggs and bacon, an assortment of sweet and savory waffles like the Miami Waffle with Oreo cookies, walnuts, Nutella, bananas, and chocolate syrup; as well as the diner's over-the-top milkshakes like the guayaba y queso crema milkshake made with guava and cream cheese ice cream, topped with whipped cream and slice of mango guava cheesecake.
Miami Diner South Beach is located at 919 Alton Rd, Miami Beach, FL 33139. For more information, visit their official website.
Osteria Morini and Meraki Greek Bistro Celebrates Easter Sunday & Greek Easter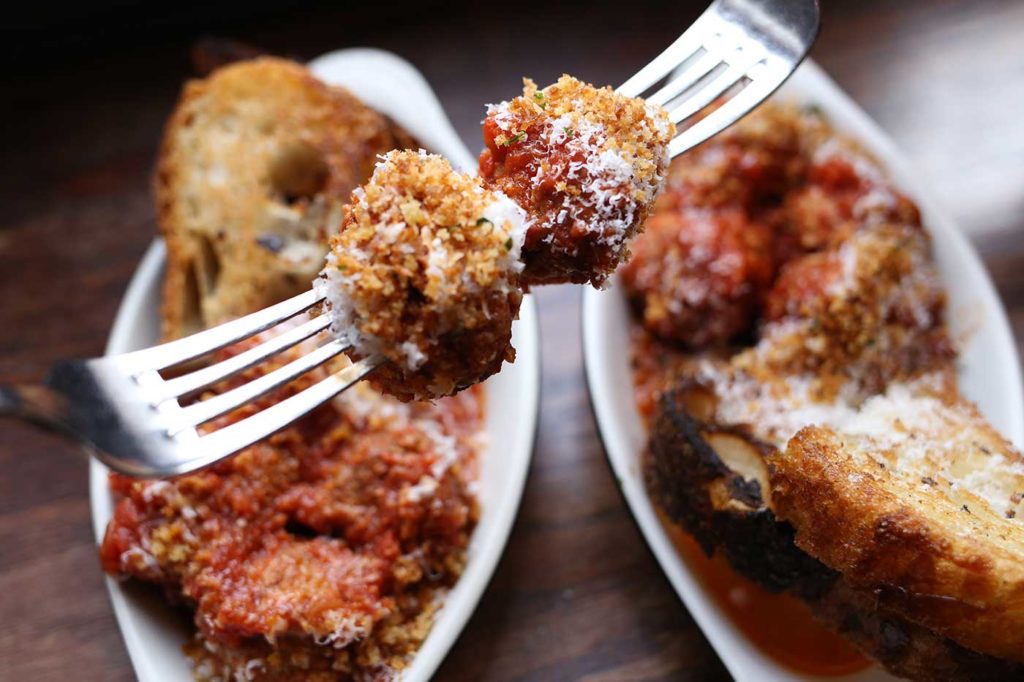 Greeks living in Miami can relate to finding far-and-few Greek Easter offerings. Osteria Morini and Meraki Greek Bistro are fixing the problem by offering prix-fixe menus on both Easter dates (Easter Sunday, April 17 and Greek Easter, April 24). Osteria Morini will serve a three-course Italian family-style menu, while Meraki Greek Bistro will offer a traditional four-course lamb roast dinner.
Sidenote: Osteria Morino also offers a weekend bottomless brunch featuring Italian-inspired fare highlighted by mix-and-match bottomless cocktails for $30 including mimosas, peach and passionfruit bellinis, Bloody Mary's and Maria's, and Italian Garibaldi cocktails. New menu highlights include baked burrata with tomato, eggplant, and basil; eggs benedict with poached eggs, spinach, smoked salmon hollandaise; tigelle modenese, along with signature favorites like freshly sliced battilardo, crudo selections, and house-made pastas.
Osteria Morini is located at 1750 Alton Rd, Miami Beach, FL 33139. For more information, visit their official website.
Meraki Greek Bistro is located at 142 SE 1st Ave, Miami, FL 33131. For more information, visit their official website.
Plant's Weekly Sunday Farmer's Market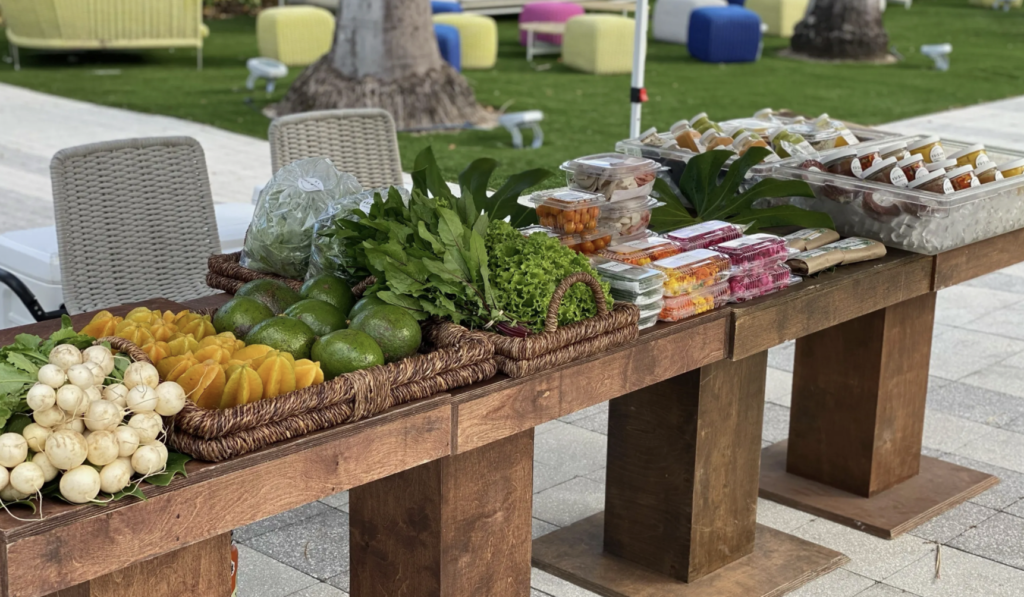 Not only can you stop by the eatery for some of Miami's freshest vegan eats, but you can complete your breakfast or brunch with a little weekly shopping at Plant's Farmer's Market. Available every Sunday between 9 a.m. and 2 p.m., Plant's Farmer's Market is chock full of organic produce sourced from Paradise Farms. Renowned for its regenerative and organic farming, Paradise Farms grows a variety of crops including medicinal herbs, tropical fruits, and rare mushrooms.
Plant is located at 105 NE 24th St, Miami, FL 33137. For more information, visit their official website.
Root & Bone's Fried Chicken Happy Hour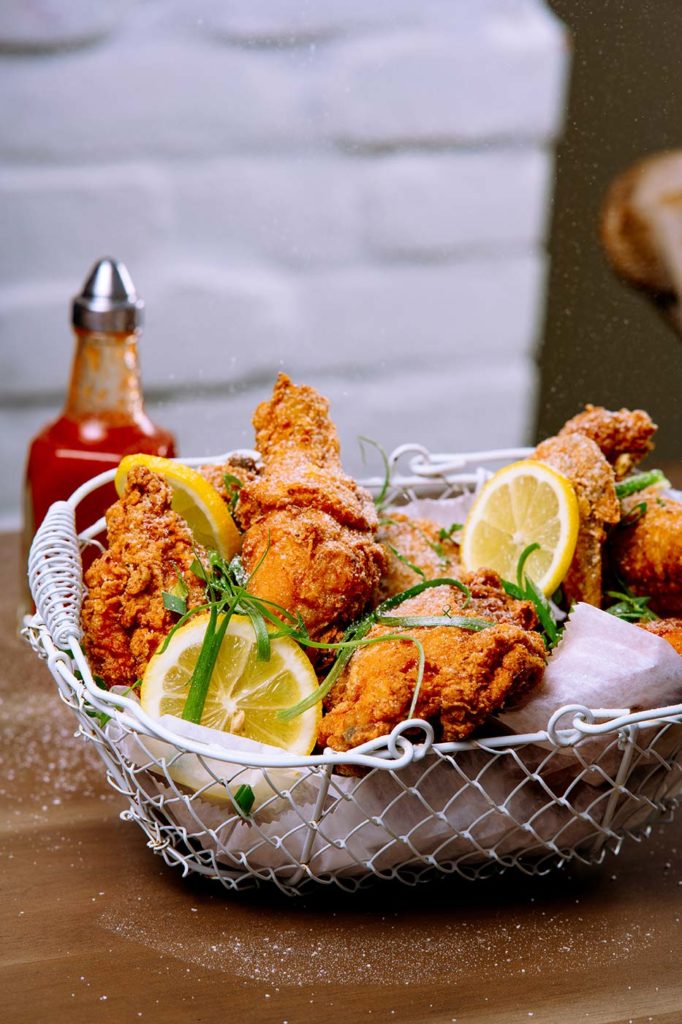 Root & Bone is known for dishing out the crispiest, juiciest fried chicken dishes, and, aside from indulging in their regular 4-6 p.m. Monday-Friday happy hour, you can now enjoy their fried chicken delights half off every Monday from 4 to 10 p.m. Guests can enjoy half-off fried chicken and bourbon, indulging in iconic staples such as the fried chicken sandwich topped with pickled green tomatoes, cheddar cheese, and buttermilk dressing or the chicken and waffles with sweet tea fried chicken (wing, leg, thigh), served over a large waffle and topped with bourbon maple syrup.
Root & Bone is located at 5958 S Dixie Hwy, South Miami, FL 33143. For more information, visit their official website.
Seawell Fish N' Oysters Launches Oyster Hour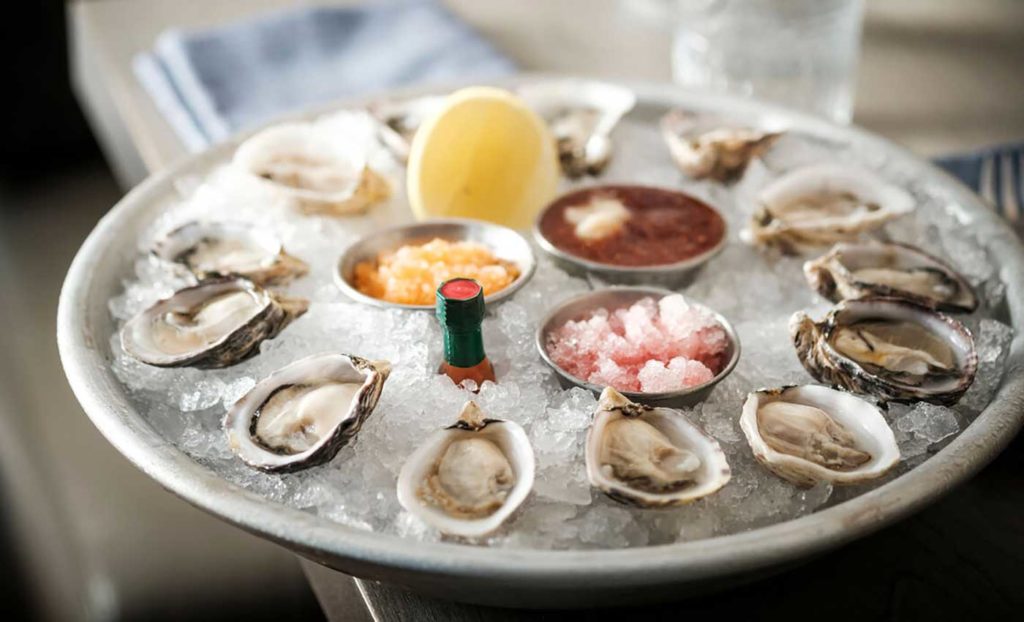 Bivalve lovers, you're in luck. Seawell Fish N' Oysters, known for its sustainably, locally sourced seafood, is now offering diners a pre-dinner Oyster Hour available Wednesday through Saturday from 5 to 6 p.m. During this time, guests can enjoy half-off oysters paired with $9 prosecco and Aperol spritz.
Seawell Fish N' Oysters is located at Kimpton Angler's South Beach at 660 Washington Avenue, Miami Beach, FL 33139. For more information, visit their official website.