After a long day at work, you might find yourself in need of a stiff drink (or two). If it's been one of those days, these five spots will help you forget about the office fast:
Buya Izakaya + Yakitori
At Buya, casual Japanese fare is the star of the show. From 3 p.m. to 6 p.m. on weekdays, guests can enjoy a bevy of discounted drinks during the Wynwood restaurant's popular happy hour. Bring your coworkers and wash down the day with $4 draft beers, house wine and Bushido sake.
Tasty bites like pork belly bao buns and karaage chicken are also available at a reduced price. Even if you come outside of happy hour, Buya's extensive sake selection is reasonably priced so there's never a bad time to visit.
Buya Izakaya + Yakitori is located at 250 NW 24th Street, Miami, FL 33127. For more information, visit their official website.
CJ's Crab Shack
Head on over to Ocean Drive for a taste of CJ's Crab Shack and its signature drinks. Priced at $12 for 16 ounces of booze, CJ's strong adult libations make for an ideal post-work treat. Sip on items like Chris' Famous Rum Punch, Hurricane Molly, Lila's Frozen Vodka Lemonade and Bryce's Miami Blues while people watching on one of Miami Beach's iconic streets – it's a free show.
CJ's Crab Shack also boasts classic drinks like Long Island Ice Tea, Pina Colada and froze. And of course, they can make you anything you want. Pair all of these with delicious grub like fried shrimp, snow crab, and fish and chips, and your day at the office will be a distant memory.
CJ's Crab Shack is located at 600 Ocean Drive, Miami Beach, FL 33139. For more information, visit their official website.
La Placita
La Placita is known for its Puerto Rican food and flag mural, but its drink selection deserves just as much of the spotlight. The beer selection is small and mighty with Heineken, Corona, Lagunitas IPA and Medalla Light all making an appearance.
Prepare to be blown away by the cocktails. There are Puerto Rican staples like the ubiquitous Pina Colada and Whisky Con Agua de Coco (whisky and coconut water), along with more creative drinks like the Guava-Te Mule (a guava-flavored twist on a Moscow Mule) and the Mama Yak La Placita Remix (rum and more rum). Best of all, many of these cocktails are available by the pitcher, so you and your work buddies can do some damage.
La Placita is located at 6789 Biscayne Boulebard, Miami, FL 33138. For more information, visit their official website.
Riviera Focacceria Italiana
For a more laidback post-work outing, consider Riviera Focacceria Italiana in Midtown Miami. From 4 to 6 p.m. on weekdays, the Italian eatery hosts a generous happy full of wine, small plates and good vibes. Guests can indulge in $5 wines by the glass as well as $7 bites like fried artichokes, fried calamari and shrimp, sauteed mussels and more.
It's not on the happy hour menu, but you should consider also ordering the restaurant's famed focaccia con formaggio – two thin layers of homemade dough filled with Italian stracchino cheese. The description may not sound like much, but there's a reason it comes with a warning about how addictive it is. Try it for yourself; you won't be disappointed. You also can't go wrong with any of the pastas.
Riviera Focacceria Italiana is located at 3252 Buena Vista Boulevard #110, Miami, FL 33137. For more information, visit their official website.
Villa Azur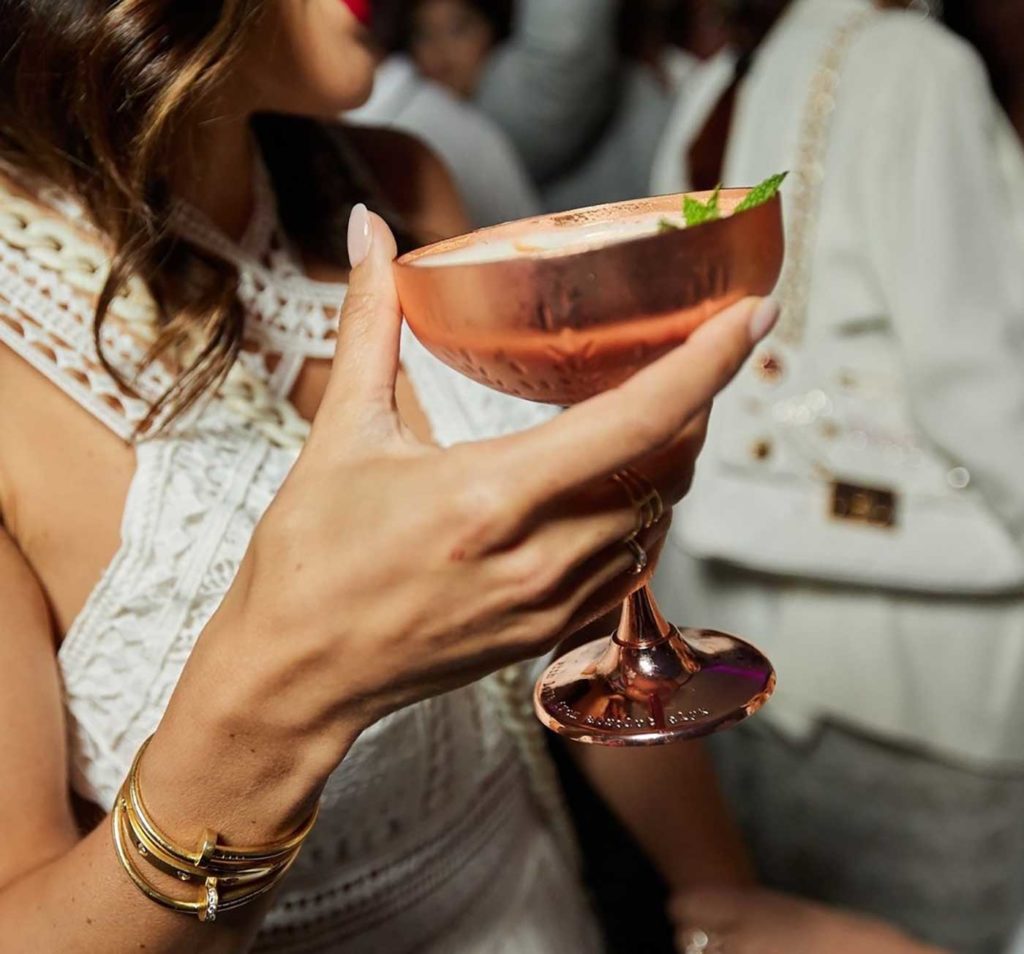 Sometimes you really need to treat yourself after a long day's work. Enter Villa Azur, the upscale French-Mediterranean that's a South Beach staple. The glitzy establishment is known for its flavorful fare and party atmosphere; its Thursday night dinner parties are one of the hottest tickets in town.
Swing by early to avoid the crowds and enjoy refreshing selections like the Ilegal Tea (a mezcal-based cocktail presented in a golden gnome) and the Sue Ellen (Hendrick's gin, cucumber, black pepper and tonic). The drinks aren't cheap, but they're well worth the price. And if it's a party you want, stay until later into the evening when things pick up with live entertainment.
Villa Azur is located at 309 23rd Street, Miami Beach, FL 33139. For more information, visit their official website.