"You are what you eat." You've likely heard that phrase countless times when it comes to diets. At Lilikoi Organic Living, that statement definitely holds true. The health-conscious South Beach eatery offers guests a variety of healthy dishes that not only taste great, but also make you feel great. You will leave with a full belly and a huge smile on your face. We sure did. If you find yourself near South Pointe Park looking for a fantastic meal, look no further than Lilikoi Organic Living.
The reason that Lilikoi Organic Living is so good: It practices what it preaches. The ingredients at this charming establishment are locally and organically sourced; don't expect to find anything processed or unnecessarily sweet from excess sugar. As a result, the best word to describe the menu is "pure," but another appropriate adjective is "big." Open all day, there's plenty to like at Lilikoi.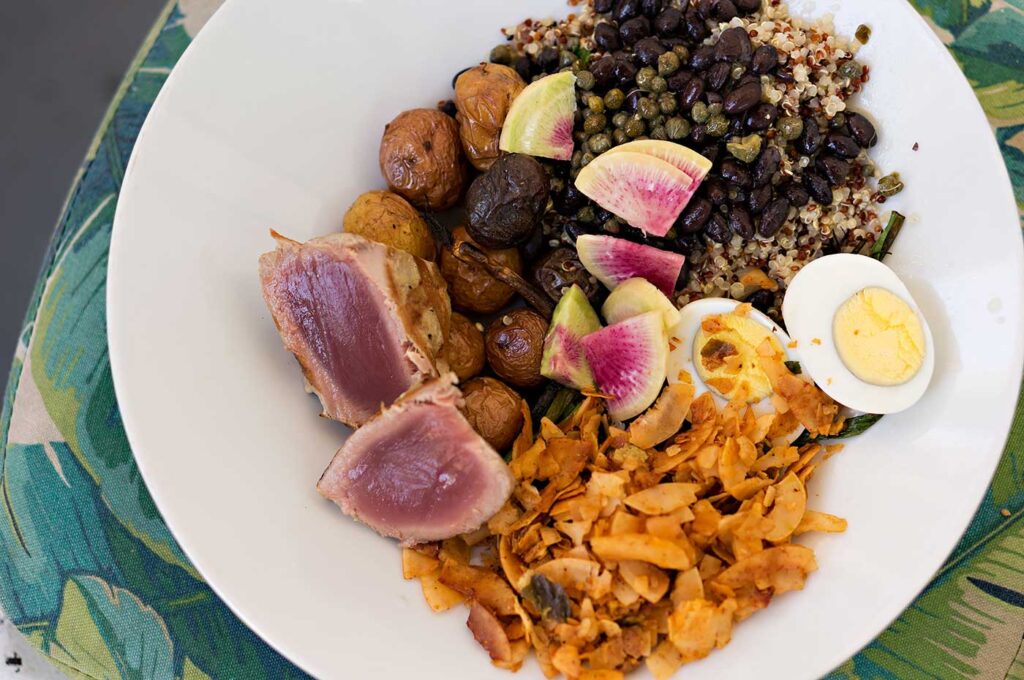 Early risers will find familiar breakfast options like yogurt and granola, eggs on toast, and house-smoked salmon with a bagel. Other morning classics make an appearance albeit with a healthy twist. Case in point: sourdough pancakes and gluten-free quinoa waffles. The breakfast section is short and sweet but covers all the bases; it's available until noon. There's also a brunch menu available all day every day with items like a veggie egg frittata, house-made banana bread, and a sous vide eggs benedict.
We stopped by for lunch, which opened up even more delicious possibilities (there's really no wrong time to visit). A word of warning: Lilikoi Organic Living is all about healthy food, but there's an equal emphasis on heartiness. Portions do not skimp, so prepare your appetite accordingly. We learned this firsthand when we ordered the Tuna Nicoise Salad, which comes loaded with tuna, quinoa, coconut bacon, and a few other fantastic flavors. It's a meal in itself—do not consider this a starter.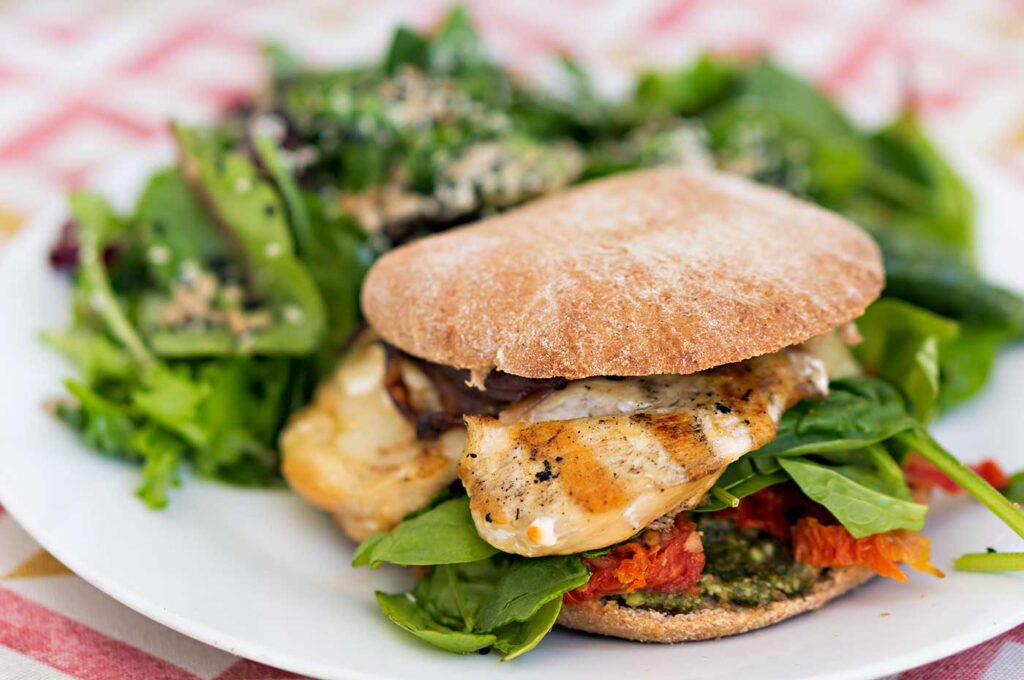 Aside from some tasty salads, Lilikoi provides an assortment of sandwiches and wraps to fill you up without filling you out. A beautiful chicken and brie sandwich teases your taste buds with each bite, and you'll find yourself tempted to order another one for the road. Just as satisfying is the chicken chipotle burrito, whose mix of chicken, kale, black beans, avocado puree, and chipotle aioli is oh-so-fragrant and to die for. We had to pace ourselves, but we'd come back to try out some of the other lunch items like the fresh catch BLT and vegan burger.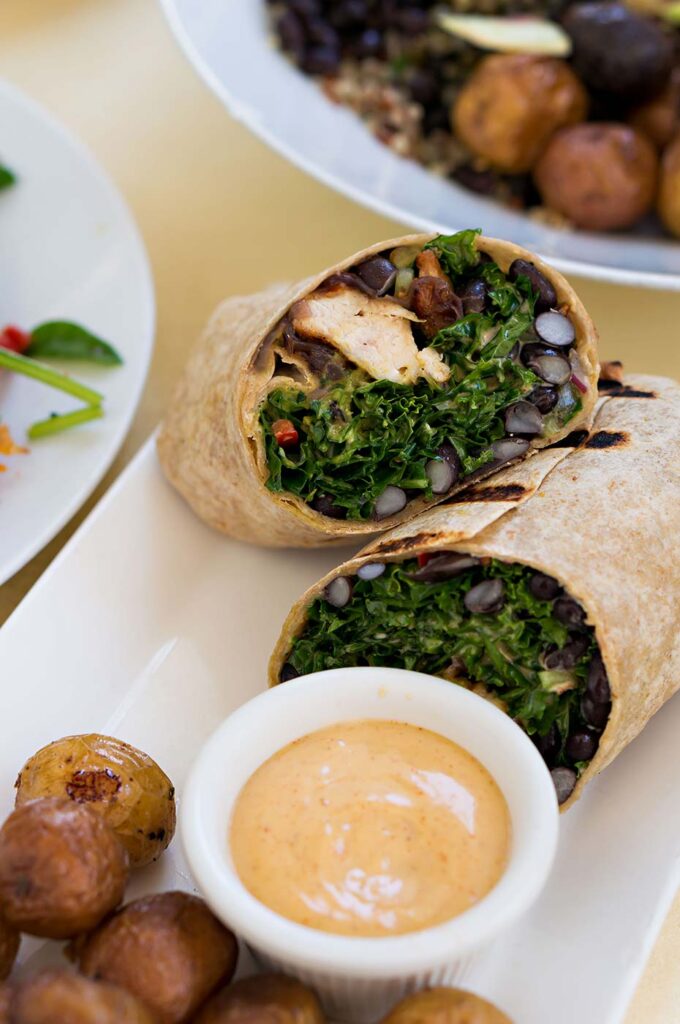 Patrons not in the mood for hand-helds should take a look at the Main Dishes category, where Lilikoi's creative is on full display. It's here you'll find inventive fare like a buckwheat ramen noodle soup, vegan carbonara, and vegan nacho platter. We opted for something a little more traditional—Hawaiian-style poke—and were not disappointed.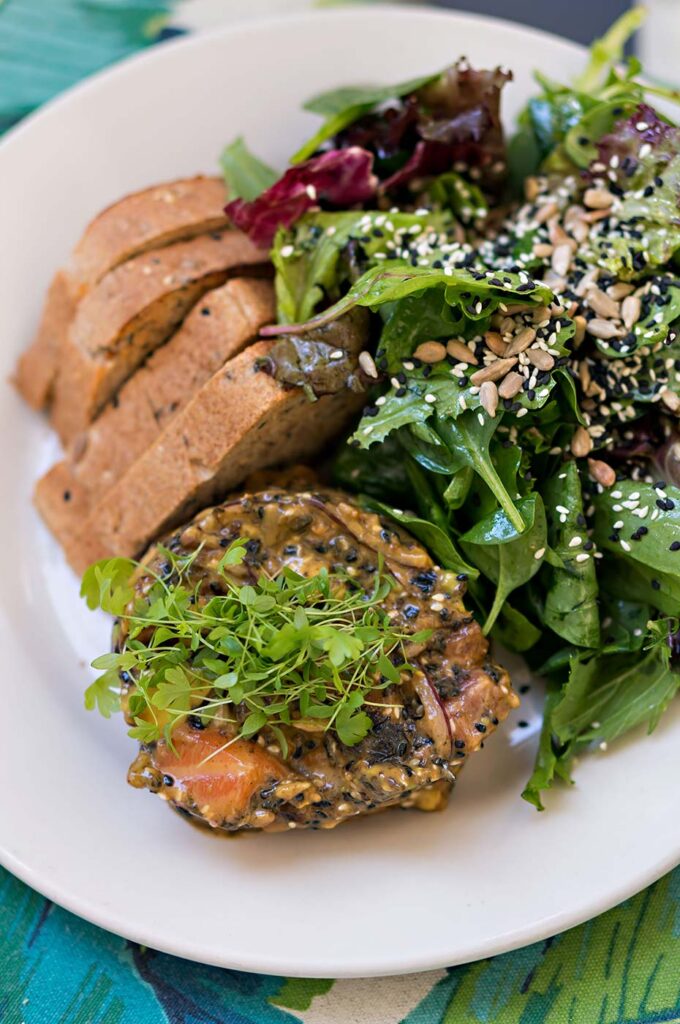 To complement all this food is a fun juice and smoothie menu featuring items such as the appropriately named Our Best (strawberry, grapefruit and wildflower honey) and a chocolate almond shake. Feeling like a cheat day? Wines and other adult refreshments are also up for grabs. Best of all, all of this can be enjoyed in the restaurant's spacious and socially distant outdoor dining area. Needless to say, Lilikoi Organic Living leaves no stone unturned.
On a personal note, my wife and I aren't exactly big on going out and eating healthy. If we're going out, it's an event—give us all the calories and sugar. But Lilikoi is able to walk a fine line between healthy and delicious masterfully (unlike other places we've visited where the two concepts are exclusive). It felt like a treat and we didn't feel like we had to hit the gym afterward. We left content – and ready to come back soon. And that feeling is how we know that Lilikoi is doing healthy food right.