The gourmet market-bistro combination is an utterly charming and highly functional dining experience that we are sorely lacking in Miami. There are far too few truly authentic culinary markets and too few of those offer substantial eat-in opportunities in which to enjoy all the gourmet bounty contained on their shelves. But it's exactly this magical hybrid of market and cafe where La Estancia Argentina has succeeded in being a community favorite for over twenty years. With locations in Aventura and Hallandale, this half-market-half-restaurant is also a full-scale wine shop—stocking mostly South American wines, of course—and a meat purveyor specializing in Argentine cuts perfect for that Buenos Aires native in your life who can't help but grill meats at every possible opportunity.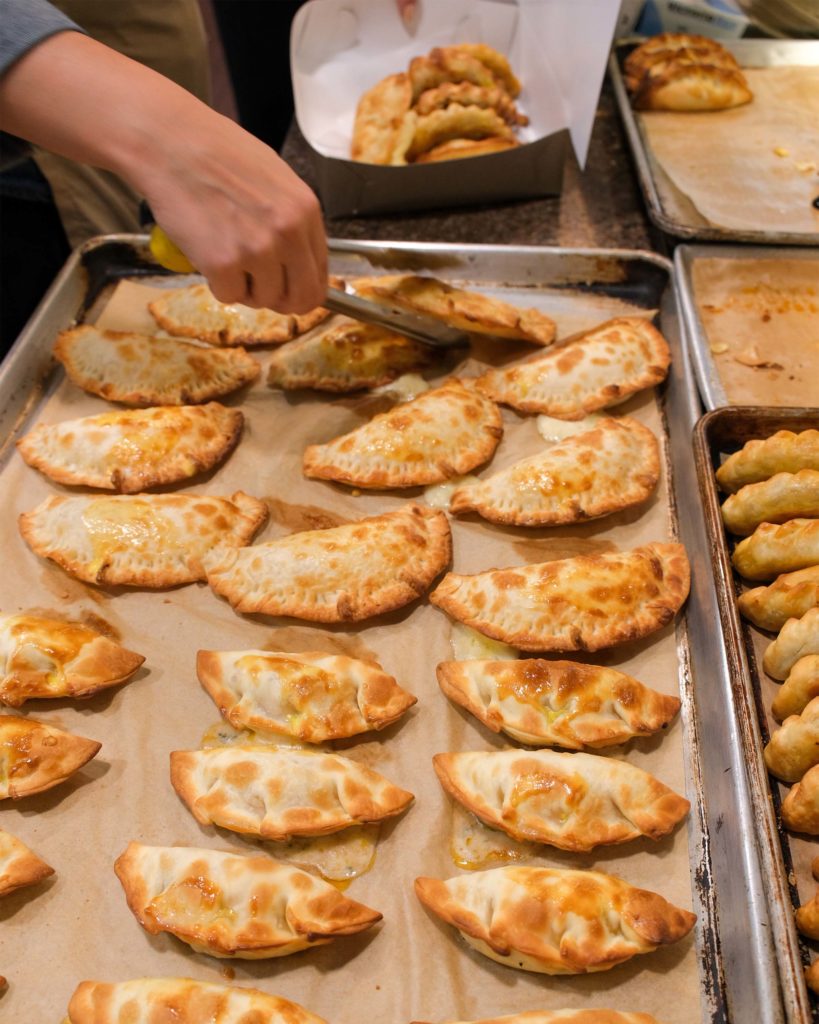 Entering the Aventura location one finds a rustic-yet-polished setup whereby dining tables form the center of the market with display cases and wine shelves creating a perimeter to tempt your appetite with baskets of freshly baked goods, loads of empanadas and a spectacular dessert case stocked with lavish cakes and pastries. Before we delve into the dining experience we need to highlight the empanada selection. Always baked, never fried, Argentine empanadas have a robust flavor and texture. A variety of turnovers—with just the right doughiness—are served with such delicious fillings as jamón y queso, carne and pollo to more unusual flavors like atun, caprese and corn. La Estancia also offers premium empanadas with hand-cut meats and four cheeses. Every meal should start with at least two of these doughy delights and indeed a person could make a meal of just these empanadas and a fresh side of salad but it would be foolish to limit oneself when the menu at La Estancia is so extensive.
From Breakfast to Dinner
La Estancia has daytime eating in its DNA, which means it starts strong with breakfast things—omelets and eggs in many styles, in addition to the baked goods. And the intent is that you can linger through the day, which La Estancia's location in Aventura certainly enables. There's a bustling lunch scene but dinner is offered as well, with plenty of families and neighborhood regulars coming through for afternoon coffee that segues to supper. Even if you're not a meat eater, there's still plenty to feast on here, with ample salads, sandwiches, and even pizza to round out the carnivorous offerings. That's especially reflected in the all-day vibe, with the menu evolving through the day, and its choose-your-own-adventure approach.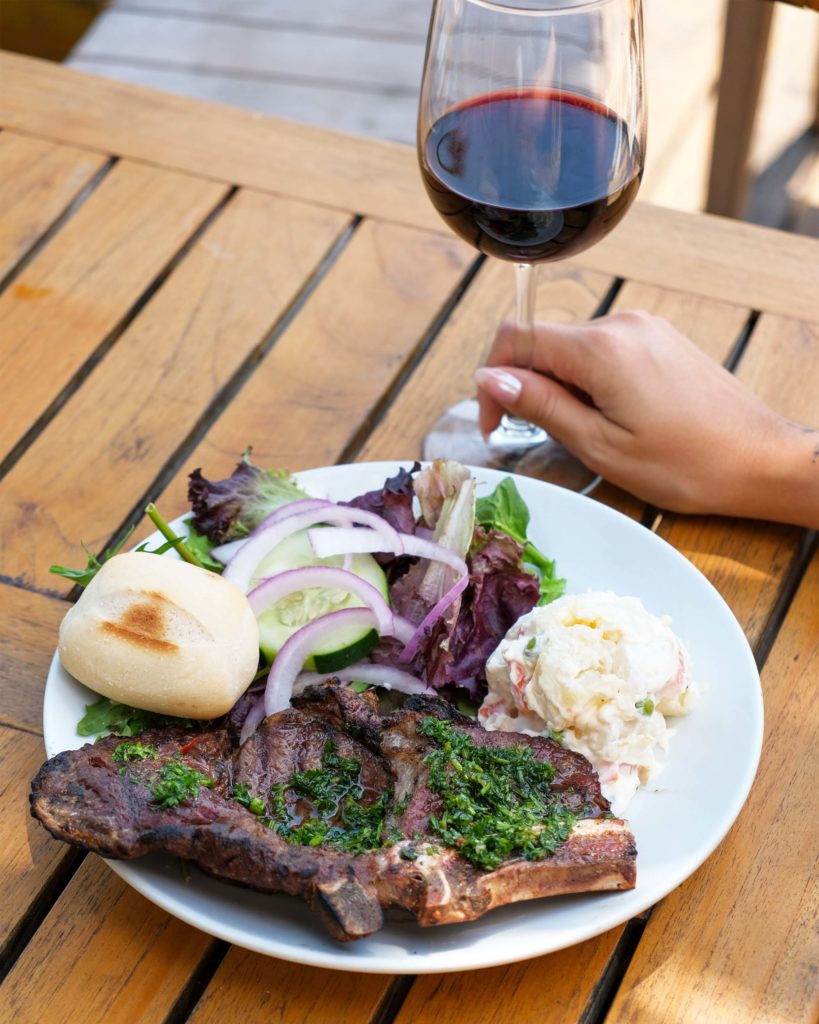 Portions are generous and all main dishes come with a green salad and a choice of a side (go for the stellar mashed potatoes). We opted to share a few dishes like the tuna salad sandwich which came on a fresh and crispy baguette and the skirt steak which was juicy and flavorful and came with a lovely chimichurri sauce. If you're dining with a group and want to really experience what this place is famous for opt for the Parrillada platter. It brings a hefty helping of grilled steak, chicken, blood sausage, short ribs, and pork with a side of salad and sweet potato fries. Wash it all down with one of the Argentine malbecs from the wine selection—bottles are reasonably priced and we were shocked to see by-the-glass pricing for less than $10 a glass—a rarity nowadays.
Don't Skip Dessert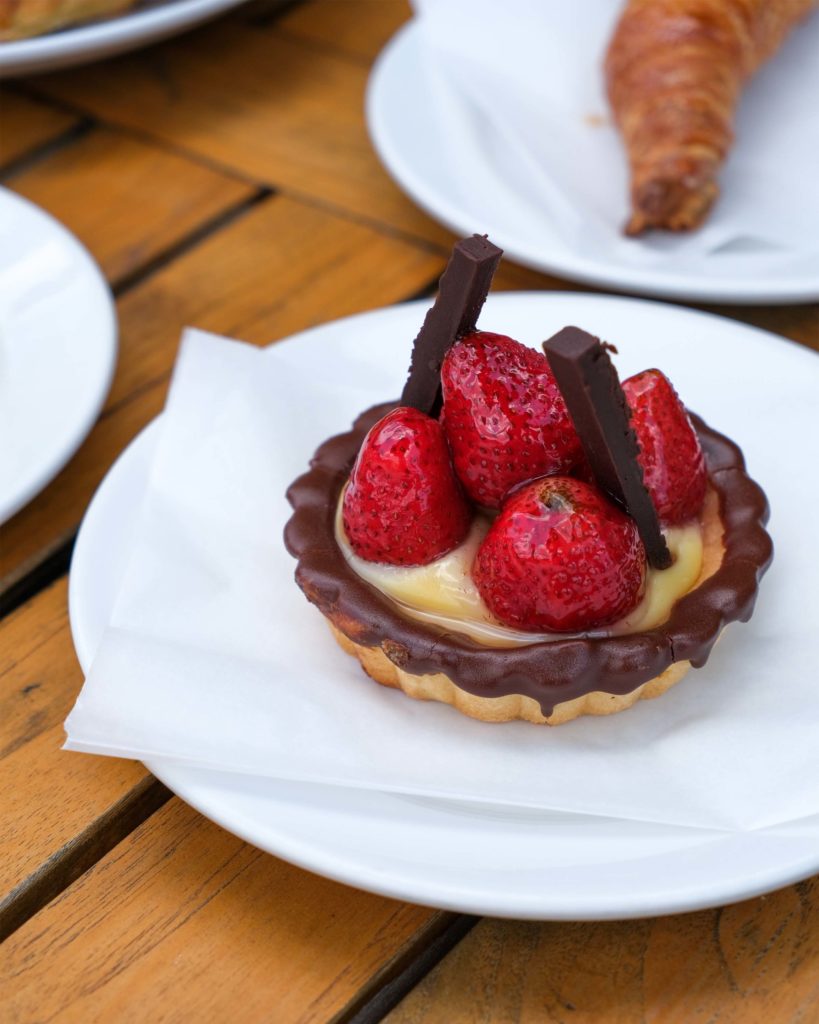 After all this grilled meat one might be forgiven for skipping dessert, but that would be a travesty given all the decadent offerings at La Estancia. Behind the glass dessert case you can choose from a variety of multi-layer cakes like the Chocolate Supreme Cake (which lives up to its name) or the decadent Oreo cheesecake, the coconut dulce de leche, or the delicate lemon ricotta cake which pairs perfectly with the expertly-brewed espresso by the cafe's barista. But of all the desserts the true showstopper is the Balcarce cake—a luscious combination of sponge cake, whipped cream, almond paste, dulce de leche, meringue, and coconut. Created in 1958, the cake was invented by a pastry chef at a small pastry shop in Balcarce. Here the massive dome of cream and cake is festooned with shards of white merengue and served as a towering slice of sweetness. If a massive slice of cake is not your speed you would do well to try the variety of alfajor cookies, the shortbread-like cookies that are filled with a thick layer of dulce de leche. They're comforting and irresistible, much like the restaurant La Estancia itself.