Kosushi is a Michelin-rated Japanese fusion spot by way of Brazil that quietly opened before the pandemic shutdown and has been garnering a loyal local following for its impeccable sushi and Izakaya-style dishes. This haven for transcendent sushi is nestled in a modern building in South of Fifth on what is now considered one of South Beach's hottest dining neighborhoods. 
The first thing you notice when entering the space is the intricate woodwork domed ceiling that envelopes the space. Designed by Brazilian architect Arthur Casas, the structure's design was inspired by Japanese carpentry, in particular the art of joinery, which consists of creating wooden structures with complex joints without the use of glue or metal supports. Then your eye moves to the curved sushi bar, the focal point of the dining room and the source of the restaurant's dinner theater. Behind the bar, a team of talented chefs churns out imaginative nigiri and sushi platters, using all manner of culinary techniques and tools like blowtorches, Japanese knife skills, and, of course, kitchen tweezers. The light oak tone of the ceiling's design combined with grayish tones and the concrete texture of the walls give an overall serene and elegant feeling to the restaurant, one where the jewel-colored cuts of fresh fish take center stage.
The restaurant's pedigree is enviable. In 1988, Carlos Augusto Carvalho and sushi chef George Koshoji opened the doors of Kosushi in Sao Paulo, Brazil. Isolated from the few traditional Japanese restaurants that, until they were concentrated in the Liberdade District Kosushi soon became a local favorite for its freshness and high-quality ingredients combined with innovative creation. With great success, Kosushi moved to the Itaim neighborhood where it remains until now, and was awarded a Michelin Star in 2015, 2016, 2017, 2018, and 2019. In 2008, Kosushi opened a second location in Shopping Cidade Jardim, Brazil. Kosushi Miami is the first international location for the brand. In Japanese, KO means turtle and number one. They say turtles live 10,000 years and therefore a symbol of happiness and a good omen.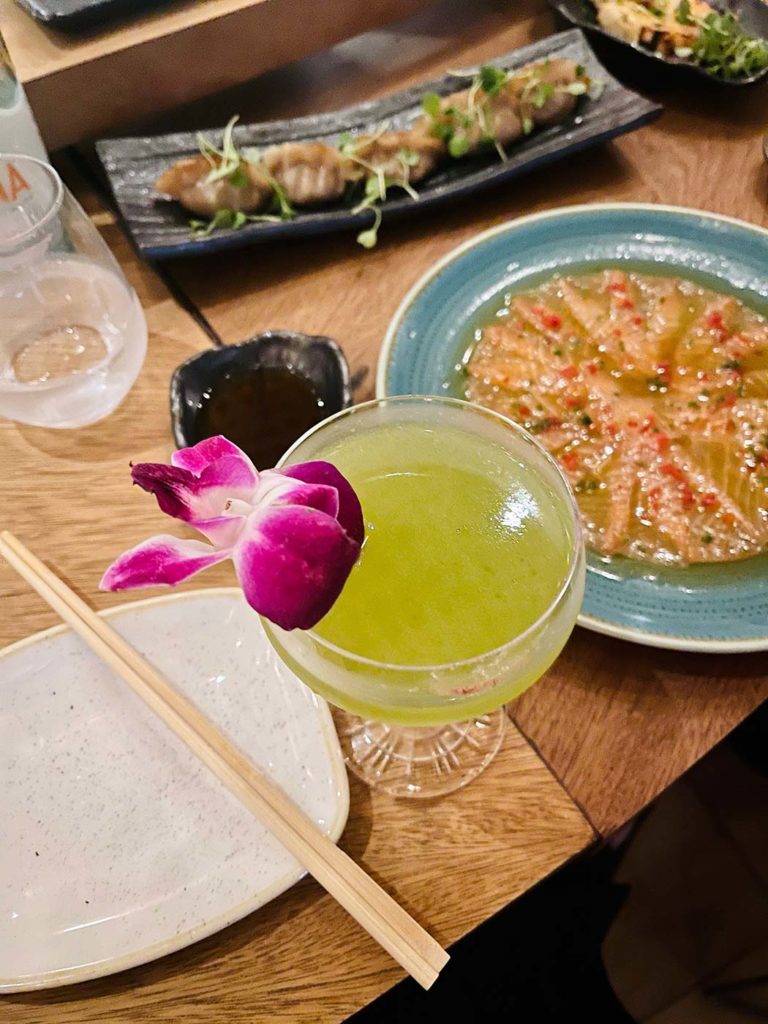 If you're feeling indulgent you can opt for the sushi chef's omakase experience. Omakase translates—very roughly—to "entrusting the chef to create a special meal of sequential bites from a perch mere inches from your face," and the team behind the bar at Kosushi will exceed your expectations. An epic tasting menu, when properly executed, should leave you enthralled and satisfied, not stumbling out of the restaurant in a food coma. Kosushi understands this, which is why its menu strikes a tantalizing balance between indulgent, rich dishes (squares of fat-marbled toro tuna topped with seared foie gras) and more-delicate plates (hamachi with yuzu soy, ginger, and garlic chips).
We're most fond of the creatively dressed, incredibly fresh nigiri, ordered a la carte, with decadent bites of torched salmon belly or the King crab dressed with truffle butter and pink salt. The hot dishes hit all the right notes as well, using the familiar building blocks of Japanese cuisine that give us the umami we've come to crave—dashi, dried mushrooms, and yuzu juice, which the chefs rely on to brighten many dishes on the menu. The miso-marinated sea bass skewers and the pan-seared Wagyu gyoza were particularly delightful. Kosushi also has an innovative cocktail menu, created by iconic Brazilian mixologist Márcio Silva, featuring drinks like "Shokobutsuen" (gin, fresh lemon juice, basil, cucumber, mint, and organic sugar syrup), as well as a curated list of wines and sakes showcasing flavor profiles for every palate.
Kosushi is sophisticated enough to feel like a special occasion restaurant but accessible enough to be the kind of place neighborhood regulars return to on a weekly basis, sliding up to the sushi bar and settling in for stellar fresh fish and a little culinary entertainment.