It's hard to keep up with Miami's culinary scene nowadays. Between the celebrity chefs and much-buzzed-about "it" spots, there are plenty of dining choices taking up the spotlight.
While people tend to think of concierges when it's time for a big fancy dinner at one of Miami's hottest restaurants, veterans of the Luxury Concierge Network know that more often than not locals want just the opposite.
Along with Marcelo Rivero, president of the LCN, we've rounded up some of our favorite local Miami "hidden gems" organized by neighborhood so the only decision you'll have to make is which dish to order—trust us, in this list, they're all good!. 
Downtown Miami Hidden Gem Restaurants
Alloy Bistro Gourmet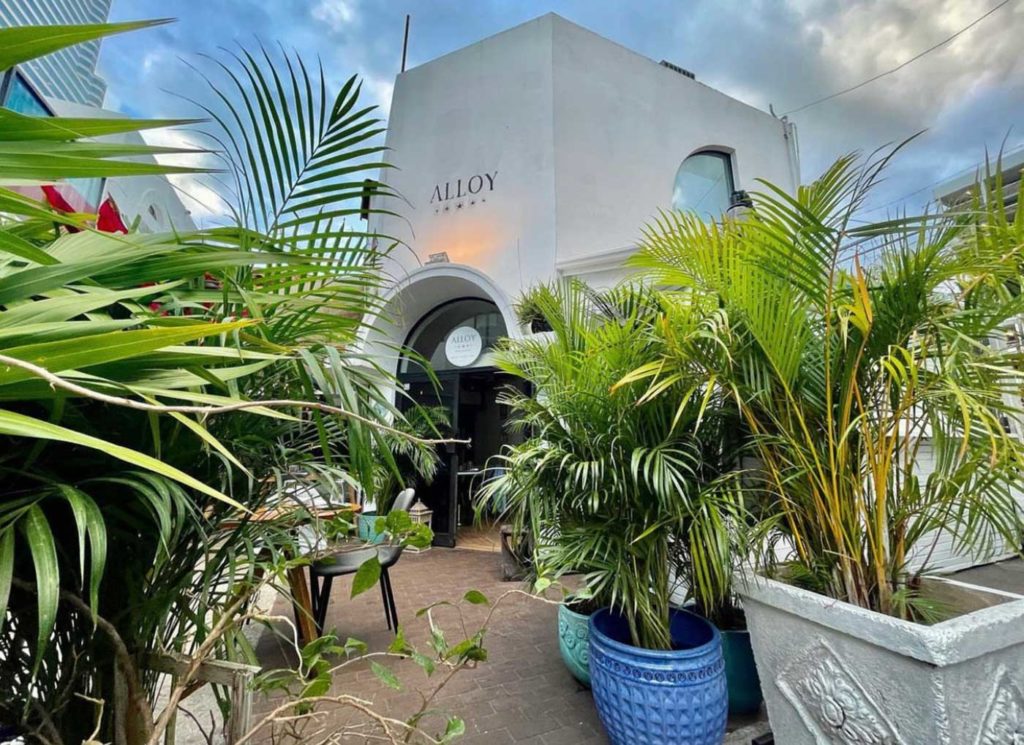 Elegant artistry paired with an understanding of ingredients and flavor is what makes this restaurant a cut above the rest. Owners Claudio Genovese and Luna Bertolotti opened the charming courtyard space while Italian Chef Diego Brambilla (with Michelin-star experience from renowned eateries in London) offers dishes that are as beautiful as they are flavorful. Popular picks include the grilled octopus with tomato gazpacho granita, potato, black olives, and tomato salad, smoked at the last minute, or the gnocchi foie gras, homemade gnocchi, seared foie gras, beef jus, and fresh raspberries. Everything is made from scratch with care and excellence so you really can't go wrong.
Alloy Bistro is located at 154 Southeast 1st Avenue, Miami, FL 33131. For more information, visit their official website.
Mr. Omakase
There are no bells and whistles at this compact eatery and that's just the way we like it. The minimalist space invites diners to truly be present for what they came for: a thoughtful and steady flow of exceptionally fresh fish. Choose between an omakase experience of 10 courses, 14, or 18 and prepare to be wowed by what the night will bring. One highlight is the chawanmushi, a Japanese steamed savory egg custard you'll crave forever after on rainy nights.
Mr. Omakase is located at 163 SE 1st St, Miami, FL 33131. For more information, visit their official website.
Verde at PAMM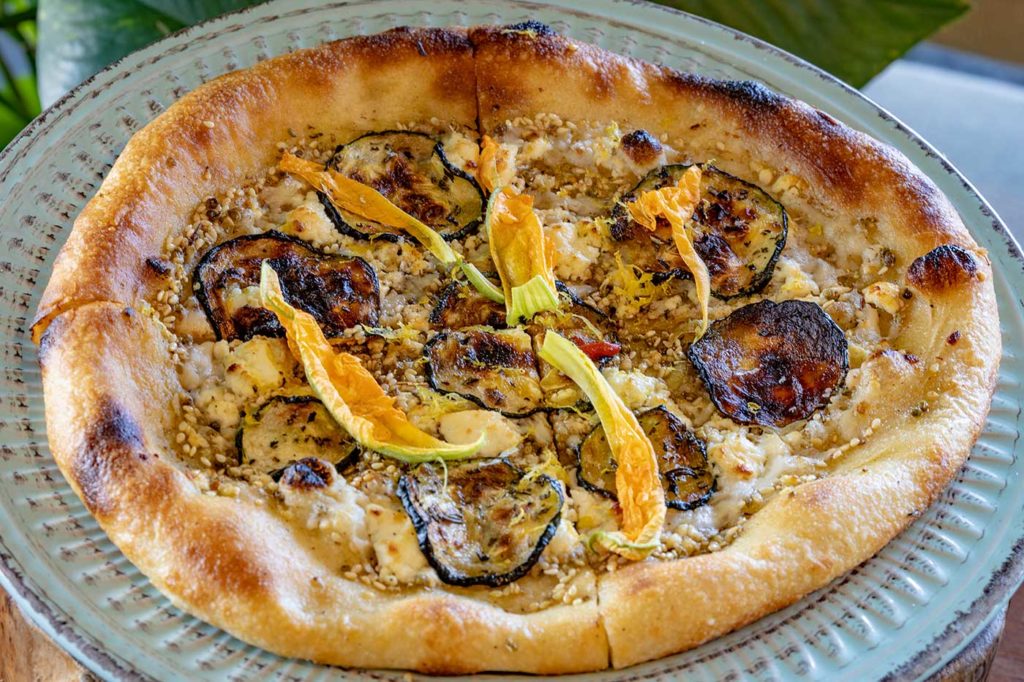 Long gone are the days when a visit to an art museum meant being subjected to overpriced, mediocre food. Verde, located within the Pérez Art Museum Miami, is just one of those spots. Beyond the breezy, relaxed feel with an extraordinary view of Biscayne Bay, dishes at this modern eatery with a Mediterranean edge are bright and inspired, much like the art you would have most likely recently enjoyed. Items include blistered shishito peppers seasoned with dukkah spice and citrus, roasted babaganoush with burnt feta and sesame on a za'atar flatbread, chicken under a brick (crispy boneless half chicken served with herb smashed baby potatoes, baby kale, and savory chimichurri), and pan-seared branzino with matbucha, olives, and herb salad. There's also a selection of manakish (Mediterranean-style pizzas) like kusa, topped with feta cheese, za'atar, zucchini, and lemon zest. You could wrap things up with the berries and cream (white chocolate mousse topped with bitters, marinated berries, and milk crumble), but we're partial to the honey-soaked doughnuts covered in pistachio dust and spiced sugar.
Verde is located at 1103 Biscayne Boulevard, Miami, FL 33132. For more information, visit their official website.
Mimo Hidden Gem Restaurants
Baiocco Osteria
Upon arrival, you'll feel you've been transported elsewhere: a brick-exposed colonial house bearing grand white columns promises a meal like no other. Once inside, this rustic, Roman Italian gem dazzles diners with pasta, grilled fish, and slow-cooked meat dishes. We can't get enough of the fiori di zucca appetizer, fried zucchini flowers stuffed with mozzarella and anchovies, or the grilled octopus with roasted potatoes and spinach. You can't go wrong with any of the pasta choices, but if you love cheese as much as we do then opt for the mezzi pacceri alla gricia with guanciale, pecorino cheese, and black pepper is the way to go. You'll hear angels singing upon trying the lamb shank with dried raisins, rosemary, and roasted potatoes, or if you want something on the lighter side, the grilled branzino with radicchio and steamed spinach will bring a skip to your step (and keep your waistline in check). Forget the waistline for dessert, though. The fried bomboloni nutella is a must.
Baiocco Osteria is located at 5599 Biscayne Blvd, Miami, FL 33137. For more information, visit their official website.
Fiorito
Emblazoned with the number 10 of celebrated soccer legend Diego Maradona, this family-run restaurant celebrates the rich and varied cuisine of Argentina. There are plenty of steaks (churrasco de entraña, prime vacio, and bife de chorizo come to mind) and other delightful goodies like mojellas croquantes (crispy sweetbreads) and a sampling of Argentinean sausage. Thanks to the large population of Italian immigrants in Argentina, Italian fare is a country staple and translates into dishes like lamb ragut parpadelle and cannelloni with ricotta and spinach in a tomato basil cream sauce. Pair with a nice merlot, wrap up with a dulce de leche crepe for dessert, and your evening will end with a smile—and no major dent in your bank account.
Fiorito is located at 5555 NE 2nd Ave, Miami, FL 33137. For more information, visit their official website.
Ironside Pizza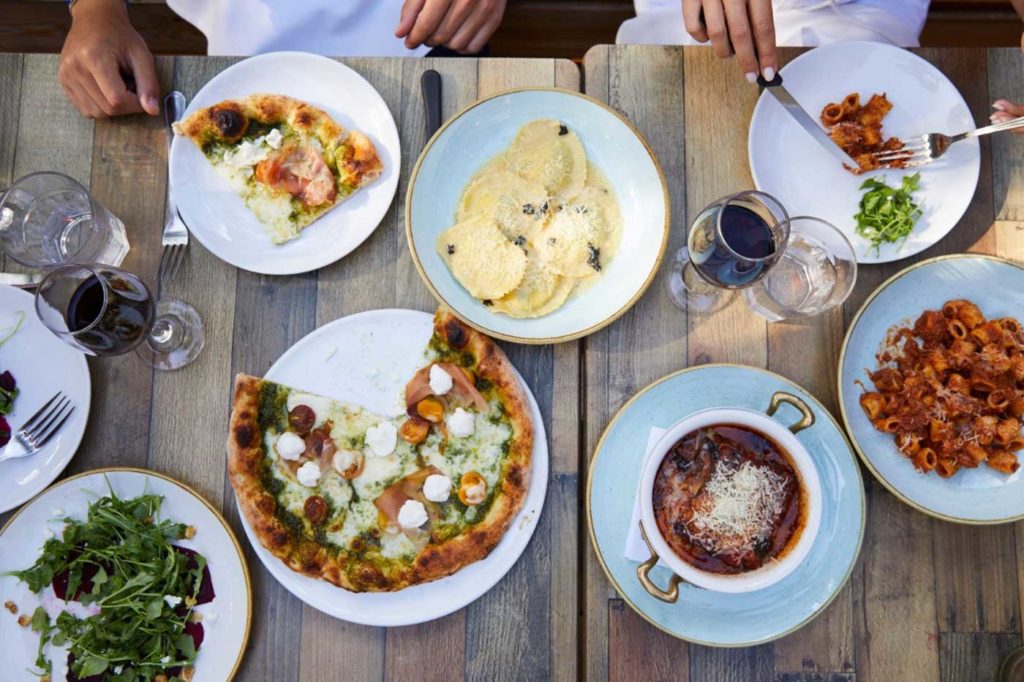 Ingredients are key at this neighborhood find (and younger sibling of Brickell hotspot, Toscana Divino). Known for its Neapolitan pizza, pies like the Indiabolata with mozzarella fior di latte, cured sopressata, and Calabrian chili pepper or pere e parmigiano (pear and Parmesan) make this neighborhood staple stand out from the rest. There's a menu brimming with Italian treasures as well. If you're more of a morning person, you'll want to swing by for breakfast and order the Colazione: an Italian tradition that typically consists of coffee, bread, butter, jam, and biscotti. We can't think of a better way to start the day!
Ironside Pizza is located at 7580 NE 4th Ct, Miami, FL 33138. For more information, visit their official website.
Hidden Gem Restaurants in Miami Beach
27 Restaurant and Bar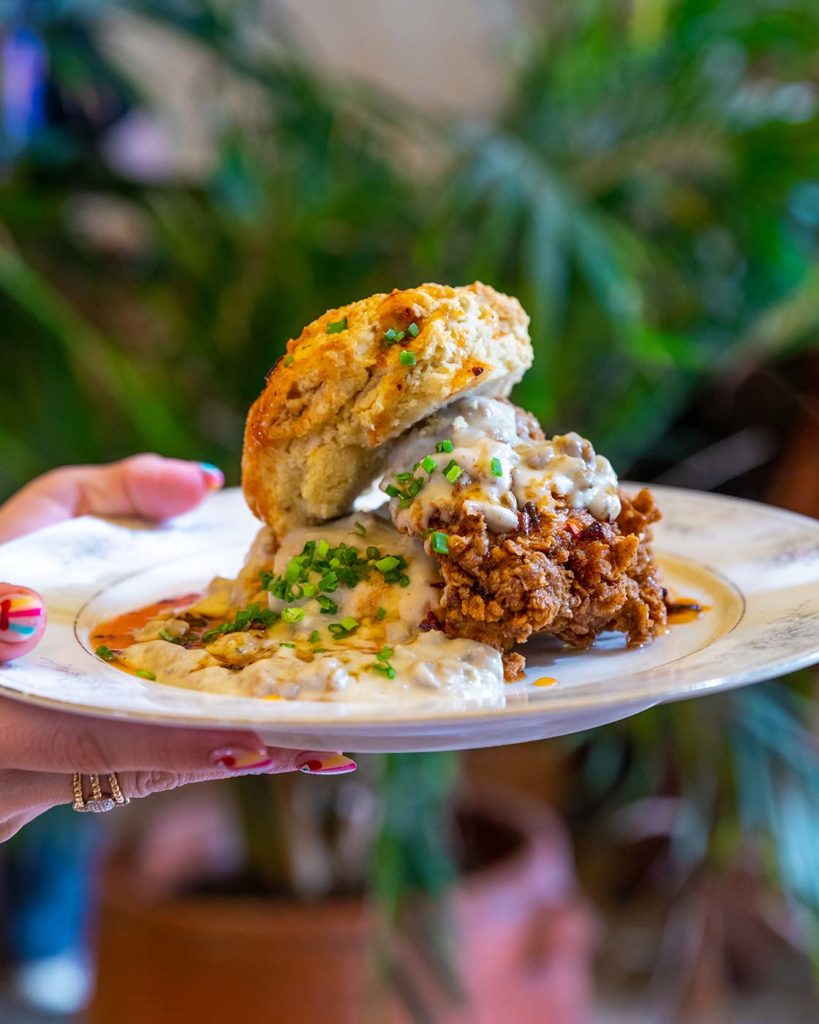 There's no better way to summarize this eatery than by using the restaurant's own words: "inspired by the culture of Miami and the things we love." Tucked away in Miami's Freeland Hotel, Chef Jimmy Lebron has designed a creative menu that some may label mismatched but we just call South Florida: daily catch ceviche, Bubbie's latkes, smoked short rib, pulpo a la huancaina, and chicken pot pie are some of the many finds. If brunch is more your thing, we suggest sampling the salmon croquetas, labneh, latke benedict, shakshuka, fried chicken biscuit and gravy, fish sandwich, and kimchi fried rice. We can't imagine you need more convincing, but just in case, note that cocktails like the ghost of 27, coco puff old fashion, and the coral castle are equally as good.
27 Restaurant and Bar is located at 2727 Indian Creek Dr, Miami Beach, FL 33140. For more information, visit their official website.
À La Folie
Commonly used as an expression of complete adoration, "à la folie" (to love someone madly) is exactly how you'll feel with the quaint Miami Beach bistro. The charming outdoor courtyard bespeckled with lush plants and chandeliers sets the tone for the bohemian vibe that could easily pass for a Left Bank locale. An expansive offering of traditional French dishes beckon, from the extensive list of savory crepes as simple and straightforward as the galette with butter, sprinkled with coarse salt from Brittany to more complex options like mortuacienne (sausage, goat cheese, and garlic spinach). The list of sweet crepes is just as long, with the belle Hélène (caramelized pears, vanilla ice cream, and dark chocolate) and Suzette style (butter, orange, lemon bath with Grand-Marnier-cognac flambèe) being crowd pleasers. But before you dive into dessert, sample one of the many French classics like quiche Lorraine, escargots, or the beef medallions, beef tenderloin served with roquefort sauce with almonds and green beans.
À La Folie is located at 516 Española Way, Miami Beach, FL 33139. For more information, visit their official website.
Taquiza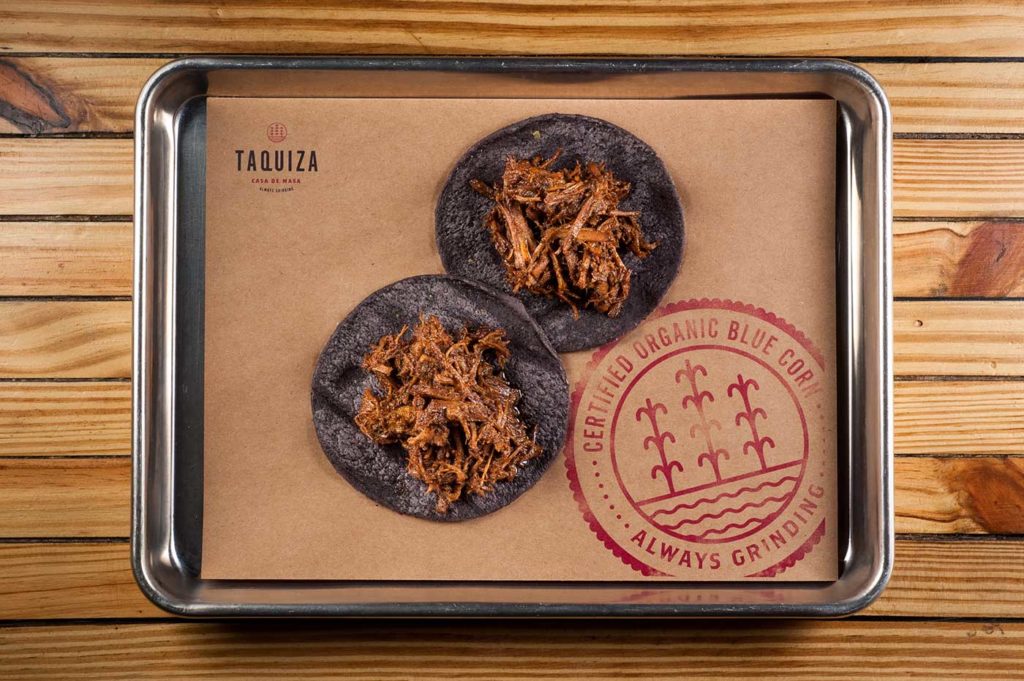 When Miami discovered tacos a few year back, they started popping up all over town. And while there are many that are good, we find ourselves heading here when we want something phenomenal. Maybe it's the tortillas themselves (organic, non-GMO blue corn hailing from small, independent farms throughout the Midwest) or simply the unpretentious, purist vibe (tacos are generously stuffed with succulent meat, a sprinkling of onions and cilantro, and nothing else).
Taquiza is located at 1351 Collins Ave, Miami Beach, FL 33139. For more information, visit their official website.
Sunny Isles/Hallandale Hidden Gem Restaurants
Jaffa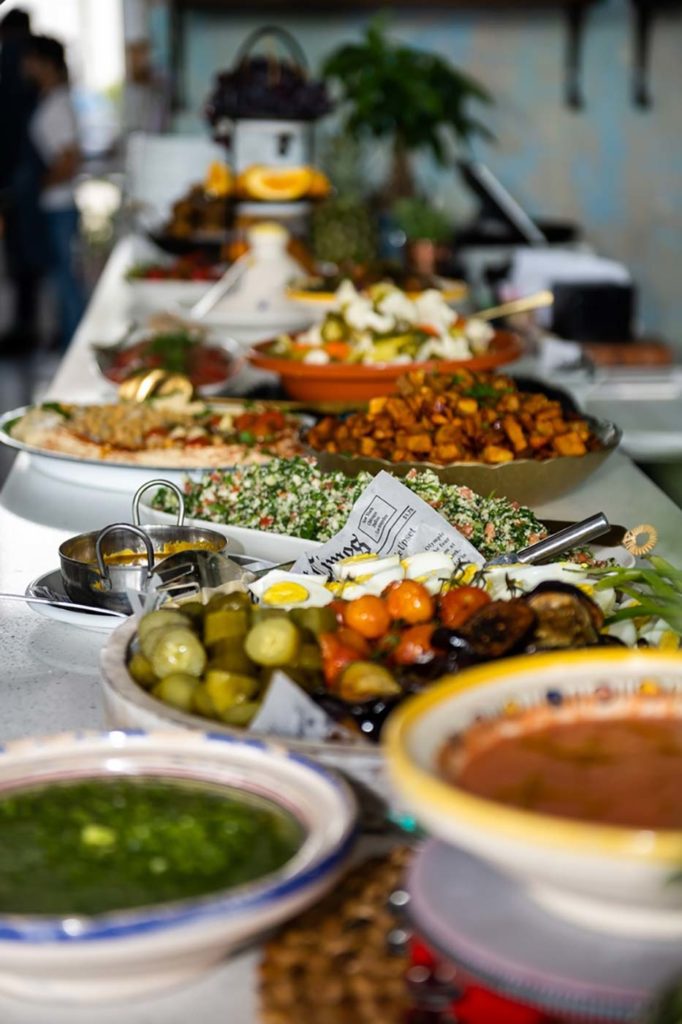 Executive Chef Yaniv Cohen did not garner the nickname "The Spice Detective" for no reason. Head to one of his two locations (the other is in the Miami Design District) to see why. Try the whole roasted turmeric cauliflower with tahini and cilantro sauce, beef brisket with date syrup, or the mezze platter for their greatest hits: Israeli salad, hummus, tabbouleh, chickpeas, olives, pickles, and either shawarma, crispy kibbeh, brisket, or vegan falafel. The restaurant is Kosher-style (Glatt kosher meat and dairy-free menu) and offers a vast array of vegan dishes as well.
Jaffa is located at 701 N Federal Hwy Suite 101, Hallandale Beach, FL 33009. For more information, visit their official website.
Kabobji
When you're craving no-frills Middle Eastern, Kabobji has got your back. Whether for lunch or late-night snack (they are open until 11 p.m.) platters ranging from mixed shwarma, beef kabob, lemon chicken oregano, and vegetarian platters are flavorful and filling. There are pita wraps and savory pies (za'atar, spinach, and veggie) for those wanting a quick bite.
Kabobji is located at 3055 NE 163rd St, North Miami Beach, FL 33160. For more information, visit their official website.
Timo
It's a tribute to any restaurant—and especially one in South Florida—to have survived, and thrived, for almost 20 years. Timo is one of those few to reach that milestone, not only because of its mastery of Italian-Mediterranean cuisine, but because of the warmth and attention to detail exuded by its staff. Dishes like beef carpaccio, served with marinated baby artichokes, little gem lettuce, and whipped parmesan and lamb shank pansotti with pecorino romano, mint, butter, and 12-year-aged balsamic vinegar are among the many options hitting the mark. If you're more in the mood for fish, the branzino "Al Cartoccio" with jumbo asparagus and blood orange butter is moist, tender, and extremely flavorful. There are plenty of wood-fired pizzas as well, among them the indulgent carbonara pizza (house-cured pancetta, bechamel, and caramelized onions), because, why not?
Timo is located at 17624 Collins Ave, Sunny Isles Beach, FL 33160. For more information, visit their official website.
Hidden Gem Restaurants in North Miami
Casa Mia Trattoria
This classy, quiet Italian restaurant has been serving happy patrons since 2005. Head here if you're craving the classics: antipasto misto Italiano, mozzarella caprese, lasagna alla Bolognese, and linguine alle vongole are Italian dishes most have had a million times and will be smitten when trying them at Casa Mia. Dishes like scaloppine ai funghi (veal scaloppini with mushrooms) or the petto di pollo alla crema, chicken breast sautéed with roasted shallots, mushrooms, and basil in a creamy brandy, demi-glace sauce are rich and elegant. There are plenty of seafood options like scampi alla griglia (grilled jumbo shrimp in olive oil garlic sauce) or dentice agli asparagi, snapper filet with sun-dried tomato, asparagus, kalamata olives in a white wine and lemon sauce. End the evening with one word: tiramisu.
Casa Mia Trattoria is located at 1950 NE 123rd St, North Miami, FL 33181. For more information, visit their official website.
Cheen Huaye
Meaning "only here" in Mayan, this Aventura restaurant led by Chef Marco Velasquez and his wife, Magna Vieira highlights the vibrant cuisine of the Yucatan. The food is honest and homey. Start with the consome de pollo (chicken soup with Mexican rice, cilantro, onions, and shredded chicken) or the queso fundido (melted Chihuahua cheese, add chorizo or poblano peppers) before diving into favorites like carne asada a la yucateca (achiote-marinated skirt steak), mole poblano (chicken in a spicy dark mole sauce) or chile relleno, a poblano pepper stuffed with either steak or shrimp and lots of cheese. You'll find tacos (al carbon, al pastor, and mahi-mahi, among others). For a showstopper, order one of the Molcajete dishes—a kind of all-in-one smorgasbord of flavors served in the typical Mexican mortar made from volcanic rock.
Cheen Huaye is located at 15400 Biscayne Blvd, Aventura, FL 33160. For more information, visit their official website.
Neverland
Life is tough. Head to Neverland to relax, rewind and reset. There's a charming patio garden where you can sip drinks called "Neverland Creations" like hot golden coffee (espresso, almond/coconut milk, turmeric, cinnamon, coconut oil, ghee, brown sugar, and condensed milk), iced matcha (with matcha ice cubes) and the award-winning Neverland ice coffee, a secret recipe no divulged. If you come with an appetite (and we suggest you do), there's plenty to choose from, depending on your mood. Truffle croissant with mushrooms is divine as is the Tinker Bell waffle (said to come with a sprinkle of pixie dust). There are salads, pizzettas, and focaccias, as well as a hearty selection of desserts. Beers, wines, and cocktails keep the party going.
Neverland is located at 17830 W Dixie Hwy, North Miami Beach, FL 33160. For more information, visit their official website.
Wynwood Hidden Gem Restaurants
dōma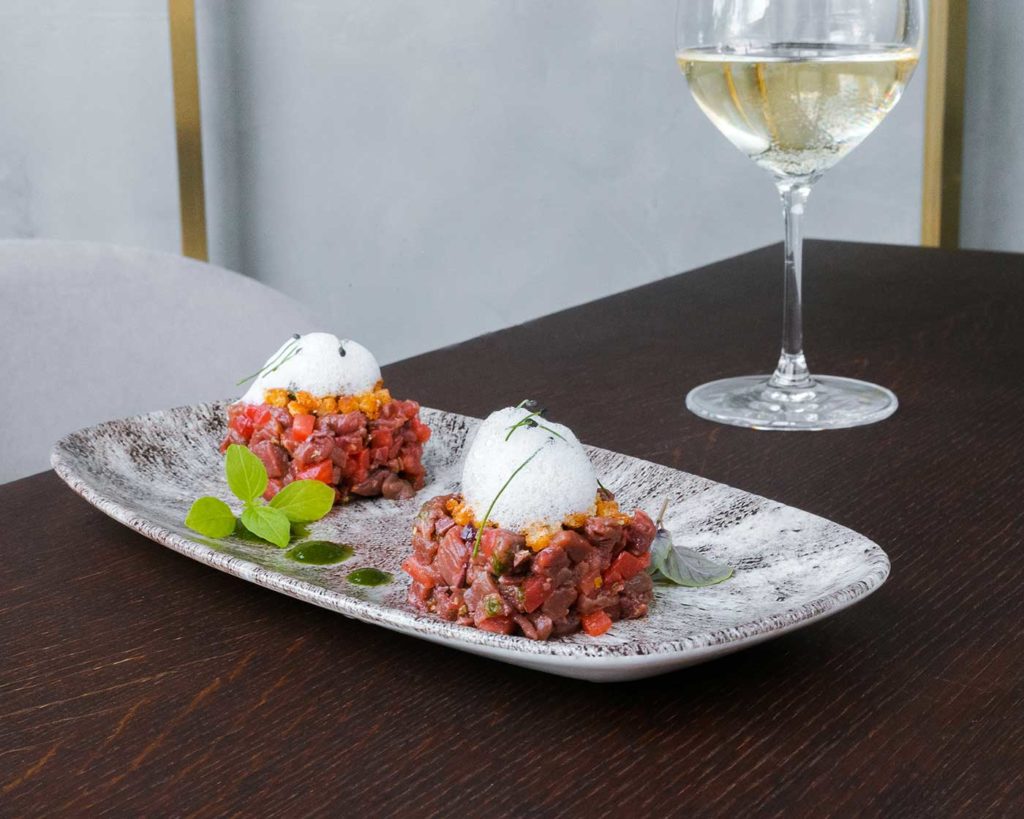 Wynwood is abuzz with restaurants but do yourself a favor and be sure to head to this one. The southern Italian eatery sings with flavor and style, from the clean lines and slate tones of the restaurant to picture-perfect dishes—quite literally— that arrive. Starters like the soft egg with seasonal mushrooms, parmesan cheese espuma, crispy potatoes, and shaved black truffle or pasta like bucatini cacio e pepe are dishes so elevated in their simplicity, you'll be singing their praises long after you've gone. The braised veal ossobuco is so succulent, so rich, so fall-off-the-bone wonderful, you'd probably give up your firstborn for it in a pinch (plus it comes with saffron risotto, so there's that).
dōma is located at 35 NE 26th St, Miami, FL 33137. For more information, visit their official website.
OMAKAI Sushi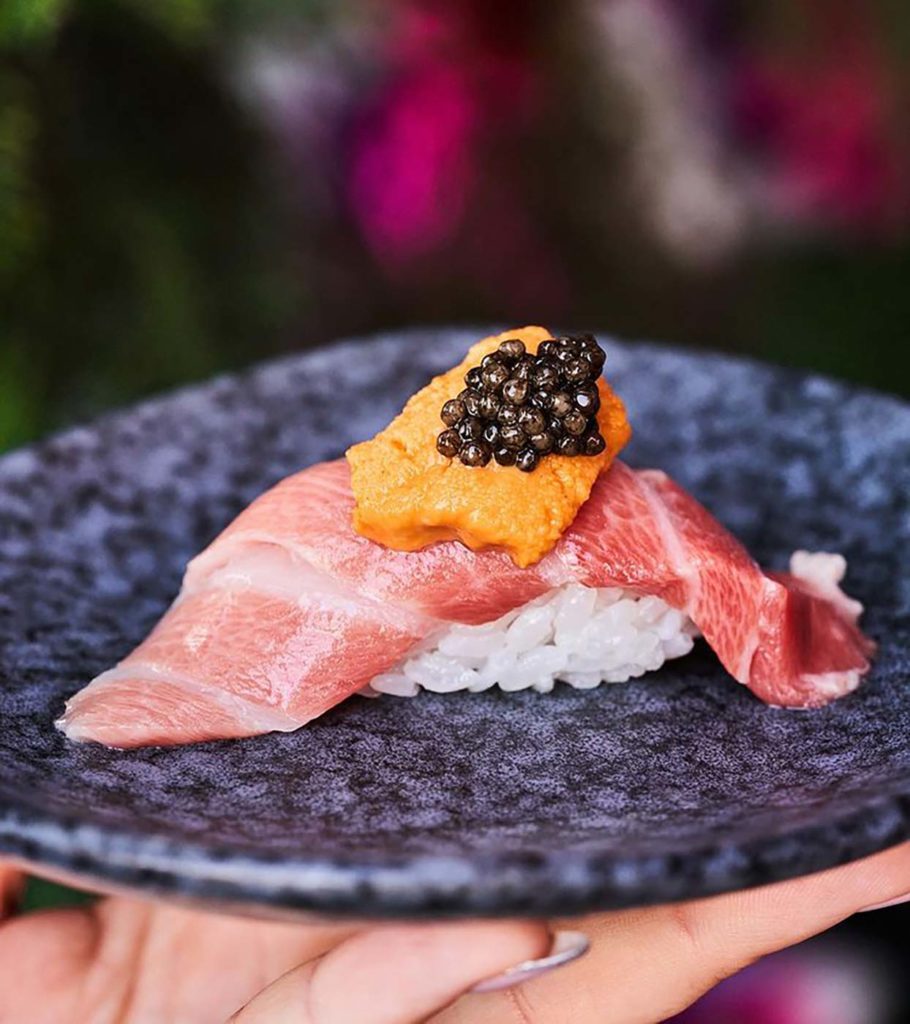 Miami is enamored with sushi but not the price tag many spots come with. Enter Omakai, which opened its doors in 2019 in the heart of Wynwood with the goal of serving excellent sushi at a reasonable cost. In true omakase fashion, diners choose one of three "leave it up to us" menus (ranging in size) to which they can add on items or order their entire meal à la carte. The minimalist space and knowledgeable servers encourage diners to fully focus on the fish itself. Go for a sake flight for added happiness. If you feel like savoring it all at home in your pajamas, pick up their to-go "home-akase" box.
Omakai is located at 2107 NW 2nd Ave, Miami, FL 33127. For more information, visit their official website.
Ono Poke Shop
Poke shops are as rampant as frozen yogurt was in 2005 so doing due diligence when choosing where to go is a must—or you could just follow the hordes of millennials packed into this compact storefront. Owner Nuriel Mayardi and Amir Anvari (affectionately referred to as "the sushi guy") know not to cut corners and provide fresh fish from purveyors used by Miami's top restaurants. Anvari honed his skills working with the legendary chef Makoto and it shows. That includes the recipe used for the rice: a key component of the sushi bowl. Options are straightforward: salmon, spicy tuna, Kani, and veggie, or you can go rogue and build your own.
Ono Poke Shop is located at 2320 N Miami Ave, Miami, FL 33127. For more information, visit their official website.
Upper Eastside Hidden Gem Restaurants
Mr. Mandolin
Created by the team behind one of Miami's most iconic restaurants, Mandolin Aegean Bistro, this Greek-centric spot within the retro Vagabond Hotel is the place to go for gyros, kebabs, salads, and savory pies (the pulled lamb and caramelized peppers and onions are two favorites) guarantee the beloved trifecta of incredible flavor, top quality, and affordable cost. End on a sweet note with walnut baklava or a warm tahini bun.
Mr. Mandolin is located at 7301 Biscayne Blvd, Miami, FL 33138. For more information, visit their official website.
NiDo Caffè e Ristorante
This cozy trattoria on Biscayne is ideal for those seeking a quick immersion in authentic Italian flavors. Start with the mozzarella bar (because… cheese!) and move on to other favorites like salmon carpaccio with pickled fennel, ravioli filled with figs served in a gorgonzola cheese sauce and sprinkled with crumbled walnuts, and lasagna. If you get to "Secondi Piatti," we suggest the braised lamb shank with NiDo sauce.
NiDo Caffè e Ristorante is located at 7295 Biscayne Blvd, Miami, FL 33138. For more information, call 305-960-7022.
Pinch Kitchen and Bar
Between Casa Tua and Pubbelly, John Gallo and Rene Reyes have the chops to make this restaurant one of Miami's best since opening in 2015. The space is an eclectic mix of mismatched furniture and a menu that doesn't quite make up its mind. Tibetan momo (steamed pork dumplings), chicken wings (fried and tossed in harissa ranch), and pinch croquetas are just a sampling of the chefs' unwillingness to be labeled into one type of cuisine—and we are grateful for that. Burger aficionados will want to get the pinch burger, just trust us. Other mains include the organic half chicken with sautéed kale, garlic, za'atar, and chicken jus or the N.Z. lamb chops spiced with rase el hanout (a North African spice blend), house-made tzatziki, sautéed spicy asparagus, and lamb jus.
Pinch Kitchen and Bar 8601 Biscayne Blvd, Miami, FL 33138. For more information, visit their official website.