Food trucks may have seemed like a thing of the past, but with restaurants in Miami facing challenging times and dining rooms closed due to COVID-19, local eateries are continuing to innovate. One way Miami restaurants are doing that is by launching new food trucks that can meet their customers where they are.
Here are three new food trucks offering delivery or to-go meals from some of our favorite Miami restaurants.
Caja Caliente
The original Cuban taco spot, Caja Caliente is going back to its food truck roots and hitting the road. In order to adapt to the closure of dining rooms due to COVID-19, owner Mika Leon decided to introduce two mobile food trucks this July and reach new customers who can enjoy her Cuban-Inspired comfort food on the go. While the brick-and-mortar location in Coral Gables remains open for outdoor dining, takeout and delivery, Caja Caliente's trucks will be popping up in neighborhoods across Florida and even the country, if all goes according to plan. So far one Cuban taco truck has made an appearance in Brickell and the other has found a semi-permanent home back in Wynwood, where Caja Caliente's journey began. (Caja's original Wynwood spot operated in the form of a taco truck for four years until it closed this May.)
Expect all of your Caja favorites, including their signature Cuban tacos – from the more traditional Cuban fillings like lechon and vaca frita to the more adventurous like grilled octopus and gator – customizable bowls, sandwiches, empanadas, croquetas, and over-stuffed tamales.
To find out where Caja Caliente's taco trucks will be headed next, follow along on Instagram at @CajaCaliente or Twitter at @CajaCaliente305.
Stay Home! by Talavera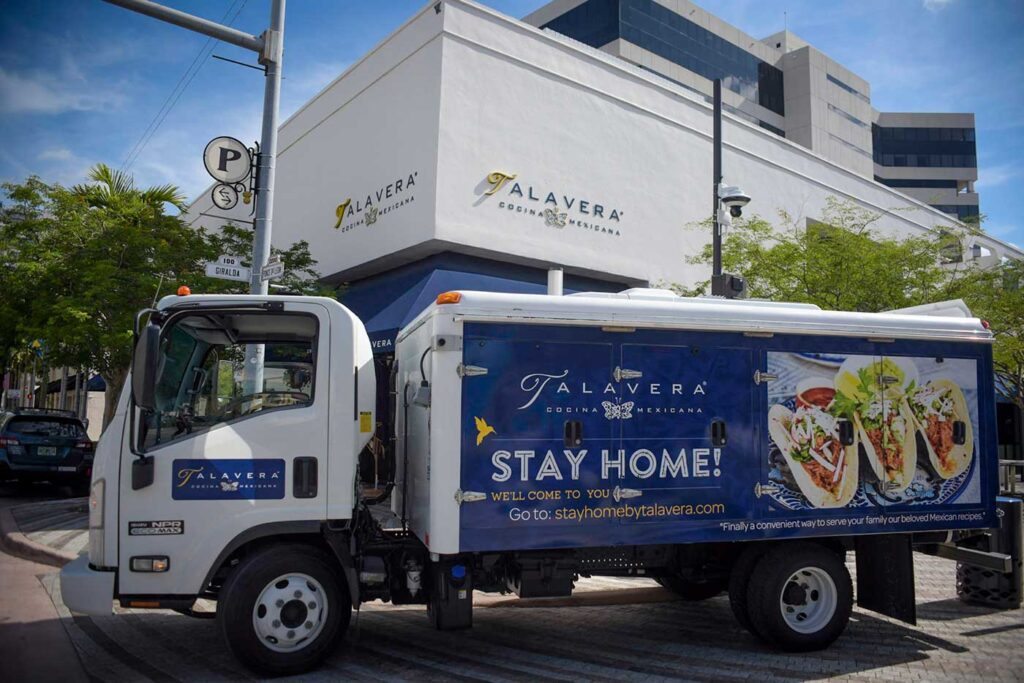 Talavera Cocina Mexicana in Coral Gables introduced its contactless delivery concept, Stay Home! by Talavera, in late April, offering up ready-to-heat handcrafted Mexican dishes and prep kits so you can enjoy Talavera's most popular dishes at home. The menu includes ceviches, salads, tacos and traditional Mexican fare like Veracruz-style mahi mahi, tender beef mole with Oaxacan spices, chicken enchiladas, roasted chile relleno, quesadillas, and more. Customers can even order a three-course Miami Spice lunch or dinner to-go for delivery by Talavera's Stay Home truck.
Dishes arrive refrigerated, sealed and protected to ensure freshness, so some light assembly is required (but what's more fun than whipping up your own sophisticated Mexican meal at home?). In about 10 minutes, you'll have a restaurant-quality lunch or dinner for you and your family.
The Stay Home delivery truck currently services the Coral Gables, Coconut Grove, and Brickell neighborhoods and orders should be placed by noon for same-day delivery. To explore the menu or place your order, visit stayhomebytalavera.com.
True Baristas by Cafe Demetrio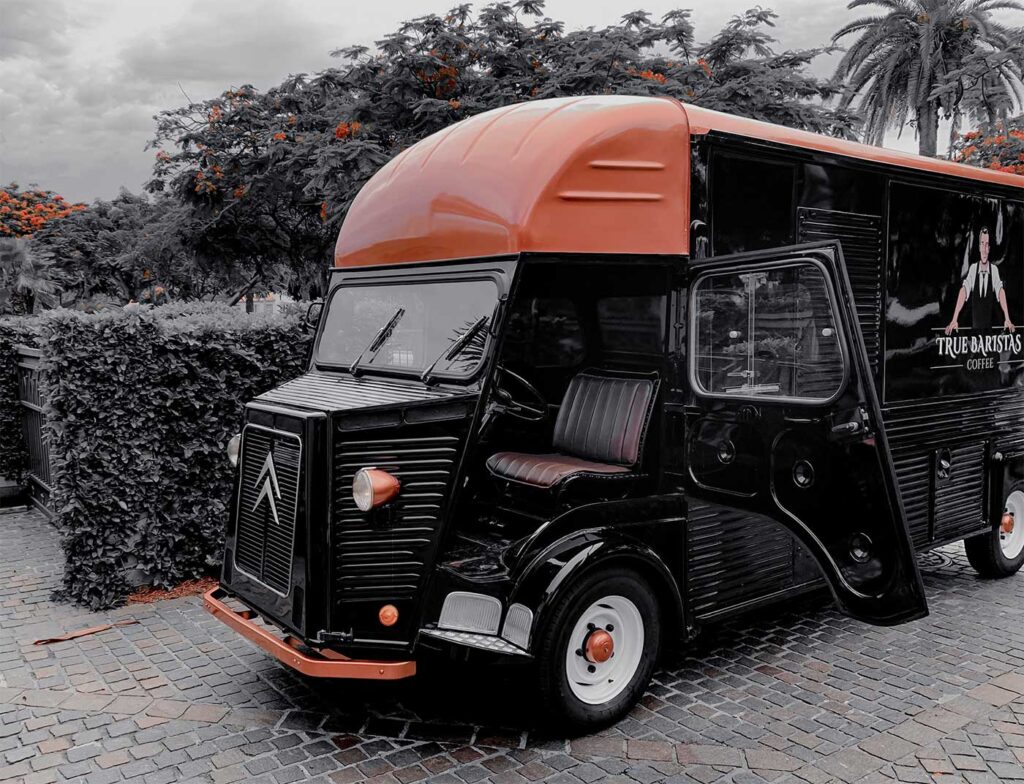 A new (yet old) coffee truck concept from the team behind the longstanding Cafe Demetrio coffeehouse will be launching this August. The son of Cafe Demetrio's owners, Leo Pina, had long wanted to open up his own shop, but Pina chose to forego a brick-and-mortar for the time being and decided he could bring his coffee to people around Miami. True Baristas will be popping up around town in a vintage 1965 Citroën H van named Frank (for crooner Frank Sinatra, that is). The van is produced by French automaker Citroën and has gained popularity throughout Europe as a food truck for coffee, crêpes, and more.
While True Baristas is a new brand with its own vintage feel, rest assured their coffee recipes will remain the same, so you can enjoy Cafe Demetrio's specialty espresso drinks, including the signature Cafe Demetrio cappuccino that started it all (the secret is cacao powder!). Since no cup of Joe is complete without a pastry to pair it with, True Baristas will also serve fresh baked goods such as croissants, muffins and cookies, as well as gourmet sandwiches. The vintage truck will likely be stationed in Brickell to start and will also be available for weddings and special events.
Follow @TrueBaristas on Instagram for updates.