One of the beauties of Miami is the year-round weather. Only having to worry about humidity and the occasional heat record is nice. When it isn't boiling hot outside, one of the best ways to take advantage of the weather is dining outside. So why not bring your dog along for the ride?

These six Miami restaurants are dog-friendly and won't mind if your pooch joins you for some outdoor grub:
Bachour
Satisfy your sweet tooth at Bachour in Coral Gables – and bring some company! The Coral Gable eatery from renowned pastry chef Antonio Bachour welcome pups on its outdoor patio, which is beyond spacious.
You'll have plenty of your room for your furry friend and all the delicious food you're going to order. Dessert is obviously a given – the Nutella cruffin is a showstopper – but the savory fare is just as great; we're partial to the avocado tartine, branzino and steak sandwich if you need something to balance all the sweetness.
Bachour is located at 2020 Salzedo St, Miami, FL 33134. For more information, visit their official website.
Café Americano
Bring your dog to Café Americano for some fun people watching and tasty Latin-inspired fare. The outdoor seating area provides a great view of the mall's patrons and luxury stores.
While you people watch, snack on items like the greasy spoon empanadas, rigatoni alla vodka, and crispy chicken torta. You're also going to want to order a cocktail or three – the selection here checks all the boxes when it comes to flavor and presentation (case in point, the Gold Standard).
Café Americano is located at 701 South Miami Avenue, Miami, FL 33130. For more information, visit their official website.
Chug's Diner
Finding room for your dog should be no problem at Chug's Diner in Coconut Grove. There's ample outdoor seating space for your pup and plenty of others.
Once you and your furry friend have gotten situated, we suggest taking advantage of the all-day breakfast options. Among the many highlights on the menu is the giant cast iron pancake and the lechon hash. For something less breakfast-y, consider the Cuban spare ribs, the turkey club or the chicken Milanese.
Chug's Diner is located at 3444 Main Hwy Suite 21, Miami, FL 33133. For more information, visit their official website.
Kush Wynwood
Kush is known for two things: delicious burgers and delicious brews. Kush's crafty creations like the Johnny Utah (pastrami and cheddar cheese) and the Frita (guava jelly, potato stix, bacon, swiss, LoKal sauce) have won critical acclaim both locally and nationally.
The restaurant's beer list can also rival some eateries' wine lists, with plenty of rare finds. While you chow down on a burger and beer outside, your dog can enjoy Chichi's chicken and rice as well as complimentary water.
Kush Wynwood is located at 2003 North Miami Avenue, Miami, FL 33127. For more information, visit their official website.
Ironside Pizza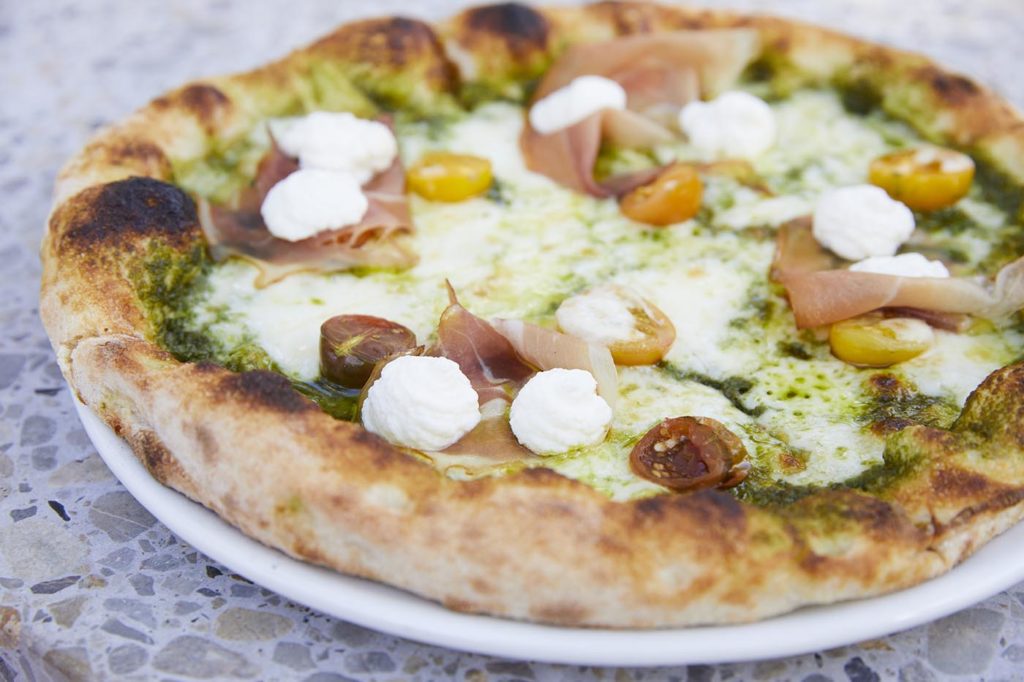 Ironside's best-kept secret is not only human-friendly but dog-friendly as well. Ironside Pizza, known for its exquisite Italian cuisine, is home to a spacious patio that's open to all. Grab a seat with your dog, and enjoy a wealth of tasty pizzas and other treats. Some menu highlights include the funghi pizza, speck gorgonzola pizza and eggplant parm.
Tran An
For a more casual ambiance, head on over to Tran An. The Vietnamese spot has a dog-friendly location in Little River that features delicious fare like pho, banh mi sandwiches and noodles.

The outdoor covered seating ensures you and your pooch are protected from the heat as you order your way through the extensive menu. Make sure not to miss favorites like the green papaya salad, beef pho and fresh shrimp spring rolls.

Tran An is located at 215 NE 82nd Street, Miami, FL 33138. For more information, visit their official website.