Good news: Miami dining rooms are finally reopening after being shut down since March for the COVID-19 pandemic. Businesses can continue takeout and delivery services, but now they can also welcome guests back for a sit-down experience. That sit-down experience, however, looks a lot different than it did over two months ago.
If you're planning on eating out anytime soon, here are a few of the changes you'll likely encounter during your visit.
Hand Sanitizer Everywhere
To combat the transmission of coronavirus, restaurants are making hand sanitizer available throughout the dining room. You might encounter a hand sanitizing station at the entrance or near the restroom, or you may find small bottles or wipes on your table to use between courses.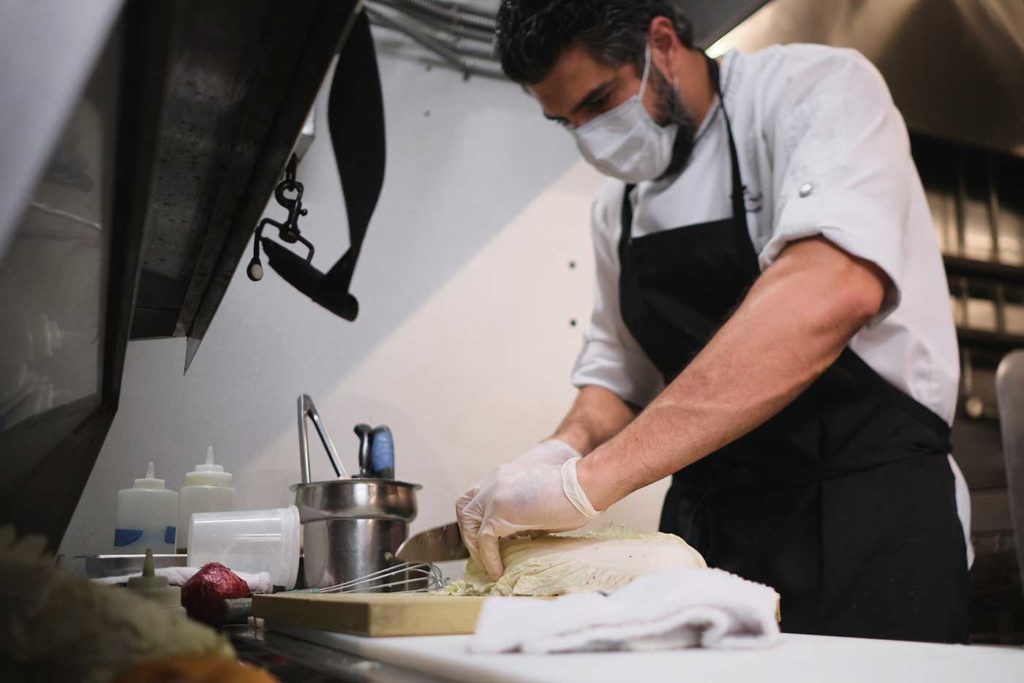 Face Masks Are Still Required
Face masks must be worn by guests and staff at almost all times during service. There's only one exception, and it should come as no surprise: You're allowed to take off your mask to eat or drink at the table.
If you need to get up to use the restroom, greet a friend at a nearby table, or otherwise leave your seat, you need to put your mask back on. Gloves are also required for back-of-house workers, and all staff must wash their hands regularly throughout service.
Bare Table Settings
Once the host takes you to your table or booth, don't be surprised to see little-to-nothing on it. Pre-set glasses are no longer allowed, and silverware must either be disposable or wrapped in a napkin. You might not even be handed a menu upon sitting.
Many restaurants are now opting for Quick Response (QR) menus that are viewable on a mobile device. Simply scan the barcode at your table with your phone, and it will pull up the menu for easy viewing. If a restaurant still offers a paper menu, it must be single-use.
Six Feet of Separation
That 6-feet rule you've (hopefully) been following for social distancing extends to the dining room. All parties must be seated 6 feet apart from one another. Parties are limited to four people unless it's a household; in those cases, six people can sit together. To space out each party, some establishments are getting creative by using plastic partitions, pods or other physical barriers.
Half-Empty Dining Rooms
Walking into a restaurant and seeing every table full on a weekend is a thing of the past. While outdoor seating has no restrictions besides the 6-feet rule, restaurants are not allowed to use up more than a certain percentage of their indoor seating. Depending on the reopening phase, that could mean anywhere from 50- to 75-percent occupancy. Also, guests waiting for a table must wait outside or in their car until called.
No Bar Service
Pulling up to the bar for just a quick drink is no longer possible. Bar seating is prohibited unless it's used as a table for dining. So, if you want to drink, you're going to have to order some food, too. Bars themselves are not allowed to reopen until Phase 3. Bad news: City officials have yet to decide when that phase will begin.
For a full list of the latest county restrictions, visit the official Miami-Dade website.