Summer is here in Miami, and it's a doozy. Temperatures are sky high, and air conditioning has never felt so good. Despite the heat, some of us still want to sit outside when it comes to dining out. Whatever your reason to opt for covered outdoor dining, these six spots offer some welcome shade for enjoying the outdoors and a good meal.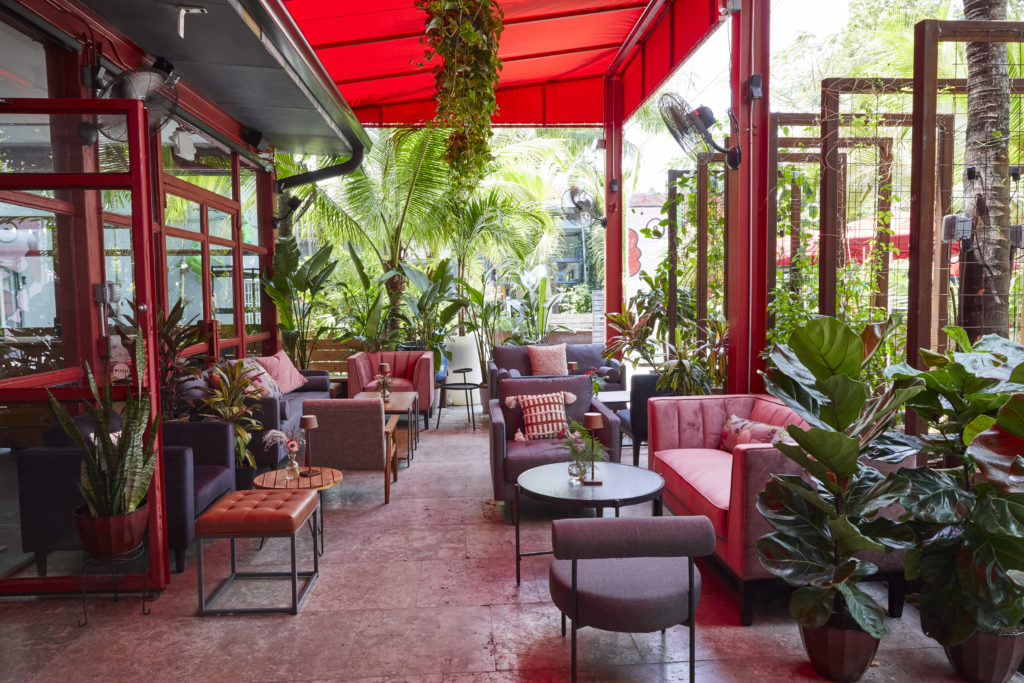 There are very few places in the country that offer year-round outdoor dining, and we are lucky to be living in one…
More
Buya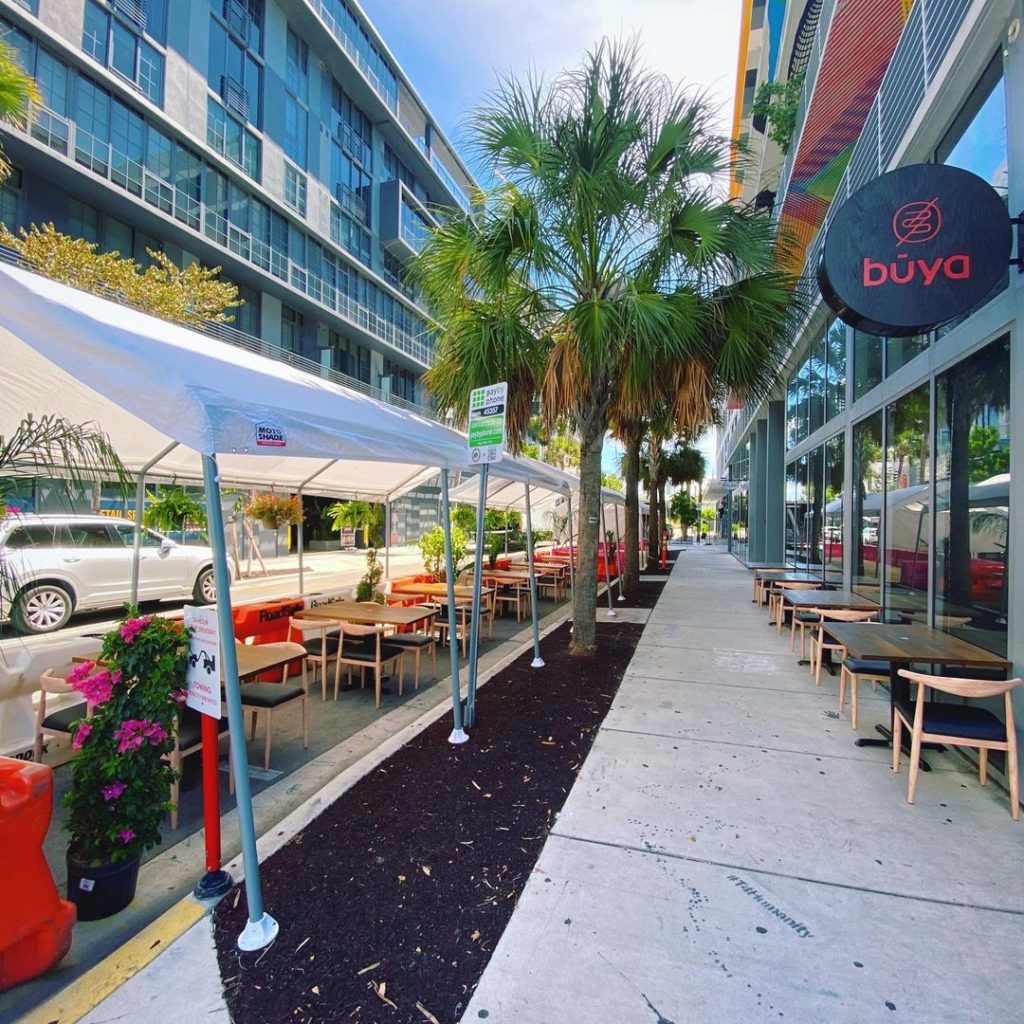 Escape the sun with a seat in Buya's spacious outdoor patio. The makeshift area provides ample shade to dine out without breaking a sweat. The popular eatery features an extensive menu of Asian specialties designed for sharing: karaage chicken, crispy Hamachi kama, short rib ramen, and duck gyoza hot spot—to name a few.
We recommend coming with a large group to do some serious damage, but solo diners can also make a big dent in the menu with the super-affordable chef's tasting. $45 is a steal for a ton of food. The restaurant lacks a full bar, but sake cocktails and beers are plentiful and should help you cool off.
Buya is located at 250 NW 24th Street, Miami, FL 33127. For more information, visit their official website.
Clutch Burger
Nosh on some of the best burgers in town at Clutch Burger in Coral Gables. The Giralda Avenue eatery has ample seating outside covered by huge umbrellas; no rain or sun can get through those bad boys. To start, order a cold one from Clutch's sizeable beer selection that emphasizes local and lesser-known breweries. Then, dig into the restaurant's addicting chips and taleggio fonduta; it's rich, flavorful, and a meal in itself.
"Never Basic, Always Clutch" is the mantra here, and you can see why firsthand once you bite into one of Clutch's signature options. The namesake double-patty burger is a must for first-timers; the hand-breaded onion rings are a nice touch. The Swolf Burger (pork belly) is another favorite and big enough for two people. In fact, everything is big here so plan accordingly—and don't tell your doctor.
Clutch Burger is located at 146 Giralda Avenue, Coral Gables, FL 33134. For more information, visit their official website.
La Placita
MiMo's La Placita is the go-to spot for Puerto Rican cuisine. The team behind Pubbelly has created this fun concept that boasts refreshing drinks, flavorful food, and a notable outdoor dining experience. If it's not too hot out, skip the dining room and enjoy a nice view of the neighborhood and the hustle and bustle of Biscayne Boulevard.
While you take it all in, enjoy bites like mixed seafood ceviche, blue crab cake, churrasco, and whole fried snapper. The staple dish here is the mofongo, a mashed Puerto Rican delight with green plantains. Pick your protein like garlic shrimp or shredded beef and dig in; we doubt you'll leave anything on your plate. On the drinks side, we suggest the Guava-Te Mule—think Moscow Mule but with guava—and the rum-based Coco Loco.
La Placita is located at 6789 Biscayne Boulevard, Miami, FL 33138. For more information, visit their official website
Leku
You'll find the best of Basque cuisine at Leku inside Allapattah's Rubell Museum. The open-air Spanish restaurant provides ample protection from the elements as you make your way through the exotic menu.
Treat yourself to Galician-style octopus, wild mushroom rice, prime bone-in ribeye and sole meuniere while sipping on Leku's extensive gin and tonic selections. Wine lovers, take note: This list is full of rare finds that will delight your palate. Just know that Leku isn't cheap — but it's well worth the price.
Leku is located at 1100 NW 23rd Street, Miami, FL 33127. For more information, visit their official website.
Mamey
Tropical vibes await at Mamey in Coral Gables. The Caribbean-inspired restaurant from award-winning chef Niven Patel transports guests to the tropics with vibrant fare such as ghee-roasted plantains, jamaican shortrib empanadas and lemongrass glazed grouper.
The white truffle and brie grilled cheese alone is worth the visit, and you can easily spend the whole day on the outdoor patio drinking your way through the cocktail list. Make sure to take a look at the Vault Collection, Mamey's special wine list packed with uncommon and unparalleled bottles. When it comes time for dessert, remember these words: key lime cheesecake flan.
Mamey is located at 1350 South Dixie Highway, Coral Gables, FL 33146. For more information, visit their official website.
Toscana Divino
When given the choice of dining inside or outside at Toscana Divino, you should opt for outside. There's just something magical about the Italian restaurant's outdoor seating that provides a prime view of Brickell life. Sizeable umbrellas help protect you from Florida's harsh rays—or rain.
Enjoy one of the largest selections of wine in the city as you savor delicious pastas and other delectable dishes. Some highlights include the tuna tartare, the crab salad, lasagna, and the truffle and mushroom risotto. Honestly, though, everything is a star on this menu. Always be on the lookout for specials, too—the kitchen is always pushing the bounds of creativity.
Toscana Divino is located at 900 South Miami Avenue, #185, Miami, FL 33130. For more information, visit their official website.