With a new concept and a new partner, Chef Jose Mendin is ready to breathe new life into the neighborhood that made him a Miami culinary superstar. That's right, along with Chef Santo Agnello, of Lucali and The Piefather fame, Chef Mendin is bringing his first-ever Italian restaurant to the original Pubbelly space in Miami Beach's Sunset Harbour. We recently caught up with him and Santo to get a download of all things Casa Isola Osteria – from their Italian food favorites and the new restaurant's inspiration to some drool-worthy menu highlights and more.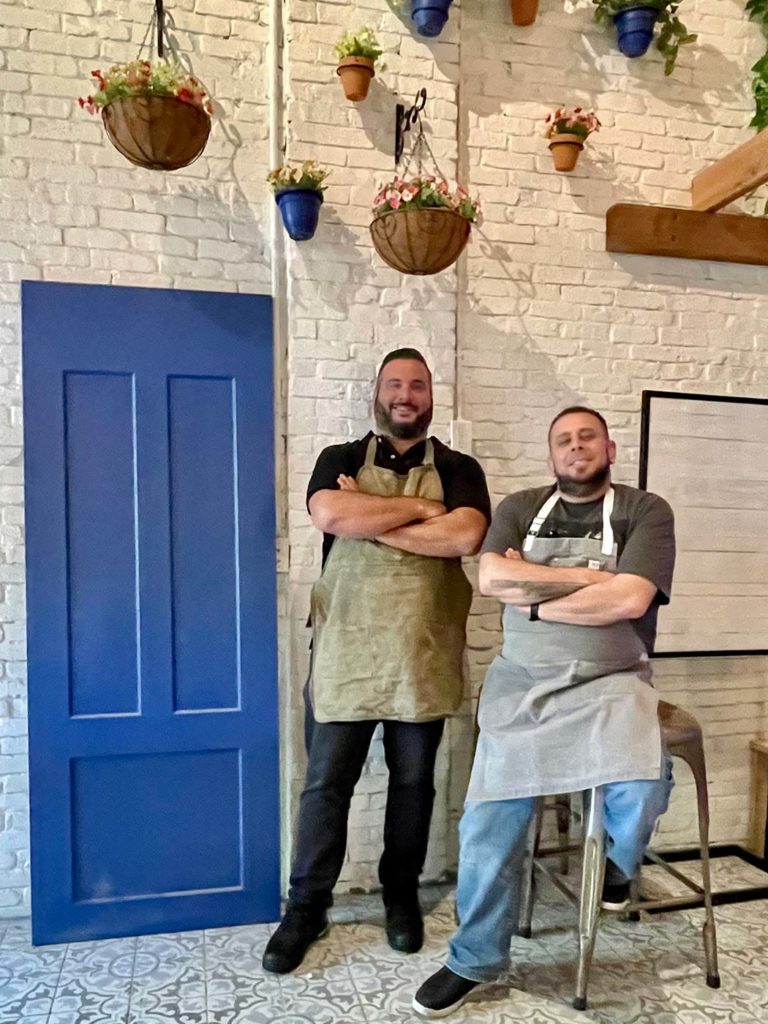 What is your favorite Italian meal?
Jose Mendin: Veal Parm
Santo Agnello: Veal Ossobuco
Pizza or Pasta?
JM: Ohhhh, pasta.
SA: Pasta all day. Oh wait, what if I eat the pizza with the pasta?
If you had to pick one Italian food item to describe yourself, what would it be and why?
JM: Carbonara is the first Italian dish I ever ate, so it holds a special place in my heart. And, of course, I'm all about the bacon.
SA: I'd have to say I'm most like a big bowl of pasta. Just look at my belly!
What are some of your favorite Italian restaurants in Miami?
JM: Luna Pasta in MiMo and Macaluso's in South Miami before it closed.
SA: Café Matorano in Fort Lauderdale. And I used to love Café Prima Pasta back in the day.
Most of your Miami restaurants have had their roots in Puerto Rican cuisine, whether fusion or more traditional. What made you want to open an Italian restaurant now?
JM: I've always had an obsession with Italian food, but have never worked in an Italian restaurant. And I met Santo back when he was around the corner at Lucali before we teamed up to open The Piefather together in Fort Lauderdale. It's been very organic and a great way to learn something new as well as create something simple, but unique.
SA: We're really excited to see what we can do and bring a new experience to Sunset Harbour while still putting the old Pubbelly space to use, which we love so much.
Will there be any hints of Puerto Rican food on the menu?
JM: No.
Who or what inspired you to create Casa Isola?
JM: After going through the pandemic, we were planning on giving the old Pubbelly space away. But after showing it, we realized we didn't want to let it go. And we realized we have the space, let's do it. Let's bring a new experience to an old space.
SA: Jose actually never thought I would want to do it after working so closely at Lucali, but here we are.
Is there any personal significance behind the name?
JM: Coming home to the old Pubbelly space inspired the "Casa."
SA: And "Isola" means island in Italian, which represents the island of Miami Beach, my family's routes in Sicily and Jose's Puerto Rican heritage – all islands.
What is something new that you learned about yourself or your cooking during the development process?
JM: Just learning the foundations of Italian food from Santo, who brought that knowledge from his family. As simple as it sounds, there is such depth to making a good red sauce, for example, and understanding more about the homestyle Italian cooking and seeing how it's different from me just doing it at home with no formal training.
SA: I've learned about a lot of different Latin spices from Jose and that they go very well with Italian cooking and recipes I've known and cooked my whole life. And the use of garnishes and other flare that I've never used before or imagined would work with my style of cooking… but they do!
You previously partnered together on The Piefather food truck at The Wharf Fort Lauderdale. Is this a natural extension of that? Or something totally different?
JM: This is a totally different venture with different partners.
SA: They are different concepts. The Piefather is all pizza, only pizza.
What are you most excited for people to experience at Casa Isola?
JM: The pasta — they are all different and very unique. But also the hospitality that we are known for across all of our restaurants and offering a fresh take on Italian food in Miami. There's a lot of Italian restaurants out there and we want to show our take on all of it, from the appetizers to the wine and everything in between.
SA: Just for them to experience our food. And to see their faces when they take the first bite of pasta.
You are Sunset Harbour pioneers. What initially attracted you there? What makes it special?
JM: I first found out about this neighborhood from coming to Purdy Lounge and Sardinia, and it always found like an oasis in Miami Beach. Over the course of my time working here, I feel like I've been able to add to that neighborhood vibe and really do something for the locals.
SA: It's more of a local vibe and less about tourists. And the tourists that do come are coming looking for a good, quality food experience, which is what we're here to offer.
How has it changed in the past 10 years?
JA: The change has been great. It's become a very cool neighborhood. I actually lived here for 4-5 years until I moved out (I needed a bigger space for my growing family). But, even with the growth, it's still maintained a local vibe with a lot of repeat customers.
SA: Lots of yoga. Lots of gyms.
What will Casa Isola bring to the neighborhood that's different from the current offerings?
JM: Well, we used to have Pubbelly Noodle Bar. This is just a different type of noodle!
SA: A fresher take on the overall Italian experience. We're kind of like a modern-American Italian restaurant with an authentic twist. Red sauce, American style. Not the typical European style Italian that you find around here.
Describe the Casa Isola Osteria menu in three words…
JM: Well… definitely delicious. That's technically three words, right?
SA: Modern. Authentic. Italian.
What are some of the signature dishes you have planned?
JM: Milanesa Carpaccio – raw beef with seasoned breadcrumbs. Essentially a raw take on the classic Milanesa. Also, Porcini Ravioli with wild mushrooms and pine nut gremolata.
SA: I'm going to do a Sunday Sauce, which consists of meatballs, sausage, and pork. And a Short Rib Ravioli with taleggio cream sauce and balsamic au jus. Oh, and a Branzino Aqua Pazza (Italian for crazy water) with heirloom tomatoes, little neck clams and two branzino filets cooked on the flat top.
Will there be a full bar? Any specialty drinks you have in mind?
JM: To start, we'll be offering wine, beer and some simple cocktails.
SA: Like an Aperol Spritz and other drinks like that.
Based on the "new normal," what do you think is next for the Miami restaurant scene? Where does it go from here?
JM: I still believe that hospitality is hospitality. We have to adjust to the situation at the moment, but I don't think there's a new normal.
SA: I think we're going to go back to our old normal, eventually.