Renowned for its extravagant beaches and luxurious lifestyle, Miami offers the best fine-dining restaurants with picturesque views of the ocean. From casual brunch to lavish private events by the sea, Miami, with its artistic architecture and panoramic view of the ocean provides the perfect backdrop for the ambiance of luxury.
Take a look at these thirteen best waterfront restaurants in Miami that have the richness of culinary from across the globe and spectacular views of the ocean that you will never forget.
Amara at Paraiso
Experience the Latin American flavors, coastal ingredients, and the food culture of South Florida, while relaxing at Miami's Edgewater neighborhood with magnificent waterfront views. Luxuriate yourself at Biscayne Bay's vibrant lifestyle, locally sourced ingredients, and rich culture that defines what it all means to live in Miami.
Healthy, nutritious food prepared with great ingredients and simple, flame-centered cooking techniques. Garnished with freshly selected herbs and bold-flavored sauces, the menu at Amara focuses on roasted and spit-fired ways of cooking.
The Deck
Dock your super-yacht, grab your favorite wine, and get ready to dance on the most exquisite outdoor lounge Miami can offer, The Deck at Island Garden. Offering the best waterfront cabana lounges, guests are welcome to the picturesque views of Downtown Miami and Biscayne Bay, and the signature sunset view for the perfect evening to lounge.
The Deck serves as a private event and corporate function during the week and Thursday to Sunday presents a signature experience to remember the yachting lifestyle from around the world. The Deck at Island Garden truly lives up to its reputation as a home to the global yachting community in Miami.
Il Gabbiano
In the heart of Downtown, the siblings of Masci siblings exhibit a "true Italian class" dining experience at Il Gabbiano. Along with Luigi Tallio, the brothers have re-created an awe-inspiring menu with extensive wine-list and dishes elegantly made to represent Italy in every bite. With a gorgeous outdoor terrace where diners can witness the bay of Biscayne, Italian classics have truly converged to the shores of Miami.
Don't miss out on their fresh, handmade pasta combined with simple yet fresh tomatoes, basil also olive oil harmonizes the true essence of Italian cuisine with every mouthful. The rich Italian culture is what makes Il Gabbiano one of Miami's top restaurants for leading, authentic Italian fare.
Kiki on the River
With its meticulously sculpted waterfront garden, Kiki on the River embraces the Greek Islands' hospitality and spirit to spread the aura of love in Miami. On weekdays, locals and visitors rejoice for a romantic waterfront dining experience with meals made by the renowned Chef Steve Rhee. On weekends, start off your Friday with a live DJ and a party ambiance starring soundtracks that will definitely twirl your body through the weekend.
La Mar
La Mar by Gastón Acurio offers diners a chance to experience the authentic and varied aromas of Peruvian cuisine with the renowned cuisine of Chef Gastón Acurio.
The restaurant's sleek architecture with an ethereal ambiance overlooking Biscayne Bay and the Miami skyline presents the perfect setting for La Mar's signature ceviche, freshly grilled anticuchos, and classic cocktails.
Menu ranging from Novo-Andean fare to Asian-Peruvian fusion and traditional seafood ceviche truly brings the peculiar culinary experience with the charming view of the ocean.
Lido at the Standard – One of the Best Waterfront Restaurants in Miami Beach
A place where friends can share drinks and umami-packaged snacks, Lido at the Standard, with its expert culinary craftsmanship, welcomes visitors to the world of Japanese Izakaya. With locally sourced seafood and seasonal menu all year round; Lido offers an extensive raw bar, chilled dishes, fried options, a steamed selection, and expertly-grilled dishes.
Executive Chef Daniel Herget visions a Japanese-inspired Izakaya culture with the freshest ingredients from the sea and line-caught seafood that reduce bycatch and improve sustainability. Even their coffee is roasted and brewed in Miami. Lido dishes out vibrant flavors of the sea with locally sourced seafood. They also offer vegan, vegetarian, and gluten-free options to ensure everyone enjoys a night at Lido.
Malibu Farm
Directly overlooking the Atlantic Ocean, Malibu Farm Miami Beach flaunts splendid panoramic views, offering locally sourced fresh items with a simple farm-to-table dining concept. Indulge yourself in a pizza-making event with some organic and fresh ingredients mixed with some oceanfront fun.
Experience luxury like never before, Malibu Farm Miami Beach is perfect for any private events, with bright and airy views of the Atlantic.
Rusty Pelican: Best Waterfront Restaurant in Miami for Taking Skyline Photos
With remarkable views of the coastline, artfully made drinks, dazzling decor, and top-notch hospitality, Rusty Pelican promises fresh sizzling energy in Miami. Beautiful and diversified contemporary US cuisine made with freshest local ingredients, Rusty Pelican is famous for charming the locals, celebrities, and tourists alike for the taste of the sea. The mix of seductive elegance and glamorous nightlife is what this place is all about.
Seaspice: Best Waterfront Restaurant in Miami with River Views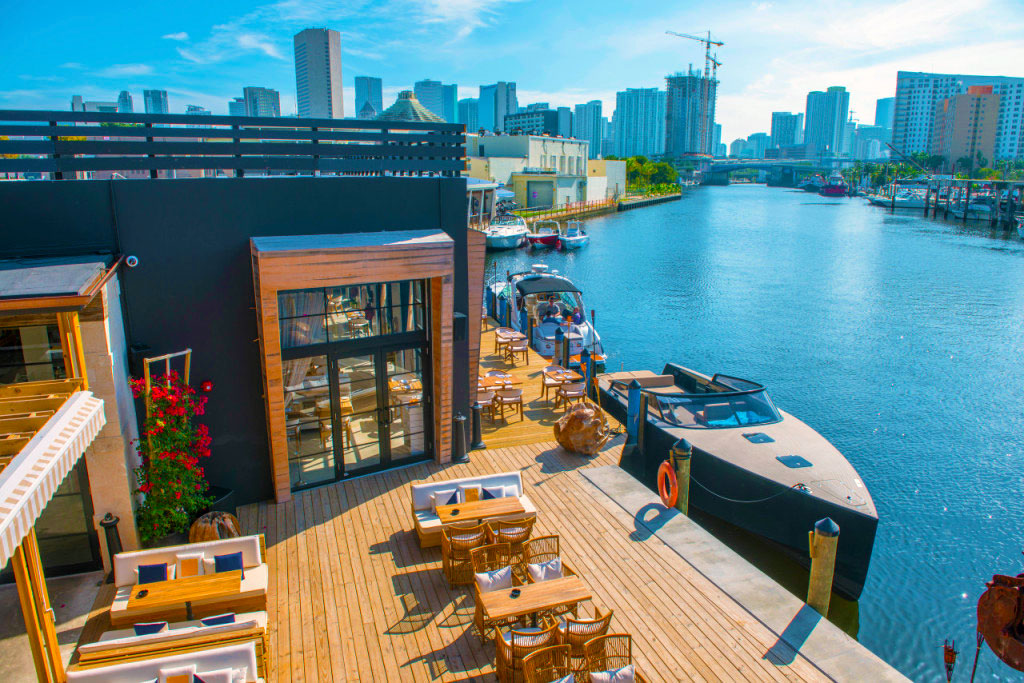 Seaspice isn't just a place to dine, it's an experience in itself. Located at the banks of the Miami River, Seaspice is on the league of its own when it comes to waterfront dining.
Helmed by Executive Chef Angel Leon, Seaspice dishes out globally-inspired plates with a modern Meditteranean twist and sincere devotion to excellence in each dish. The waterfront experience invites locals and tourists alike to indulge themselves in the freshest selection of seafood and an open-air waterfront dining room serving signature crafted cocktails. The unparalleled dining experience is what makes Seaspice a world-renowned fine-dining destination in Miami.
Smith&Wollensky
When it comes to steakhouses in Miami Beach, Smith & Wollensky offers the best USDA Prime dry-aged steaks, exclusive seafood, and award-winning wine list with a stunning vista of the Miami Skyline and crystal clear waters of the nearby Government Cut shipping channel. The two floors of restaurant seatings, plus the overlook deck featuring a full bar, lounge grants an oceanfront view for a luxury dining experience.
The Wharf
Striving to transform Miami's vibrant local culinary and cultural scene, The Wharf boasts a special open-air event space on the Historic Miami River.
With some of the most exquisite drinks and culinary creations in town, the 30,000 sq ft open-air pop-up welcomes visitors looking to satisfy their palates. Featuring internationally acclaimed chefs, The Wharf truly strives to satisfy the foodie crowd of Miami.
With a wooden deck and dining area along the river, The Wharf delights everyone with a wondrous waterfront atmosphere and offers an amazing amount of dockage space for anyone arriving by boat.
Zuma
The first modern Japanese Izakaya dining from the robata grill and kitchen in the US introduced by internationally renowned Chef Rainer Becker, Zuma Miami, brings life to the heart of Downtown.
The elegant private dining and the artistic waterfront patio at Zuma Miami is home for luxurious events, offering lavish corporate or social lunch, brunch, cocktail receptions or dinner for guests.