When a sushi craving strikes, where should you go? Our handy list of best sushi restaurants in Miami has all the answers. The Magic City has no shortage of sushi spots, and we've hand-picked the top places for rolls and other Japanese delights. Whether you're looking for traditional options or something a little more out-of-the-box, these nine eateries will hit the spot.
B-Side/Itamae
Over in Wynwood and the Design District, there are three names you need to know for anything sushi-related: Hiyakawa (see below); B-Side, and Itamae. Speaking of the latter two, both locales are run by the Chang Gang, a family trio comprised of James Beard-nominated chefs Nando and Valerie and their dad Fernando "Papa" Chang. Regardless of which concept you visit, you can expect quality rolls and much more.
On the menu at B-Side inside the 1-800-Lucky food hall: fun selections galore. Whimsical names like Just Blaze (spicy tuna tartare, cucumber topped with avocado, crispy shallots, special sauce) and Watch the Throne (salmon, avocado, and cream cheese topped with kimchi crab) are certainly playful, but you'll find nothing but serious flavors behind each option. You can also choose from a few ceviches and crispy rice options if you're not in the mood for sushi.
Up north at Itamae, guests can expect similar top-quality rolls alongside a significantly larger menu of ceviches, tiraditos, and tasty starters. Enjoy smashed cucumbers and corn fritters to start, followed by signatures like the Lost in Translation (tuna, avocado, salmon, masago, crispy quinoa, aji amarillo aioli) and Kirby's Dream Land (salmon, avocado, cucumber, salmon tartare, crispy nori, cilantro-huacatay aioli). Don't miss out on the Combinado—an elevated arroz con leche dessert that's sure to impress.
B-Side is located inside 1-800-Lucky at 143 NW 23rd Street, Miami, FL 33127. You can place your order online or call 305-768-9826. Itamae is currently closed but will reopen later this summer in the Design District at 140 NE 39th Street, Suite 136, Miami, FL 33137. For the latest update, follow them on Instagram at @itamaemiami.
Miami's Best in Your Inbox. Monthly.
Get the dish before it's served.
Hiyakawa
Hiyakawa is a legendary sushi haven for sushi lovers located in Miami's gaudy Wynwood district. The place lives and dies by its traditions, carrying over the timeless Japanese customs of simplicity, seasonality, and perfect craftsmanship to the South East coast. That same spirit is retained and reverberates throughout the organically designed structure of the Hiyakawa temple. Wood panels, itamae, minimalism. And if you hadn't guessed it by now, it also pours out of the breathtaking cuisine. The team here is straight-faced serious about ineffable service, fine-tuned fashioning, and then, leaving it all on the table. No pun intended.
The menu comprises mostly raw fish and seafood options, at a damn good price for the stunning quality. The myriad of sashimi plates, maki servings, and the like can be ordered a la carte, usually at 1 piece per order. They've got quite the variety of grilled, steamed, or fried goodies too, in the chance that Ebi Tempura is more your fancy this night or that. Lastly, their seasonal menu is chock full of surprises, liable to bring in food items anywhere from California to New Zealand. As long as it's fresh and will make customers happy, it's all game. In final mention, only 50 diners are served per evening, so a reservation is all but mandated.
Kosushi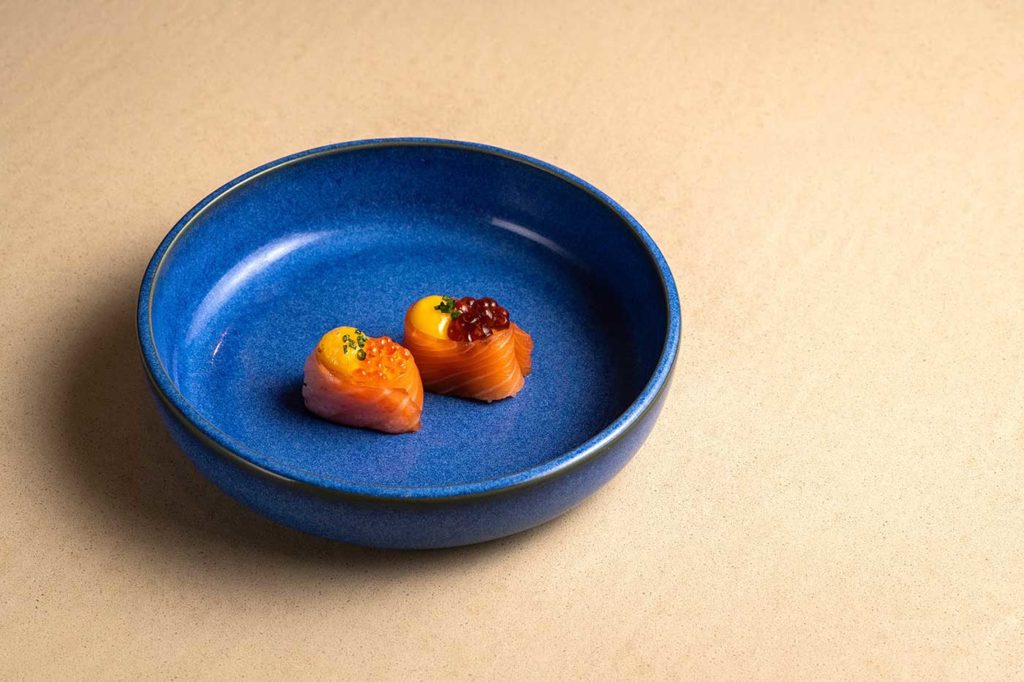 If you need an idea for where to go for an upscale sushi experience not lacking warmth, authenticity, and flavor — Kosushi is the spot. Located next door to Miami's best steakhouse, RED, Kosushi knows what it takes to survive in South of Fifth. If you've come for the enthralling omakase, the bar seats are the way to go. Watching the alchemy happen right before you is but a part of the deal. Not to mention, the bar at Kosushi is sensational. There's an enchanting center-of-the-universe feel to it, with an open view of all that goes on. Hovering above is a brilliant spectacle of Studio Arthur Casas's creation, which is a Japanese wooden joinery-inspired dome. The circular seating and soft lighting create a more intimate feeling within the overall ornate space.
Come to Kosushi to get a sense of what 5-year Michelin Star Brazil-raised sushi is like. Naturally, Kosushi offers the freshest fish cuts in the forms of nigiri, sushi, sashimi, gunkan, temaki, and maki. Don't miss the specialty dishes that they are known for. Stars of the show include the Toro Tartar — a euphoric plating of fatty tuna tartar topped with osetra caviar and paired with taro chips. There's also the hamachi garlic and madai jelly nigiri, a melt-in-your-mouth explosion of flavor levels. Bring in the evening with one of the curated sake selections, and you'll be leaving feeling like this is your new go-to sushi spot.
Makoto
For a more upscale sushi experience, head on over to Makoto inside the Bal Harbour Shops. The luxurious surroundings should give you an idea of the price point at this concept from celebrated restauranteur Stephen Starr. When it comes to the menu, you should also know that sushi is just one part of the cuisine here. There's a wide variety of items to choose from, including bites like crispy chicken dumplings, whole cauliflower and shrimp tempura. There's also a section for robata offerings like wagyu short rib and king crab.
Sushi and sashimi, however, make up most of the offerings at Makoto. At two pieces per order, your check can add up fast, but you get what you pay for — and what you're paying for is excellence. You'll encounter all the usual suspects like yellowtail and fatty tuna, along with less common sights like live scallop, wahoo and tiger prawn. If you're not sure what to order, let the chef take care of everything by ordering one of the samplers.
If you're watching your budget, consider loading up on the more affordable maki options. Most — like the spicy salmon and spicy tuna — are priced in the mid-teens, and some even come in at single digits. Order a few, and you'll leave with a full stomach (and wallet). The $20 Bento Box — which is only available for lunch — is another budget-friendly option that comes with a sushi roll (or your choice of protein), miso soup and wasabi rice.
Makoto is located inside the Bal Harbour Shops at 9700 Collins Avenue, Miami Beach, FL 33154. Visit their official website for more information, including menus and reservations.
Pubbelly Sushi
The Pubbelly brand is known for putting their unique Latin twist on things, and their take on sushi is no different. At Pubbelly Sushi — arguably their most popular concept — sushi rolls are as unique as they are abundant. The Yellowtail with its truffled yuzu is a crowd favorite, along with the Bigeye Tuna and its "arroz pegao" (sticky rice). But it's the Butter Krab Roll that should be a part of every customer's order. The sizeable roll is served with a warm clarified butter for dipping, and there's only one word to truly describe the combination: divine.
In addition to sushi, Pubbelly provides guests with a range of hot and cold options to complete their meal. Pubbelly's creativity shines in novel offerings like a French onion miso soup, short rib and truffle dumplings, and tuna pizza (yes, you read that correctly). There are also bao buns and an assortment of nigiri and sashimi. With multiple locations throughout South Florida, you're never too far away from Pubbelly's one-of-a-kind fusion of Latin and Asian influences.
One more thing: Desserts are a must, even if you're not hungry. Pastry chef Mario Orantes has put together a list of fun sweets that range from light and refreshing to downright decadent. In the former category, guests can cap their meal with seasonal mochi ice cream and sorbets like ube, green tea and mango. In the latter category, the miso bread pudding with banana, peanuts and goma ice cream will make your cardiologist cringe (and your taste buds sing). A nice balance between light and rich is the Coco Loco, a pineapple blondie creation. No matter what you choose, the gym can wait.
Pubbelly Sushi has locations in Aventura, Brickell, Dadeland and Miami Beach. To find a location near you, click here.
Osaka
Thanks to its exceptional execution of Nikkei cuisine, Osaka has been at the forefront of Miami's diner lists since its opening. Those dining-in can enjoy the cozy, yet upscale vibe, which remains warm despite social distancing regulations. The sushi fare includes colorful renditions of specialty rolls and nigiri, many of which are perfected before your eyes. The scent of that torched Japanese Wagyu beef— irresistible! Diners looking to savor warm meals can take a peek at the tokusen menu. It features an abundance of prime grilled fish and meat dishes paired with Peruvian specialties.
The acclaimed restaurant chain with eleven restaurants worldwide has recently launched a state-of-the-art take-out menu at their Miami branch. Dishes are tastefully plated in omakase-style. There's no shortage of items to choose from, and those yearning for a feast for the eyes and soul can enjoy the experience of creating their own bento box. Choose from a wide variety of the freshest sashimi, nigiri, and maki, like the explosive Nikkei roll — shrimp furai, avocado, white fish, ceviche sauce, and their signature furikake. Every mouthful is a burst of zesty tropical produce and prime cut fish.
One of the best things about Osaka Nikkei's omakase take-out is its flawless presentation. The executive chefs have shown superb effort, marrying the enjoyment of eating a 10-course tasting meal with living-room comfort. And for a fraction of the price. Bring in the complete izakaya vibe with an Amai Shio, Osaka's craft cocktail. Vida Mezcal, Toki Whisky, liquid salt, curuba, honey tangerine, and togarashi. We can't think of a better way to spend an evening in.
Osaka is located at 1300 Brickell Bay Dr, Miami, FL. To learn more give them a call at (786) 627-4800 or visit their website.
Su-Shin Izakaya
Su-Shin Izakaya in Coral Gables is one of those "If you know, you know" places. It doesn't really promote itself, and the place has barely any social media presence; we found out about it through word of mouth. Despite the lack of modern marketing practices, the restaurant is constantly full. There are multiple reasons for that: It's fast, it's cheap and it's great. You can't really ask for more from your local sushi joint.
The best part about Su-Shin Izakaya is its big menu — think Cheesecake-Factory size; it's pages and pages of food. In our experience, places with a menu of this size only excel at a few things. That's not the case here; my wife and I have been loyal patrons for years and have ordered from different sections every time — it's always been good. Blackboard specials change regularly, which helps keep things interesting. If you've been thinking about a certain Asian food, you'll likely find it here. Ramen, udon, hot pots … just ask. The star of the show, however, is sushi.
Su-Shin Izakaya also provides some of the best value on this list. Most sushi rolls cost less than $10, and the more expensive ones cost just a few bucks more. For example, a California roll is just $6, a spicy tuna roll is $8 and their Bird roll (chicken teriyaki) is $6.50; those are quite the deal. Their $12 lunch special with sushi or sashimi is a great way to try their food without breaking the bank, but honestly, your regular sushi order won't cost much more than that anyway.
Su-Shin Izakaya is located at 159 Aragon Avenue, Coral Gables, FL 33134. To learn more, visit their official website.
Sushi Erika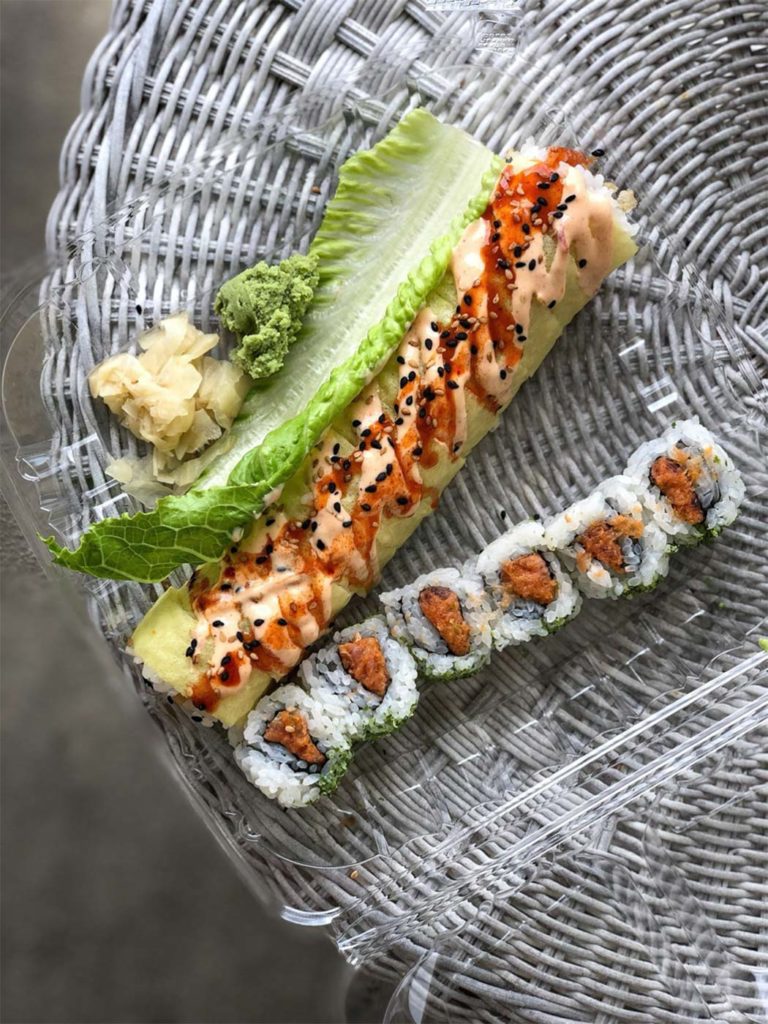 You might not see North Bay Village on many local food lists, but the neighborhood is full of hidden culinary gems. One of those is Sushi Erika, which filled a big hole left by the area's beloved Sushi Deli. For decades, Sushi Deli was the go-to spot in NBV for the namesake item; patrons would gladly wait hours to get a taste of some of the best sushi in town.
Sadly, it closed in 2017, but the late owner's daughter — Erika Kushi — opened Sushi Erika a year later less than a mile away. The crowds have followed, and for good reason: You'll be hard pressed to find better flavors or a larger menu anywhere else nearby. Want a traditional roll? Sushi Erika has a ton. Looking for vegetarian options? Sushi Erika has plenty. Craving something creative? Try one of the restaurant's signature rolls with BBQ Eel, white fish ceviche or other uncommon proteins. There's so much going on in the menu that you'll quickly start thinking about repeat visits.
Like Pubbelly Sushi, don't skip on dessert here. Lychee sherbet, mochi ice cream and green tea cheesecake are all ideal ways to finish your meal, and they all cost less than $5. At that price, ordering one is a no brainer.
Sushi Erika is located at 1700 John F. Kennedy Causeway #100, North Bay Village, FL 33134. Contact the restaurant at (786) 216-7216 for more information.
Wabi Sabi
Wabi Sabi is Upper East Side Miami's sushi elect, serving up some very mouth-watering fare for local seafood lovers. Coming from the same creators of the more upscale omakase experience Hiyakawa, Wabi Sabi is a lil' more pedestrian and homey. The diner's name is coined after the Japanese tradition, which signifies the full acceptance and embracing of the beauty of imperfection. It's the code of the everyday folk. It's also the code of big things in small packages.
The menu consists of bowls, maki, handrolls, nigiri, sashimi, and some sides. Oh, and there's an Omakase tasting option for anyone wanting to get the full experience. It's quaint, honest, and very well priced for the quality. You can find the usual suspects like spicy tuna and Atlantic salmon, plus rarities like California blue crab.
The bowls at Wabi Sabi (a most popular item) are a superb choice for the "hungry and want diversity and not sure what to get" kind of diners. It's somewhat DIY in that you choose your base, sauce, and main protein of seafood. There's even a mushroom option (yay vegans). It comes with a default Japanese-style spread, including edamame, wakame salad, scallions, and other stuff too.
Lastly, the design: origami decorated walls, ceiling ornaments, flush wood furniture, ceramic crafts assortment. The lights stay low, the space stays quiet, and the vibes stay just right for that wabi-sabi (in the literal sense) dining experience.