Whether you're in the mood for traditional sushi or something with a modern twist, these tried-and-true Brickell sushi spots are sure to satisfy your cravings. From the freshest fish to the most innovative combinations, these five restaurants serve up the best sushi in Brickell.
Pubbelly Sushi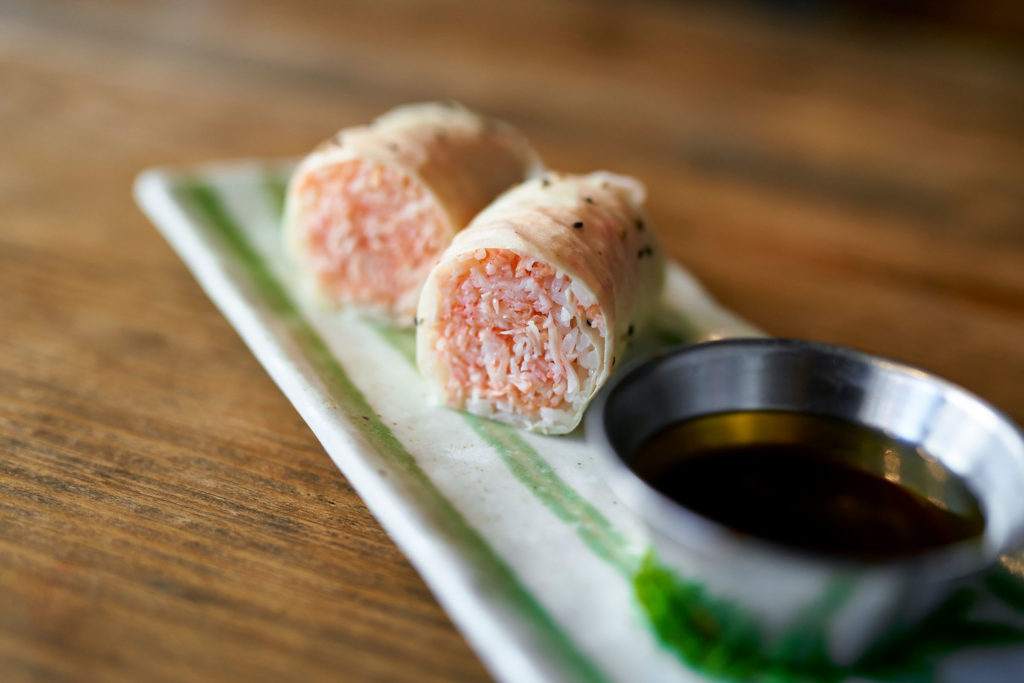 For over 10 years this Japanese-Latin gastropub has been going strong, with a number of locations in Miami and its surrounding areas. The restaurant stands out among other competitors on account of its rather novel Puerto Rico-meets-Japan-meets-Europe style of cuisine. And it has indeed passed the test of time. After all, Pubbelly's signature butter crab roll is practically a staple of Miami at this point. The atmosphere is always fun and festive (especially at the OG Brickell location), and a great place to grab unique food with your favorite folks. Definitely worth a reservation.
Pubbelly Sushi is located at 701 S Miami Ave Suite 421, Miami, FL 33131. For more information, visit their official website.
Komodo
Komodo is one huge extravaganza of vibrancy, entertainment, and good eats. This 3-story funhouse seats 300 guests amidst a stirring Southeast Asian flair. Speaking of Southeast Asia, the cuisine here is an amalgamation of all kinds of heavy (stomach) hitters from the region but with a global twist—think pastrami egg rolls, Chilean sea bass dumplings, and jalapeno hamachi sashimi. They've also got some delicious vegetarian options on their intricate menu with both large plates for sharing and smaller plates as well. While these one-of-a-kind options do come at a hefty price, it's totally worth every penny spent.
Komodo is located at 801 Brickell Ave, Miami, FL 33131. For more information, visit their official website.
Kaori
Kaori is a modern-Asian restaurant giving diners a bit more than the average Joe. With an emphasis on minimalism and the sublime, Kaori's atmosphere is geared toward entrancing the senses to a full modus operandum, while keeping you present in every moment. Aside from the sleek, organic design, this spot curates its own playlist of soundscapes by different underground DJs to work in tandem at nudging your immersion into their tenor. To top it all off, the dishes are colorful and lively, served in a casual family style and existing on the silver lining between traditional and modern Asian cuisine. Treat the family.
Kaori is located at 871 S Miami Ave, Miami, FL 33130. For more information, visit their official website.
Naoe
Where do we start? Since 2003, Chef Kevin Cory has received accolades in respect of his talent to procure delicious seafood on the plates of curious diners. Those awards continue to this day with his latest restaurant, Naoe. This is high-end, traditional Japanese food prepared to the level of mastery with only the most precious of ingredients and techniques. The menu is set and changes constantly at the behest of the chef… and Chef Cory is part of a time-honored heritage. Since the early 1800s, his family has owned and operated both a soy sauce (Naogen) and sake (Nakamura) brewery—both highly honored and certified in Japan. Those practices, that sake, and more have made their way into Naoe.
Naoe is located at 661 Brickell Key Dr, Miami, FL 33131. For more information, visit their official website.
Paperfish
Paperfish must be on this list and a considerable option for any sushi lover. Not only are the rolls simply delicious, but they are also really affordable too, which is such a comfort. This hip eatery and bar specializes in a mix of Peruvian and Japanese-influenced dishes giving diners a bright-spirited taste of Nikkei tradition, plus. As if that wasn't enough, both the outer and inner space of the restaurant is completely immersed in traditional accouterments, and the food follows suit—truly a sight for sore eyes. The large menu at the sushi bar has space for a more-than-fair selection of tasty drinks to accompany the affordable fare. A+
Paperfish is located at 1421 S Miami Ave, Miami, FL 33131. For more information, visit their official website.
Brickell Neighborhood Guide
Looking to explore the Brickell neighborhood further? Check out our curated list of the best restaurants in the area that are sure to satisfy your taste buds and elevate your experience in Miami's bustling financial district.