Steakhouses in Miami are a dime a dozen. How are you supposed to make up your mind? Easy: We've put together a handy list to help you find some of the best cuts in town. These six spots will make sure you have an unforgettable experience.
COTE Miami
For an interactive steakhouse experience, look no further than COTE Miami in the Design District. The Korean BBQ spot features grills at all the tables, so expect dinner (or lunch) and a show as beef and other fare is cooked in front of you. This place is not cheap, but you get what you pay for: dry-aged New York strip, filet mignon, A5 Japanese wagyu… The list goes on.
If money isn't an issue, splurge on the steak omakase for the ultimate tasting experience. Otherwise, the Butcher's Feast is another safe bet (four cuts with a few sides) and a little more affordable.
COTE Miami is located at 3900 NE 2nd Avenue, Miami, FL 33137. For more information, visit their official website.
Edge, Steak & Bar
Few places will wow you like Edge, Steak & Bar at the Brickell's Four Seasons. This lauded steakhouse consistently appears on Best Steaks lists and for good reason: It's incredible. Chef Aaron Brooks and his team have put together a stellar menu of rockstars including wagyu churrasco, wagyu New York strip, and prime porterhouse. The menu is varied enough that non-meat eaters will leave happy, too, but make no mistake: You're here for steak.
Edge, Steak & Bar is located at 1435 Brickell Avenue, Miami, FL 33131. For more information, visit their official website.
The Key Club
The Key Club hasn't been around as long as the other entries on this list, but it's been a crowd-pleaser since day one. This American brasserie concept from notable Miami mogul David Grutman features steakhouse staples like parker house rolls, baked potatoes, oysters, and the kitchen sink.
One of the main draws, of course, are the steaks—offerings include steak frites, ribeye, and Glatt kosher bone-in ribeye. There are plenty of non-steak selections—especially seafood — so everyone can find something to their liking.
The Key Club is located at 3015 Grand Avenue, Coconut Grove, FL 33133. For more information, visit their official website.
RED South Beach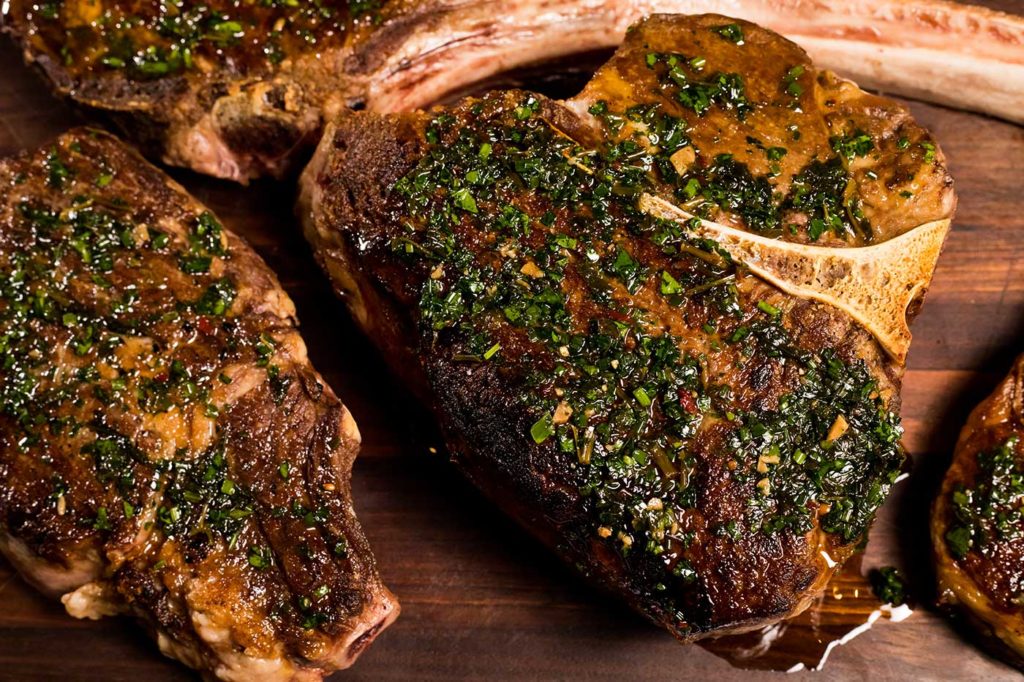 RED South Beach is one of those places that doesn't need any sort of introduction—but we'll write one anyway. The South of Fifth favorite is a Miami Beach institution, impressing guests for years with its delicious offerings like certified Angus beef prime bone-in filet mignon, C.A.B. prime Kansas City bone-in strip, and C.A.B. prime ribeye—to name a few.
What we love the most about RED South Beach is that they don't just do steaks well … they do everything well. Guests can also enjoy an assortment of raw bar, pastas, and seafood that are just as tasty as its steaks.
RED South Beach is located at 801 South Pointe Drive, Miami Beach, FL 33139. For more information, visit their official website.
The Wagyu Bar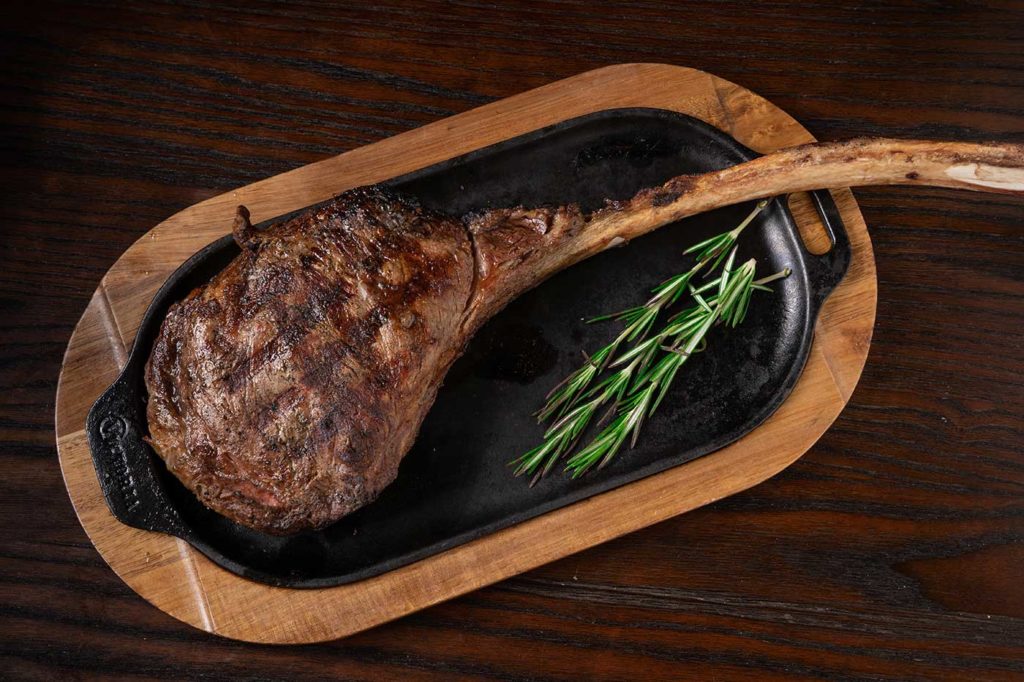 The Wagyu Bar in Coral Gables prides itself on its casual steakhouse vibes. You won't have to spend a fortune to enjoy great steaks here—and if you really like something, you can even buy it to cook at home later. Guests will find a lot to love about this place, as it features one of the largest selections in Miami.
Filet mignon, wagyu tomahawks, Denver steak, wagyu picanha… you name it, and they probably have it here or their nearby store. The Wagyu Bar is big on educating consumers as well, and you'll find a nice breakdown of beef grading on the menu along with an invitation to check out their blog for more information. Not only will you leave full, but you'll also leave a little more knowledgeable about your food.
The Wagyu Bar is located at 2257 Coral Way, Miami, FL 33145. For more information, visit their official website.
Toro Toro
Diners looking for some Latin flair with their steaks should make a reservation at Downtown Miami's Toro Toro. The Latin-inspired steakhouse features delectable steaks like picanha, churrasco, porterhouse, and bone-in ribeye in individual sizes or family sizes. The "Toro Toro Cowboys" section is loaded with 32-ounce cuts that are ideal for sharing, and they're quite the bang for your buck if you're a big group (or just ridiculously hungry). ''
If you want to try other proteins on the menu, consider the churrasco platter that also comes with pork belly and chicken or the skewers that feature picanha, chicken, pork belly, and chorizo. There's a lot to enjoy here, but you can't leave without some steak.
Toro Toro is located at 100 Chopin Plaza, Miami, FL 33131. For more information, visit their official website.