When you think of food in Miami, what's the first type of cuisine that comes to mind? Cuban, most likely. But because Miami is such a melting pot, all sorts of cuisines get their fair share of the spotlight. Case in point: seafood restaurants in Miami. Whether you're looking for a casual meal or a white-tablecloth experience, you won't have to look far. Here are the best seafood restaurants in Miami.
Captain Jim's Seafood Market & Restaurant
Variety is the spice of life, and Captain Jim's Seafood Market & Restaurant embraces that philosophy wholeheartedly. If there's a seafood staple you're thinking of, odds are that Captain Jim's offers it on its expansive menu. Before visiting, though, there's one thing you need to do: leave your diet at the door.
The seafood here can be prepared in several different ways, but the menu heavily skews toward fried. Fried cracked conch, fried fish fingers, fried shrimp, fried lobster… the list goes on. The items that aren't fried are still substantial, including scallop scampi, shrimp and grits, and catch of the day tacos. You can also order your fish grilled or blackened if you prefer — Captain Jim's provides that opportunity. But honestly, it's okay to indulge here — the calories are well worth it.
Overall, the prices at Captain Jim's are reasonable for the portion size; only a few items cost more than $20, and most hover around the 'teens. But if you want to save a few extra bucks, consider visiting for a weekday lunch or happy hour. At lunch, sandwiches and salads come with free soup, and happy hour features fried calamari, fish dip, and other apps at a hefty discount (in addition to drink specials). No matter when you visit this top Miami seafood restaurant, you can expect a good time.
Captain Jim's Seafood Market & Restaurant is located at 12950 West Dixie Highway, North Miami, FL 33161. For more information, visit their official website.
CJ's Crab Shack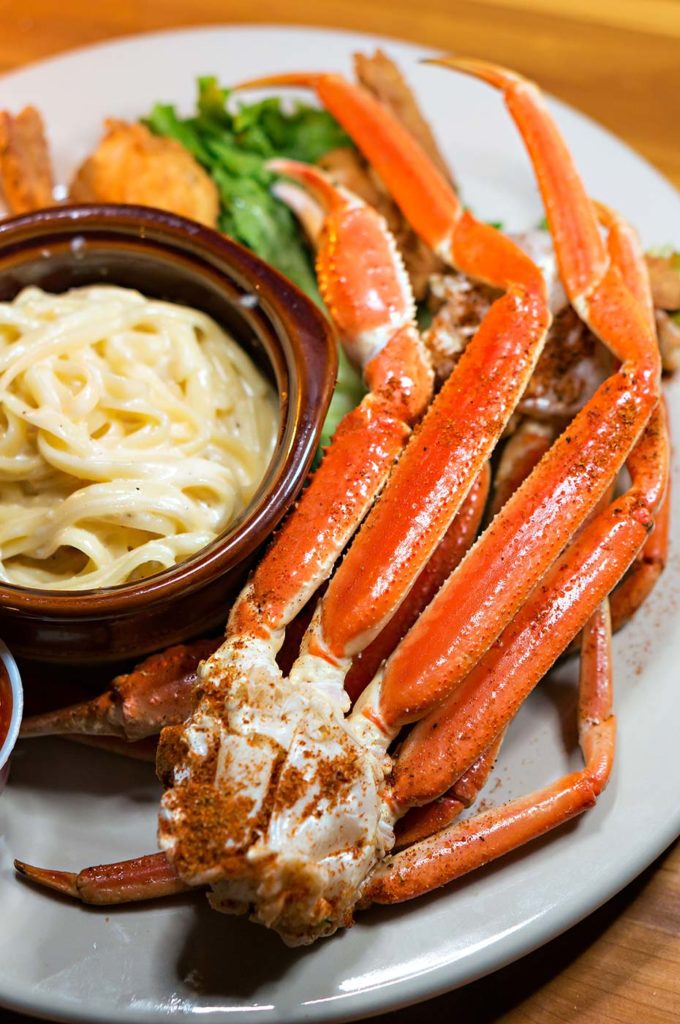 While its Ocean Drive location might give you the impression that it's a tourist trap, CJ's Crab Shack is not one—this is serious seafood at reasonable prices. The name should give you an idea as to what they're famous for: crab, crab, and more crab. There's more to this seafood eatery than meets the eye, though, as the menu boasts buffalo shrimp, southern fried grouper, seafood pasta, and a laundry list of other favorites. A full bar rounds out all the offerings; the Hurricane Molly is a must.
CJ's Crab Shack is located at 600 Ocean Drive, Miami Beach, FL 33139. For more information, visit their official website.
Costa Med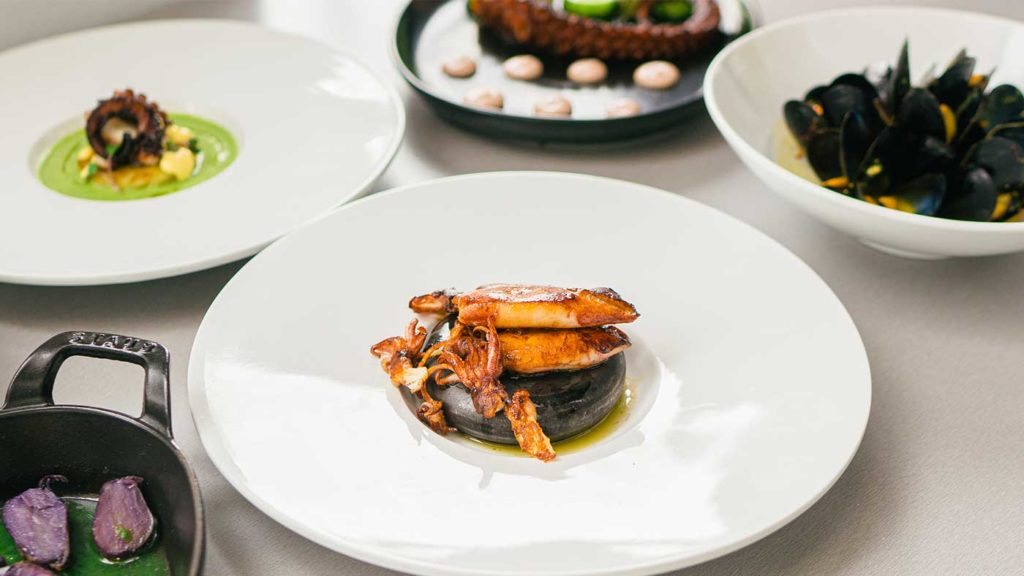 Key Biscayne's hidden gem Costa Med is known for its Mediterranean-inspired cuisine, and its seafood selection is one of the main reasons it's a neighborhood favorite. Fresh daily ceviche, Creole tuna tataki, Greek-style branzino, honey roasted salmon, crab cake pops, grilled octopus … what's not to like? This menu is huge, so if you can't order everything, don't worry: You'll definitely be back. Don't forget to check out the vast wine list.
Hiyakawa
"You get what you pay for." This age-old adage rings true at Hiyakawa, the upscale Asian eatery that's all the rage. Sushi lovers come here for the chef's tastings that feature some of the freshest fish you'll ever encounter. Sure, a la carte options are available, but this is one place where splurging is recommended. Just come in with an open mind.
Hiyakawa is located at 2700 North Miami Avenue, Miami, FL 33127. For more information, visit their official website.
Joe's Stone Crab
Whether you're a resident or visitor, you've likely heard of Joe's Stone Crab. The seafood restaurant in Miami Beach is an institution and it's appeared in countless city guides and lists. There's a reason Joe's has been around for over 100 years, and that reason is quality—high-quality food, high-quality service, and a high-quality experience.
It's important to be aware of some ground rules if you plan on visiting. First, there are no reservations. You must take your chances walking in. If you come early or on a weekday, odds are good that the wait is minimal to non-existent. If you try to visit prime time on a weekend, you better not be in a hurry. Dress nice but not too nice—no tank-tops—and you should be good to go.
Based on its reputation, you'd think the prices here would be astronomically high. But you'll find the prices are par for the course on the beach—with one big exception: the famous Florida stone crabs. They are market prices, and that means the price can (and will) fluctuate according to season. But fret not, as there is plenty of affordable, satisfying fare to be had like the jumbo lump crab cakes, lobster roll, Atlantic cod, and sautéed shrimp. Want to know a secret? The ½ fried chicken for $6.95 is one of the best deals in town—and a steal at one of the best seafood restaurants in Miami.
Joe's Stone Crab is located at 11 Washington Avenue, Miami Beach, FL 33139. For more information, visit their official website.
Lobster Shack
Lobster Shack—a sibling of CJ's Crab Shack—has two convenient locations on South Beach so you're never too far from amazing lobster rolls. In addition to tasty crustaceans, the restaurant serves up oysters, seafood tacos, sizeable salads, and stiff drinks. There's even a kids menu with items like grilled cheese sandwiches and cheese quesadillas—it's fun for the whole family.
Lobster Shack has multiple locations on Miami Beach. For more information, visit their official website.
Mignonette
"F–king fancy." The Mignonette motto is catchy and rings true about the Edgewater seafood eatery, which has been a neighborhood staple for over half a decade. That said, you'll find all sorts of characters from all walks of life on a given night enjoying great wines, oysters galore, and a bevy of other delicious offerings.
The menu is filled with items you've seen before like oysters Rockefeller, shrimp cocktail, popcorn shrimp, and bouillabaisse but with one key difference: They're done to perfection. Great flavors should come as no surprise from the owner and executive chef Danny Serfer, whose first concept Blue Collar helped shine the spotlight on Miami's budding dining scene with elevated comfort food. Serfer and Chef de Cuisine Bobby Frank are doing the same at Mignonette, albeit in a much more upscale environment.
Hence, the Plain and the Fancy sections on the menu. If you want simple fish done right, then opt for the open blue cobia or redfish with beurre blanc. Should you want to splurge, you can get a blackened cobia with shrimp etouffee or redfish with rock shrimp bomba rice and lobster broth. Mignonette offers you that choice, and we love them for that. For dessert, however, there's only one choice you should make: the famous butterscotch Heath Bar pudding. You'll thank us later.
Mignonette is located at 210 NE 18th Street, Miami, FL 33132. For more information, visit their official website.
Navé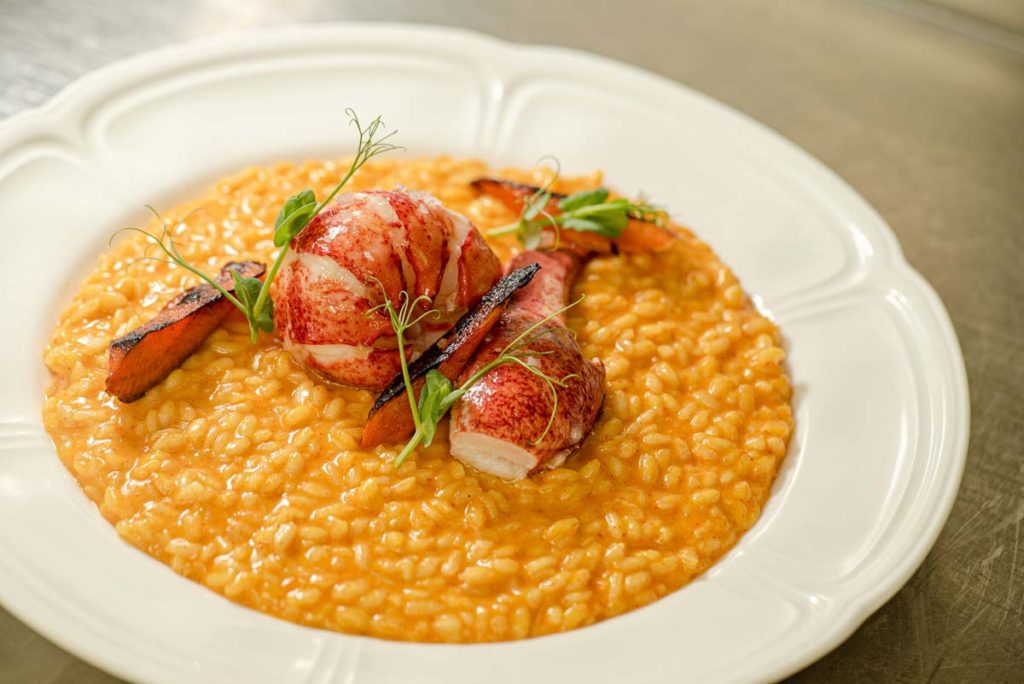 Navé in Coconut Grove hasn't been around as long as the other entries on this list, but it's already making a name for itself thanks to its exquisite coastal Italian cuisine. Also unlike the other eateries we've listed, seafood is not the main focus of the restaurant—but it's a huge part. Among the pizzas and pastas are succulent specialties that will delight your taste buds and compel you to make return visits.
Don't let the menu header "Prepared Simply" fool you. Fresh fish like the Mediterranean Turbot with brown butter or the big eye tuna with lemon herb vinaigrette sound basic, but their tastes tell a different tale. Same for more "complex" fare like the scallops a la plancha and—our personal favorite—the snapper Milanese, the latter of which is the most satisfying piece of fish we've ever eaten. Best of all, it's enough for two.
Complementing all this divine food is an ambitiously fun cocktail program. Navé is one of the Spanish words for ship, and the drinks all feature nautically inspired names such as the rum-and-bourbon-based Three Sheets to the Wind and the rye-focused Black Pearl. The list is a lot to take in, but just ask one of the helpful bartenders to steer you on the right path.
Navé is located at 3540 Main Highway #C-103, Miami, FL 33133. For more information, visit their official website.
The River Oyster Bar
The River Oyster Bar has been one of the go-to happy hour spots in Brickell for over 15 years. There's almost always a crowd inside and outside leaving the workday's worries at the entrance. One of the main draws for that crowd is The River's rotating selection of oysters, which keeps regulars and first-timers on their toes. Combined with an extensive menu of seafood and non-seafood selections, it's no wonder the place is such a hit.
We're not using the term "extensive" lightly either. The menu is long, and it'll take multiple visits to make the slightest dent. Raw bites such as ceviche and salmon sashimi appear alongside flatbreads and pizzas, and then there are salads and meats—to name a few sections. Before even getting to the entrees, you're looking at dozens of options. But do yourself a favor and avoid overeating early on: Mains like the crispy skin yellowtail snapper, salt-crust branzino, and miso salmon are all worth a look, as are the dessert cheeses.
The River Oyster Bar is located at 650 South Miami Avenue, Miami, FL 33130. For more information, visit their official website.
Seawell Fish N' Oyster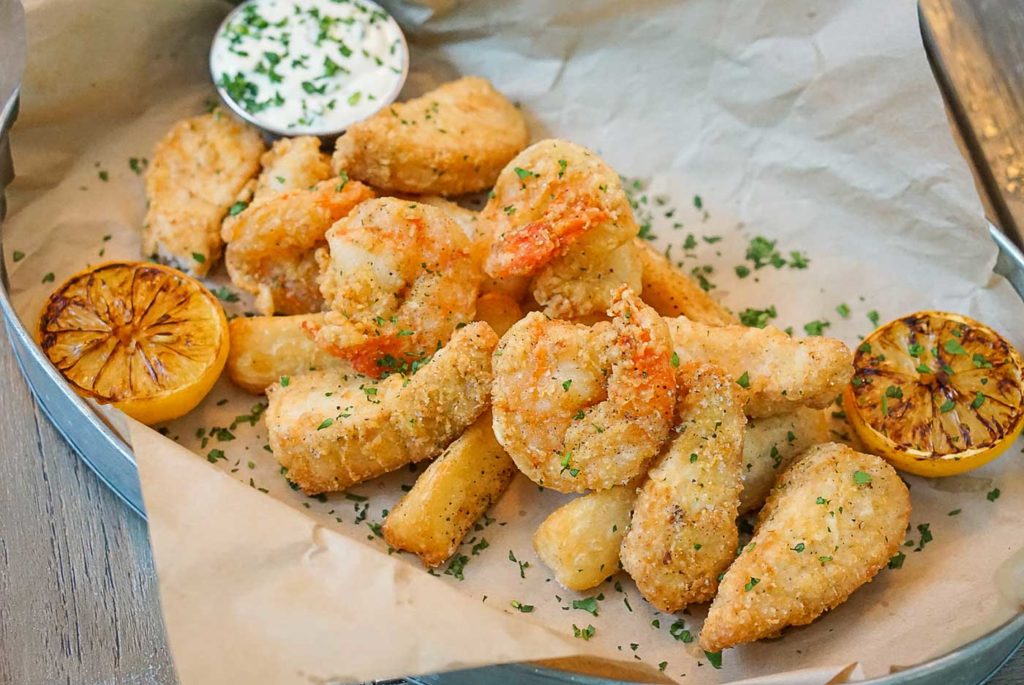 Seawell Fish N' Oyster is one of those places that's easy to miss. Because it's located inside the Kimpton Anglers Hotel, you really have to know it's there. But it's just a matter of time before word gets out about this Miami Beach spot.
The seafood here is incredible and runs the gamut from light fare such as shrimp cocktail and oysters to rich selections like shrimp and grits and Caribbean shellfish stew. We can't stop telling everyone to order the warm crab spread and melon salad—two appetizers that should be a part of every order. A small but mighty spirits list helps elevate an already stellar experience.
Seawell Fish N' Oyster is located at 660 Washington Avenue, Miami Beach, FL 33139. For more information, visit their official website.
Wabi Sabi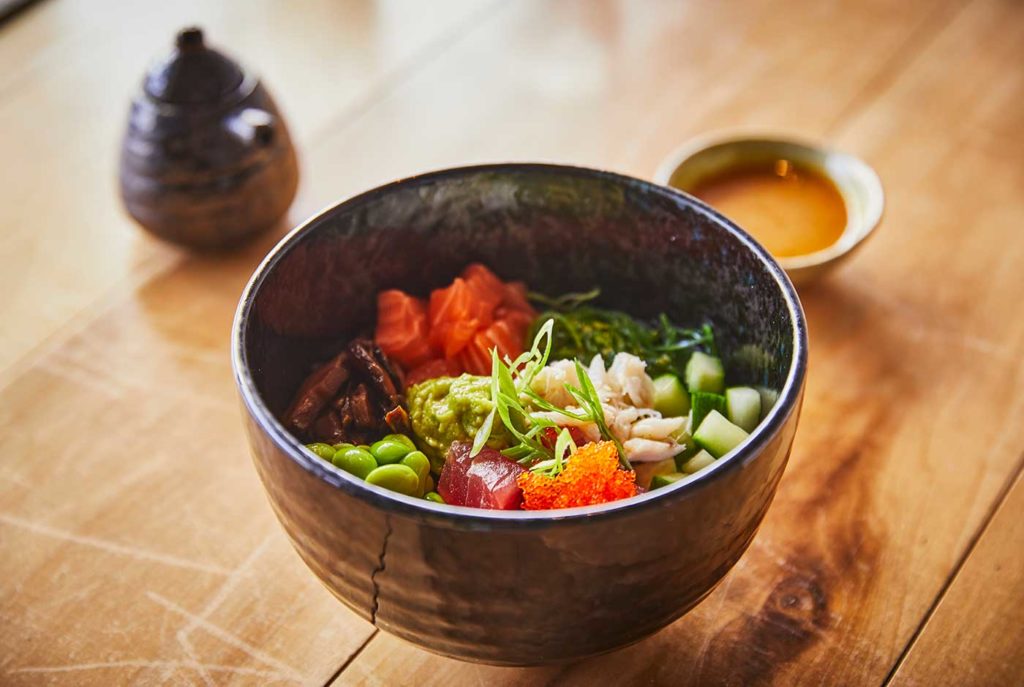 If Hiyakawa is a little out of your price range, then head on over to Wabi Sabi, its more casual sibling. Here, guests will find an assortment of healthy bowls packed with tuna, salmon, and other delicious fish alongside a plethora of sushi. Expect the usual suspects like spicy tuna and hamachi as well as more uncommon proteins like rosy seabass, golden eye snapper, and horse mackerel. You can mix and match to your stomach's content or opt for the very reasonable tastings that start at $50. Either way, you're going to love this place.
Wabi Sabi is located at 851 NE 79th Street, Miami, FL 33138. For more information, visit their official website.