When was the last time you had a sandwich that really stood out? While many places feature sandwiches for lunch and/or dinner service, they're often an afterthought when putting together a menu. Not so at these six places. At each of these spots, you'll find at least one sandwich that you'll be thinking about long after your meal.
For a Breakfast Sandwich: Bachour Bakery & Restaurant
Bachour Bakery & Restaurant in Coral Gables is a neighborhood favorite for breakfast, lunch, dinner, and dessert. No matter what time you visit, you'll find it full of guests looking to enjoy bites from renowned pastry chef Antonio Bachour. If you're looking for a memorable start to your day, come for breakfast and order the egg sandwich.
Fair warning: It is humongous. The sandwich is comprised of a brioche bun, scrambled eggs, aged cheddar, shallot marmalade, and crispy pork belly. It sounds like a lot, and it is; consider splitting it with someone or expect to skip lunch. Regardless, it's a steal at $16 and one of the best breakfast sandwiches in town for the money.
Bachour Bakery & Restaurant is located at 2020 Salzedo Street, Miami, FL 33134. For more information, visit their official website.
For a Hearty Sandwich: La Placita
When it comes to Puerto Rican food, La Placita should be top of mind. The MiMo restaurant gets a lot of attention for its mofongo and other classics, but its sandwiches deserve just as much of the limelight – specifically, the la tripleta Boricua.
The hearty sandwich is not for the faint of heart: It's packed with roasted pork, country ham and pastrami and served with fries. And just like the previous entry, it's big enough to share or enjoy now AND later. If you want something just as tasty but a little less enormous, opt for the steak sandwich or pork sandwich. That's the beauty of La Placita: There's no wrong choice.
La Placita is located at 6789 Biscayne Boulevard, Miami, FL 33138. For more information, visit their official website.
For a Lobster Roll: The Lobster Shack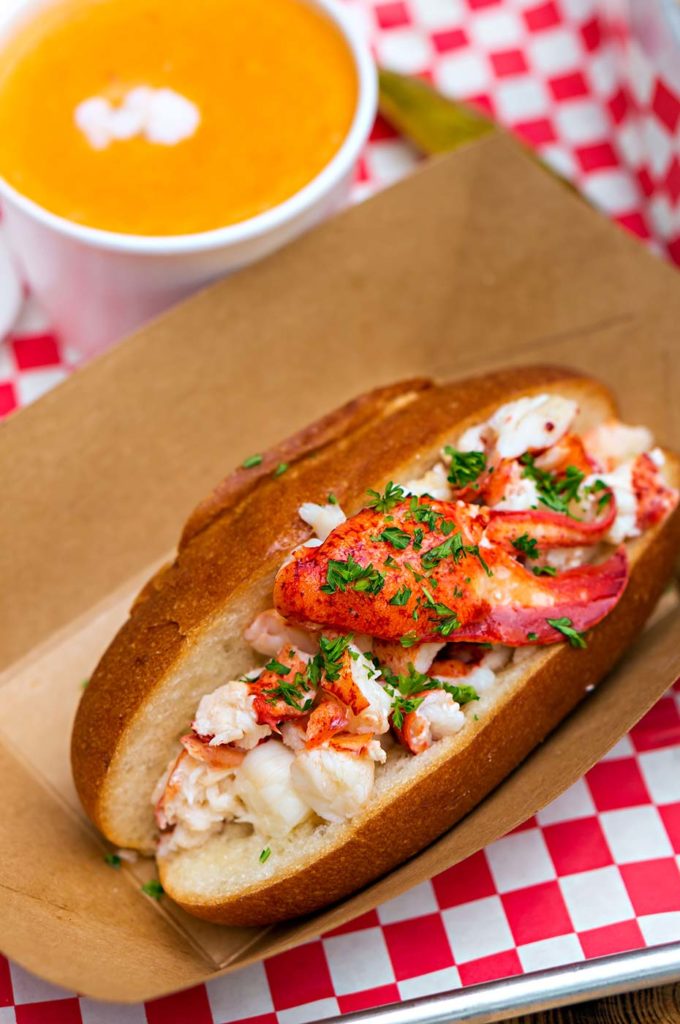 Lobster rolls are a delight, and the one at Lobster Shack on SoBe is a cut above the rest. Thanks to Lobster Shack's two convenient locations, you're never too far away from some of the best rolls on the beach.
The classic lobster roll is always a good time, but Lobster Shack also offers a number of variations like the Cajun lobster roll and the claw lobster roll. There's even a South Beach lobster roll with bacon, avocado, and slaw.
If you like to mix things up, opt for the Cajun shrimp roll or the fully-loaded Poseidon roll with lobster, king crab, and blacked shrimp. You won't find a better place for lobster rolls than Lobster Shack.
The Lobster Shack has two locations on South Beach: one on Lincoln Road and one on South Pointe Drive. For more information, visit their official website.
For the Best Cuban Sandwich: Pinch Kitchen + Bar
Some places offer only a couple of options when it comes to sandwiches. That's not the case at Pinch Kitchen + Bar in the Upper East Side, where there's something for everyone. The mouthwatering choices feature a wide range of proteins that should satisfy just about any palate.
Pinch is home to a cold-smoked salmon sandwich with a sunny side up egg and a brioche bun; a pulled pork sandwich with caramelized onions and guac, and a Cuban-bread turkey BLT with bacon and fresh herb aioli.
Other selections include the Pinch Cuban sandwich and two beloved burgers – one with a custom burger blend and the other with Impossible protein; the latter is considered one of Miami's best-kept secrets when it comes to vegan options. No matter what you choose, you're leaving full.
Pinch Kitchen + Bar is located at 8601 Biscayne Boulevard, Miami, FL 33138. For more information, visit their official website.
For a Wagyu Sandwich: Ruby Dee's
Located in MIA Market in the Design District, Ruby Dee's is the latest concept from celebrated local chef Daniel Roy (Generator; ex-Matador Room). The acclaimed chef has put together a mouthwatering menu of seasonal and vegetable-focused fare.
The entire menu is packed with hits, but it's that wagyu picanha sandwich that we can't get enough of. It's a flavor bomb, with white cheddar, habanero aioli, and sweet hot peppers. It's offered in half and whole portions, but go for the whole – you won't be able to get enough of it. Chef Roy also serves an equally tasty turkey sandwich with bacon, herb aioli and heirloom tomatoes if that's more your style.
Ruby Dee's is located at 140 NE 39th Street, Miami, FL 33137. For more information, visit their official Instagram page.
For a Vietnamese Twist on Your Sandwich: Tran An
For quality Vietnamese food, look no further than Little River's Tran An. The eatery has a whole section dedicated to the banh mi sandwich. Shrimp, pork, sausage, chicken, beef … the list of available proteins goes on and on.
First-timers should definitely order an OG Classic to get acquainted, though. Expect a thick-cut pork roll with chili-rubbed roast pork, maggi butter, cucumber, pickled slaw, and herbs. It packs some slight heat but it's the perfect introduction to what Tran An has to offer. Those who prefer a bit more heat will find it with the spiced shrimp banh mi — another crowd favorite.
Tran An is located at 215 NE 82nd Street, Miami, FL 33138. For more information, visit their official website.