When the weather's nice, it's hard to beat dining outside in South Florida. And if a rooftop is involved, even better. Here are six Miami rooftop restaurants that should be on your radar right now:
Area 31
If you've worked in Downtown, you should be familiar with the most popular rooftop in the neighborhood: Area 31. Known for its generous happy hours, Area 31 is located on top of the Kimpton Epic Hotel. While you could sit inside, where's the fun in that? You're here for the view: The moment you step into the outdoor seating area, you'll be greeted by the Downtown Miami and Brickell skyline; it's a sight that never gets old, and it's the perfect backdrop to the flavorful food you're about to enjoy. 
One of the best rooftop restaurants in Miami, Area 31 gets its name from the sustainable fishery Fishing Area 31, so seafood makes up a big part of the menu. Some highlights include the conch fritters, grilled octopus, and Faroe Island salmon.
That said, if you're not big on seafood, you need not worry. There are several other items to indulge in. Among them: the Cuban mojo rib eye and the Moroccan chicken. Prices are reasonable with most selections in the 'teens and 20s. The view, however, is priceless. If you're an early riser and would rather catch the sunrise, Area 31 offers a breakfast menu with classics like corned beef hash, avocado toast, and shrimp and grits.
Area 31 is located inside the Kimpton Epic Hotel at 270 Biscayne Boulevard Way, Miami, FL 33131. For more information, visit their official website or call 305-424-5234.
Cebada Rooftop
Love a good raw bar? Then you'll love Cebada Rooftop, the first rooftop restaurant in Coral Gables. The restaurant features a wide range of oyster options for the oyster lover; you can order yours raw or opt for the roasted kind with espelette pepper, garlic, butter, Parmesan cheese, and toast … try not to drool. Other highlights at the raw bar include the snow crab claws and shrimp aquachile.
Seafood takes a back seat outside of the raw bar. Guests can enjoy a multitude of delicious selections like corn ribs, baby back ribs, al pastor chicken wings, truffle fusilli pasta, and duck chicharrones; this menu leaves no stone unturned. Just as varied is the drink menu, which is home to whimsical Miami-centric cocktails like the Dale Huevo and Relax, It Only Tingles a Little. Don't let the humor fool you: There's some serious mixology behind these offerings. Beers are plentiful, too, with an emphasis on local breweries.
Dessert deserves its own line: Get the basque burnt cheesecake. You're welcome.
Cebada Rooftop is located at 124 Giralda Avenue, Coral Gables, FL 33134. For more information, visit their official website. 
Juvia
Come for the view and stay for the food at Juvia on Miami Beach. Located at the top of the Herzog and de Meuron building on Lincoln Road, Juvia is known for its masterful fusion of Peruvian, Japanese, and French cuisine, which is served alongside a panoramic view of South Beach. During your experience, don't be surprised to see people posing for photos or whipping out their phones to capture the surrounding beauty. Trust us: You'll be guilty of it, too.
When you're not busy taking pictures, you'll be busy digging into tasty bites of truffle ceviche, Hamachi espuma, and burrata salad. These Juvia selections lean on the lighter side and are great for whetting the palate before the main course. Entrees include a grilled prime tenderloin, charred roasted cauliflower, and Chilean sea bass, among many other selections. Juvia tries to cover all the bases with its proteins, so diners should have no issue finding something to their liking.
Your meal can get pricey, so consider swinging by for just a drink if your budget is tight. There's a full bar, plus some refreshing specialty cocktails that are worth a look. The Juvia Coladais the perfect example, with a tantalizing mix of coconut rum, orgeat syrup, Coco Lopez, passion fruit puree, and fresh lime juice. Same for the Roku Punch, with Japanese gin, tropical fruits, and other delicious ingredients. If you've been holding off on visiting, now's the time to head over and take in the views.
Juvia is located at 1111 Lincoln Road, Miami Beach, FL 33139. For more information, visit their official website or call 305-763-8272.
Mike's at Venetia
For a no-frills sports bar experience, look no further than Mike's at Venetia. Locals love the place, and it's no surprise why: the food is good and cheap, the beer is nice and cold, and the view of Downtown Miami and the water is a doozy.
First things first: finding the place isn't exactly easy for the untrained eye. It's located on the ninth floor of the namesake Venetia Condominium, and unless you know it's there, you probably won't find it without some help. But once you do stumble upon it, you'll know immediately that you've come across a downtown institution.
Pitchers are the best bang for your buck here, and the beer selection features a lot of the bigger names you're familiar with like Coors, Budweiser, and Stella; there's also a full bar available if liquor is more your style. Expect bar grub galore. If you can think of it, it's likely on the menu. Wings, Buffalo shrimp, mozzarella sticks, burgers, pizzas … they're all here.
Should you prefer something that doesn't involve getting your hands dirty, Mike's at Venetia also has you covered; chicken marsala, ribeye, seafood fra diablo, and fresh mahi mahi are among the many entrees available. Order your food and then sit back and enjoy a look at the Port of Miami and Biscayne Bay.
Mike's at Venetia is located at 555 NE 15th Street, Miami, FL 33132. For more information, visit their official website or call 305-374-5731.
Rosa Sky
The Brickell skyline is always a nice view, and Rosa Sky provides a great front-row seat with great food. The food here is globally inspired, so expect a little bit of this, a little bit of that, and everything in between. Chilled shrimp, salmon tacos, picanha skewers, and buffalo chicken empanadas are just a few items you can enjoy as you take in all the sights. 
However, the big draw here – besides the view – is the beverage program. You'll come here for happy hour and never want to leave, thanks to cocktails like the #NOSLEEP with E11Even vodka and espresso; the Peach Bottom with Bulleit bourbon, dry curacao, and peach; and the namesake Rosa Sky with Grey Goose strawberry and lemongrass vodka. If you're in the party mood, don't miss the Sunday Soiree with bottomless drinks and special brunch dishes.
Rosa Sky is located at 115 SW 8th Street, 22nd Floor, Miami, FL 33130. For more information, visit their official website.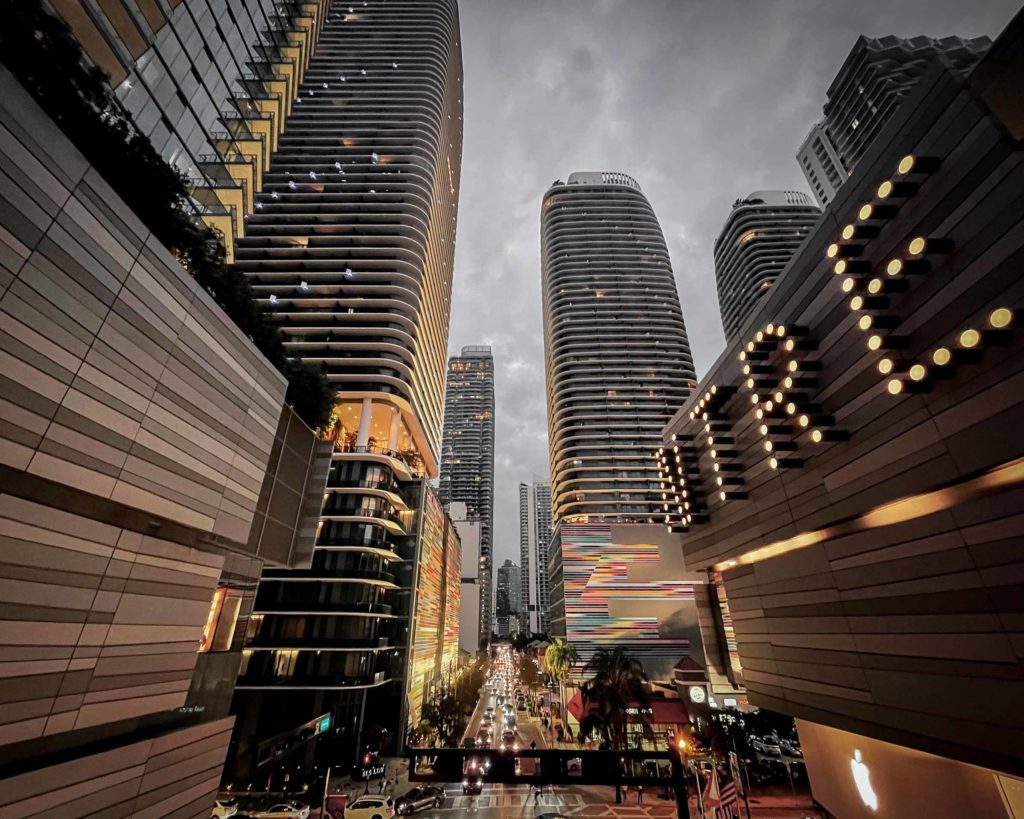 Take a quick trip through Brickell, and it's easy to see why the neighborhood is considered Miami's financial district. Its…
Read More
Terras
You haven't seen Little Havana until you've seen it from Terras, Little Havana's popular rooftop bar and restaurant. The menu is small but mighty with an emphasis on shareable plates; this is one place you'll definitely want to visit with friends or family. Stop by for dinner and nosh on bites like crispy maitake mushrooms, black bean dip, queso fundido, and ropa vieja "birria" tacos.
Don't feel like sharing? Get the frita burger and watch everyone around you stare jealously. This substantial handheld is loaded with guava marmalade and shoestring potatoes for a sweet and savory kick – it's one dish you definitely want all to yourself. The fried chicken Cubano is also worth a look. Early risers can also swing by for a laidback breakfast outing with overnight oats, pastelitos, avocado toast, and other snacks. Day or night, the view is hard to beat.
Terras is located at 528 SW 9th Avenue, Miami, FL 33130. For more information, visit their official website.