With outdoor dining being all the rage right now, why not get dinner AND a view? Rooftop restaurants in Miami offer some of the best views of the city and the beautiful blue sky (when the South Florida rain stays away). You just need to know where to find them.
Below, you'll find a list of best rooftop restaurants in Miami that provide great food and drinks beside a gorgeous backdrop. Because of COVID-19, hours and other details are subject to change so reach out to the venues directly for the latest information; we've provided contact information for your convenience.
Now grab your phone and get ready for some Instagram-worthy experiences:
Vista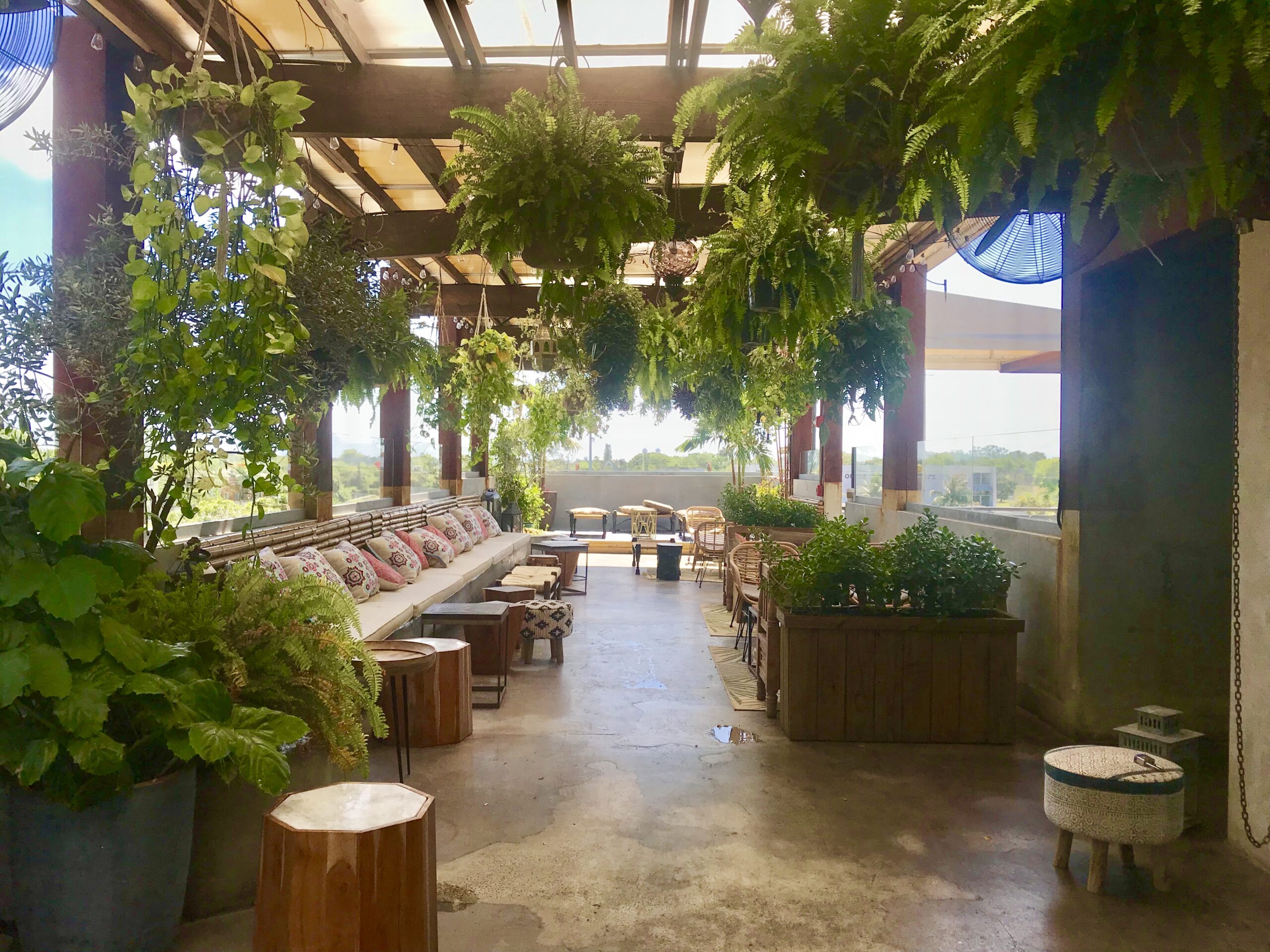 Vista is a well-established jewel in the Upper Buena Vista district, offering dine-in, take-out, and outdoor seating. In light of COVID-19, the restaurant has redesigned its rooftop, making it a safe and comfortable space for all its patrons, and featuring rearranged tables for proper social distancing. The rooftop will be reopening this coming Friday starting with dinner service, and continue through the weekend for lunch and Sunday brunch.
The modern-industrial rooftop offers an unobstructed view of the sky. Stop by Friday night at happy hour to catch the cotton-candy sunset while sipping on a smoky Tamarindo—a Rum, Mezcal, tamarind, and turmeric-based craft cocktail.
On Sundays, don't miss the fresh Miami breeze on the newly renovated rooftop while enjoying bottomless mimosas and Vista's signature fish-fry—that's one Miami rooftop doing COVID right!
The outdoor oasis offers Italian cuisine with just the right amount of global influence. The food at Vista is not only visually pleasing but also comforting and decadent. It is the perfect fusion of chic flare and hearty eats — the ideal vibe for any occasion: Think mozzarella eggplant flatbreads and charred artichokes for starters. As a main, the buttery branzino is not to be missed, and neither is the brisket pappardelle. In the true Mediterranean spirit, choices are plentiful with many options for vegetarian diners. Seriously, the cheesy pear stuffed fiocchi is to die for.
A get-together at Vista is as warming to the heart as it is to the eyes and palette. Soothing meals are plated with careful precision and undeniably fresh aesthetic. Surrounded by greenery, open skies, and laid-back chairs, you'll forget all about the city hustle. Come with a date, solo, or for a long-deserved friendly catch-up.
Vista's updated opening hours:
Friday: 5pm to 10pm
Saturday: 2pm to 10pm
Sunday: 2pm to 6pm
Vista is located at 55020 NE 2nd Ave, Miami, FL 33137. For more information, visit their official website or call 305-405-7547. 
Miami's Best in Your Inbox. Monthly.
Get the dish before it's served.
Area 31
If you've worked in Downtown, you should be familiar with the most popular rooftop in the neighborhood: Area 31. Known for its generous happy hours, Area 31 is located on top of the Kimpton Epic Hotel. While events have taken a backseat due to COVID-19, the restaurant is open for takeout and dine-in. There's no question that you should choose dine-in whenever possible, especially since the restaurant touts its "Approach to Clean." This approach includes regular screening of employees, frequent cleaning of high-touch areas and work spaces, the use of face coverings and gloves, and proper social distancing between tables.
We're glad they're taking these measures because the moment you step into the outdoor seating area, you'll be greeted by the Downtown Miami and Brickell skyline; it's a sight that never gets old, and it's the perfect backdrop to the flavorful food you're about to enjoy. One of the best rooftop restaurants in Miami, Area 31 gets its name from the sustainable fishery Fishing Area 31, so seafood makes up a big part of the menu. Some highlights include the lobster roll, spicy tuna tacos, and Faroe Island Salmon.
That said, if you're not big on seafood, you need not worry. There are plenty of other items to indulge in. Among them: a gemelli short rib ragu, Morrocan chicken, and the famous Area 31 cheese fries (a personal happy hour favorite). Prices are reasonable with most selections in the 'teens and 20s. The view, however, is priceless. If you're an early riser and would rather catch sunrise, Area 31 offers a breakfast menu with classics like French toast, pancakes, oatmeal and yogurt parfait.
Area 31 is located inside the Kimpton Epic Hotel at 270 Biscayne Boulevard Way, Miami, FL 33131. For more information, visit their official website or call 305-424-5234.
Astra
Catch the Miami sunset from one of the highest restaurant views in Wynwood. At Astra, guests can enjoy a wide variety of Mediterranean delights in a chic rooftop environment. The open-air terrace features abundance of plants, sofas and other relaxing décor that will have you wanting to overstay your welcome. And if you did, we wouldn't blame you: The food and vibe are top notch.
Currently open for lunch, dinner and brunch, Astra serves up traditional Greek cuisine that can be enjoyed with good company or solo. All the usual suspects make an appearance, including spanakopita, kebabs, and dips and spreads. More substantial fare includes selections like grilled octopus, Greek salad, baby lamb chops, shakshuka and branzino. There are a lot of choices, which means repeat visits are in order.
Just as extensive is the drink menu, which should please the most particular of wine fans. Complementing the plethora of wines by the bottle are whimsical cocktails such as the Alpha Old Fashioned—smoke machine included!—and the Kiss My Coco, a rum, coconut, and pineapple delight. Since the restaurant doubles as a lounge, bottle service is also available. In typical Miami style, it's not cheap but it gives you an excuse to stick around the breathtaking views a little while longer.
Word of advice: Make a reservation. While the rooftop is huge—it can hold around 350 people at full capacity—current regulations obviously cut that number down immensely. That hasn't affected Astra's popularity, though, and the place can fill up fast.
Astra is located at 2103 NW 2nd Avenue, Miami, FL 33127. For more information, visit their official website or call 305-573-5778.
Juvia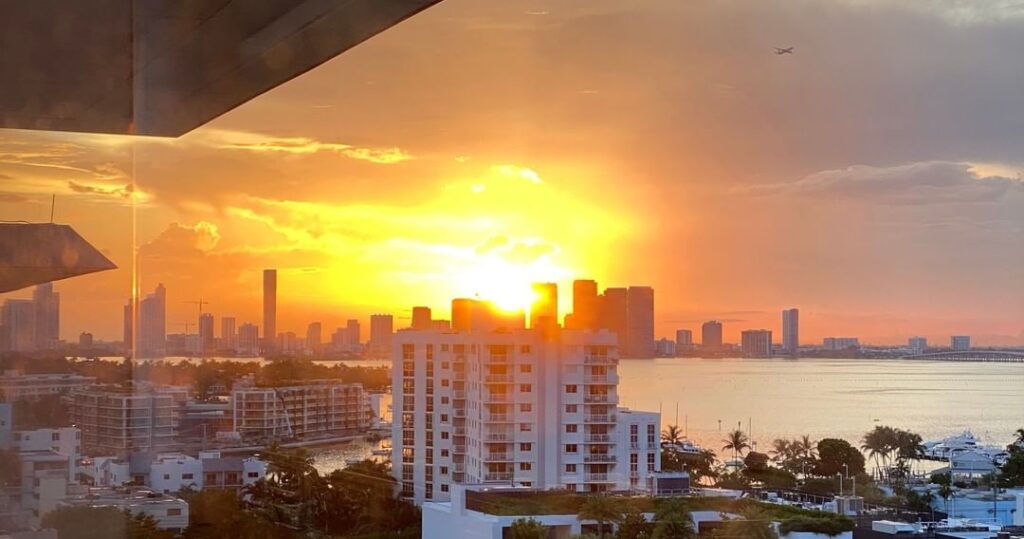 Come for the view and stay for the food at Juvia on Miami Beach. Located at the top of the Herzog & de Meuron building on Lincoln Road, Juvia is known for its masterful fusion of Peruvian, Japanese, and French cuisine, which is served alongside a panoramic view of South Beach. During your experience, don't be surprised to see people posing for photos or whipping out their phones to capture the surrounding beauty. Trust us: You'll be guilty of it, too.
When you're not busy taking pictures, you'll be busy digging into tasty bites of seared tuna salad, wagyu beef gyoza and whitefish ceviche. These Juvia selections lean on the lighter side and are great for whetting the palate before the main course. Entrees include a pan-seared tenderloin, charred grilled cauliflower and Chilean sea bass, among many other selections. Juvia tries to cover all the bases with its proteins, so diners should have no issue finding something to their liking.
Your meal can get pricey, so consider swinging by for just a drink if your budget is tight. There's a full bar, plus some refreshing specialty cocktails that are worth a look. The Juvia Biiiird is the perfect example, with a tantalizing mix of vodka, Chambord, lemon juice, blackberries, ginger shrub and fresh mint. Same for the Roku Punch, with Japanese gin, tropical fruits and other delicious ingredients. At the time of this writing, the restaurant is also offering Miami Spice. If you've been holding off on visiting, now's the time to head over and take in the views.
Juvia is located at 1111 Lincoln Road, Miami Beach, FL 33139. For more information, visit their official website or call 305-763-8272.
Mike's at Venetia
For a no-frills sports bar experience, look no further than Mike's at Venetia. Locals love the place, and it's no surprise why: the food is good and cheap, the beer is nice and cold, and the view of Downtown Miami and the water is a doozy.
First things first: finding the place isn't exactly easy for the untrained eye. It's located on the ninth floor of the namesake Venetia Condominium, and unless you know it's there, you probably won't find it without some help. But once you do stumble upon it, you'll know immediately that you've come across a downtown institution. Pitchers are the best bang for your buck here, and the beer selection features a lot of the bigger names you're familiar with like Coors, Budweiser, and Stella; there's also a full bar available if liquor is more your style.
Expect bar grub galore. If you can think of it, it's likely on the menu. Wings, Buffalo shrimp, mozzarella sticks, burgers, pizzas … they're all here. Should you prefer something that doesn't involve getting your hands dirty, Mike's at Venetia also has you covered; chicken marsala, ribeye, seafood fra diablo and fresh mahi mahi are among the many entrees available. Order your food and then sit back and enjoy a look at the Port of Miami and Biscayne Bay. The cruise ships may not be moving much these days, but they're still just as pretty.
Mike's at Venetia is located at 555 NE 15th Street, Miami, FL 33132. For more information, visit their official website or call 305-374-5731.
No. 3 Social
No. 3 Social is typically a bar and lounge, but due to the current pandemic, it's joined forces with sister restaurant concept Three for the foreseeable future. Dubbed Three Al Fresco, this temporary team-up gives guests the best of both worlds: terrific fare from Three Wynwood and the dazzling drink program of No. 3 Social. And oh yeah, another look at the Miami sunset and the bustling neighborhood that is the arts district.
While Three is known for its upscale American cuisine, the food it's offering at the No. 3 Social rooftop is a bit more casual to match the new ambiance. Think fried chicken, burgers, and cheese plates—to name a few. There are still touches of that Three elegance, however, in plates like the golden tilefish ceviche, ember roasted beet salad, wild roasted local mushroom, and grilled local fish skewers. Complementing these dishes are No. 3 Social signature drinks such as the Lucky No. 3 with bourbon, egg whites, and a kumquat honey syrup, as well as El Presidente with white rum, vermouth, grand marnier, and pomegranate. Cocktail pitchers are also available if it's going to be one of those nights for you.
Pro tip: Visit No. 3 Social from 5 p.m. to 7 p.m. Thursdays through Sundays. That's when the rooftop lounge's Social Hour takes place, providing patrons with a big discount on cocktails, beer, and wine. Like Astra a few blocks away, bottle service is available but it comes at a high price.
No. 3 Social is located at 50 NW 24th Street, Miami, FL 33127. For more information, visit their official website or call 305-395-5811.