Rooftop dining exudes a certain allure that is undeniably captivating. Miami is a testament to this with its variety of culinary gems nestled high above the bustling city streets. From posh to casual and old favorites sprinkled in with new, embark on a journey through the Magic City's vibrant rooftop dining scene, where gorgeous vistas and gastronomic delights come aplenty. Consider this your guide to Miami's 10 best rooftop restaurants you should check out now.
Level 6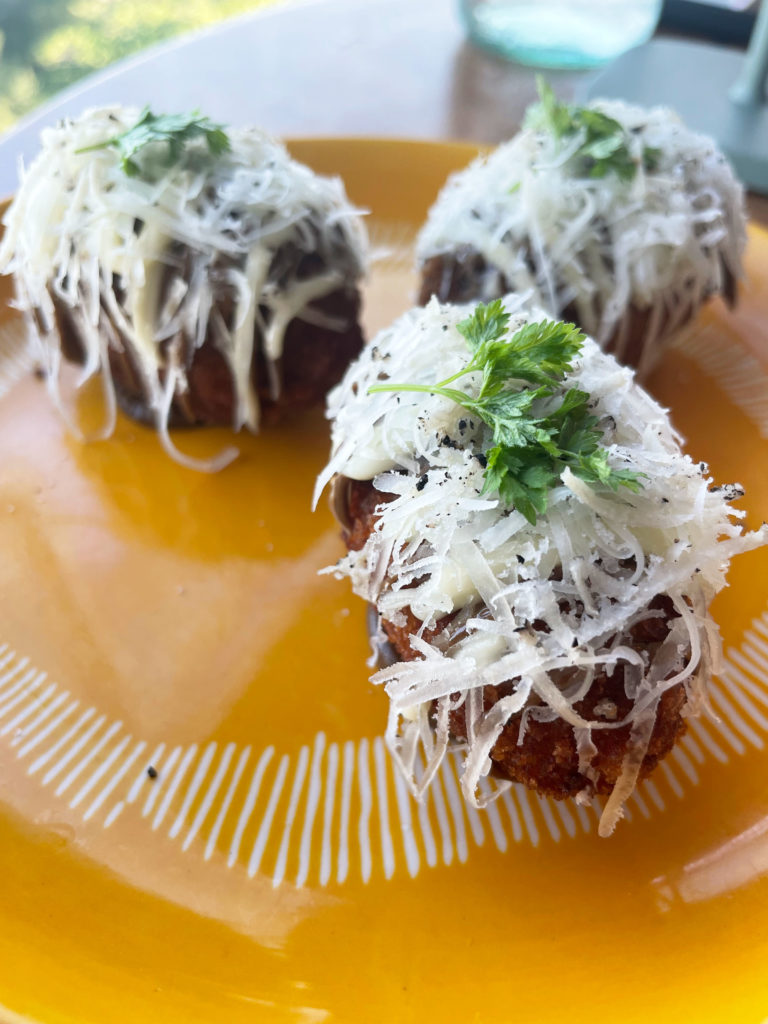 Nestled above Amal in Coconut Grove is Level 6, a concept that offers an urban twist on Spanish cuisine. The real appeal here is the gorgeous views overlooking Miami and Biscayne Bay. There's not a bad seat in the house to enjoy the scenery and dig into bites of elevated Spanish cuisine. Plates worth enjoying for happy hour (you must be seated at the bar for discounts) or dinner include the hamachi crudo, with jalapeño, basil, calamansi, bulgur cracker, and yuzu kosho and the pollo croquettes. These bites are stuffed with roasted chicken, aioli, black truffle, and manchego cheese. If you're in a group, consider ordering one of Level 6's paellas for flavors that will transport you to Spain.
Level 6 is located at 3480 Main Highway, sixth floor, Coconut Grove, FL 33133. For more information, visit their official website.
Giselle Miami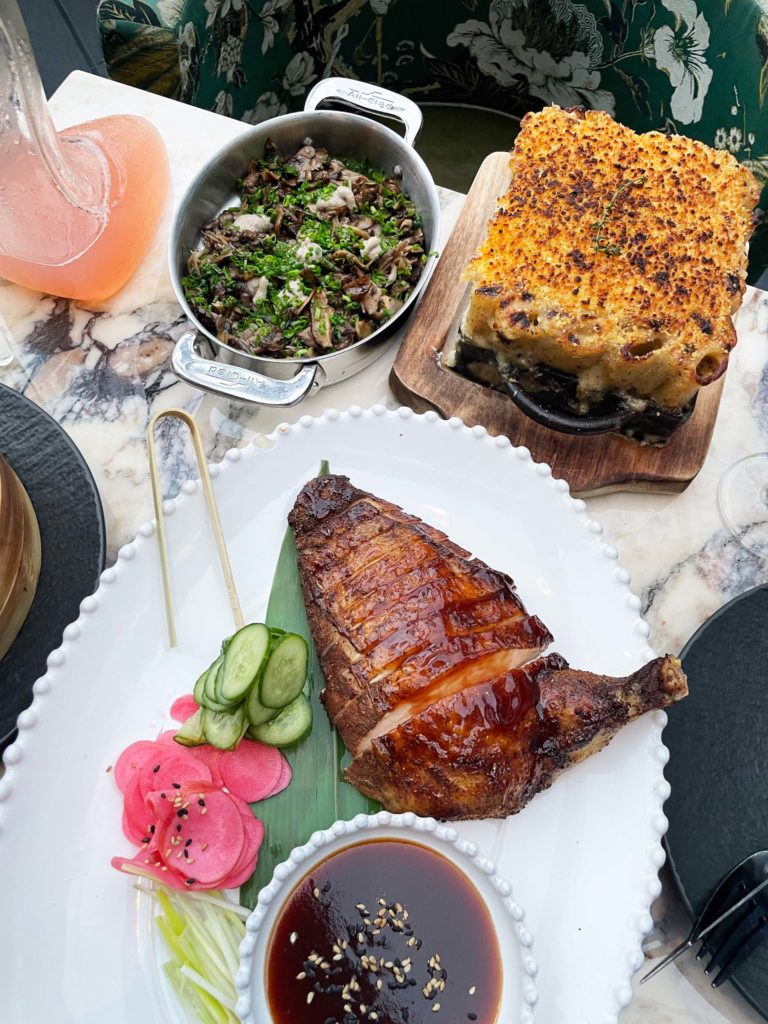 Downtown Miami's Giselle entices all guests with an indulgent collection of craft cocktails, extensive high-end wines and spirits, and a wow-worthy menu packed with unexpected flavors and refined Asian, Mediterranean, and French influences. With its location atop the famed nightlife venue E11EVEN Miami, it's no surprise this new outdoor hotspot is just as seductive, alluring, and extravagant. Grab a spot at the 14-seat marble-adorned bar or book a resy to enjoy everything from bluefin tuna truffle cones to Chilean sea bass to an impressive flaming Australian Wagyu tomahawk. And that's just the start! Save room for Giselle's Pearls — this "seis leches" (six kinds of milk) sponge cake is adorned with creme chantilly and gold and silver pearls and makes for one sweet ending.
Giselle is located at 15 NE 11th St., Miami, FL 33132. For more information, visit their official website.
Sugar at EAST Brickell
There's no going to Brickell and not hearing about EAST Miami's hottest rooftop venue: Sugar. It's been a Miami "must" for locals and out-of-towners alike — and for good reason. Walking into the lush, tropical oasis 40 stories above ground transports you to a sophisticated ambiance featuring breathtaking panoramic city views. Ideal for date night, after work-happy hour, or a weekend with friends, Sugar serves up exotic cocktails and Asian-inspired tapas that will satisfy all the senses.
Sugar Miami is located at 788 Brickell Plaza, Suite 40, Miami, FL 33131. For more information, visit their official website.
Rosa Sky Rooftop
Head to Rosa Sky Rooftop in the heart of Brickell for panoramic views of Miami's shimmering skyline, seasonal cocktails, globally inspired tapas, and a bold music lineup. Start your night off by choosing a libation from the hand-crafted seasonal cocktail program, offering signature drinks like The Rosa Sky and Tulum Trip, made for sharing. Then move on to the tapas menu, which remixes classics, like miso-roasted cauliflower and grilled cheese. But the latter isn't your ordinary sandwich; Rosa Sky makes theirs with Mahon cheese, caramelized onions, and pineapple-sambal jam, all stuffed between Miami's own Sullivan Street Bakery brioche. Whether you're seeking a chic and intimate gathering or a lively night out, Rosa Sky offers an unrivaled ambiance that blends sophistication and excitement seamlessly.
Rosa Sky Rooftop is located at 115 SW 8th St 22nd Floor, Miami, FL 33130. For more information, visit their official website.
Serena Rooftop
We love Serena at Moxy's for its vibey atmosphere that transports you to the charming, open-air patio dining experiences of Oaxaca and Mexico City. Whether stopping by for brunch or posting up for after-dinner cocktails, this South Beach hotspot welcomes a lively atmosphere and a modern take on Latin and Mexican cuisine. Brunch favorites range from decadent tres leches French toast and a barbecue pork torta, while the dinner menu features tuna tostada and birria enchiladas.
Serena is located at 915 Collins Court, Miami, FL 33139. For more information, visit their official website.
MILA
We love MILA for its atmosphere, rich with vibe-heavy beats, tropical nuances, fire dancers, and of course, its Asian and Mediterranean–inspired menu selection. Before diving into dinner, take a moment to sip on reinvented classics, like the Eastern Sunet (inspired by the Asian Sling), or the Beach Walk (inspired by the piña colada). If you want to experience a curated menu of some of MILA's best dishes, then opt for Signature Tasting. You'll get to try everything from hamachi crudo with avocado coulis and lime caviar to seared salmon, accompanied by a sweet pea mint velouté, chili oil, toum garlic, and an herb salad. MILA also debuted a new, intimate omakase experience led by 26-Michelin Star chef Michael Michaelidis. The 15-course meal includes ever-changing dishes, evolving according to the 52 Japanese micro-seasons.
MILA is located at 1636 Meridian Avenue Rooftop, Miami Beach, FL 33139. For more information, visit their official website.
Watr at the 1 Rooftop
If you're a fan of the 1Hotels brand, make it your mission to check out Watr at the 1 Rooftop in South Beach. Sitting 18 stories high, this outpost offers a 360-degree ocean view of South Beach and is dotted with white cabanas for a cool, relaxed rooftop vibe. Locals can stop by for dinner after 6 p.m. to indulge in Latin and Japanese– flared cuisine. Share the heirloom tomato salad bursting with flavor from stracciatella cheese, shaved carrots, radish, red quinoa, and aji amarillo vinaigrette. And be sure to order the 14-ounce Australian Wagyu steak paired with truffle fries or stir-fried vegetables. Watr also offers an extensive sushi list for those who prefer a bite-sized culinary experience.
Watr at the 1 Rooftop is located at 2341 Collins Ave., Miami Beach, FL 33139. For more information, visit their official website.
Juvia Miami Beach
Another mainstay on Miami Beach is Juvia. This ​​ultra-modern space sits atop a designer parking garage along Lincoln Road and has been a favorite of locals and travelers alike. While you can stop by for a boozy weekend brunch, we recommend your first time to be a super-romantic dinner so you can soak in the stunning ocean vistas and indulge in a meal with options like King crab risotto and Snake Rivers Farm Wagyu Beef Denver Steak Zabuton. With a name like that, it has to be good. Fun fact: It is! This spot is a little pricey, but it's worth every penny.
Juvia Miami Beach is located at 1111 Lincoln Road, Miami Beach, FL 33139. For more information, visit their official website.
Terras Little Havana
Terras Little Havana is a hidden gem to many, nestled atop Life House Hotels. Watch as the spirit of Havana comes to life in Miami with a mélange of Latin flavors, rhythmic beats, and authentic Cuban charm. This tropical rooftop bar's menu is inspired by urban street foods found in Latin American regions, which makes it a can't-miss rooftop on our list. We're fans of the sweet corn "cachapa" cheese pancake and the frita burger, made with caramelized onions, guava marmalade, shoestring potatoes, and spiced ketchup.
Terras Little Havana is located at 528 SW 9th Ave., Miami, FL 33130. For more information, visit their official website.
Rooftop at The Citadel
There's much to love about the vibrant Little River neighborhood, including The Citadel, a bustling food hall offering artisanal foods and handcrafted cocktails from Miami's top kitchens. Head to the third floor to enjoy the lush garden oasis rooftop, perfect for a weekend hangout. Order food from restaurants like Ash Pizza Parlor (Neapolitan pizza and natural wines), Poke-San (made-to-order poke bowls), and Doña Posada (Venezuelan baked goods) while soaking in all the views.
Rooftop at The Citadel is located at 8300 NE 2nd Ave., Miami, FL 33138. For more information, visit their official website.