Dining out may feel like a luxury from the distant past, but enjoying delicious food doesn't have to be. Many of Miami's best restaurants are open for takeout and delivery — and they need our help now more than ever before. Treat yourself to a delicious meal by supporting these amazing local spots. We've organized them by neighborhood, too, so you can order in from somewhere close to you.
Wynwood
Palmar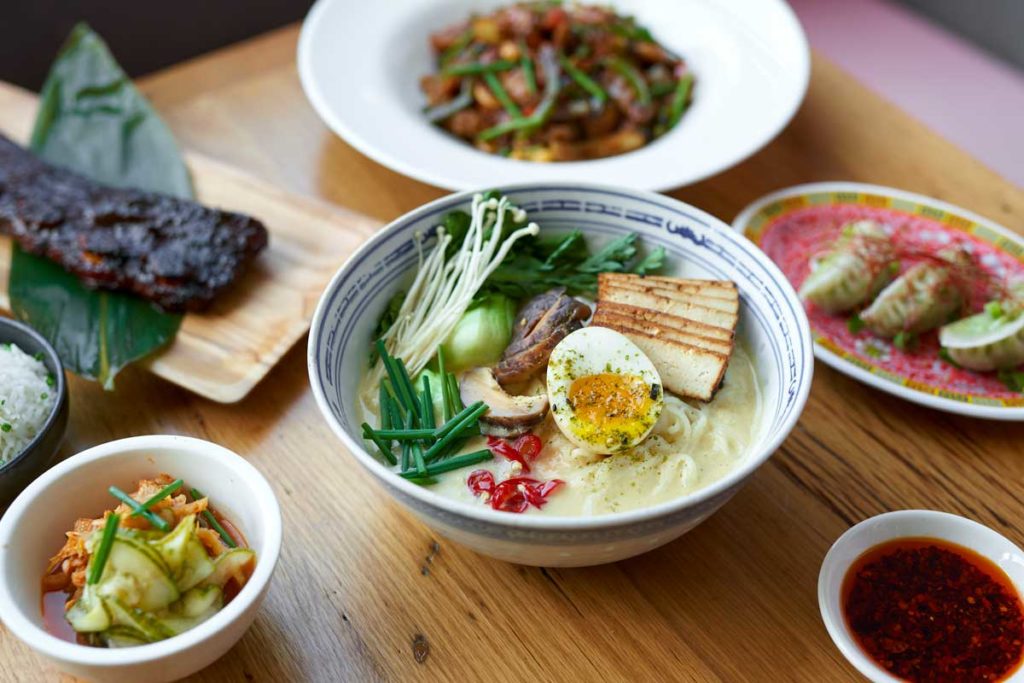 Named one of Bon Appetit's best new restaurants in the country, Palmar in Wynwood is full of surprises. Inside, the vibe is tropical — but the cuisine here nods to flavors from the Far East. One of the few local spots doing modern Chinese right, Palmar is known for its homemade dim sum, creative riffs on fried rice, and incredible sweet and sour chicken — and those are just some of the most popular items on the menu. The kitchen relies heavily on locally sourced and seasonal ingredients, and the wine and beer list includes labels you'd be hard-pressed to encounter elsewhere.
You can place an order for takeout online or for delivery via Uber Eats, GrubHub, or Postmates. Palmar is located at 180 NW 29th Street, Miami, FL 33127.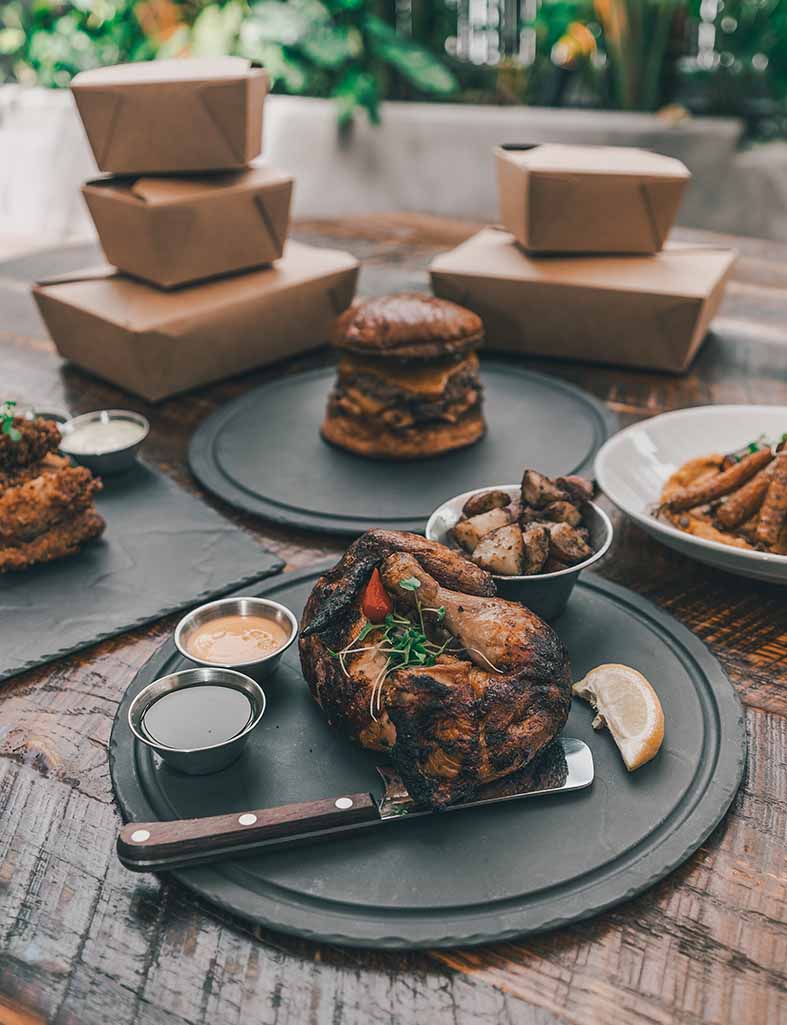 Le Chick
Founded by Coco Coig and Jorge Sanchez, this cozy Wynwood spot is all about affordable, craveable comfort food. Think all-natural free-range chicken seasoned to perfection, creative riffs on the classic burger, flavorful sausages loaded with imaginative toppings, and mouthwatering shareable apps like crispy Brussel sprouts with sweet onions and spicy maple syrup, and street corn with truffle aioli. And right now, customers enjoy 15% off all takeout orders and 50% off beer and wine.
To place an order for takeout, call 786-216-7086. You can also order delivery via Uber Eats and Postmates. Le Chick is located at 310 NW 24th Street, 33127.
KUSH
If you're craving amazing burgers, sandwiches, and unique feel-good dishes like Florida alligator bites, Hobo Frito Pie, Homestead Guacamole, and grilled cheese with hot tomato soup for dipping, KUSH is the spot for you. This Wynwood favorite features great food made with fresh ingredients — many of them locally sourced — at a price that's as satisfying as the items on the menu.
You can place an order for delivery using DoorDash. You can also donate to the KUSH Hospitality Relief Fund here. KUSH is located at 2003 N Miami Ave, Miami, FL 33127.
The Butcher Shop
Under regular circumstances, The Butcher Shop is one of the buzziest places to grab a pint and a great meal in Wynwood. This locally loved beer garden features a lively patio lit up with string lights and a menu that includes award-winning bratwurst and handcrafted sausages, bites like confit chicken wings and chicharrones served with sweet and spicy Thai chili sauce, and of course — a head-spinning selection of Butcher Shop burgers, like the iconic jalapeno-cheddar rendition, a sharp and smokey gorgonzola-bacon version, and a Greek-inspired lamb burger mixed with tzatziki sauce and feta cheese.
You can place an oven-ready order for takeout by calling 305-846-9120 or order for delivery using Postmates. The Butcher Shop Wynwood is located at 165 NW 23rd Street, Miami, FL 33127.
Grails Miami & Spanglish Craft Cocktail Bar + Kitchen
In the mood for some amazing cocktails and food? Wynwood neighbors Grail's Miami & Spanglish Craft Cocktail Bar + Kitchen have teamed up to offer a combined cantina menu plus select menu items available for curbside takeout. Standouts include savory truffle loaded fries with black truffle cream, applewood bacon, and parmesan cheese, homestyle arroz con pollo, creamy guacamole and chips, and Grails's famous chicken sandwich, piled high with sliced chicken, sofrito sauce, white cheddar, bacon, and a fried egg. And that's not all — you can also order cocktails to go from Spanglish, like their spirit-forward Cafetera Old Fashioned and their refreshing Vuela Paloma, in sizes that range from a single drink to a 34-ounce batch.
You can place an order for takeout by calling 786-870-4313, or order delivery via Uber Eats, DoorDash, or GrubHub. Grails Miami and Spanglish Craft Cocktail Bar + Kitchen are located at 2800 and 2808 N Miami Avenue, Miami, FL 33127.
Nostimo Greek Kitchen
If cabin fever is getting to you, take a culinary vacation to Greece with an order from the newly opened Nostimo Greek Kitchen. Choose from thick gyros stuffed with tender beef or lamb, shaved or souvlaki-style chicken, falafel, and pork. Or order a platter piled high with your favorite seasoned meat or poultry and paired with fluffy pita, cool tzatziki, and golden fries. And make sure you save room for dessert, whether it's an order of baklava (served plain or with Nutella) or "The Nostimo," decadent homemade chocolate mixed with walnuts and served over a cookie base.
You can place an order for takeout online or by calling 305-418-0808, or order delivery via Uber Eats, Grubhub, or DoorDash. Nostimo Greek Kitchen is located at 170 NW 24th Street, Miami, FL 33127.
Little River
Seaspice Brasserie & Lounge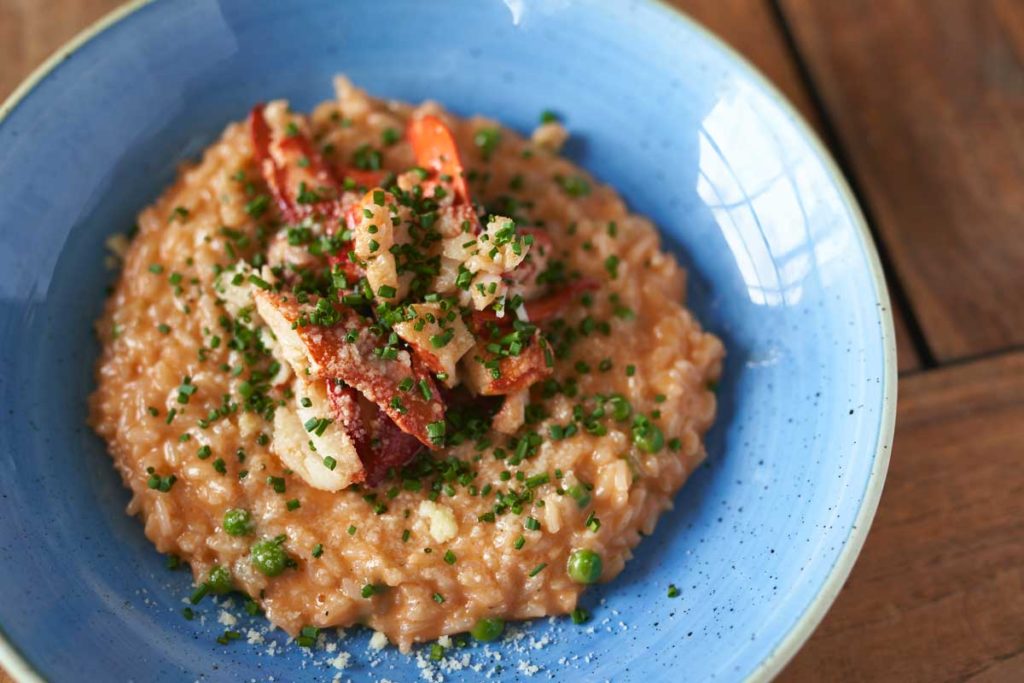 This Little River mainstay dials up global flavors that range from hits-the-spot pasta and pizzettas to pan-seared foie gras, woodfired Chilean sea bass, King crab tempura, and even tender Wagyu dumplings. Whatever kind of cuisine you're in the mood for, you'll find something delicious on the menu here. In addition to traditional takeout, the restaurant is also offering home chef meal kits, family dinners, chef-curated special occasion packages, and a great selection of wine and liquor as part of its Seaspice Market offerings to go.
You can place an order for takeout online. Seaspice Brasserie & Lounge is located at 422 NW North River Drive, Miami, FL 33128.
Phuc Yea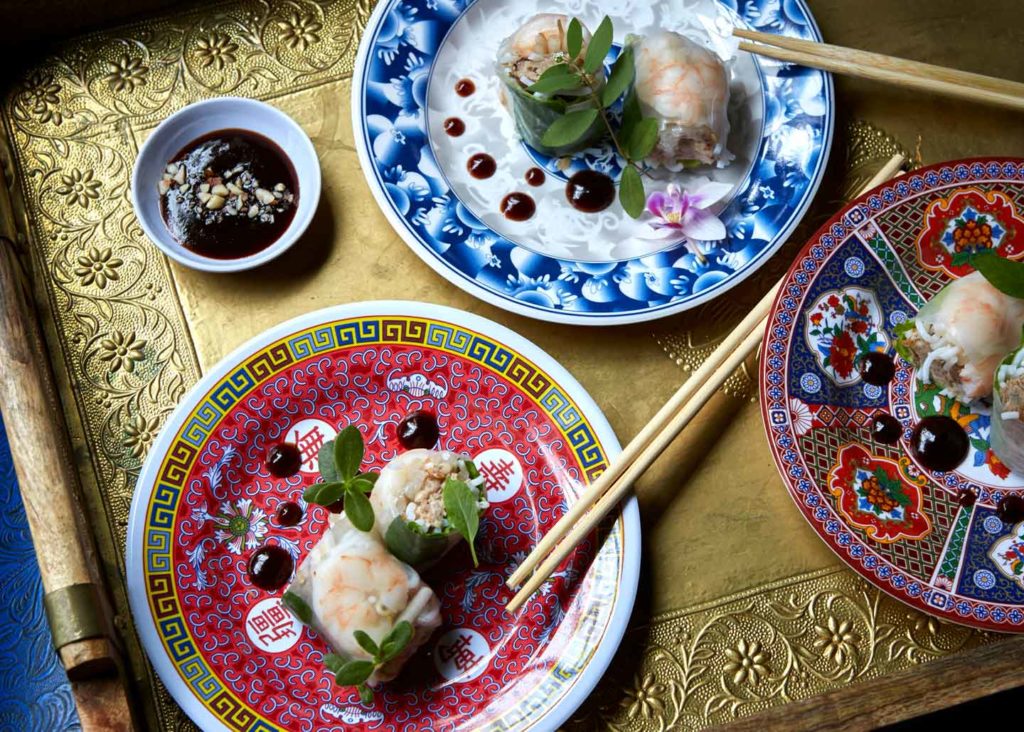 What's on the menu tonight? A Vietnamese-Cajun flavor mash-up. At Phuc Yea, you can expect all kinds of inspired fusion, like roasted pork banh mi, Vietnamese fried chicken, hot buttered crabby noodles, crispy popcorn shrimp with nuoc cham dipping sauce. Also new on the delivery and takeout menu? Multi-course dinners that rotate daily, and a Viet-Cajun crawfish boil you can make at home. Make sure you don't forget to add one of the restaurant's famous cocktails to your order!
You can place an order for takeout or delivery online. Phuc Yea is located at 7100 Biscayne Boulevard, Miami, FL 33138.
Coral Gables
The Mighty Tavern & Eatery
The Mighty is arguably the best-known dive bar on Coral Way. In addition to their head-spinning selection (and constantly rotating) list of craft beer, this little watering hole on the corner of SW 22nd Street and SW 22nd Avenue serves up simple yet delicious stiff drinks — like the Grand Marnier andMezcal-infused Grand Suegra and the citrusy whiskey-forward Orange Old Fashioned — along with amazing food. Favorites from the menu include panko-breaded fish n' chips, the famous Mighty Burger served on a challah bun and an assortment of world-class sausages that range from lamb to duck. The best part? Both food and cocktails from The Mighty are available right now for takeout and delivery.
You can place an order for takeout online or by calling 305-570-4311. The Mighty is located at 2224 SW 22nd Street, Miami, FL 33145.
Sushi Chef
For top-notch sushi, izakaya-style appetizers, donburi, and menrui that will transport you to Japan, it doesn't get better than Sushi Chef. Owned by legendary chef Fuaso Enomoto This tiny spot on Coral Way has been an institution for nearly thirty years — one bite of their curry udon will make you a believer for life. And right now, you can order any of their iconic rolls, small plate, entrees, or bento boxes for takeout. Make sure to add some authentic Japenese snacks — like Pocky Sticks — when you pay at the counter.
You can place an order for takeout by calling 305-444-9286, or order delivery via Postmates, Uber Eats, or DoorDash. Sushi Chef is located at 3100 Coral Way, Coral Gables, FL 33145.
Eating House
The brainchild of "culinary wizard" Giorgio Rapicavoli, Eating House first started as a pop-up between the chef and his partner Alex Casanova. It was such a hit, the two made it a permanent dining spot in Coral Gables. The menu here focuses on modern American flavors served in creative and imaginary ways — like smoked pork belly and short rib croquetas served with sofrito and chimichurri crema, shrimp toast with vanilla hoisin and jalapeno, roasted bone marrow with pickled garlic gremolata, and Cap'n Crunch pancakes drenched in condensed milk "syrup."
You can place an order for food, beer or wine for takeout online or for delivery via Grubhub. Eating House is located at 804 Ponce de Leon Boulevard, Coral Gables, FL 33134.
Coconut Grove
Ariete & Navé
In addition to their regular takeout and delivery menu, Ariete and Navé are offering meal and beverage kits to go. For cocktail lovers, there's the Ariete Happy Hour Kit, which comes with a classic frita and a signature cocktail. And if you're a pizza fiend, there's a kit that comes with toppings and sauce so you can make your own pie at home. Bobby Gilardi, Ariete Hospitality Group's beverage director, has curated a menu of cocktails to go. Choose from batches that make 6-12 servings, or order a kit of ingredients and play bartender at home. Wines by the bottle are available for 50-70% off. 15% of all takeout and delivery sales (including tips) will benefit staff that is unable to work right now.
You can place an order for takeout or delivery online or by calling 786-615-3747. Ariete and Navé are located at 3540 Main Hwy, Coconut Grove, FL 33133.
Sapore di Mare
For your fix of fine Italian dining, check out Sapore di Mare. This quaint local gem in Coconut Grove specializes in coastal Italian fare and an award-winning wine program — all served in a setting designed to transport you to the Amalfi Coast. Though you can't dine in right out now, you can certainly take your tastebuds on a tour to il bel paese with dishes like tender baby octopus cooked in tomato sauce, thinly sliced Mediterranean branzino, crispy fried calamari, lobster-stuffed ravioli, and the best limoncello cake in town.
You can place an order for takeout or delivery by calling 305-476-8282. Sapore di Mare is located at 3111 Grand Avenue, Miami, FL 33133.
Taurus Beer & Whiskey House
Named Best Restaurant in Coconut Grove last year and Miami's oldest existing bar, Taurus Beer & Whiskey checks all the boxes for a great night out. Amazing drinks? You bet. Delicious dining? Taurus is currently serving dishes from the menu at Ariete and Navé. Until we can pop back into this go-to in the Grove, get your fix by ordering some of your favorite cocktails and bites for takeout or delivery. Make sure you follow them on Instagram for deals and discounts on cocktails and spirits — they run specials regularly.
You can place an order for takeout or delivery online or by calling 786-615-3747. Taurus Beer & Whiskey House is located at 3540 Main Highway c103, Miami, FL 33133.
Miami Beach
Amare Ristorante
For amazing Italian food on Miami Beach, there's the acclaimed dining spot Amare Ristorante. Must-try items from their Old World-inspired menu include fresh burrata with gold and red beets in a balsamic reduction, their famous 12-ounce polpetta — or meatball — and their legendary homemade lasagna in bolognese sauce. If you love seafood, make sure you try Amare's grilled branzino, served with capers, EVOO and thyme, or their grilled octopus, prepared with chickpea puree, fennel and grape tomatoes. All of these dishes, along with beer and wine, are currently available for takeout.
You can place an order for takeout by calling 305-731-6999. Amare Ristorante is located at 1 Collins Avenue, Miami Beach, FL 33139.
Stubborn Seed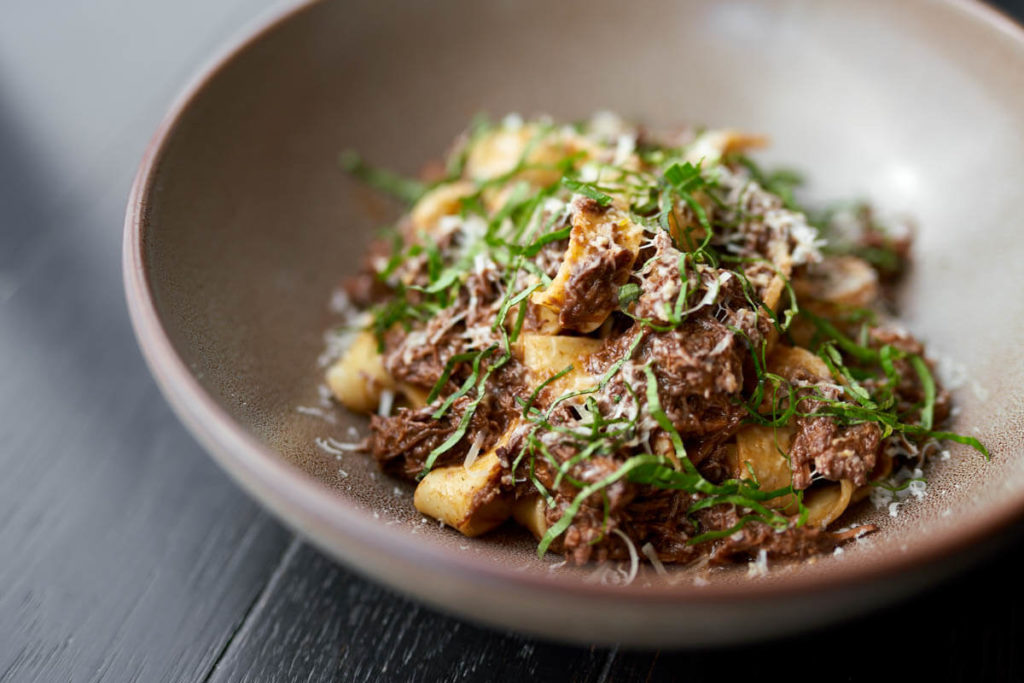 Chef Jeremy Ford's Miami Beach mainstay, Stubborn Seed, is beloved for its fresh and imaginative culinary creations. From fragrant housemade potato rolls with fennel pollen and garbanzo chili dip, to Wagyu beef cheek served with charred maitakes and snickerdoodle cookies that will blow your mind, everything on the menu here is exceptional — and it's all available right now for takeout and delivery, so you can enjoy all the delicious flavors that have made this spot famous, right from the comfort of your home.
You can place an order for takeout by calling 786-322-5211 or order for delivery via Grubhub. Stubborn Seed is located at 101 Washington Avenue, Miami Beach, FL 33139.
Lilikoi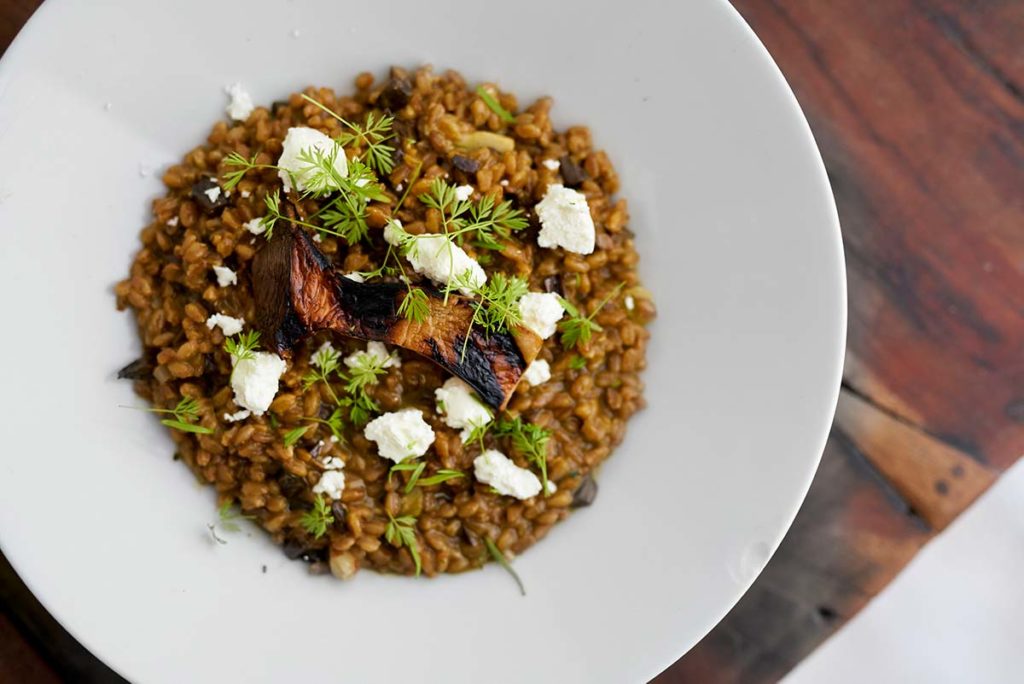 For light, organic bites that hit the spot, check out Lilikoi. Specializing in locally grown produce like seasonal veggies and fruits, eco-friendly seafood, and humanely-treated meat, Lilikoi serves up tasty options you can feel good about. We love their fresh, nutrient-rich smoothies, pressed juices, crisp healthy salads, and satisfying wraps and sandwiches — and their sake cocktails are incredible, too.
You can place an order for delivery or takeout online. Lilikoi is located at 500 South Pointe Drive #180, Miami Beach, FL 33139.
RED, the Steakhouse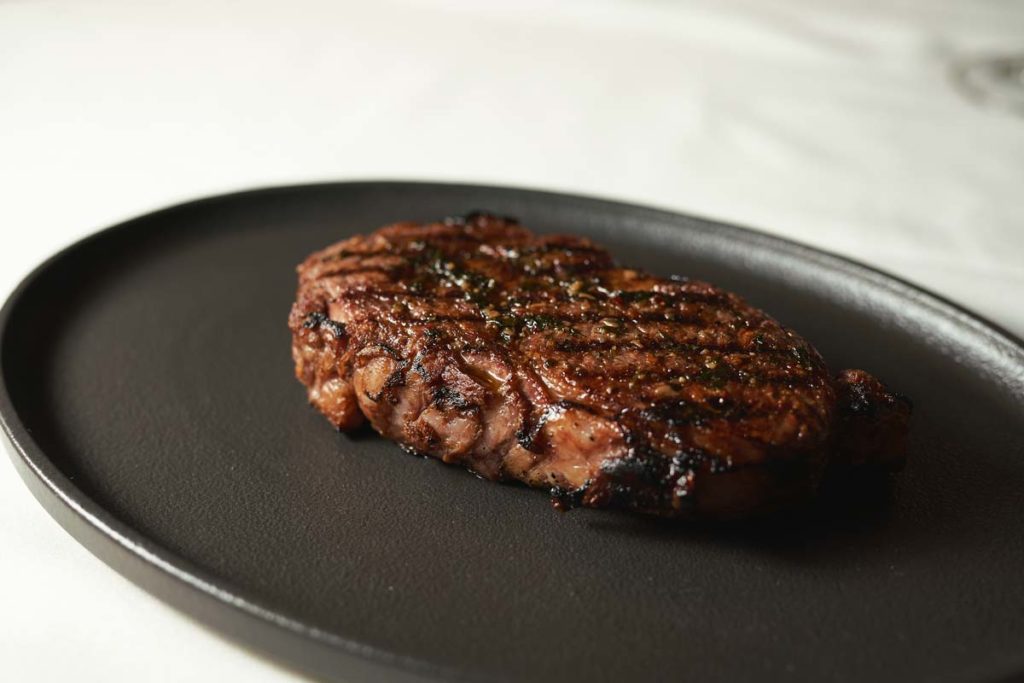 Red, the Steakhouse has earned critical acclaim in Esquire, Food & Wine Magazine, and more. And once you try the food from this buzzy Miami Beach spot, you'll see it totally lives up to the hype. Choose something fresh and tasty from the raw bar — like a Maine lobster cocktail paired with citrus vinaigrette — then go all out with a tender filet mignon or a prime porterhouse. Order today and take advantage of Chef Peter's Dinner for Four, a family-style meal priced at $99 that includes classic caesar salad, spaghetti and meatballs, chicken parmesan, and hot-n-fresh doughnut holes with three sauces.
You can place an order for takeout and delivery online. RED, the Steakhouse is located at 119 Washington Avenue, Miami Beach, FL 33139.
Multiple Locations
Pura Vida
Looking for organic food that's been thoughtfully curated and expertly prepared? Welcome to Pura Vida, one of the best-known names in locally sourced organic eating. The acai bowls here are bursting with flavor and healthy ingredients, the superfood smoothies live up to the hype, and the all-day breakfast menu is full of feel-good favorites like avocado smash toast, egg wraps and sandwiches, and overnight oats. And right now, both Pura Vida's South Beach and Edgewater locations are serving all your favorite foods for pickup and delivery, paired iwth daily promos and discounts.
You can place an order for pickup or delivery through the Pura Vida app, or via Uber Eats, Postmates, GrubHub, or Doordash. For a list of locations, visit here.
Pubbelly Sushi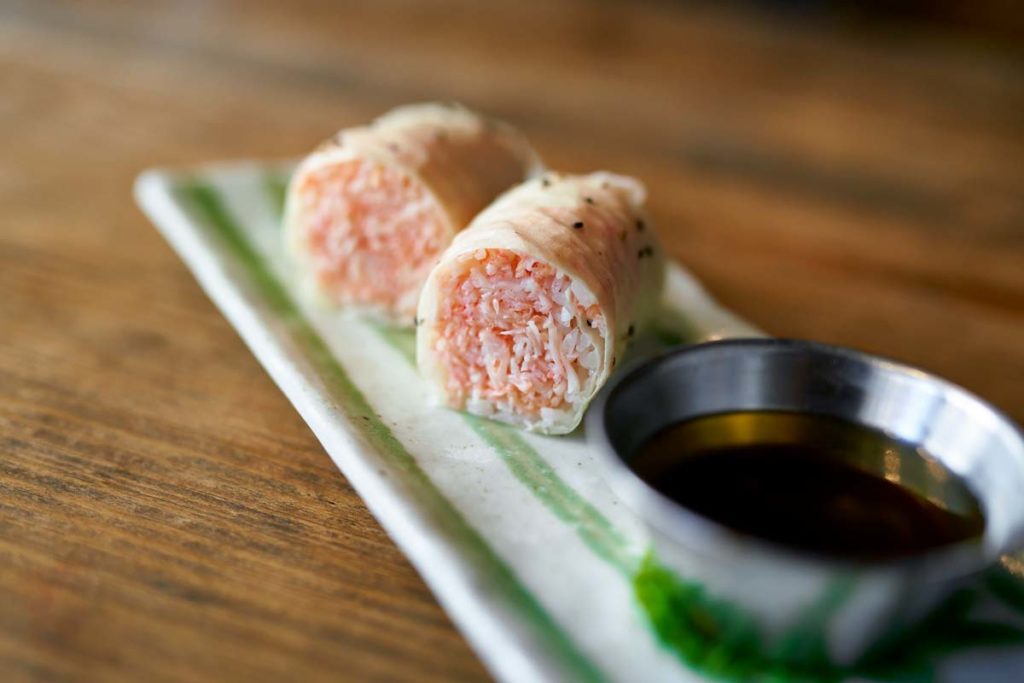 Feel like digging into some amazing sushi and Asian dishes with a global fusion twist? Order in from Pubbelly, now delivering all your favorites. Use the promo code 'PUBBELLYLOVE' and you'll enjoy 10% off, plus zero fees for delivery or service and even a free cocktail on the house once restaurants reopen (you just need to save your takeout receipt). Choose from crave-worthy dishes like salted shishito peppers, rock shrimp tempura, house sashimi, a selection of amazing bao buns, and signature Pubbelly rolls.
You can place an order for takeout or delivery here. For a full list of Pubbelly Sushi locations, visit here.
Downtown
All Day
Dubbed Miami's finest independent coffee bar and breakfast spot, this local bolthole serves up the "best cup of coffee in Miami," according to Vogue Magazine. Get your caffeine fix every day with items from the coffee bar, plus decadent homemade pastries, breakfast items, and DIY meal kits and even grocery items available for takeout and delivery.
You can place an order for takeout or delivery here. All Day is located at 1035 N Miami Avenue, Miami, FL 33136.