When most people think of South Florida, Miami Beach is usually the first area that comes to mind. But Wynwood isn't too far behind: Some of the city's top chefs have set down roots in the neighborhood and its surrounding areas. What was once an old warehouse district is now Miami's premier arts and dining destination. With so many restaurant options in the area, figuring out where to go for lunch or dinner isn't exactly easy. That's why we've rounded up the five best restaurants in Wynwood. Happy dining!
Beaker & Gray
It's hard to nail down the cuisine at Beaker & Gray. The offerings pull in influences from all over the globe, so eating here is a journey. The small plates pack big flavors, and it's the creativity of chef Brian Nasajon that keeps customers coming back for more. You'll be hard-pressed to find a place that offers items like yellow curry, duck confit, falafel, paella, and cheeseburger croquettes on the same menu, but Beaker & Gray does—and it works well. All palates are welcome here, and that's why it's one of the best Wynwood restaurants.
You also can't visit Beaker & Gray without trying a cocktail from bar manager Ben Potts. You'll find Beaker's takes on classics like the Jameson Sour and Hendrick's & Tonic alongside shaken and stirred originals plus rotating specials. Pro Tip: If you like the bar program here, you can catch more of Ben Potts' work up the street at The Sylvester, another neighborhood watering hole.
Beaker & Gray is located at 2637 North Miami Avenue, Miami, FL 33127.
Buya Izakaya + Yakitori
Nobody's complaining about another bomb Japanese food spot taking to the scene in South Florida – especially not the folks of Wynwood. Buya is a dream made reality for two artistic yakitori lovers in the gator state. If you thought you were missing anything by skipping Miami for dinner night, think again. Buya brings that warming, high-spirited izakaya vibe we all love to the front door — and they love their hood. It's a perfect date for close friends to recap or for strangers to get acquainted. Another addition to the Wynwood favorites we've saved a place for on this list.
One step inside says it all: Deep grained brown-black wood for the furniture. Nostalgic 90's tour posters on the walls. Soft yellow light adorning an expansive open room. The smell of the ramen tare and shiso chimichurri — it's like walking into an exhibition where delicious food and drinks are also served. Not only that, but the menu is an authentic fusion of Japanese preparation with local ingredients. We're talking grilled chicken meatballs with fermented fresno sauce, hijiki salad with apple and cucumber, baked sweets with honey butter and wagyu bits, grilled corn with togarashi, ponzu, and bonito flakes. Straight-up mouthwatering. As for the bar, expect classic to classy: from beer on ice to Umeboushi infused amontillado sherry with bushido sake and house-made orange bitters. The self-proclaimed cocktail ninjas surely do not disappoint!
Buya is also connecting with the community by hosting events like live painting exhibitions, raffles, scavenger hunts, and other entertainment. Plus, they're keeping it safe for patrons with the now available outdoor seating. Go warm the winter nights with Japanese soul food, made by a soulful team.
Buya is located at 250 NW 24th St, Miami, FL 33127; (305) 699-0601, buyarestaurants.com. Open every day noon-11 p.m.
Grails Sports Bar and Spanglish Craft Cocktail Bar + Kitchen
The dual concepts of Grails Sports Bar and Spanglish Craft Cocktail Bar + Kitchen make for one massive culinary force—and some of the best restaurants in Wynwood. On one side, you have Grails with its laidback vibes, fantastic bar food and cool color scheme that doubles as an ode to sneakers. TVs are everywhere, which is why this place is always packed on game night. Familiar bar snacks like fries and wings all make an appearance, but they've all been given upgrades. The usual fries get a truffle boost, wings get a lemon pepper adobo that's to die for and cheese sticks are replaced with even tastier crispy queso blanco cubes.
Feeling fancy? Then put on your best outfit and head next door to Spanglish. The darker décor is a stark contrast to the bright colors found at Grails, but the cocktails and food are no less delicious. The bartenders here have a flair for the dramatic, so expect them to put on a show; you might find them pouring old fashioneds out of a cafetera or creating your Spanglish & Chill tequila drink in a popcorn container. Coconut shrimp ceviche, dry aged ribeye and arroz con pollo are just a few of the mouthwatering selections that you can order to complement your bar tab. No matter which restaurant you visit, a memorable meal is a sure thing.
Grails Sports Bar is located at 2800 North Miami Avenue, Miami, FL 33127. Spanglish Craft Cocktail Bar + Kitchen is located at 2808 North Miami Avenue, Miami, FL 33127.
KYU
First things first: You're going to need a reservation. Whether you come on a weekday or weeknight, you'll likely find yourself waiting for a table at this upscale Asian-inspired eatery. The deliciously diverse shareable menu is one of the main reasons for that popularity. Items run the gamut from "snacky snacks" like burrata and soft-shell crab to sizeable mains such as crispy baby back ribs and duck breast burnt ends.
Not in the mood for heavy fare? No worries: Chilled and refreshing bites abound, including sliced hamachi and tuna Takaki. Veggies are also abundant, and the grilled baby bok choy is a crowd favorite. The creativity extends to the drink menu, which includes a neighborhood take on the Moscow Mule and a spicy bourbon-forward It's 4:20 Somewhere libation. There truly is something for everyone here, which is why it's one of the best restaurants in Wynwood.
KYU is located at 251 NW 25th Street, Miami, FL 33127. kyurestaurants.com
Le Chick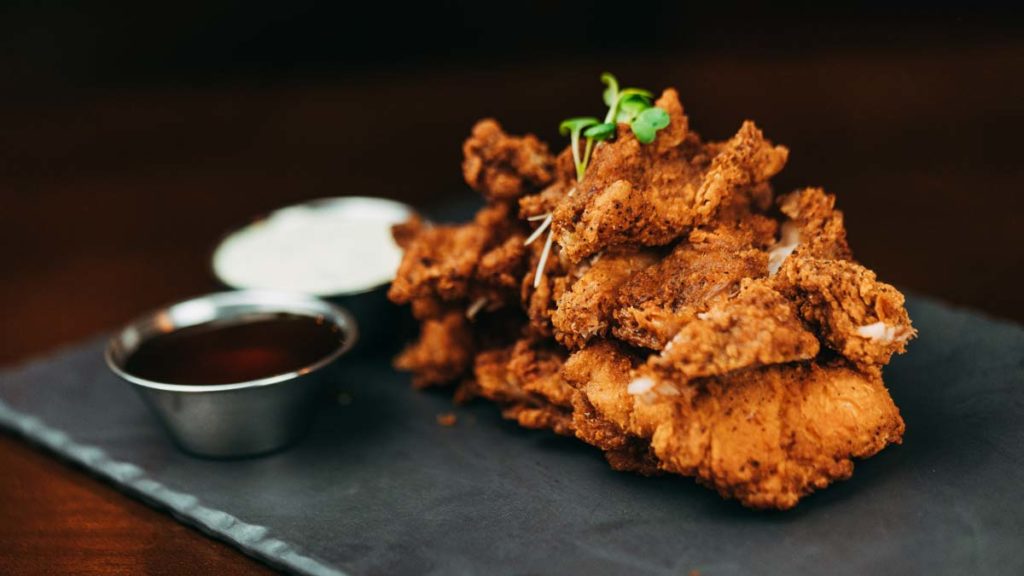 In case the name didn't give it away, Le Chick is all about the almighty bird — and then some. The casual concept was inspired by Rotisserie Amsterdam, a Dutch destination known for two things: burgers and beers. Le Chick delivers on both with great quality and reasonable prices, making it one of Wynwood's best restaurants.
If there's only one thing you order, it must be the fried chicken — crispy buttermilk goodness with a spicy maple syrup that delicately toes the line of sweet and savory. Guests can also opt for a rotisserie chicken if they prefer.
Make sure to leave your diet at the door. You don't want to be counting calories when you order the Royale with Cheese, a dry-aged brisket monster with cheddar, tomato, lettuce, house pickles and secret sauce. It's the restaurant's signature burger, and you'll see why immediately. Other "Between Bread" selections include the Proper Mutt — a satisfying hot dog with local Proper Sausage — and the Veggie Burger, which comes with a unique broccoli portobello and parmesan patty. Expect to roll out of here with a smile.
Le Chick is located at 310 NW 24th Street, Miami, FL 33127.
Love Life Café
As the age-old expression goes, "If you have to spend your money somewhere, spend it at Love Life Cafe." Okay… we made that one up. But that might as well be how it goes. The peeps at Love Life are ordaining everyday plates with high-vibration, kaleidoscopic, good-for-your-heart food — all while keeping it friggin' delicious! Empowered by the philosophy of sustainability, global responsibility, and conscious living, founders Veronica Menin and Diego Tosoni took to the kitchen to offer a fulfilling experience for their community in more ways than one. If you find yourself in Miami's Wynwood looking for a great way to treat your palate and your local plant while you're at it, don't think twice before dropping in. Now that's what we'd call "spending wisely."
When it comes to the menu, expect to find renditions of all your favorite foods from roun' the way: egg & cheddar "cheese" croissant sandwiches, Margherita pizzas, green juices, meatballs, fries, smoothies, BBQ pulled "pork" burgers, chocolate chip cookies and ice cream… all guilt-free. All ingredients are 100% cruelty-free and made from scratch daily. It must take considerable expertise to win the "Best Veggie Burger in America" award as a plant-based cafe, but that's just what they've done. And it doesn't stop there. All packaging is done with eco-friendly, recyclable, or biodegradable materials. Since 2017, Love Life Cafe has also partnered with the Miami Riverside House to offer second opportunities to those with less fortunate pasts. No matter the creed or color, dogma, or dictate, the Cafe makes a point to take care of all house guests.
Now more than ever, human ingenuity sews its influence into the world's destruction and salvation. Love Life Cafe has for the last 10 years given itself to the brighter side of that spectrum—and they've kept diners blissful in the process. This one makes the list with ease.
2616 NW 5th Avenue Wynwood, FL; (305) 456-4148; lovelifecafe.com. Open every day 9 a.m. to 10 p.m.
The Taco Stand
Blink, and you'll miss The Taco Stand. Unlike the other spots on this list, it's not too close to a main thruway in Wynwood. You either must be looking for it or—less likely—you might stumble upon it as you're admiring the local street art. Either way, you'll be glad you came across it.
The West Coast transplant is known for its namesake offering, but the whole menu is worth your while. Traditional taco fillings like pork, steak, and chicken are available, but the battered and grilled fish options are the real winners. You can stuff these proteins into a burrito or quesadilla, too, and finish off with some hot churros. Best of all, you won't break the bank ordering all this—most selections clock in at $3 to $8. That's a steal for food from one of the best restaurants in Wynwood.
The Taco Stand is located at 313 NW 25th Street, Miami, FL 33127.