Miami Beach might ring bells of boisterous pool parties and tourists wandering Ocean Drive in hopes of not getting ripped off to the untrained ear. However, the popular tourist destination also has hidden notes of Mediterranean extravagance, decadent grandmother-style pasta, and healthy organic eats. That's one thing you can be sure of—where there's a melting pot of culture, there's definitely the fare to match.
Check out our picks for the best restaurants in Miami Beach, to avoid diving into another subpar establishment. Who knows, you might even end up becoming a Miami Beach regular!
Blue Ribbon Sushi Bar & Grill
Blue Ribbon Sushi Bar & Grill is one of those places that opened to great fanfare but then just kind of disappeared from the press after a while. You don't hear about it often these days—probably because it's off the beaten path — but if you know you know: This is one of South Beach's top sushi spots.
One big reason for that: the sheer size of the menu—there's just so much food. Shrimp tempura rolls, beef tataki, crispy brussels sprouts, grilled avocado, Japanese short ribs, oxtail fried rice … that's not even 5% of the menu. You will be back to try it all—mark our words. Oh yeah, their fried chicken is great, too.
Blue Ribbon Sushi Bar & Grill is located at 336 21st Street, Miami Beach, FL 33139. For more information, visit their official website.
Casa Isola Osteria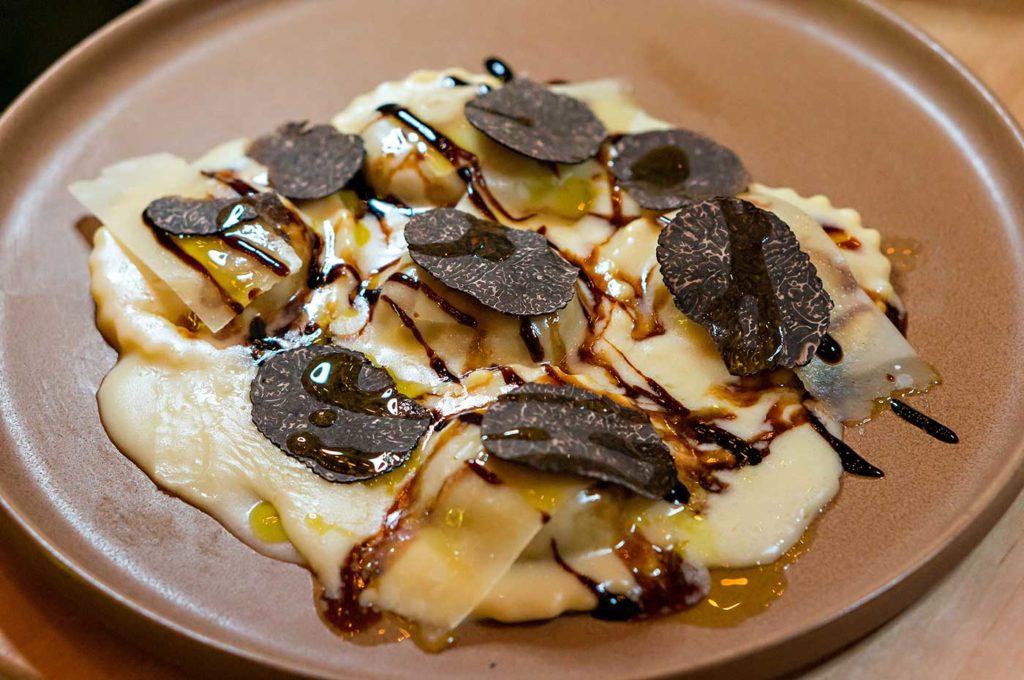 Right along the Sunset Harbour, the well-known Pubbelly has a new edition from a not-so-new face. Chef Jose Mendin opened up his first Italian restaurant with the help of chef Santo Agnello, both of who have long stomped around the kitchens of this vetted neighborhood. The name actually reflects the homeliness of the establishment's roots. The "casa" reflects the sentiment of housing in the old Pubbelly space, and Isola refers to the island Miami, Sicily (Santo's roots), and Puerto Rico (Jose's roots). Casa Isola strikes home for any who have dined at The Piefather, Lucali, or Pubbelly itself—it deserves some reverence.
When interviewed about the most exciting bits to come through Casa Isola, both chefs alluded to the pasta, and the menu supports their enthusiasm. One look and you understand the avenue in which true Italian cuisine cruises. Composed of only 5 distinct sections (minus the to-die-for out-of-this-world limited-by-day 8-hour Sunday Sauce), the menu items are transparent and straightforward. That being said, a distinct American Miamian touch has been mixed into the pot for a streamlined marriage. The powerful delivery comes as 'simplicity performed perfectly', and these maestros are scientific in their lab.
Lilikoi Organic Living
If you're all about healthy eating, don't bother to think twice before considering Lilikoi for breakfast, lunch, or dinner. Located near South Pointe Park, the name says it all; Lilikoi entreats only the finest and nutritious ingredients into their kitchen to be forged into toothsome fare. All components are locally and organically sourced, and the utmost effort to omit processed or modified organisms is applied. We are sure to say, the owners truly walk the talk. Conscience cleared.
The breakfast options are wholesome, keeping health-maxed varieties of all the classics: Sourdough pancakes, whole-wheat veggie bagels, and kombucha-fermented oatmeal. That kind of goodness. Lunch starts mid-day with just-as-worthy sammies, salads, and wraps. From there, lunch melds seamlessly into dinner, with dishes like vegan carbonara (mahogany smoked coconut "bacon" w/caramelized onions & cashew cream) and mushroom farro risotto (mushroom, pesto & goat cheese), to name a few. The juices and smoothies are off the charts, and there's a truckload of potential add-ons for any who want to push it to the next level.
If you hit the beach for a fit day, or if you just roll like that, show both your body and the folks at Lilikoi some love. The modifications are conscientious. The food is alive. The kombucha is on tap. What more could a beating heart need?
Lilikoi Organic Living is located at 500 South Pointe Drive, Miami Beach, FL 33139. For more information, visit their official website.
The Lobster Shack
Surf's (and turf's) up at the Lobster Shack, a local favorite situated in South Pointe right off the coastline. It's some of the freshest and most affordable seafood South Beach has to offer. Not to mention, they've got two locations along the sandy strip, doubling the chances of you enjoying the flavorful fun.
Not only does the Shack add a delectable touch for enthusiasts enjoying the Miami strip, but it also adds just as much history. The family responsible for bringing these one-of-a-kind lobster rolls to South of Fifth have been in the seafood business since 1921. The recipes passed down from Grandaddy Gus survived the generations and landed (most appropriately) on the seaside. It has since evolved into 2 locally renowned and family-owned crustaceous capitols—CJ's Crab Shack and The Lobster Shack.
The Shack is a cheery spot to bring friends and family. They've got a loaded menu, filled with soups n' salads, tacos, entrees, a raw bar, and of course, the legendary rolls! They've also a load of drink specials, so you can sip for the low when the time is right. Oh, and by the way, if you're too tanned to leave the sand, no worries — The Lobster Shack delivers to hungry beach chairs on the Pointe. Talk about being pampered.
RED South Beach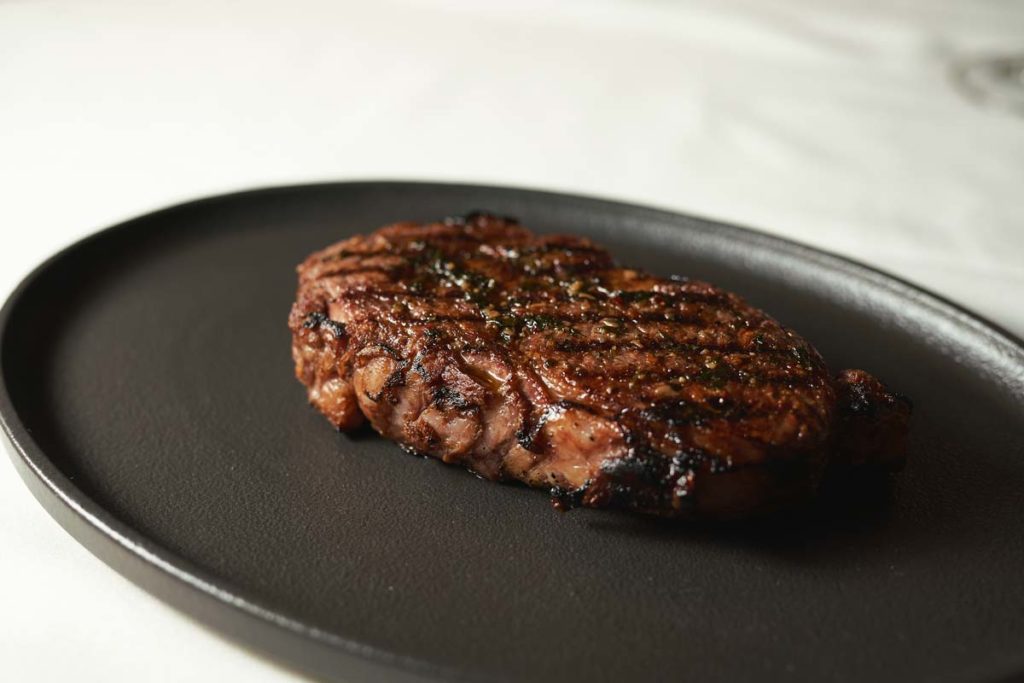 Featured in a slew of respected publications, including Esquire, Food & Wine Magazine, and more, this swanky Miami Beach hotspot is beloved by celebrities and South Florida's movers and shakers. No matter what you order off the menu, you're sure to fall in love with the chef's impeccable creations. Start with something from the raw bar, like buffalo oysters or shrimp cocktail, then feast on one of the restaurant's legendary cuts of meat, like tender filet mignon or a prime porterhouse. Finish your meal with something sumptuous from the dessert list, like a red velvet cake, a chocolate creme brulee, or RED's famous hot-n-fresh doughnut holes.
Seawell Fish N' Oyster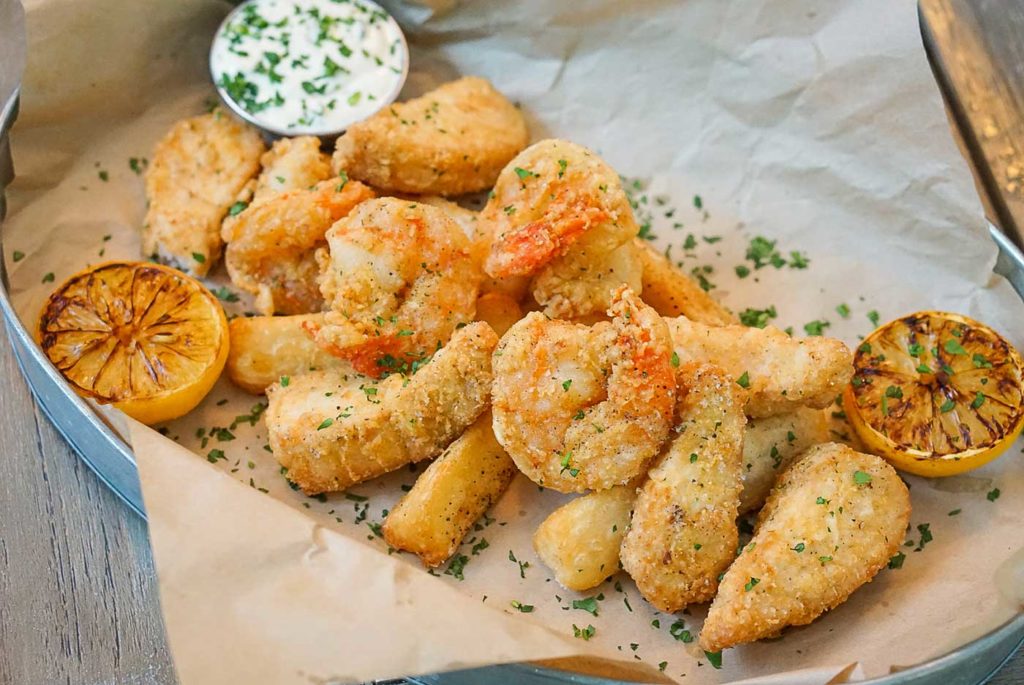 Stellar seafood awaits at Seawell Fish N' Oyster, a Washington Avenue hidden gem that boasts an assortment of delicious coastal cuisine. All guests should start with a chilled seafood terrace, as the restaurant's raw bar is hard to beat. Oysters, cocktail shrimp, tuna poke, lump crab salad… it's a lot of food and it's affordable—something hard to find on this side of the beach. Smoked fish dip, melon salad, crispy skin salmon are just a few other highlights on a menu full of highlights. Prepare to lose track of time here because you're loving the food so much.
Stubborn Seed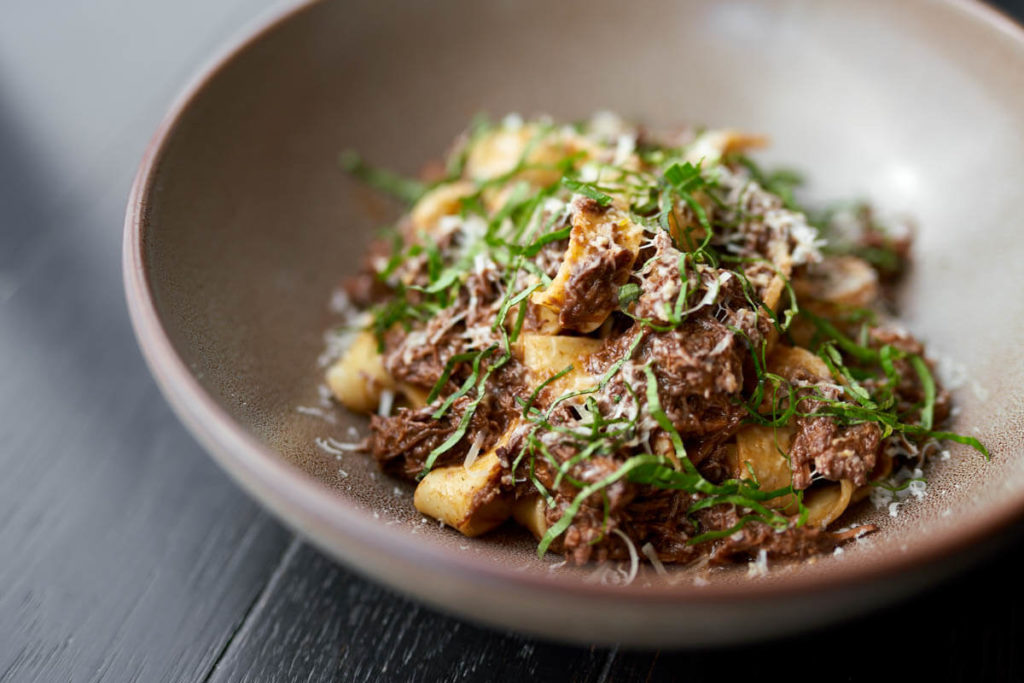 Helmed by Chef Jeremy Ford, this Miami Beach mainstay serves up fresh and creative fare made from seasonal, often locally sourced ingredients. You can dine on tasty crunchy truffle bravas, endive lettuce and herbs, foie gras torchon and so much more. Depending on when you go, the restaurant is tasting menu only, so check before your visit to avoid any surprises. But whether you do a la carte or a tasting, you're going to be satisfied by the quality at this Michelin-starred eatery.
Stubborn Seed is located at 101 Washington Avenue, Miami Beach, FL 33139. For more information, visit their official website.
Taquiza
A trip to Miami Beach doesn't mean spending an arm and a leg for food. For those times that you're craving something affordable and delicious, there's Taquiza. The popular taco shop has two locations on Miami Beach—one on North Beach and one on South Beach—so you're always close to delectable offerings like barbacoa tacos, mahi tacos, grasshopper tacos (yes, that's a thing and they're great) and Taquiza's famous totopos (blue corn masa chips). Both outposts can get pretty packed, so skip the line by ordering online if you're in a rush.
Taquiza has multiple locations on Miami Beach. For more information, visit their official website.
The Bazaar by Jose Andres
This famous spot at the SLS South Beach spotlights Latin American and Caribbean flavors, blended perfectly to highlight Miami Beach's laid-back, coastal atmosphere. To start, it doesn't get better than the bao con lechon, an Asian-inspired twist on the Latin classic served in a Chinese steamed bun, while the patatas bravas is a more traditional yet always appetizing bite. If you crave seafood, opt for the Neptune's pillow—a tuna lover's fantasy—and if you're a meat lover, order the Cuban coffee-rubbed churrasco. There are no wrong choices here.
The Bazaar by Jose Andres is located at 1701 Collins Avenue #100, Miami Beach, FL 33139. For more information, visit their official website.
Yardbird Table & Bar
If there's one thing you need to order at Yardbird Table & Bar, it's the fried chicken—no ifs, and, or buts. It's the Southern restaurant's claim to fame and absolutely lives up to the hype—especially when paired with hot honey sauce. While that alone is a meal in itself, Yardbird also boasts a ton of comfort food classics worth a taste: skillet cornbread, classic buttermilk biscuits, deviled eggs, shrimp, and grits, lobster mac and cheese … this place is not for anyone counting calories. And if you're a whiskey drinker, saddle up to the bar and check out the spirits list—you'll be glad you did.
Yardbird Table & Bar is located at 1600 Lenox Avenue, Miami Beach, FL 33139. For more information, visit their official website.