Downtown Miami is no longer the ghost town that it once was. There used to be few reasons to venture to the neighborhood outside of going to work or attending events at American Airlines Arena. And if you did visit, you'd want to leave just as fast: It wasn't exactly the safest area once the sun went down.
But restaurants beyond corner cafés and other concepts catering to local workers started popping up. And they kept popping up. That momentum hasn't stopped – Downtown is home to some of the best restaurants in Miami. Here are just a few of them:
All Day
Part coffee shop and part restaurant, All Day caters to a diverse range of customers. But whether you come for a cup of Joe or a sit-down affair, you get the same stellar experience. Coffee buffs will especially enjoy the offerings here. Classics like espresso and lattes make an appearance, but it's the more novel creations that should pique your interest. Our Sweetheart – a coffee and rosemary limeade drink – provides a thirst-quenching twist on the familiar cold brew. Joe Went to Thailand, the house Thai iced coffee with Xocolatl bitters, is the perfect way to counteract the Miami heat. Heck, all the iced selections are good.
Food-wise, All Day is home to a stacked pastry case that includes bagels, croquetas, empanadas, and grab-and-go items. Where the menu truly shines is its Eggs + More section, which is self-explanatory. The Everyday is simple yet tasty: two eggs your way with bacon and a buttered baguette. Our favorite, however, is the One-Handed. Despite the name, you definitely need for two hands for this hearty sandwich comprised of yolk-cracked marble egg, house-sage sausage, cheddar and herb aioli. It has a lot going on, but all the elements taste beautifully together.
Had a long day at work? Pop in for some adult libations. Unlike your standard coffee shop, beer and wine are up for grabs. The list is on the shorter side, but the selections they do have are ideal for unwinding throughout the day.
1035 N Miami Ave, Miami, FL 33136 | (305) 699-3447 | alldaymia.com
Fooq's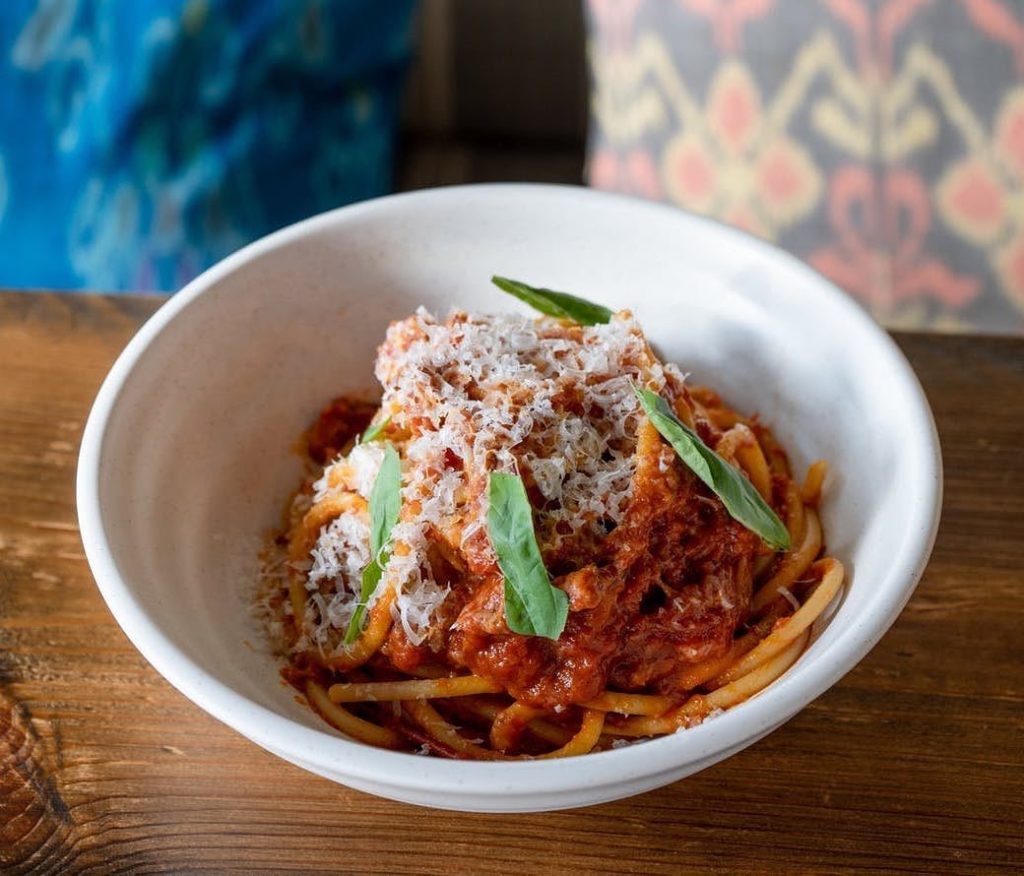 Dates, gatherings with friends, a solo dine… all these occasions call for a visit to Fooq's. The Mediterranean restaurant emphasizes Persian food but also pulls in other European influences. Leading the charge in the kitchen is chef Clark Bowen, who previously cooked up Mediterranean delights a few blocks away at Daniel Boulud's Boulud Sud.
Guests who just want a quick bite can reach for Fooq's assortment of dips and snacks. Expect items like tahini hummus, baba ganoush, crispy falafel, and lamb kibbeh, which pair nicely with Fooq's phenomenal wine picks. Hungrier customers can opt for sizeable sandwiches like a chicken pita or the famous Fooq's Burger, which has been on the menu since day 1.
Other notable entrees include a braised lamb bowl, a chicken parm, and a kebab platter. The menu is large, so repeat visits are in order. And trust us: Once you eat some of this "feel good" food, you'll waste no time making a reservation for one of Downtown's best restaurants.
Don't feel like dining in right now? Fooq's is letting guests create their own Fooq's masterpieces at home with Fooq's Feast Kits. These bulk options pack enough food to keep one person fed for a whole week, or a family fed for a few days; for less than $100, they're a great deal.
The Lamb feast, for example, comes with a one pint of braised lamb leg, one pound of Merguez sausage links, six pieces of lamb kibbeh, four skewers of lamb kebabs, lamb stock and saffron rice. Say that three times fast. We can vouch for the pasta kit, which comes with several pounds of different pastas and some other goodies; needless to say, a lot of weight was gained that week.
1035 N Miami Ave, Miami, FL 33136 | (786) 536-2749 | fooqsmiami.com
Jaguar Sun
In its short history, Jaguar Sun has already made a splash in the local food scene. The restaurant and bar, which is located inside the lobby of X Miami Apartments, has earned local and international praise in a number of esteemed publications; not bad for a place that's only been open since late 2018. While it is a newbie compared to the other entries on this list, all it takes is one look at the cocktail and food menus to know that these guys are not playing around.
On the drinks side, guests will discover fun and funky libations like the Green Ghoul, a refreshing mezcal and tequila concoction that will make your taste buds dance. Another favorite – the tropical-inspired Young Astronaut – gets an A for presentation and flavor; the space-themed glass is a nice touch.
The list of food offerings is short and sweet. Because Jaguar Sun does not have a full kitchen, options are a bit limited but no less impressive. Pastas make up a big part of the selections, and they're all reasonably priced for the size; one dish can feed two people. Our go-to pasta is the rigatoni with spicy pork sugo. It packs a ton of heat, but brave souls will be rewarded with a taste that's to die for. If pastas aren't your thing, there are other bites like the heavenly Parker house rolls, a huge little gem salad, oysters, and more.
Due to the pandemic, Jaguar Sun's dining room is currently closed. Instead, they're doing an off-site popup at Lot 6 in the Little River area. The menu still features some of their staples, but the new fare skews casual – aka lots of tacos. The restaurant also plans on hosting collaborations at this temporary space with heavy hitters like Hometown BBQ and Itamae. Don't worry, though: Downtown will reopen as soon as things calm down.
230 NE 4th St, Miami, FL 33132 | (786) 860-2422 | jaguarsunmia.com
Miami Diner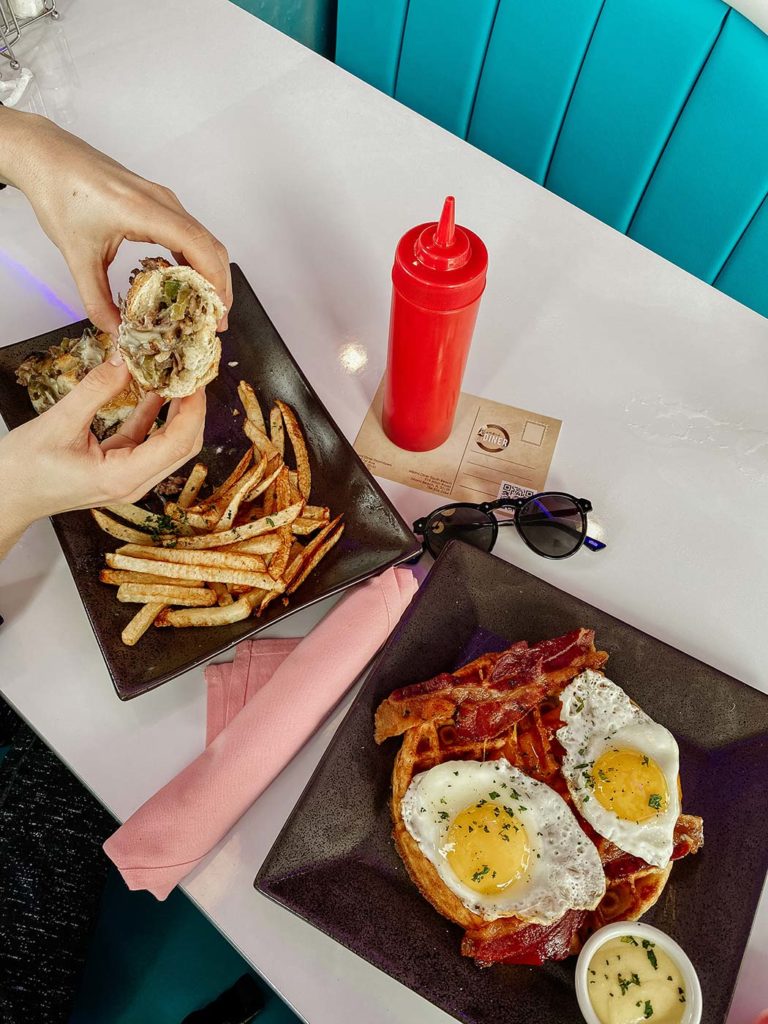 With the abundance of food options this city had to offer, it didn't boast all that many diners. This all changed when Miami Diner came on the scene earlier this year. Now it's the most rad retro spot to be found. With two locations, one in Downtown Miami and one in South Beach, it's the spot for workday lunches and Sunday brunches alike!
If you do find yourself in Downtown Miami on a weekday afternoon, chances are you're taking a lunch break. With its all-day breakfast, the Diner is sure to put you in a jolly mood feeling full and satisfied for the rest of the workday. There's no shortage of what to choose from—loaded omelets, scrumptious burgers and subs, stuffed salads, decadent pastas, sweet waffles, and shareable apps! You really can't go wrong with anything you order here. Still, some crowd favorites include the Eggs Benedict topped with smoked ham and Swiss cheese, the Frankie Omelette loaded with bacon, sausage, and ham and served alongside potato soufflé and butter-jelly toast, and but of course, the infamous Miami OG Burger.
The diner's interior is a total trip to retro town—vinyl seats, checkered floors, neon lights, oldies music, and fun uniforms for the staff. No visit to Miami Diner is complete without a classic order of one of their many milkshakes, just like moms and pops used to drink, but with a twist. For example, the Vanilla HEAT, a vanilla milkshake with Miami vice twist topped with whipped cream, rainbow sprinkles, and glazed doughnuts. If a trip to the Diner doesn't brighten up your day, we don't know what will!
Miami Diner is located at 140 SE 1st Ave. Miami, FL 33131; ​786-536-2400; For more information, visit their official website.
NIU Kitchen/Arson
NIU Kitchen took a risk by opening in Downtown Miami back in 2014; there was nothing quite like this Spanish-inspired sit-down restaurant from James Beard Semifinalist Deme Lomas at the time. It stood out like a sore thumb in an area known mostly for 9-to-5ers who couldn't wait to get home after work.
But Lomas' food was reason enough to stick around for a few extra hours, and NIU quickly became a local favorite with its Catalan cuisine. The fact that it's been around for six years is a testament to the quality. If you stop in now, you'll find a menu that encourages diners to be adventurous with their selections. A cold tomato soup with mustard and basil oil is a tantalizing start to your NIU experience, which should also include highlights like pan-seared foie with honey bread, baby back ribs confit and roasted chicken cannelloni.
Don't sleep on the wine menu. Co-owner and resident sommelier Karina Iglesias like to get creative, and the wine menu is constantly changing. Orange wine – the skin-contact wine that's making recent headlines – is a big part of the menu and worth checking out if you haven't tried it before.
A few doors down from NIU Kitchen is Arson, the second concept from the owners behind NIU Kitchen. And just like NIU, Arson has been making a name for itself with exceptional and acclaimed fare and quickly became one of the best restaurants in Downtown Miami. Unlike its older sibling, this restaurant focuses on dishes made with the josper oven – a kitchen tool that can reach extremely high temperatures. The result: Smokey flavors galore. There's a big emphasis on meats here, and the wine list features delicious selections from Europe, Latin America and the United States.
You can't go wrong with either restaurant. And for the time being, choosing between the two is easier than ever. Because of the pandemic, Arson and NIU have joined forces for a greatest hits menu using the larger Arson space. In the meantime, NIU Kitchen has transformed into a wine shop. Cheers!
134 NE 2nd Ave, Miami, FL 33132 | (786) 542-5070 | niukitchen.com
Vinaigrette Sub Shop
Subway who? Vinaigrette Sub Shop from the team behind local favorites Blue Collar and Mignonette is poised to become your go-to place for lunch. One of the best restaurants in Downtown Miami, the eatery focuses on cold subs, and you can create your own with a laundry list of ingredients. First-timers, however, should consider one of the restaurant's signature Italian specialties that come loaded with meats and toppings like French ham, genoa salami, Calabrian chile mayo, truffled pecorino and – of course – vinaigrette. Prices vary depending on what you include in your sandwich but expect to pay $10-15 when all is said and done.
Best of all, it's fast. They're made to order, but the focus on cold subs keeps things moving; you won't wait more than few minutes – if that – for your meal. Vegetarians and vegans also have plenty to celebrate here: the cutely named Veggie AF sub is just as filling as its meat counterparts; it's a nice mix of Italian artichokes, roasted peppers and pickled carrots. There's also a chickpea option and a caprese option that are both worth checking out.
Vinaigrette Sub Shop also caters, so if you work in an office nearby, keep them in mind for future gatherings once things hopefully calm down after the pandemic. You can place orders for individual subs or have a sub bar so everyone can load up their subs to their liking.
159 E Flagler St, Miami, FL 33131 | (786) 558-5989 | vinaigrettesubs.com