Take a quick trip through Brickell, and it's easy to see why the neighborhood is considered Miami's financial district. Its many towering skyscrapers serve as home to some of the biggest names in the finance, legal, and real estate arenas. The "mini Wall Street" is also home to some heavy hitters in South Florida's formidable dining scene. Here's a closer look at the best restaurants in Brickell.
BBQ Craft and Company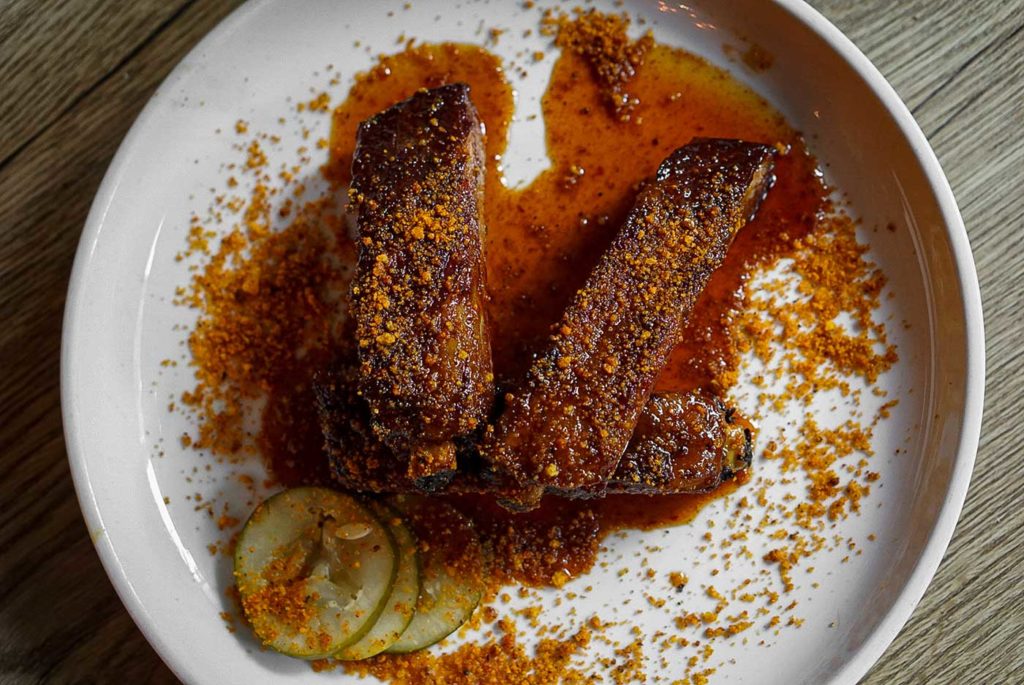 One need not travel far for an authentic Midwest BBQ experience. We bet you never thought Miami's Brickell neighborhood could be hiding a gem of America's finest barbecue. Rest assured, you can enjoy smoky briskets, ribs, and chops grilled to perfection in the comfort of your own county. BBQ and Craft Company is home to an appetite-tingling menu of succulent meats and the usual BBQ side suspects like beans, coleslaw, and cheesy macaroni. Need a lunch break spot that will satisfy you for the rest of the day? This is the place to go. Perhaps a new restaurant to impress your boss? As long as they're not vegetarian, you've got this. You might simply be looking for a new weekend nook to chill with your friends. Either way, BBQ and Craft is the cream of the crop.
As the name suggests, the restaurant is also home to an impressive selection of craft beer. For lunch, pair an ice-cold brew with the infamous Beef Brisket Sandwich, and don't be afraid to go the extra mile and substitute for the Mac & Cheese as your side, trust us. If you're dining with friends or coworkers, get the Deviled Eggs and the award-winning Dry Rub Wings with a mouthwatering Alabama-style white BBQ sauce to share for the table. On the dinner menu, one will find gigantic platters of St. Louis Spare Ribs by the half rack or full, Dino Beef Ribs, or Prime New York Strip with a smoked beef jus you'll be dreaming about for days on end. If you're feeling a bit more adventurous, we recommend following BBQ and Craft Co. to see when they're roasting their next gator. Usually, about once a month executive chef Jeremy Kermisch slow-cooks an entire alligator that simply melts in your mouth. Florida BBQ at its finest.
Costa Med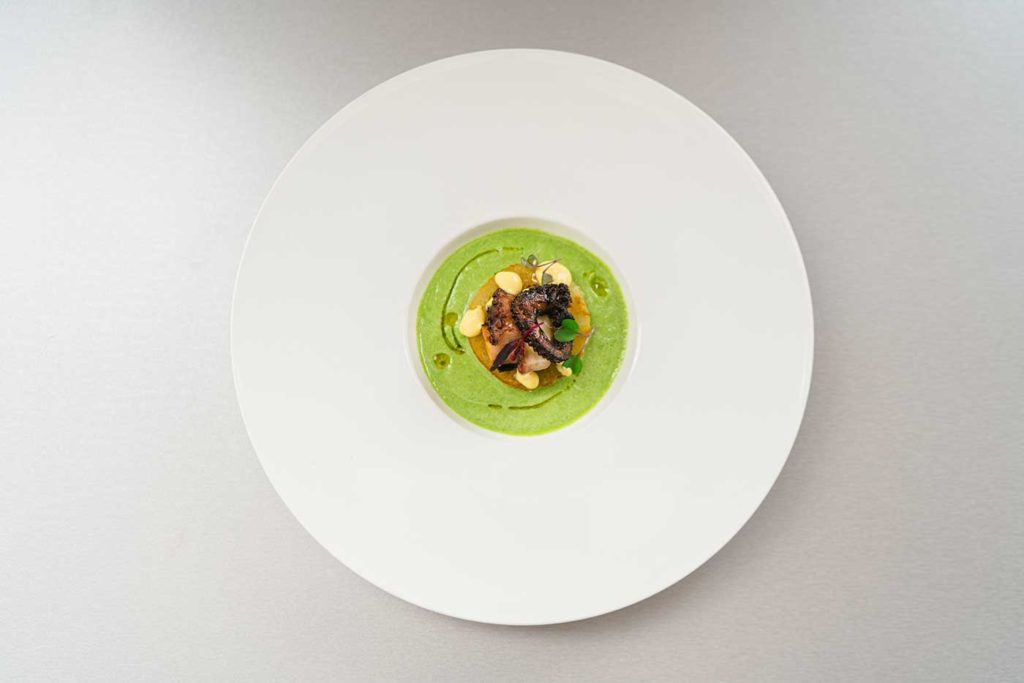 A short and picturesque 15-minute drive from Brickell along William M Powell bridge will put you right where you wanted to be all along — outside of the city's bustle and straight into the open doors of Costa Med Bistro + Wine. A delightful bistro serving up some of Key Biscayne's best Mediterranean specialties.
The variety here is sure to soothe the fine food cravings of any gourmand. Even so, rest assured: not only will you find meticulously plated high-end dishes, but also considerable portions of coastal comfort foods. First off, the Pata Negra Jabugo Acorn-Fed Iberic Ham is bound to grace the table of any diner. Next, spoon into the bistro's French Onion Soup Gratinee — oozing with melted cheese layered upon a rich and flavorful beef stock. The freshly made pasta is not to be missed, and the squid ink fettuccine naturally spills off the tongue of anyone who visits the establishment. From the land, Wagyu Osso Buco braised Mishima Wagyu Beef served over Risotto Milanese is a match made in heaven.
The well-crafted Mediterranean menu ensures there's plenty to choose from. From Spanish tapas to French hors d'œuvre, house-made Italian pasta, and Greek seafood dishes. The passionate staff will direct you to the best wine pairings. After getting acquainted with Costa Med, we have no doubt you'll be making the trip from beyond the neighboring Brickell neighborhood. After all, many of their loyal patronages already do.
Edge Steak & Bar
Hotel restaurants can sometimes get a bad rap because they're just one aspect of the whole property experience; operators might be more focused on other parts of the hotel, leaving solid dining options on the backburner. That's not the case at the Four Seasons Hotel Miami, where chef Aaron Brooks has been cooking up a storm at Edge since 2011. The executive chef is putting his personalized Aussie twists on the traditional American steakhouse experience. The result is an exhilarating rollercoaster for the palate.
Meat selections are unsurprisingly ample, with grass-fed, grain-fed, dry-aged, and wagyu items available for grabs. Highlights include the Southern Australian filet mignon and strip steak, as well as prime saw cut rib eye (yum!). Despite the emphasis on steak, there's quite a bit more to the place than meats the eye.
Don't miss out on chef's mouthwatering charcuterie board that features handmade sausage, terrine, hams, and cheese. It's enough to whet the palate of a party of four (or a very hungry couple). And if it's just light bites you want, Edge has you covered with snacks such as chorizo and cheddar croquettes, madras spiced onion rings, and spiced lamb meatballs. Try any or all of these dishes: You'll see why Edge is always listed as one of the best Brickell restaurants.
Edge Steak & Bar is located inside the Four Seasons Miami Hotel at 1435 Brickell Avenue, Miami, FL 33131. For more information, visit their official website.
La Mar By Gaston Acurio
Another hotel restaurant worthy of this list is La Mar at the Mandarin Oriental. The Brickell Key eatery is known mainly for two things: exceptional Peruvian cuisine and a drop-dead gorgeous view of the Brickell skyline. We can't emphasize the latter point enough: If the weather is cooperating, always opt for an outdoor table. Day or night, looking out at the buildings and beauty of Brickell never gets old.
Leading the kitchen at La Mar is Diego Oka, who has spent much of his career working along the renowned Peruvian chef Acurio. Oka is doing his mentor proud, pumping out Latin American cuisine with Asian influences for the masses. Ceviche, causa, tiraditos… all the classic Peruvian fare you'd expect is here, but elevated; the quality warrants the price tag.
Our suggestion: Pick the tasting menu. At $85 per person, it's a steal for Oka's deft hand at picking the best bang for your palate. Should you decide to navigate the menu on your own, La Mar's fusion dishes are worth a look. Peruvian-Japanese (or Nikkei) cuisine is now a common sight at Miami restaurants, but good luck finding someone who does it better than La Mar. The branzino fillet with its mix of Chinese and Peruvian elements is a favorite, along with the arroz cebichero, a seafood rice that doesn't skimp on the seafood aspect (shrimp, calamari, clams and more).
La Mar By Gaston Acurio is located at 500 Brickell Key Drive, Miami, FL 33131. You can visit their official website here.
La Sandwicherie
Miami locals who have tasted the Brickell nightlife know of La Sandwicherie, the unassuming sandwich shop that's open well into the wee hours of the morning. While many customers have likely tried their sandwiches under the influence of something, we're here to tell you that their sandwiches are also delicious stone-cold sober.
There's only one adjective that does the menu justice: extensive. Think of a sandwich filling, and you'll likely find it at La Sandwicherie. For under 10 bucks, you can enjoy most signature sandwiches, which come stuffed with meats and other toppings. Honestly, the most important decision you'll be making is the bread type. The French baguette is standard, but for a few more cents, get the croissant. There's a certain butteriness (is that a word? It should be) that adds an extra layer of flavor to an already outrageous sandwich.
A delicious meal isn't complete without a delicious beverage, and La Sandwicherie also delivers on that front with smoothies and milkshakes galore.
La Sandwicherie is located at 34 SW 8th Street, Miami, FL 33130. The eatery also has locations in Miami Beach, Wynwood, and North Beach, with more popping up soon. Find out more about the brand here.
Obra Kitchen Table
Inventive Latin flavors are found throughout the cuisine at Obra Kitchen Table, a fun concept from internationally acclaimed chef Carlos Garcia. The culinary star has crafted a mouthwatering menu of Latin American flavors that lean on his Venezuelan roots. Start with his selection of arepitas—Venezuelan cornmeal cakes—and then dive into larger entrees like a roasted rack of lamb, grilled baby octopus, and whole fried snapper.
You can order a la carte, or get one of the chef's tastings for a better value. There's a four-course menu or a six-course menu available if you opt for the tasting; either one should be enough to fill you up, but the latter provides more whimsical items that are likelier to make a lasting impression. Just as playful is the cocktail menu, which mainly focuses on tequila, mezcal, and rum. Looking for something worthy of an Instagram post? The Melo Mezcalito with its burnt marshmallow is a crowd — and palate — pleaser.
Obra Kitchen Table is located at 1331 Brickell Bay Drive, Unit CU1, Miami, FL 33131. For more information, visit their official website.
Pilo's Tacos
Whenever a craving for Mexican food hits, make your way to Pilo's Tacos. The menu is on the shorter side, but it makes up for it with some of the best tacos we've had on this side of the border. Pork is plentiful in the taco selections, but we're partial to the beer-battered fish of the El Pescadito, which comes with a chipotle mayo that's ::chef's kiss::. The cheese-crusted brisket in the Sangrona might test your cholesterol levels, but it's another protein worth the doctor's visit.
Hungrier patrons will find satisfaction in the burrito and quesadilla options, which can easily feed a second person. Even apps like the chips and guac are a mouthful, and prices are extremely reasonable for the portion size. Whatever you order, make sure to stock up on the salsas; they range from sweet and spicy to spicy; they all add an extra tasty dimension to your meal. Guests who find that the savory options at Pilo's pack too much heat can cut it with La Dulce, a raw green tomatillo with honey salsa; it's a unique taste we haven't encountered anywhere else.
Wash everything down with the restaurant's draft beer selection, and you're set. If you're on a budget and looking for quality grub, Pilo's Tacos is among the best restaurants in Brickell.
Pilo's Tacos is located at 28 SW 11th Street, Miami, FL 33130. You can learn more about them on their official website.
Pubbelly Sushi
Pubbelly Sushi is a true Miami institution of stellar munches showcasing the flavors of the South-East, merging authentically Japanese techniques. The restaurant was opened by chef Jose Mendin, who has multiple restaurants under his belt nationwide and internationally. There are four Pubbellies in Miami alone and even one in Mexico City. Not to mention the many other gems of cuisine the award-winning chef has opened over the years.
Pubbelly's food is izakaya-style, playful, and innovative, showcasing a healthy mix of Chef Mendin's Puerto Rican roots and Miami's cosmopolitan flavors. Crowd-favorite shareable include the fervent Short Rib & Truffle Dumplings. Next, out of the delightful abundance of sushi rolls, they got the Butter Krab Roll cloaked in a soy wrapper and doused in warm ghee, a killer; and the spicy Big-Eye Tuna roll. Then, there's the Pork Belly straight off the grill in an aromatic concoction of tobanjan and orange peel. To finish up, order the chocolate miso custard bread pudding. Trust us, your desert belly will kick in for this one. One last tip: from 4 to 6 daily, enjoy discounted drinks (Lucky Cat — sake, watermelon, Thai basil, tapioca, yum!), sushi rolls, and fresh-off-the-grill chomps.
Pubbelly Sushi is located at 701 S Miami Ave Suite 421, Miami, FL 33131. For more information, visit their official website.
Stanzione 87
We've written about Stanzione 87 in the past, and for good reason: It's a Brickell gem. The pizzeria from the namesake Stanziones (Franco and Ashley) has been around for years in the neighborhood; its longevity is a testament to its quality, as few spots have been able to weather the never-ending construction woes plaguing the area. What can you expect upon your visit? Delicious pizzas out of the oven in 90 seconds. They pride themselves on fermenting their dough for a minimum of three days, and the mozzarella is made fresh daily. You can taste the difference—even their basic margherita (mozzarella, Parmigiano, olive oil, and basil) will have you raving to your friends.
The variety of pizzas available makes this the perfect place for even the pickiest of eaters. Whether you're a white pizza (no tomato sauce) or red pizza fan, you're sure to leave satisfied. We lean red, so items like the salami with spicy honey or the sausage and bell peppers are always top of mind. However, white pizza fans have plenty of reasons to salivate: the Mais—cream, corn, prosciutto and some other goodies—is a must. Not a fan of the selections? Just make your own.
Aside from pizzas, the restaurant offers several sandwiches, subs, and salads; there's no excuse for not checking this place out, especially since they deliver. Also, wine connoisseurs need to take note: Stanzione 87 is the go-to for natural wines in the area. You can find rare (and beloved) bottles of Las Jarras and other notable winemakers here, and the selection is always changing. Hungry or thirsty? Don't sleep on this treasure; it's one of the best Brickell restaurants.
Stanzione 87 is located at 87 SW 8th Street, Miami, FL 33130. For more information, click here.
Toscana Divino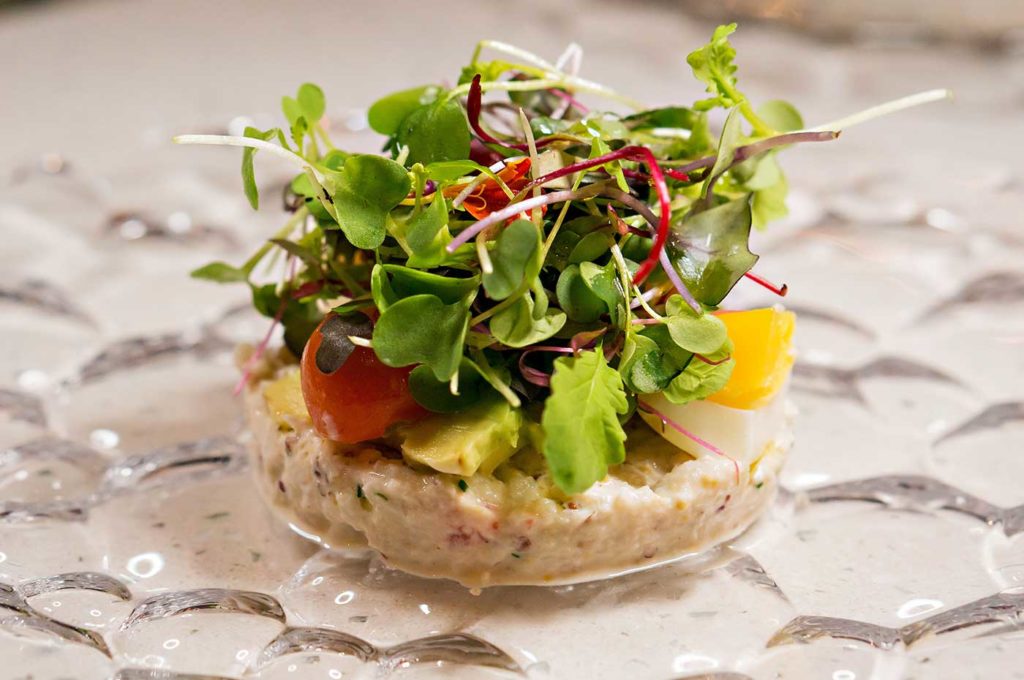 Just off the channel's coast and a few blocks south of the Miami River lies a most remarkable Italian cornerstone in the Brickell area. Celebrities, sports stars, local financiers, foodies like us… We all love and adore Toscana Divino. It's made our 'best' list before, and it's no surprise that we'd give a shout out while highlighting it's homecourt. The (mostly) Italian-born team here delivers exceptional high-end cuisine, mirroring the Tuscany region of which it reps. Expect quite literally award-winning authenticity at every turn in this fan-favorite.
Executive Chef Andrea Marchesin focuses on utilizing local ingredients for each masterpiece, so the menu changes by the season. It's an honest and straightforward selection that makes for explosive results. Around this time of year, you'd find decadent bechamel & beef ragu lasagna, truffle jus glazed organic chicken breast, house-made smoked salmon, or pasta negra with shrimp and calamari — you know, all the stuff to make you warm and fuzzy on the inside. The flexibility of the menu goes hand-in-hand with Toscano Divino's sustainability philosophy. Enjoy the pleasures of Mediterranean antiquity with local ingredients from responsible people. It just doesn't get any more fulfilling than that.
Usually, outdoor seating in the financial district can be a letdown, but that's not the case at Toscana Divino; big family-style tables under a sea-kissed breeze and a pocket to enjoy the city's bustle. Ooowee. Drop by on a clear night to impress your date or your in-laws or whoever. Oh, and if you're drinking, keep it classy with some fine wine — they're one of Miami's biggest wine purveyors, of which almost 80% comes straight from the Tuscany region. Like we said… Authentic.