Spring is around the corner, and you know what that means in South Florida: rain is coming soon. Start planning ahead: The next time it's pouring and want some good food without leaving the house, here are some tasty rainy day takeout ideas.
Casa Isola/Patio Isola
Pasta is one of those foods that almost always travels well, so count on Casa Isola and Patio Isola for your rainy day plans. The restaurants' generous pastas can be your lunch AND dinner so it's a tremendous value; best sellers include the porcini ravioli, truffle pappardelle, and—of course—the rigatoni alla vodka that's all over social media. Over at Patio Isola on the mainland, you can also find pizzas and sandwiches to get you through the stormy weather. 
Casa Isola
Patio Isola
Hachidori Ramen Bar
Soup is synonymous with rainy days, but soup isn't really a common sight in Miami. You know what is, though? Ramen, which is close enough. For a hearty and flavorful bowl of noodles and broth, set your sights on Hachidori Ramen Bar in Little River. If it's your first time ordering, the O.G. ramen with its cured pork belly and tonkotsu and miso broth will have your taste buds dancing. For something more veggie-forward, opt for the Shrooms with—you guessed it—mushrooms as well as sprouts, scallions, and bok choy. Regardless of what you order, be sure to include an order of Hachidori's signature umami sticky bun—just do it.
Hachidori Ramen Bar is located at 8222 NE 2nd Avenue, Miami, FL 33138. For more information, visit their official website. 
Havana Harry's
We can't do a list of rainy day foods without mentioning a Miami classic: Cuban food. Cuban restaurants are everywhere, but this Dish Miami writer is all about Havana Harry's in Coral Gables. First of all, portions are bigger than your head. Second, there's just so much variety: You can choose more than 300 dishes. Yes, you read that correctly. You could order a different item every day for a whole year, and you still wouldn't be done with the menu. Can't make up your mind? The palomilla steak, pork chunks, grilled snapper, and guava barbecue chicken are all good starts.
Havana Harry's is located at 4612 South Le Jeune Road, Coral Gables, FL 33146. For more information, visit their official website. 
Ironside Pizza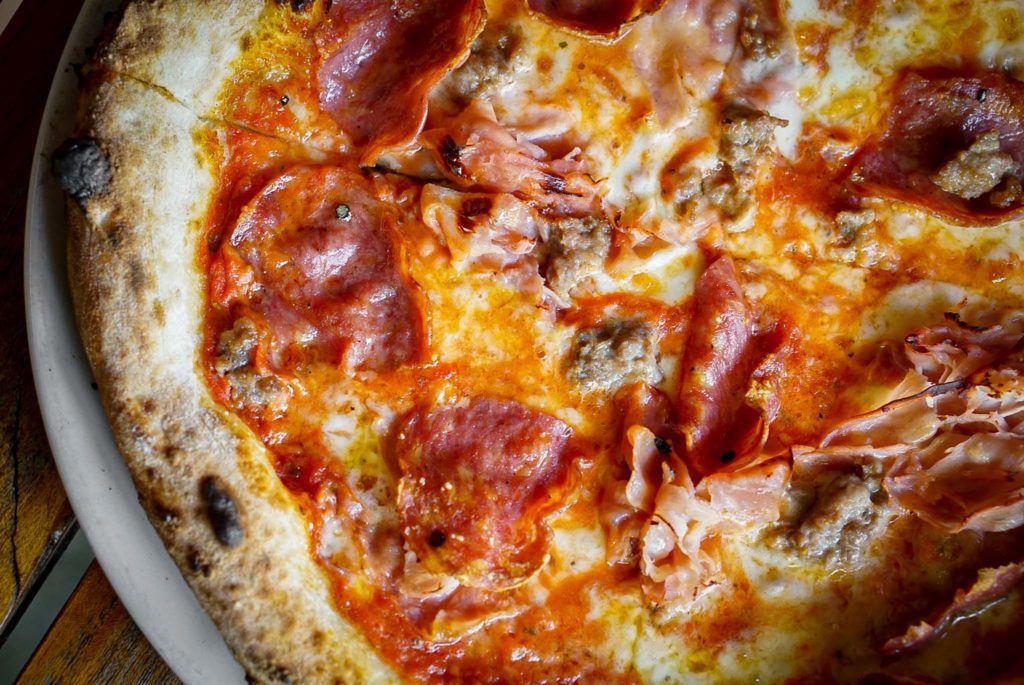 Over a dozen delicious pizzas are available at Ironside Pizza, making the popular neighborhood spot a rainy-day must. Like to keep things classic? The margherita and funghi are among the best you've had in Miami. Not a fan of tomato sauce? White pizzas like the speck gorgonzola will hit the spot. Feeling adventurous? The pear and Parmigiano is the perfect blend of savory and sweet. FYI: Ironside Pizza is more than just pizza. Make sure to check out specialties like the eggplant parm and paninis like the mortadella and pesto. 
Ironside Pizza is located at 7580 NE 4th Court, Miami, FL 33138. For more information, visit their official website. 
Paperfish Sushi
Good sushi doesn't have to cost an arm and a leg. Paperfish Sushi is the perfect example: The concept checks all the boxes when it comes to quality and quantity. And it's great whether you choose to dine in or get it for delivery on a rainy day. With locations in Brickell and South Beach, delectable bites like the salmon aburi, shrimp katsu maki, and tuna crispy rice are never too far away, While we're partial to the rolls, don't ignore other non-sushi highlights like the classic ceviche and Nikkei tataki. Heck, the whole menu is worth your time and money.