Is someone in your family or your friend circle a picky eater? Taking him or her to dine out can sometimes be frustrating, especially at places with a limited menu. That's not the case at these accommodating restaurants, though. At these five places, guests will find huge menus that cater to even the pickiest of palates.
CJ's Crab Shack
Don't let the name fool you: CJ's Crab Shack is home to much more than just crab. Yes, you can get crab in all shapes and forms: crab clusters, crab dip, crab cake … you name it and it's probably here.
But besides crab, CJ's features a large selection of seafood that's sure to impress. Guests can enjoy everything from buffalo shrimp and steamed clams to baked oysters, fish and chips, and seafood pasta; they leave no stone unturned. There are even several non-seafood options like rib eye, wings and sandwiches. No matter who you bring to the fun, CJ's Crab Shack has something for them.
CJ's Crab Shack is located at 600 Ocean Drive, Miami Beach, FL 33139. For more information, visit their official website.
Costa Med
The beauty of Mediterranean food is that it's so diverse, and Costa Med's expansive menu reflects that. The Key Biscayne gem is known for its flavorful fare that pulls influences from all over Europe. Expect a large menu that includes delights like mussels, steak tartare, ceviche, carpaccio, pastas, seafood, meat and more.
Start with items like crab cake pops and calamari, enjoy a light beef carpaccio and then finish off with some lobster ravioli or chicken rotolato. That's just one of many potential ways to navigate the menu. Needless to say, the pickiest of eaters will find something to like here.
Costa Med is located at 260 Crandon Boulevard, Suite 46, Key Biscayne, FL 33149. For more information, visit their official website.
Osteria Del Teatro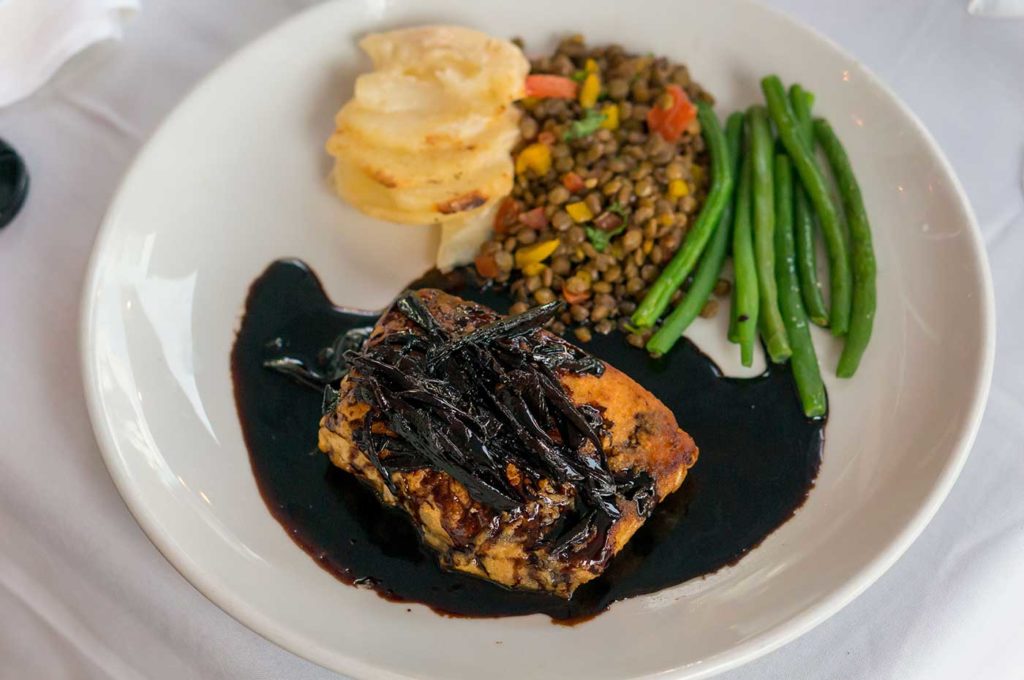 The first thing you need to know about Osteria Del Teatro is that the menu is huge. The Miami Beach Italian restaurant offers an unparalleled selection when it comes to quantity and quality. Grab a seat in the spacious dining room or covered patio, and get ready to eat – a lot.
Cold appetizers, hot appetizers, traditional pastas, specialty pastas, meats and poultry … There's no shortage of selections for you and your picky company to enjoy. Some highlights include spaghetti puttanesca, veal scallopini and Bufala mozzarella. Your server can help you with recommendations as well, and we suggest you take them up on their advice; there's just so many delicious items to choose from, not including an entire selection of off-menu specials.
Osteria Del Teatro is located at 1200 Collins Avenue, Miami Beach, FL 33139. For more information, visit their official website.
River Oyster Bar
River Oyster Bar is another restaurant where the name doesn't tell the full story. While oysters are the main draw at this Brickell hotspot, it offers so much more than the namesake item. Nosh on snapper tartare, shrimp cocktail, squid ink spaghetti, Thai Barbequed ribs and more here.
You can enjoy something on the lighter side like grilled shrimp tacos and tuna poke or something more indulgent like a fried chicken sandwich or clam linguini with pork belly. If your picky friends can't find something on this diverse menu, get new friends.
River Oyster Bar is located at 33 SE 7th Street, Suite 100, Miami, FL 33131. For more information, visit their official website.
Ruby Dee's
Ruby Dee's is changing the food hall game with elevated, creative fare you don't typically find in these venues. The Design District concept is serving up everything from oysters and salt-roasted beet salad to wagyu picanha sandwiches and soft-cooked salmon with corn polenta. Best of all, this quality food won't cost you an arm and a leg. The menu is large compared to other food hall tenants, so picky eaters should have no problem finding something they like here.
Ruby Dee's is located inside MIA Market at 140 NE 39th Street, Miami, FL 33137. For more information, visit their official Instagram.