Any restaurant or bar can serve you a drink. But for something really special, you need to know where to look. The next time you want to unwind after work or grab a drink with friends, consider these five impressive spots.
Buya Izakaya + Yakitori
At Buya in Wynwood, guests will find a mouthwatering menu of Japanese drinks and bites. The family-style selections are designed for sharing but you'll want any adult beverages all to yourself. While Buya doesn't have a full bar, it does offer beer, wine and sake – the latter by itself and in cocktails.
One tasty highlight of the drink menu: the Pan's Labyrinth. This refreshing cocktail is packed with flavor, thanks to the Umeboshi-infused sherry, bushido sake, yuzu, shio syrup and house orange bitters.
Those who want to imbibe on a budget should take advantage of the restaurant's generous happy hour on weekdays from 3 p.m. to 6 p.m. During this promotion, customers can enjoy $4 draft beers, draft sake and wine. Food is also available at a discount: Expect $4 bao buns and karaage chicken.
Buya Izakaya + Yakitori is located at 250 NW 24th Street, Miami, FL 33127. For menu details, visit their official website.
Jaguar Sun
If you like martinis or Manhattans, then Jaguar Sun at Lot 6 will quickly become your new favorite hangout. The Downtown Miami bar has temporarily popped up in Little River until COVID-19 subsides.
Dubbed Sonny's Steakhouse, the steakhouse pop-up concept features an expansive selection of classic drinks. Try a traditional martini or gimlet or get adventurous with a Bamboo (sherry, dry vermouth, orange bitters). Same for the Manhattans: You can stick to the classic or opt for something like the Saratoga with rye, cognac, sweet vermouth and Benedictine.
Cocktails not your thing? No problem, as there's a huge wine list to peruse. No matter what you end up selecting, it's bound to pair well with oysters, ribeye and other tasty selections from Jaguar Sun. One thing's for certain: You won't leave thirsty.
Jaguar Sun is temporarily located at 7357 NW Miami Court, Miami, FL 33150. For menu details, visit their official website.
KYU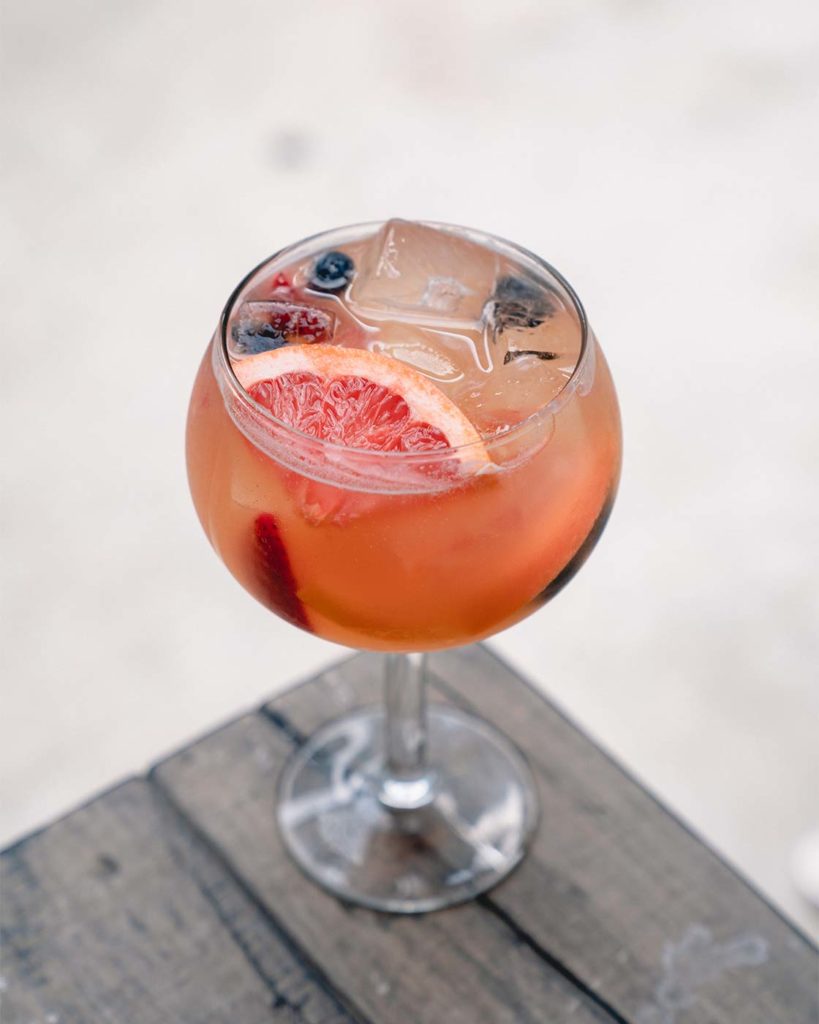 Just down the street from Buya, another Asian-inspired spot is mixing up some great libations. The award-winning eatery KYU is known for elevated fare but knows when to let loose. This is evident in the cocktail menu, which features whimsical options like No Way Rose (strawberry Jasmine tea-infused rum, sake, grapefruit and Rose Wine) and KYU Infinity and Beyond (whisky lovers, take note).
KYU is also home to more traditional offerings like The Wynwood Mule (think Moscow Mule) as well as a range of mocktails like the Yuz-Oolong Way From Home (the name says it all). These fun flavors are sure to pair nicely with the equally fun food menu, with selections like crispy tuna tartare, beef short ribs and Korean fried chicken.
KYU is located at 251 NW 25th Street, Miami, FL 33127. For menu details, visit their official website.
South Pointe Tavern
For a true locals experience, look no further than South Pointe Tavern. The South of Fifth watering hole is the neighborhood hangout; you're going to run into a familiar face or two during any visit. While South Pointe Tavern offers an enticing cocktail list with items like old fashioned and margaritas, the real draw here is the spirits list.
Whiskey and tequila lovers have struck gold here, as the tavern is home to more than 200 whiskeys and 80 tequilas. That's one of the largest selections in town, and it means you'll have to keep coming back for more. Whether you're a Irish whiskey drinker or more of the Canadian or Japanese persuasion, South Pointe Tavern has something for you.
Don't worry: There's plenty of food to help balance the booze. The eatery's menu is a greatest hits of sorts, with bar staples like wings, pretzels, nachos, tacos and other handhelds. Check it out for yourself to see why this place is considered "The Cheers of South of Fifth."
South Pointe Tavern is located at 40 South Pointe Drive, #109, Miami Beach, FL 33139. For menu details, visit their official website.
Toscana Divino
When you first check out the menu at Toscana Divino, it likely won't be the food that first gets your attention. It'll be the wine list: You'll be hard-pressed to find a bigger selection in Brickell (or Miami, really). At this Italian eatery, you have more than 2,000 bottles of predominantly Italian wines to choose from. That's … a lot. Thankfully, the resident sommelier will help guide you toward the perfect bottle (or bottles) for your meal.
While wine is the main focus of the beverage program here, it's not the only star. Cocktails also abound in the forms of smoked negronis, watermelon martinis and other creative concoctions. On the food side, there are too many highlights to list – so we'll let our feature do the talking.
Toscana Divino is located at 900 South Miami Avenue, Miami, FL 33130. For menu details, visit their official website.