In Miami, pasta is a dime a dozen. You can travel a few blocks in any direction, and you'll come across an Italian restaurant before you know it. With the city full of different eateries, it can be tough to find a pasta place that's a cut above the rest. Don't worry: We have you covered. These six spots should be on your radar if you're seeking the best pasta in Miami.
Carbone
New York's Carbone has made the trek down to South Beach, where guests are clamoring for the eatery's signature dishes. The restaurant is known for its red sauce selections, and there's plenty for hungry visitors to indulge in.
Some of the sizable options include calamari, baked clams and pancetta, as well as Carbone's renowned macaroni. Think tortellini al ragu, linguini vongole and fettuccine con funghi. as well as the restaurant's Instagram-famous spicy rigatoni.
The only bad news: Carbone's reservations are all snatched up for the foreseeable future; expect to book your meal at least a month out. It's worth the wait, though.
Carbone is located at 49 Collins Avenue, Miami Beach, Florida 33139. For more information, visit their official website.
Casa Isola Osteria
Casa Isola is another fresh face in the Miami Beach scene. This Italian concept comes from a familiar figure in celebrated chef Jose Mendin, who's known for Pubbelly and its various offshoots. He has teamed up with Brooklyn-born chef Santo Agnello (ex-Lucali) to create Nonna-inspired Italian bites that are already making waves.
The menu runs the gamut from tuna crudo and burrata Panzanella to bucatini alla gricia and veal chop parm. It's a varied menu that is also easy on the bank account: Most prices are in the 'teens and twenties. On Sundays, come extra hungry as the Casa Isola serves a $30 Sunday sauce with short rib meatball, pork rib and Italian sausage.
Casa Isola is located at 1418 20th Street, Miami Beach, FL 33139. For more information, visit their official website.
Osteria Del Teatro
For dinner and a show, look no further than Osteria del Teatro. For years, the 1200 Collins Avenue restaurant has provided quality Italian cuisine with a front-row view to South Beach's crazy cast of characters.
Sit on the patio and dig into wild-mushroom polenta and an array of traditional pastas that will have you coming back again and again. On the menu are signatures like agnolotti al pesto, rigatoni polpette and penne alla vodka.
Feeling adventurous? Consider the specialty pastas that include the likes of spaghetti alla dino, casonsei all bergamasca and other lesser known options sure to surprise you. There's even a secret "verbal" menu full of delicious fare, too – if you know, you know.
Osteria del Teatro is located at 1200 Collins Avenue, Miami Beach, FL 33139. For more information, visit their official website.
Riviera Focacceria Italiana
Over on the mainland, Riviera Foccaceria Italiana is serving up serious pasta and Italian delights. The Midtown Miami institution has stood the test of time and for good reason: The entire menu is a winner.
Begin your experience with the restaurant's namesake focaccia, which is comprised of two layers of homemade dough with imported stracchino cheese. It will hit your table and be gone before you know it; everyone will be fighting for it.
Once you've had a taste of this life-changing dish, it's time to load up on the eatery's plentiful pastas. All the classics are here like lasagna, orecchiette ai broccoli and bucatini all'Amatriciana. You won't find anything too out of the ordinary at Riviera, but everything is just done oh so well. It's no wonder this spot is a local favorite.
Riviera Foccaceria Italiana is located at 3252 NE Buena Vista Boulevard, Suite 110, Miami, FL 33137. For more information, visit their official website.
Toscana Divino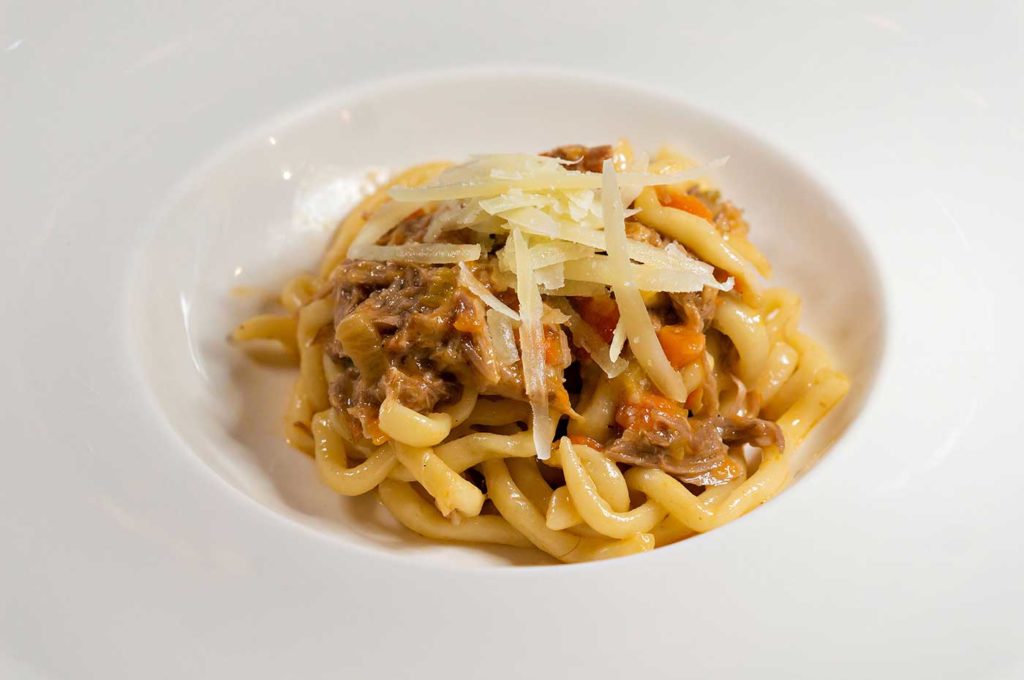 Toscana Divino is another institution that has wowed locals and visitors alike for years. Toscana Divino deserves its status as the centerpiece of Mary Brickell Village. It's hands down one of the best places in the city for Italian food.
Items like the burrata caprese and crab salad masterfully prepare your palate for the rainbow of flavors to come from Toscana's signature pastas. Two highlights are the tortelli ricotta and spinach – a simple dish with complex flavors – and the maccheroni sugo Toscano, whose braised beef ragu is ::chef's kiss:: Multiple visits are in order for this Italian powerhouse.
Toscana Divino is located at 900 South Miami Avenue, #185, Miami, FL 33130. For more information, visit their official website.
Zucca
Those familiar with Hotel St. Michel in Coral Gables know that its restaurant space has been a revolving door for a while now. One concept opens only to close a few months later – rinse and repeat. Thankfully, the hotel has found its footing and broken the curse with Zucca, which has made a name for itself with its authentic regional Italian cuisine.
You'll find a mix of tried-and-true pastas along with some succulent signatures like the sedanini al sugo with beef tenderloin – an absolute must. Be on the lookout for daily specials, too, as the kitchen is always coming up with creative fare.
Zucca is located at 162 Alcazar Avenue, Coral Gables, FL 33134. For more information, visit their official website.