Outdoor dining has never been more desirable after being cooped up inside for months. Luckily, plenty of restaurants in Miami and Miami Beach are opening their doors for in-person dining again and although it will require some adjustments, we are literally hungry to get back out there and support them. Here are the 16 best restaurants with outdoor seating in Miami.
Brickell
Osaka
Frequented by Miami's elite and epicureans is the city's very own Osaka Nikkei. With nearly 20 years of experience under its belt, the restaurant doesn't fail to provide superlative Nikkei cuisine. Picture the freshest cuts of fish prepared using masterful Japanese technique, plated with a rainbow of luscious Peruvian sauces, spices, and fruits.
Besides cozy inside dining and an exceptional quality omakase take-out menu, Osaka also offers invigorating outside dining on their covered patio. Enjoy your meal in the candlelight, surrounded by lush flora and cooling fans. The lounge seating makes the outdoor terrace the ideal destination for friendly gatherings and dates.
The bar at Osaka is so well-stocked, you might forget all about the main attraction to come. On the menu, there's Japanese beer, whiskey, and gin. Peruvian Pisco. Mexican Mezcal and Tequila. A fine selection of local liquors. The most delightful craft cocktails meshing the two cultures. Plus, a pervasive list of sake and global wines.
To pair with the sips is a menu crafted by critically acclaimed chefs Juan Urrutia and Rogger Quispe. Each dish pays due respect to its Nikkei roots. Sharing is recommended as choices are plentiful, and each dish enticing. Specialties include torched scallop nigiri with truffle butter and tuna ceviche with a rocoto-yuzu sauce. A most elegant experience for the senses!
1300 Brickell Bay Dr, Miami, FL; (786) 627-4800; osakanikkei.com
Toscana Divino
Just thinking about Toscana Divino brings smiles to all who have happened to cross its glittery path. They're getting it done, on every scorecard: etiquette, flavor, atmosphere, sustainability. Nestled in Miami's Brickell neighborhood, the well known authentic Italian eatery has made guests of many, from celebrities to sports stars. They've even been awarded the highest mark of authentic Italian cuisine possible in the US. And what's best is that the fluff has no bluff. At all.
Inside the magnetic diner feels collective and thriving, all the while imbuing a high-class hush. The wood grain on the chairs and tables reflect Toscana's close-to-Earth philosophy and add to the food's already warming appeal. The outdoor seating reminded us of old Italian film scenes — public and inviting, yet spacious and homely. It's like having a bunch of private parties within a bigger party. And, within the air of the surrounding city, you can have the best of both atmospheres.
Local and sustainable is the name of the game, so courses vary with the season, leaving plenty of discretion for local diners. For the Fall/Winter favorites this year, feast your eyes on the Crab Salad, Octopus Puttanesca, or the classic, Lasagna. As for the beverages, organic boutique or family-run vineyards with strict quality mandates are preferred. Ask a specialist to aid you when pairing a glass with your dish.
Although bar and crowding restrictions were augmented in light of the pandemic, the hospitality at Toscana Divino is as heartfelt as ever.
900 S Miami Ave, Miami, FL 33130; (305) 371-2767, toscanadivino.com; Open Mon-Fri, noon-10 p.m.; Sat 5-10 p.m.
Coconut Grove
Glass & Vine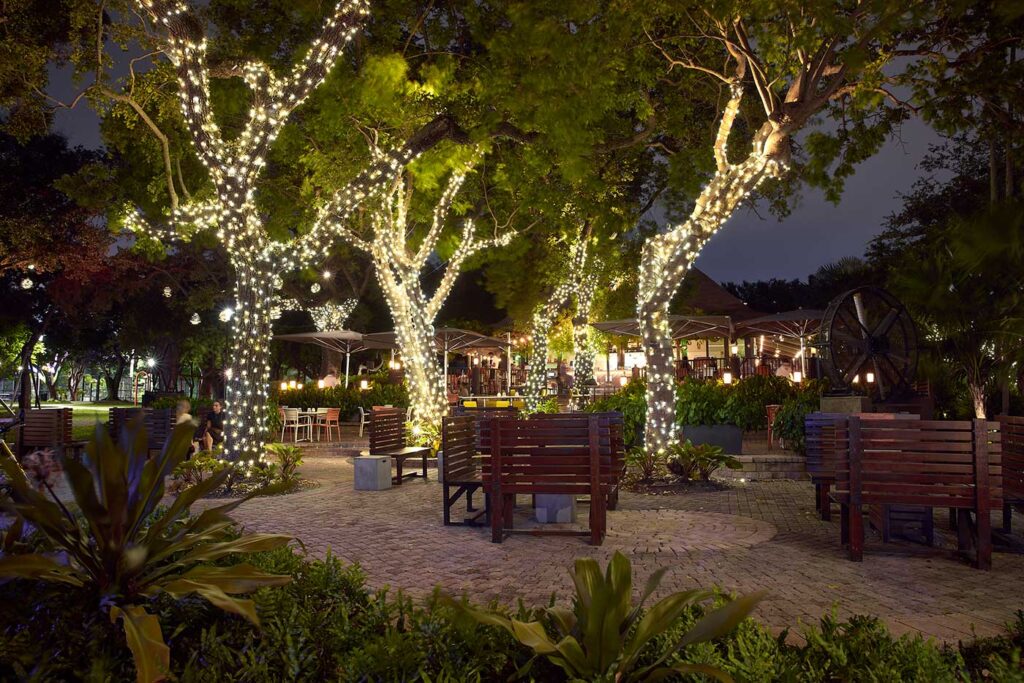 This oasis eatery with its lush outdoor patio provides shade and respite from those hot summer days or a romantic dinner under the stars. Named Best Restaurant in Coconut Grove by Miami New Times (2018), its dishes are made from locally sourced ingredients and inspired by the incredible views of nearby Biscayne Bay and Peacock Park. Weekday happy hours plus Wine Down in the Park on Mondays and Tuesdays (half off all bottles of wine) will entice you to come by after work, or wait until Saturday to brunch and bask in this intimate garden.
2820 McFarlane Road, Miami; (305) 930-6975; glassandvine.com
GreenStreet Café
In the heart of Coconut Grove with a bit more bustle, GreenStreet Café is a great spot to eat, drink, and people watch. Its lively atmosphere and breakfast, lunch, and dinner menus make it a popular draw for locals (often of the celebrity variety) and tourists exploring Miami's oldest neighborhood. No matter when you pass by this shady corner of the Grove, it's hard to resist a boisterous crowd enjoying a good meal and plentiful drinks.
3468 Main Highway, Miami; (305) 444-0244; greenstreetcafe.net
Coral Gables
Clutch Burger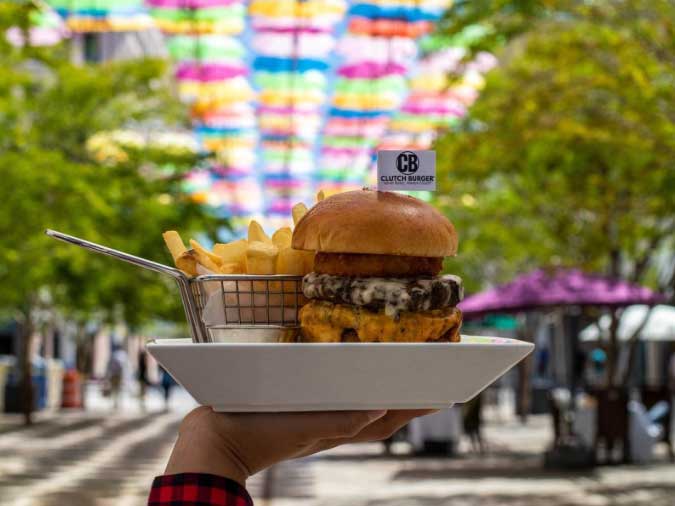 Giralda Plaza has become Instagram-famous for its public art installations (remember the umbrellas in 2018?). The pedestrian-friendly block has just about every type of food you could crave, but for the best burgers and local craft beers head to Clutch Burger. Their love of all things burger is evident in every bite as they experimented with different flavors to come up with unique creations. Pair your favorite with a cold brew in a relaxing outdoor setting and you've got the perfect meal.
146 Giralda Avenue, Coral Gables; (305) 400-8242; clutchburger.com
Sawa Restaurant and Lounge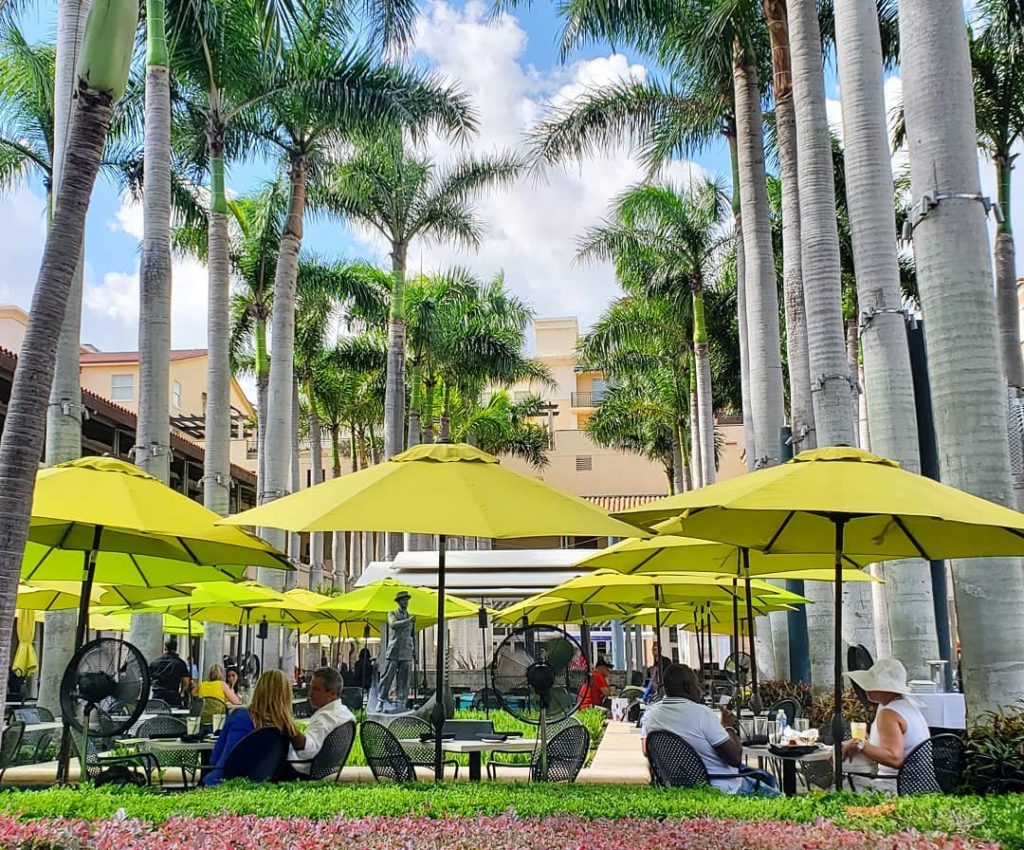 Located in one of the best spots for people-watching, Sawa sits at the center of The Shops at Merrick Park, with a sprawling outdoor patio. There are swaying palm trees, and colossal umbrellas offering a pleasant respite from the sun. The menu is a synchronized dance of Mediterranean and Japanese fare, which is accompanied by specialty cocktails, beer, wine, and sake. You will want to enjoy a breezy happy hour here and plan to stay a while, as the Japanese-Mediterranean concept is meant for sharing. In fact, "Sawa" translates to "harmony" in Japanese, and we cannot think of a better word to describe the terrace at this outdoor dining gem.
360 San Lorenzo Avenue, Coral Gables, (305) 447-6555; sawarestaurant.com
Miami Beach
Call Me Gaby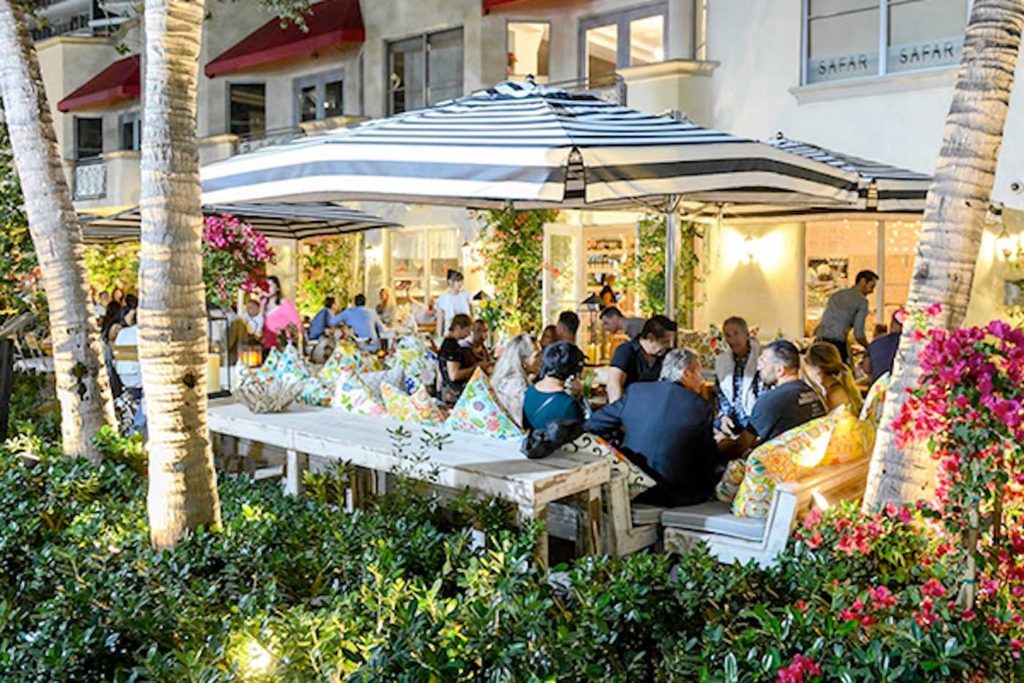 In the tranquil, chic neighborhood of SoFi, Call Me Gaby is the place for authentic Italian cuisine and al fresco dining. But Call Me Gaby isn't just a restaurant, it's an experience of casual yet elegant dining. This hotspot prides itself on a simple, authentic and fresh menu, a sophisticated wine selection and stylish surroundings. Pinsa Romana-style pizzas, each named for a fabulous woman, are hand-crafted by highly skilled and trained Italian chefs.
22 Washington Avenue, Miami Beach; (305) 531-4800; callmegaby.com
Lilikoi Organic Living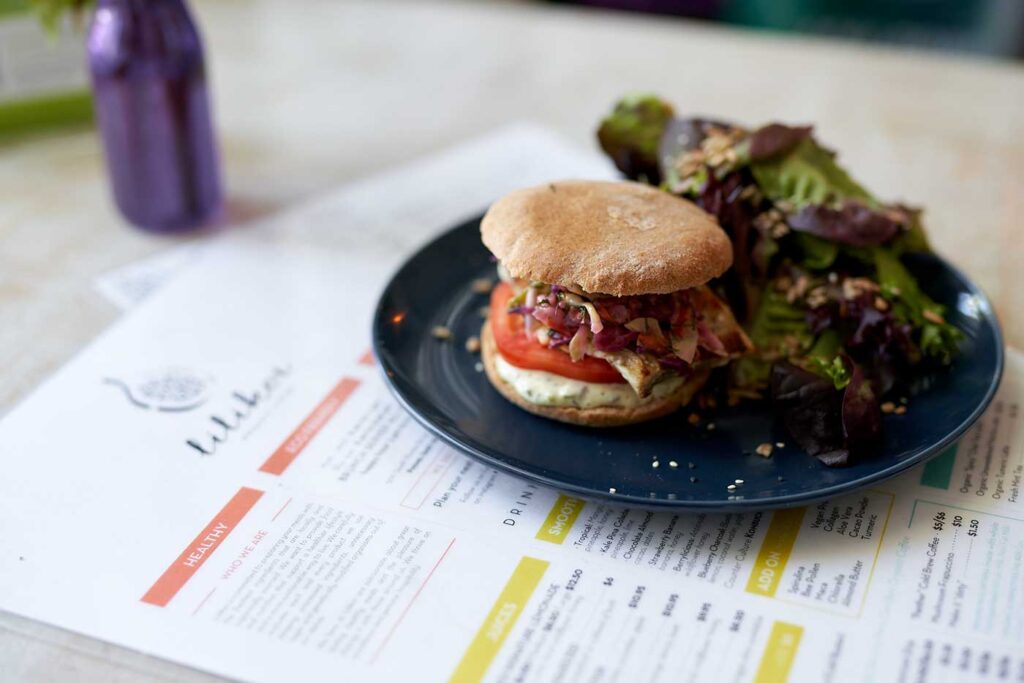 Lilikoi Organic Living has always placed great importance on the community's safety and well-being, even pre-COVID times. It's to no surprise the amount of effort they have been putting into the establishment as of late. Nowadays, the communal tables might not be as lively as before. However, the restaurant's outdoor seating provides a cozy atmosphere to match the inside interior. Dainty furniture lines the outside of the extended patio area where diners are surrounded by lush greenery and shielded from potential rainy weather. Just steps away from South Pointe Beach, health-conscious Miamians are sure to get a good dose of sea breeze alongside their meal.
The cuisine at Lilikoi is a hug for the body and soul. All ingredients are responsibly, sustainably, and locally sourced (often from community farmers in the area). The menu aims to include every and any diet group you can find in Miami, making it the perfect spot for friends of all food preferences to gather. Finally, a place you can bring your vegan friends! (Or the other way around). The diverse menu is filled with mouthwatering options like the Mahi Mahi Burger with homemade tartar sauce, the Fresh Catch BLT, and Vegan Carbonara with mahogany smoked "bacon".
We think the outdoor patio is the ideal spot to enjoy the restaurant's breakfast in the fresh air. Grab yourself a table and enjoy the gluten-free quinoa waffles served with a generous serving of coconut whip, nuts, and honey. They're all the rage! For drinks and sips, kombucha is on tap, juices are fresh-pressed in house, and the organic coffee is done right.
500 South Pointe Dr., Miami, FL; (305) 763-8692, lilikoiorganicliving.com
Lobster Shack
Steps away from South Pointe Beach, we've got the folks over at Lobster Shack serving up loaded buttery seafood rolls plus much, much more. And who wouldn't want to enjoy the ultimate seafood feast with the fresh ocean air breezing by? Although serving up classic New England fare, spots like this are what make people make the trip down to Miami from states up north. It's the spot for a laid-back afternoon out in the fresh air. The space is as down-to-earth as the menu. Inviting bistro-style seating surrounds the area outside of the eatery and is conveniently covered in case of rainy weather.
The family-run business has over 96 years of experience under its belt, and it certainly shows. The seafood is fresh and prepared with love, the portions are generous, and the prices are very friendly. Perhaps the three pillars of longevity in the fast-paced world of Miami eateries. It's hard to choose favorites, but some absolute musts are the Classic Lobster Roll, King Crab Rol, Blackened Shrimp Tacos, and fresh-shucked East Coast oysters. Pair it up with a draft beer from their rotating selection, and you're good to go!
40 South Pointe Drive, Miami Beach, FL; (305) 763-8230, lobstershackmiami.com
MILA
The team over at MILA Miami knows how to create a mood. Everything from the food to the cocktails and even the interior is an experience. Sitting up on the Lincoln Road rooftop, they'll have you feeling like you're at a 5-star Bali resort. Founders Gregory and Marine Galy aimed to create an ambiance that lets you feel Eudaimonia. A feeling of happiness and content — in that freeing way similar to when you're traveling. We'd say they nailed it.
The outdoor terrace can host up to 100 people and is coined as an open sky sanctuary. Enjoy your meal surrounded by the establishment's zen water feature, greenery, and open skies. If you come with a small group, you might want to opt for a table in one of the tranquil cabanas. V by MILA is also located outdoors — MILA's signature theatrical cocktail performance lead by award-winning mixologists, meant to be enjoyed with the five senses: sight, sound, smell, taste, and touch.
The Mediterranean-Asian food menu is perfect for sharing. Tapas, crudo, tataki, and tartare are offered for appetizers and prepared fresh in front of guests. Notable mains include steamed, poached, or robata-style fresh fish as well as Japanese A5 Wagyu steak. You just choose the travel destination, and MILA will take care of the rest. Since their recent re-opening, the restaurant has been doing an excellent job of not cutting people short of the MILA journey while adhering to strict COVID-19 safety protocols.
1636 Meridian Avenue Rooftop Miami Beach, FL; (786) 706-0744, milarestaurant.com
Shucker's Waterfront Grill
You may never know it by driving past the Best Western in North Bay Village, but hidden out back is probably one of the best views and chill restaurants in Miami. At Shucker's Waterfront Grill, you can kick back with a bucket of cold beer, their famous chicken wings and fresh oysters. If you're lucky enough to have a boat, you can even dock and dine. This is truly what dining in Miami is meant to be.
1819 79th Street Causeway, North Bay Village, (305) 866-1570; bestwesternonthebay.com/shuckers-waterfront-grill
Villa Azur
Ah, Villa Azur. After hours of basking in the Mediterranean-themed courtyard, reclining on cream-colored loveseats, and sipping Grand Cordon Brut, you might be in for a shock when stepping back out onto the streets of Miami Beach. Like no other, the masterminds behind this haute French restaurant know everything about creating an atmosphere adjacent to their home of Cote D'azur.
The romantic French villa patio was made for sunny brunches and intimate candlelit dinners. Rated numerous times as the best outdoor dining in Miami, the open space is ideal for a get-together on a quarantine afternoon. After all, the terrace is spacious and social distancing is not a problem. Notably, this is also one of the best places for some people watching, getting a feel for where the city's crème de la crème might find themselves on a Saturday.
Elegance exudes not only from the location but also from the cuisine, which is often the main selling point for Miami's gastronomers. Dishes resemble fine art paintings and offer an explosion of modern flavors and traditional warmth. Baked Bucheron cheese arranged atop filone toast, accompanied with butternut squash and honey, is a delectable starter one might find on their table during the cooler winter evenings. While Apple Crab Louie with a zesty avocado mash and fennel salad added alongside Whole Roasted butter-herb-crusted Chicken is sure to complete the perfect banquet.
More wine and a housemade Nutella Mousse studded with fresh berries will bring a dazzling finish to the most chic of Miami evenings. Especially if you're lucky enough to catch the DJ spinning.
Midtown
Sugarcane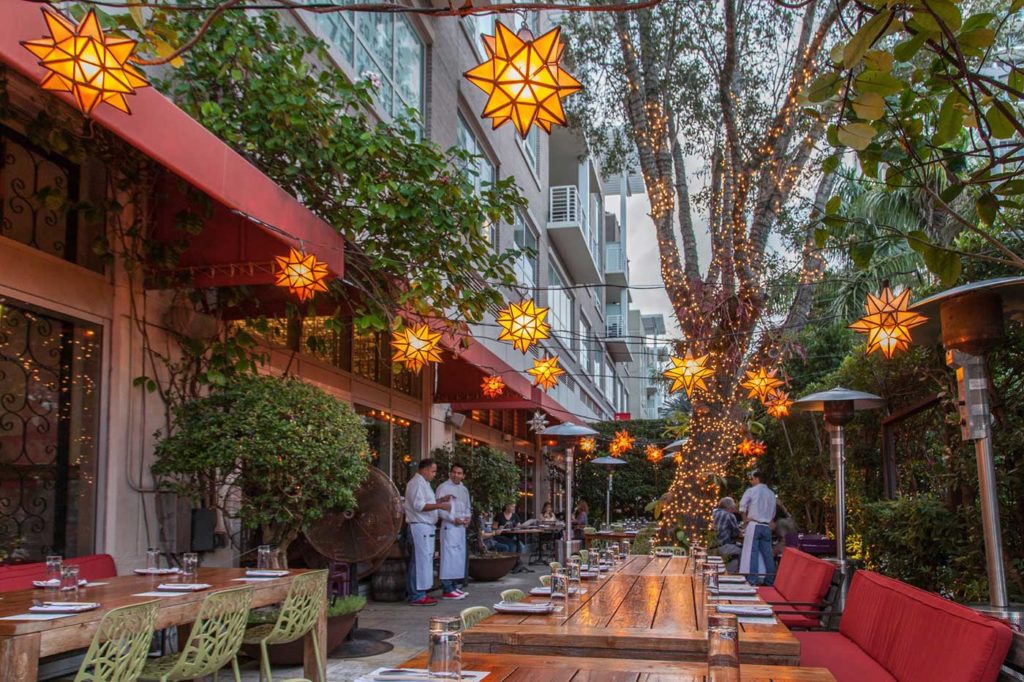 Sugarcane's highly popular happy hour is best enjoyed in the beautiful garden terrace with lantern lights, tropical fans and tree canopy. No matter where you sit at the indoor-outdoor bar you will delight in fresh air and refreshing cocktails. The range of their menu allows for sampling and sharing. Pick a dish from the sushi & raw bar, open fire grill, or traditional kitchen, or from all three – small or large plates that are classic yet innovative in style and flavor.
3252 NE 1st Avenue, Miami; (786) 369-0353; sugarcanerawbargrill.com
Lagniappe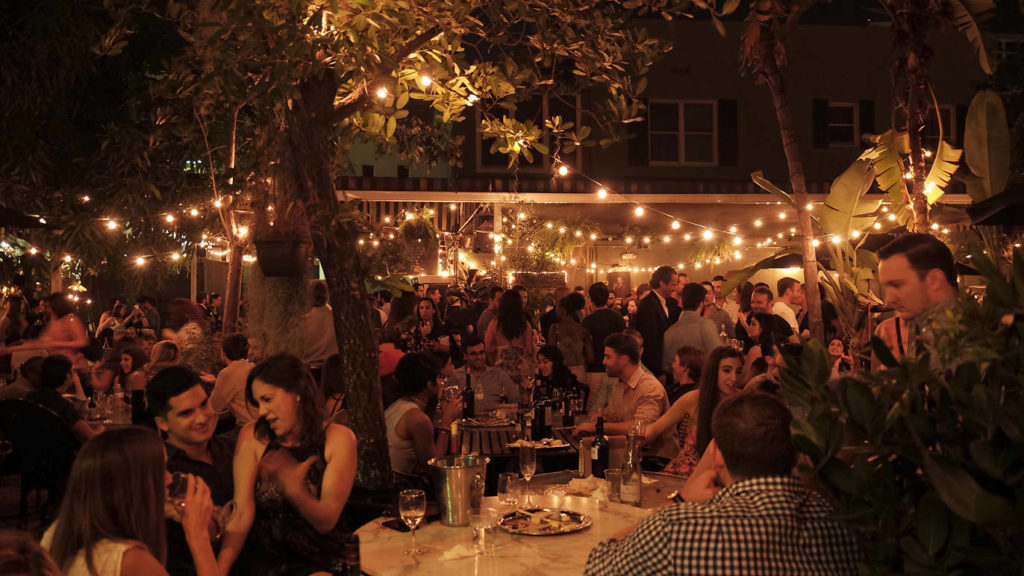 Lagniappe is an out-of-the-way favorite for its mind-blowing selection of wines from all over the world. If you're new to wines, one of their "connoisseur" servers can point you in the right direction based on your personal tastes. The outdoor patio feels like a picnic gathering with friends – mismatched chairs and tables are part of the charm. Best of all, nightly live music completes the lively ambiance of this New Orleans-style jazz haunt.
3425 NE 2nd Avenue, Miami; (305) 576-0108; lagniappehouse.com
Wynwood
Le Chick
This cozy-chic eatery is obsessed with creating the best rotisserie chicken and burgers. The founders were inspired by Rotisserie Amsterdam's creations and wanted to bring their own mélange of flavors to Miami. In 2020, popsugar.com named it the best place to get a burger in Florida. If the dry-aged brisket, crispy buttermilk fried chicken, or pulled barbecue ribs in their creative sandwiches don't make your mouth water, nothing will. The unique outdoor area captures the sophisticated yet casual vibe and is the ideal place to try their craft cocktails.
310 NW 24th Street, Miami; (786) 216-7086; lechickrotisserie.com
Wynwood Kitchen & Bar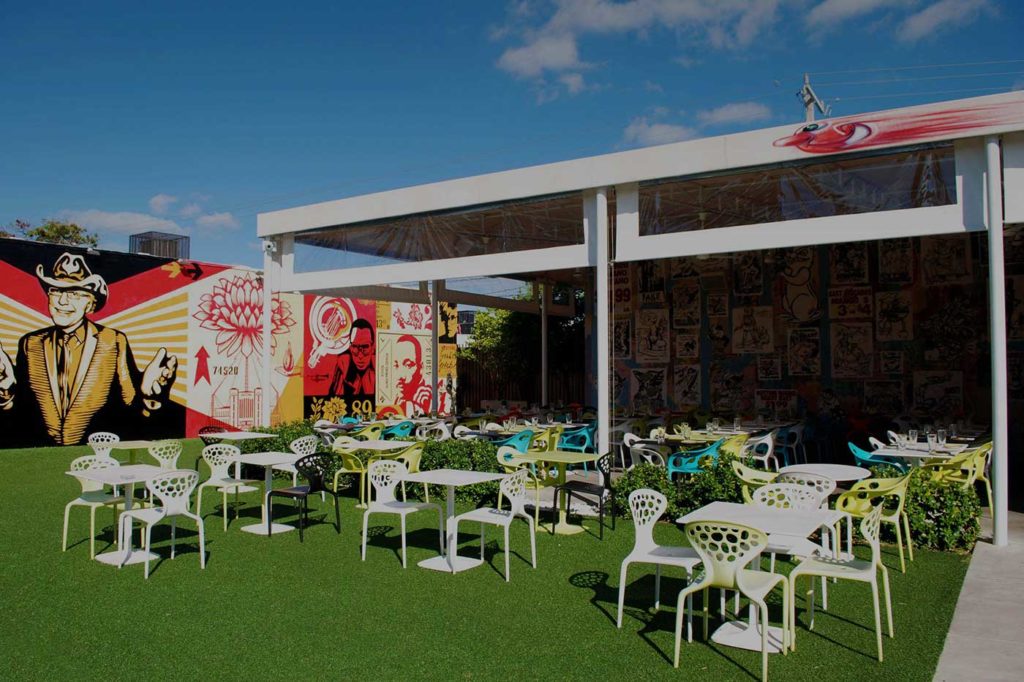 Wynwood Walls is arguably the place that put Wynwood on the map in Miami, so naturally, Wynwood Kitchen & Bar is the most famous eatery in the neighborhood. Dine in the patio surrounded by graffiti masterpieces by renowned street artists from around the world. It is a feast for your eyes as you feast on Latin-inspired bites served tapas-style. When you're done, stroll through the rest of the complex admiring the eye-popping murals.
2550 NW 2nd Avenue, Miami; (305) 722-8959; wynwoodkitchenandbar.com
Head over to Miami Curated for more outdoor dining options in Miami.