Every foodie's favorite time of year, Miami Spice has come early this year. Because we know you can't wait to dig into all that discounted goodness, we've put together a guide to some of the best Miami restaurants offering Spice deals from June 1 through September 30. They're all organized by neighborhood, so you can start planning at a restaurant near you.
Brickell/Downtown
Esotico Miami
It's always tiki time at this Instagram-worthy hotspot, where the drinks and the dishes taste as good as they look. Esotico's Miami Spice dinner menu includes palate-pleasing options like beef cho cho, crispy spring rolls, sweet and savory Hawaiian fried rice, and a tantalizing lilikoi cheesecake. And that's not all—you'll also receive a Polynesian-inspired welcome cocktail to kick off the experience.
Details: 1600 NE 1st Avenue, Suite 102, Miami, FL 33132; 305-800-8454; esoticomiami.getbento.com.
Luna Park
This 40,000-square-foot food hall is home to all things Italian—from restaurants, cafes, and bars to markets, a wine shop, and even a cooking studio you can reserve for special events and occasions. Right now, Luna Park is offering exclusive Miami Spice menus for both lunch and dinner that include some of the top-rated dishes across its many concepts. Polpette al sugo, anyone?
Details: Brickell City Centre, 601 S Miami Avenue, Ste. 181-C; 305-720-2401; lunapark.com.
PEZ
Chef Javier Plascencia—the pioneer of the Baja culinary movement—helms PEZ, where the food blends Mexican ingredients with a delicious Mediterranean twist. You can taste the best this downtown eatery has to offer by opting for their Miami Spice dinner menu; it spotlights signature dishes like chile relleno de marlin, ceviche de lentejas, dulce de leche pot cream and more.
Details: 20 West Flagler Street, Miami, FL 33130; 305-570-3440; pezmiami.com.
Best Miami Spice Restaurants in Coconut Grove
Glass & Vine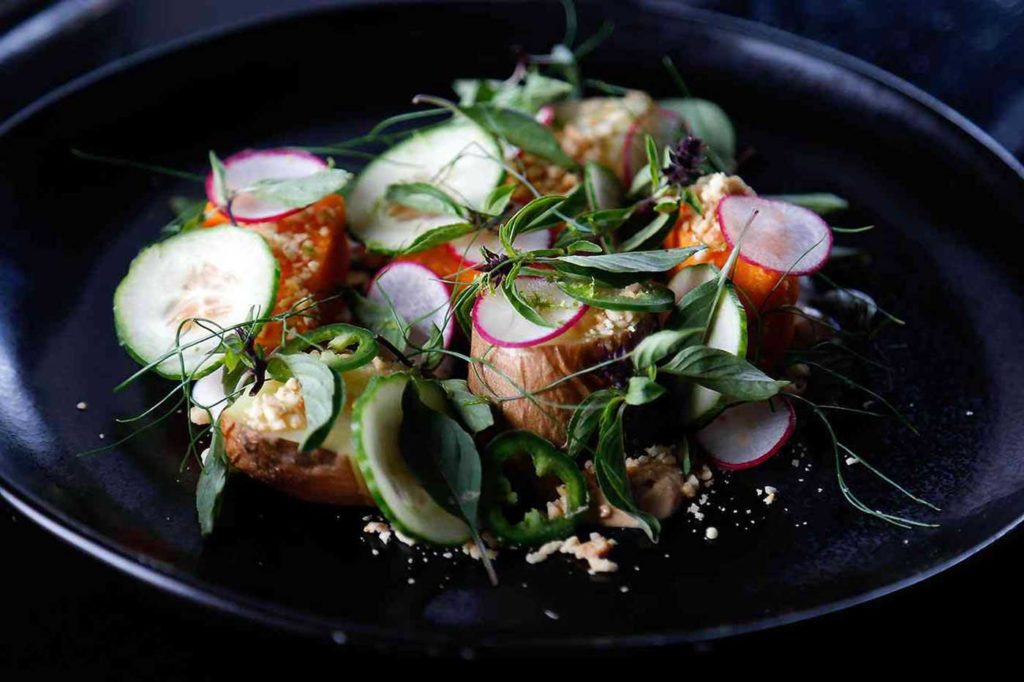 This popular restaurant by Chef Giorgio Rapicavoli is one of the best places in Coconut Grove to enjoy a meal al fresco. Located in beautiful Peacock Park, it features a menu inspired by Florida cuisine and infused with global influences. Glass & Vine is currently offering Miami Spice specials for both lunch and dinner, and each menu has plenty of tasty options to get excited about — like their famous sweet potato tater tots and decadent flan de coco.
Details: 2820 McFarlane Road, Miami, FL 33133; 305-200-5268; glassandvine.com.
Jaguar Latin-American Kitchen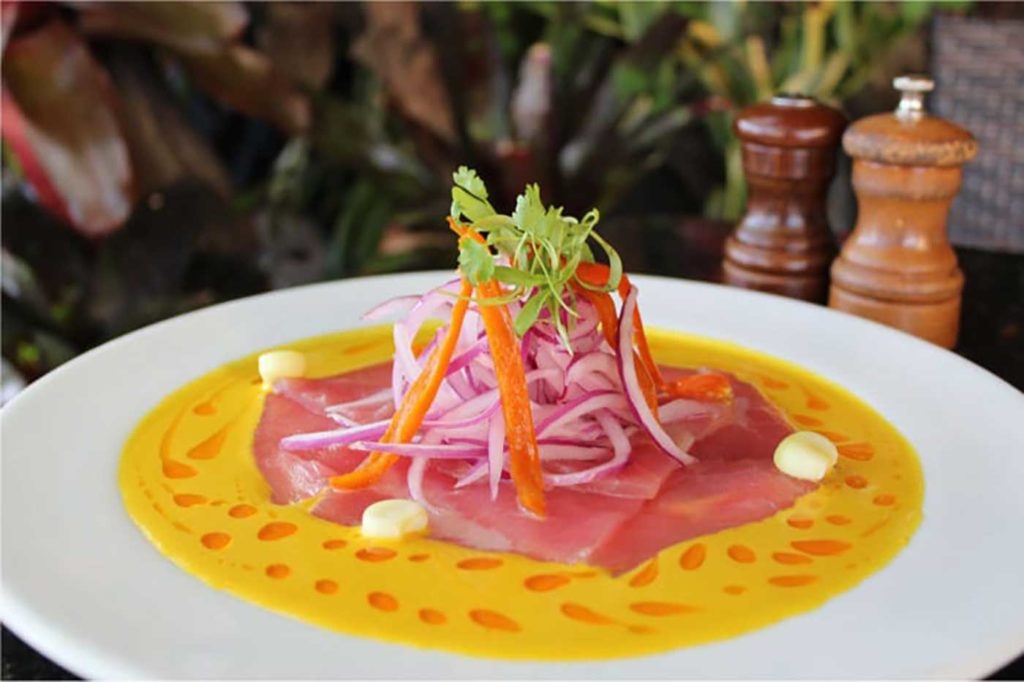 If you're craving Latin flavors, it doesn't get better than Jaguar Latin-American Kitchen. The ceviches, salsa, and meat dishes here are incredible, and some of the hottest menu items will be available on their Miami Spice menu, coming soon. Whatever you order, make sure you pair your meal with some tasty cocktails from the drink list.
Details: 3067 Grand Avenue, Coconut Grove, FL 33133; 305-444-0216; jaguarrestaurant.com.
Peacock Garden Bistro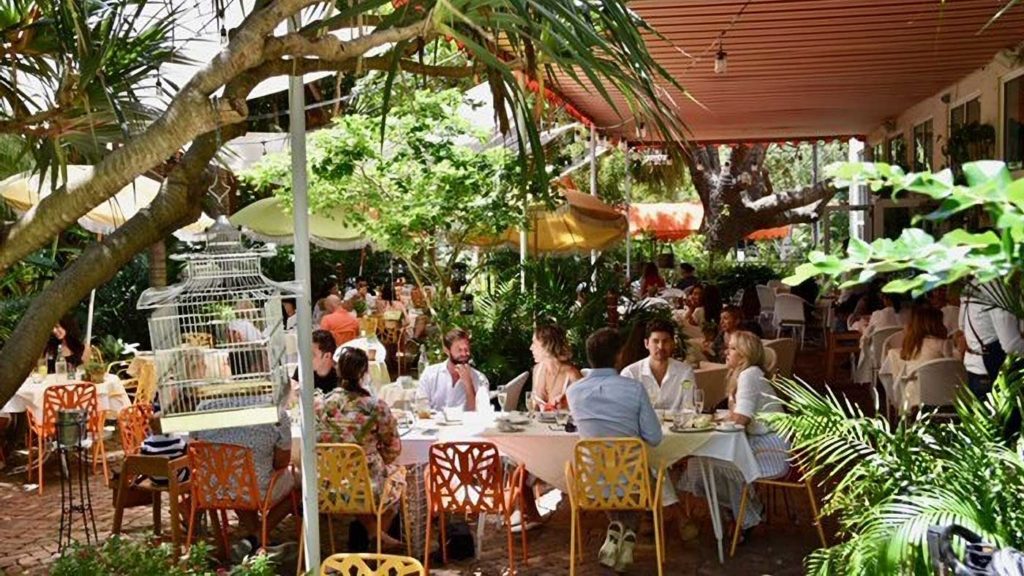 Also debuting its Miami Spice menu soon, Peacock Garden Bistro is a great option for anyone looking to dine outdoors. The dishes are globally inspired, and the seafood, pasta, and steak entrees consistently score top marks among even the pickiest eaters.
Details: 2889 McFarlane Road, Coconut Grove, FL 33133; 305-774-3332; peacockspot.jaguarhg.com.
Best Miami Spice Restaurants in Coral Gables
Brasserie Central
Brasserie Central was Miami's first authentic Parisian brasserie, and it's the perfect place to visit if you're looking for homemade French fare prepared with rustic, Old World flare. Think fragrant fresh-baked bread, hearty onion soup, and garlicky escargots. Brasserie Central's Miami Spice dinner menu has something for everyone, including beef bourguignon, truite almandine, and decadent crepes Suzettes.
Details: Shops at Merrick Park, 320 San Lorenzo Avenue, Suite 1205, Coral Gables, FL 33146; 786-536-9388; brasseriecentralmiami.com.
Sawa Restaurant and Lounge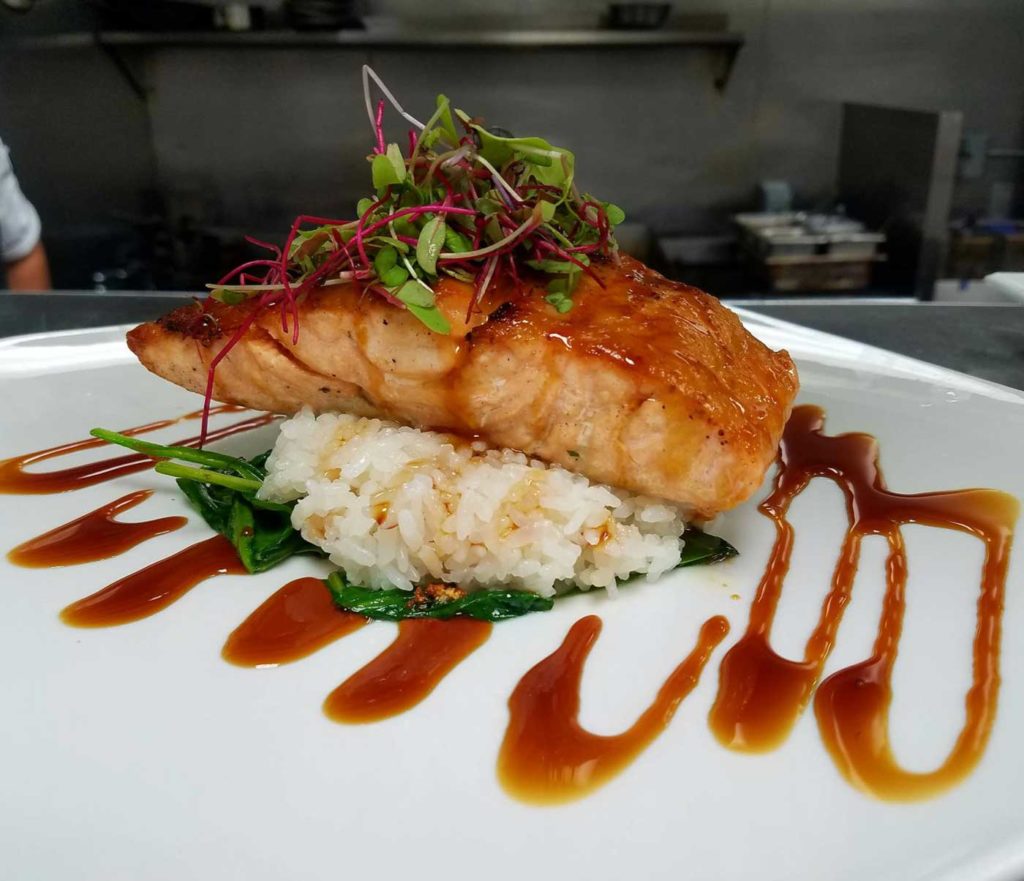 Mediterranean and Japanese flavors come together at this beloved Merrick Park restaurant and hookah lounge, where you'll find all kinds of tapas, kebabs, sushi rolls, and more to feast on. The ambiance here also makes it worth a visit—in the evenings, professional belly dancers charm guests in the outdoor patio, and the fruity aroma of shisha perfumes the air. If you dine in during the day, ask for Sawa's Miami Spice lunch menu, which includes classic dishes like the restaurant's popular hummus duo, malfouf salad, Two Timing sushi roll, and homemade baklava. Sawa's Miami Spice dinner menu features tasty entrees like Mediterranean duck a la bleu, miso salmon, and The Snob sushi roll.
Details: Shops at Merrick Park, 360 San Lorenzo Avenue, Suite 1500 Coral Gables, FL 33146; 305-447-6555; sawarestaurant.com.
Talavera Cocina Mexicana
This Mexican mainstay in Coral Gables is offering three Miami Spice menus — one for brunch, one for lunch, and one for dinner. If you come in for brunch, try the enmoladas de pollo or the steak and eggs rancheros. During lunch, it's all about the shrimp al ajillo and the creamy house flan. And at dinnertime, start with the queso fundido and make your way to the beef in mole coloradito. Dessert is a tantalizing bread pudding drowned in Mexican-style caramel.
Details: 2299 Ponce de Leon Boulevard, Coral Gables, FL 33134; 305-444-2955; talaveracocinamexicana.com/
Best Miami Spice Restaurants in Miami Beach
Stiltsville Fish Bar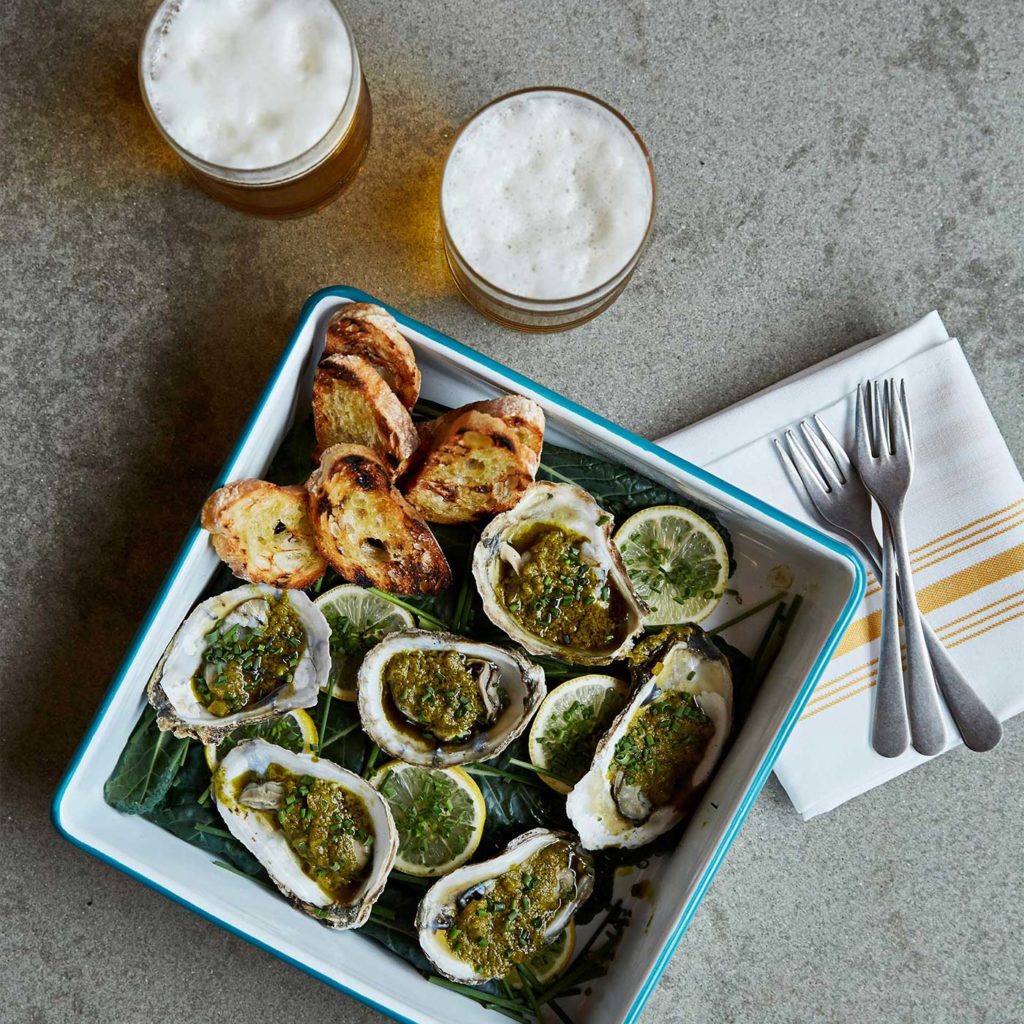 Calling all seafood lovers—this is the perfect spot to savor a Miami Spice menu that highlights gems from local waters. Led by culinary power duo Jeff McInnis and Janine Booth, Stiltsville Fish Bar draws on McInnis' childhood growing up along the Gulf in Florida's panhandle region. At Stiltsville, you can enjoy Miami Spice menus for lunch and dinner that feature ocean-fresh comfort food like smoked fish dip, baked oysters, pan-seared fish n' grits, grilled octopus, and of course, creamy coconut key lime pie.
Details: 1787 Purdy Avenue, Miami Beach, FL 33139; 786-353-0477; stiltsvillefishbar.com.
Sushi Garage
Tradition meets modern flare at Sushi Garage, housed in a former auto body shop on West Avenue in Miami Beach. Locals flock here for the hamachi jalapeno crudo, the chicken-shrimp dumplings, and the house special yaki soba. You'll find all three on this year's Miami Spice dinner menu. The cocktails here are also delicious, so make sure you ask for a drink list.
Details: 1784 West Avenue, Miami Beach, FL 33139; 305-763-8355; sushigarage.com.
Villa Azur
You don't have to leave Miami to take a trip to the Med. Villa Azur's romantic ambiance will whisk you away to St. Tropez — just tell them to keep the Aperol Spritzes coming. For an extra special date night, ask for a table in their lush outdoor garden and a Miami Spice dinner menu. This year's Spice offerings include a crisp and refreshing watermelon tomato salad, seared branzino, tender chicken picatta, and classic tiramisu, to name a few options.
Details: 309 23rd Street, Miami Beach, FL 33139; 305-763-8688; villaazurmiami.com.
Best Miami Spice Restaurants in South Miami
Mi'Talia Kitchen and Bar
Mi'Talia Kitchen and Bar has carved out a reputation among foodies for its contemporary twist on traditional Italian cuisine. Think of it as your favorite neighborhood Italian eatery, with a dialed-up menu of Old World dishes crafted with a New World approach. On their Miami Spice lunch menu, you'll find a refreshing fennel and citrus salad sprinkled with pine nuts, hearty bucatini carbonara served with crispy pancetta, and rich Italian gelato. On their Miami Spice dinner menu, you'll get to try options like the golden-fried fritto misto and thin-sliced steak carpaccio, a truffle-crusted filet mignon, and a creamy baked ricotta cheesecake swirled on an amaretti cookie crust with sweet strawberry compote.
Details: 5958 S. Dixie Highway, Miami, FL 33143; 305-885-4008; mitaliakitchen.com.
Root & Bone
One of the best places for Southern cooking in South Miami is Root & Bone. Their warm pimento cheese dip, drunken deviled eggs, and fried chicken sandwich are all on their Miami Spice lunch menu, while their Miami Spice dinner menu includes creamy shrimp and grits, barbecue bruleed spare ribs, watermelon and farmer cheese salad, and Root & Bone's legendary sweet tea brined fried chicken. If you have a sweet tooth, don't miss out on their red velvet cake. And make sure you pair your meal with a cocktail from the bar, like the gin- and Aperol-infused Ella Fitzgerald, the mezcal-forward Heavens to Betsy, and the bourbon- and blackberry-spiked Bad Moon Rising.
Details: 5958 South Dixie Highway, Miami, FL 33131; 786-785-1001; rootnbonemia.com.
Best Miami Spice Restaurants in Wynwood and Miami Design District
doma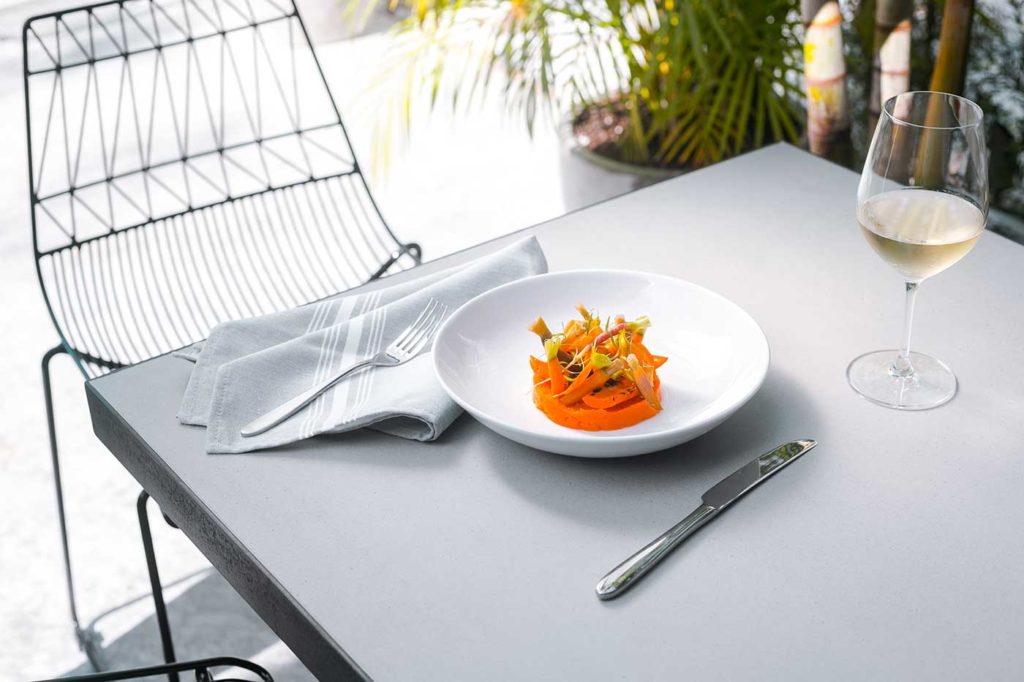 When it comes to tasty and authentic Italian eats in Wynwood, doma checks all the boxes. The menu here shines a light on locally sourced seasonal ingredients, namely fresh seafood. Try their Miami Spice lunch menu, which includes standout dishes like branzino "acqua pazza," eggplant parmigiana, and paccheri octopus ragu, or their Miami Spice dinner menu, which includes doma's beloved pennone alla Genovese and refreshing vanilla pannacotta.
Details: 35 NE 26th Street, Wynwood, FL 33137; 786-953-6946; domawynwood.com.
Maska Indian Kitchen & Bar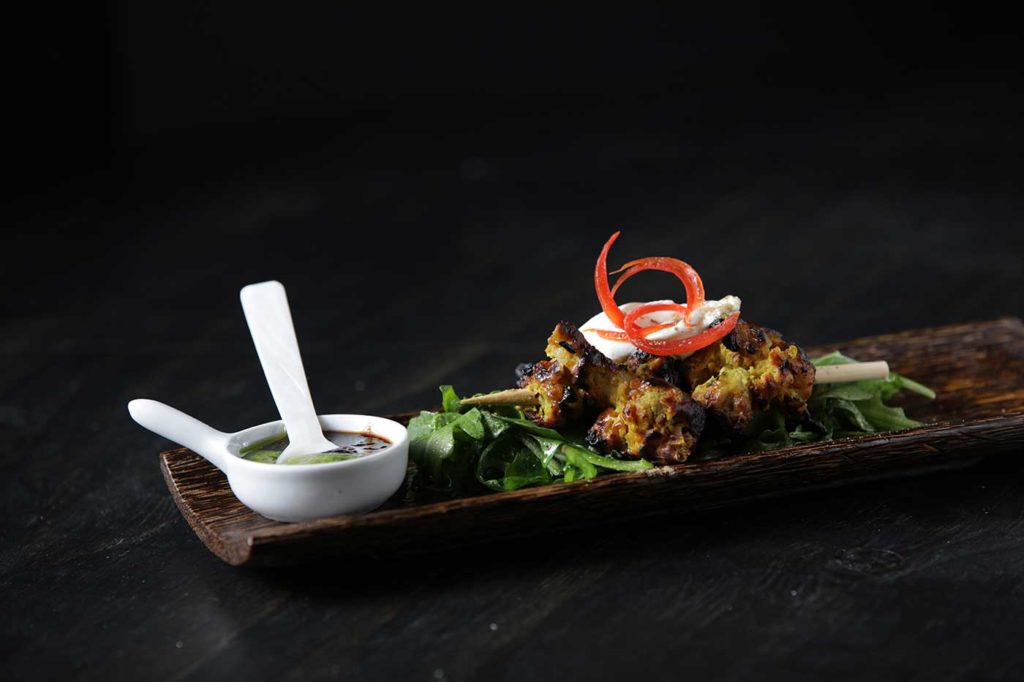 The brainchild of Michelin-rated Chef Hemant Mathur from New York City, Maska is arguably one of the top Indian restaurants in Miami—and right now it's offering a Miami Spice dinner menu that features some of the best items from the kitchen. Start your meal with the samosa papdi chaat—spiced potatoes filled crispy pastry, chickpea curry, yogurt, mint and tamarind chutneys. Or go for the koliwada fried chicken, served street-style in tasty, crispy morsels. Then, try the kashmiri gosh—rich goat curry flavored with Himalayan spices and served over rice, or the saag paneer, prepared with organic spinach puree, basmati rice, and farmers' cheese. The gulab jamun dumplings make for the ultimate sweet ending.
Details: 3252 NE 1st Avenue, Suite 109, Miami, FL 33137; 786-971-9100; maskamiami.com.