Although we locals love our air conditioning, the heat is somehow more bearable when there is a killer view involved. These eight Miami restaurants serve up a memorable dining experience, beckoning diners to sit outside and soak up the stunning view.
Amara at Paraiso
Amara at Paraiso from celebrated local chef Michael Schwartz makes a lasting first impression. The restaurant is monstrous, capable of holding over 200 people between its indoor and outdoor seating areas. While the dining room is impressive on its own, it's the outdoor area that will truly leave you in awe. Stunning views of Biscayne Bay await diners who decide to sit near the water. Even if the weather looks a little iffy, take the risk—trust us.
Biscayne Bay is a perfect backdrop for enjoying Amara's eclectic Latin-inspired menu. Snacks like fried tostones, grilled chorizo, and short rib empanadas pair nicely with the mezcal and tequila-based Smoke on the Water or the super-refreshing Tulum Spritz with tequila, Aperol, hibiscus, and lime. Hungrier patrons can opt for mains such as a grilled red snapper and pan-roasted half chicken.
The entire menu looks good, which is why we suggest opting for one of their signature platters if your budget allows. That way, you can experience a little bit of everything. The Amara Platter is a good start and emphasizes the restaurant's seafood selection. Included in the platter are items like oysters, chilled shrimp, and ceviche with an assortment of sauces and other accompaniments. The other huge platter—the parillada—is an ode to all things grilled: skirt steak, red chorizo, snapper, prawns, and octopus. Needless to say, you'll be leaving full.
Amara at Paraiso is located at 3101 NE 7th Avenue, Miami, FL 33137. For more information, visit their official website or call 305-701-5528. In addition to the outdoor dining service, the restaurant offers takeout and delivery.
CJ's Crab Shack
CJ's Crab Shack on Ocean Drive offers diners two views: one of the beach and one of the people. Those familiar with the popular Miami Beach strip know that it's ideal for people watching – you find all sorts of folks here. CJ's gives you an up-close look at the fun while you nosh on seafood delights that are reasonably priced for the area; this is no tourist trap. As you observe South Beach's cast of characters, you can enjoy items like drunken shrimp, grouper fingers, crab cakes, seafood pasta, and other delicious fare. Of course, the main attraction is the snow crab, of which there's plenty to go around; make sure to bring some friends.
A full bar ensures the good times keep coming. The cocktails here are affordable and strong. Can't make up your mind? Hurricane Molly is always a treat – just make sure you're Ubering home.  
Kiki on the River
Kiki on the River pays homage to Miami's own jewel of a riverfront like never seen before. The Greek restaurant has been crafted on rustic docks that jut out over the pristine water and takes the place of the once-bustling Miami fish markets. One feels to be within the wing of a seaside palace when in attendance here. Kiki is heralded for its immaculate dew-kissed garden to which the great effort of its diligence can be felt. Large windows let in streams of light no matter the time of day. Kiki on the River has masterfully married its sponsoring theme of 'being on a Mediterranean island' seamlessly with its surroundings — it's the kind of feeling that never gets old.
The grub at Kiki on the River betokens all other corners of its aesthetic, naturally so. Expect to find all sorts of fare hailing from the Great Sea area: Olive Oil Braised Octopus with red onions and capers. Whole Lobster Bucatini Pasta with white wine sauce. Pikilia with house-made pita bread. The list goes on and on. Nothing beats slurping up fresh oysters from the raw bar while swooning in the crisp air of the riverside. If you're looking for drinks, the bar is more than well equipped for any inquisitive palate, including a large assortment of Greek Wines.
On the weeknights, diners enjoy a more romantic slice of life with drinks and dinner over the docks. On weekends, things liven up a bit with a live ambient DJ set and Sunday Funday. Experience the life of an islander from downtown Miami in a fashion you thought before impossible. Check the website page for upcoming events and to make a reservation.
450 NW North River Dr, Miami, FL 33128; (786) 502-3243, kikiontheriver.com; Open Mon-Thurs, 5-11 p.m.; Fri-Sun, 1 p.m.-12 a.m.
La Mar
For a front-row view of the Brickell skyline, head to La Mar at Brickell Key's Mandarin Oriental. Day or night, the Peruvian restaurant's outdoor terrace is perfect for any occasion: sharing good times with friends, going on a romantic date or just a quick drink.
The initial draw here is the food, which is an elevated take on South American cuisine. Expect all the classics like ceviche, tiraditos, and causas but taken up a notch with high-quality ingredients and fun flavors. While much of the menu focuses on smaller tapasesque plates, there are hearty entrees for guests looking to really fill up. The lomo saltado (stir-fried tenderloin) and chaufa aeropuerto—think fried rice—are among the more popular hefty mains.
That view, though—wow. In the evening, seeing the Brickell skyscrapers lighting up the night sky is a sight to behold; it's no wonder that people come from all over to experience one of the best views in the city. One thing to keep in mind, though: La Mar isn't cheap. Drinks cost $17, and many of the food items reach the $20-$30 range. But the price tag is worth it for the view alone.
La Mar is located inside the Mandarin Oriental at 500 Brickell Key Drive, Miami, FL 33131. For more information, visit the hotel's official website or call 305-913-8358. In addition to the outdoor dining service, the restaurant offers takeout and delivery.
Rusty Pelican
Rusty Pelican in Key Biscayne is a restaurant that needs no introduction. The waterfront eatery has been a staple of South Florida dining since the 1970s. That longevity should come as no surprise, considering its breathtaking views from the Rickenbacker Marina and incredible seafood selections. Come hungry, as the portions are generous and the selections are varied.
Start your meal at Rusty Pelican with a mouth-watering fare like snapper ceviche and red colossal king crab; the raw bar should not be overlooked. In fact, the three-tiered seafood tower is a steal at $95 for two people, with items like blue point oysters, jumbo gulf shrimp, and a wide range of sashimi and nigiri—to name a few items. Speaking of selections like sashimi and nigiri, don't neglect Rusty Pelican's short-and-sweet sushi section. The category certainly stands out on the menu, which otherwise leans on more traditional seafood offerings.
This is one place where there's no wrong thing to order. Crispy whole snapper? Yes, please. Day boat pistachio scallops? Sure. Lobster and shrimp risotto? Absolutely. Just reading the descriptions of each item will have your mouth watering in no time. Don't forget to get some cocktails, too. The bar features both classic and contemporary cocktails to enjoy. On the classic side, there are mojitos, margaritas, and martinis, while the Mr. 305—a nod to rapper Pitbull—and the Passion of the Soul with cachaca satisfy patrons seeking something more modern. No matter what you choose, they all pair nicely with the skyline view.
Rusty Pelican is located at 3201 Rickenbacker Causeway, Key Biscayne, FL 33149. For more information, visit their official website or call 305-361-3818. In addition to the outdoor dining service, the restaurant offers takeout and delivery.
The Lobster Shack
The Lobster Shack's two locations on Miami Beach are a fun way to spend your afternoon eating great food amidst the hustle and bustle of South Beach. Whether you opt for the Lincoln Road location or the South Pointe Park location, you'll find an assortment of tasty lobster selections to be had while people-watching. 
The star of the show should come as no surprise: Lobster Shack is THE spot for lobster rolls. If it's your first time here, it's good to stick to the basics: chilled and lightly dressed or warm with butter. But if you've already tried the traditional rolls, go crazy: the Cajun variation adds some nice heat, while the South Beach lobster roll throws bacon, avocado, and slaw into the mix. 
Not in the mood for lobster? No problem: Fish tacos are a safe bet, and the seared tuna salad is a must even if you're not a huge salad person – it's that good. And just like its sister concept CJ's Crab Shack, there's a full bar. 
Seaspice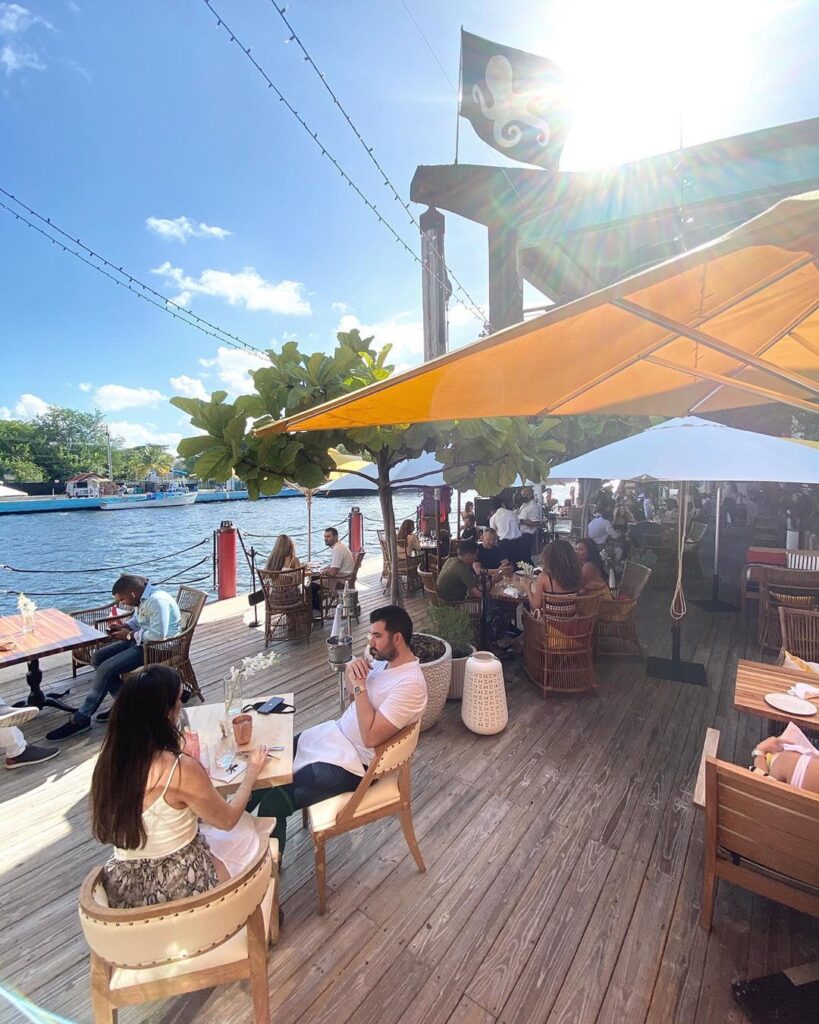 Seaspice exudes class. You walk in, and you can tell they run a tight ship. The first thing you'll notice, however, is the view. The restaurant sits on the banks of the Miami River, providing an awe-inspiring view of the waterway and its equally stunning yachts. It's a lot of fun looking at the gorgeous boats pass by while you enjoy some delicious food.
As you can probably guess from the name and location, Seaspice's menu is focused heavily on fish and other seafood offerings, but there is something for all tastes. Decadent appetizers like the Alaskan king crab croquettes and pan-seared foie gras are two crowd favorites you'll be fighting over with the table; other standouts include a veal Milanese that's massive in size and flavor—expect leftovers—and fried Florida yellowtail. You may also want to consider the seafood casseroles for the table; there's a reason they're highlighted in their own section on the menu.
Do not skip dessert here. We repeat: Do not skip dessert here. Seaspice recently expanded their dessert offerings, and they're all worth a look. Our favorite new item—the summer peaches and cream—joins an already impressive roster of sweets that includes the beloved guanaja chocolate cremoso.
Also, we want to recognize Seaspice for going above and beyond for the safety of their diners during these challenging times. The restaurant touts its thorough sanitation practices, which include QR-code menus, cleanliness training for staff, sanitizing stations throughout the venue, and consistent changing of gloves with each customer interaction. On a personal note, we've witnessed these practices firsthand and felt totally comfortable throughout our experiences there. It was nice to see them take everything so seriously; with so many regulations now, it's no easy feat.
Seaspice is located at 422 Northwest North River Drive, Miami, FL 33128. For more information, visit their official website or call 305-440-4200. In addition to the outdoor dining service, the restaurant offers takeout and delivery.
Smith & Wollensky
Smith & Wollensky provides the classic steakhouse experience with one major addition: Miami Beach views. The outdoor seating offers guests a look at not only the stunning Miami skyline, but the sometimes-eccentric South Beach crowds as well. Depending on the day, you might be in for dinner and a show!
Situated in South Pointe Park, Smith & Wollensky is known for its dry-aged steaks. Dry-aged bone-in ribeye, dry-aged T-bone, dry-aged porterhouse… It's a meat-eaters paradise. You can add several enhancements to each steak, too: crab meat, lobster, and shrimp are among the more popular choices.
There's a lot more here than just slabs of meat, though. Since this is a steakhouse, there are also the usual suspects like crab cake, shrimp cocktail, and gigantic shellfish towers. Smith & Wollensky also mixes things up with more contemporary selections such as truffle parmesan tater tots, Szechuan green beans, and other fun sides. If you come for lunch, there are sandwiches and more casual fare up for grabs including a hot chicken sandwich and lobster roll.
Make sure to save room for dessert, particularly the gigantic chocolate cake. It lives up to its name with ten layers of chocolate decadence, Baileys Irish Cream and chocolate mousse. Liquid dessert is also available in the form of key lime pie and espresso martinis. Hats off to Smith & Wollensky for ensuring that guests end their steakhouse experience on a high note.
Smith & Wollensky is located at 1 Washington Avenue, Miami Beach, FL 33139. For more information, visit their official website or call 305-673-2800. In addition to outdoor dining service, the restaurant offers takeout and at-home meal kits and products.