While many restaurants follow the traditional appetizers, entrees, and dessert format, other eateries follow a more tapas-style approach. These Miami restaurants encourage sharing, allowing guests to try various offerings without breaking the bank. Round up a friend or two and take a culinary journey together at these seven best Miami restaurants for shareable plates.
Beaker & Gray
Wynwood's Beaker & Gray is all about sharable plates. The eclectic restaurant features an assortment of cold and hot bites that don't adhere to one particular influence – you'll find inspiration from all over the world in these dishes. Crowd favorites include the cheeseburger croquettes, grilled calamari, smoked rib fried rice and the pumpkin gnocchi. One thing you won't want to share are the cocktails – make sure you order at least one, as this place is known for them.
Beaker & Gray is located at 2637 North Miami Avenue, Miami, FL 33127. For more information, visit their official website.
Patio Isola
At Patio Isola – MiMo's premier Italian restaurant – everything is naturally shareable due to the portion size. The spacious eatery boasts an incredible number of Italian specialties, from pastas and pizzas and everything in between. You can easily make a meal out of just an appetizer. That said, you shouldn't: We like getting something from each section – including dessert. Can't decide what to order? The cheesey garlic bone marrow, meatball salad and, and ricotta ravioli are a good start.
Patio Isola is located at 6789 Biscayne Boulevard, Miami, FL 33138. For more information, visit their official website.
Pubbelly Sushi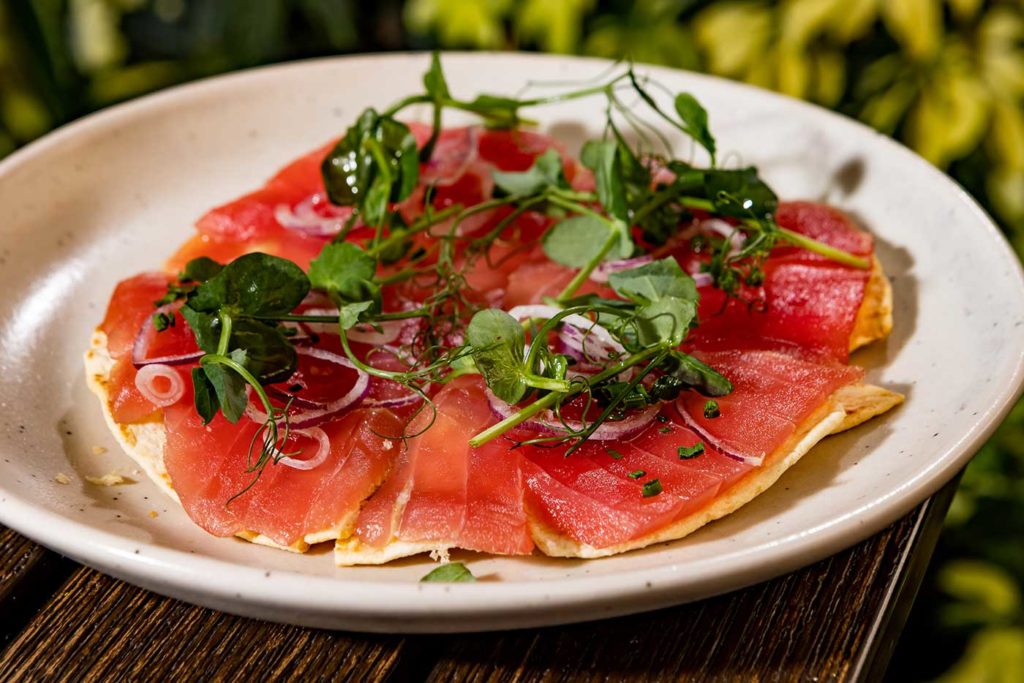 You'll be hard-pressed to find a bigger menu in the entire city than the one at Pubbelly Sushi. The beloved Asian-inspired concept from the Pubbelly team is HUGE, and words barely do it justice. Expect dozens upon dozens of delicious delights to share with friends and family. Some of the more popular items include the salt and pepper squid, the tostones with ceviche, the lobster dynamite and the wagyu chimichurri. Repeat visits are a must to make the most of this spot.
Pubbelly Sushi has multiple locations throughout South Florida. For more information, visit their official website.
RED South Beach
RED South Beach is another one of those spots where one menu item could double as your meal. The renowned SoBe restaurant is home to one of the largest steakhouse menus in Miami. Just as big as the menu is the food: Chef Peter Vauthy rolls out all the stops when it comes to flavor and portion size. Our suggestions for the table: the Maine lobster cocktail, the mussels diavolo, the mac and cheese, and the ultimate meat board, which certainly lives up to its name – the tomahawk alone is super filling and delicious.
Seawell Fish N' Oyster
When it comes to shareable seafood selections, Seawell on Miami Beach is hard to beat. The hidden gem on Washington Avenue has all the classics and then some: smoked fish dip, conch fritters, oysters, shrimp and grits … we can keep going. Consider popping in for the restaurant's signature oyster hour to save a few bucks: A chef's selection of oysters is available at 50% off with an assortment of spritz specials. But honestly, any time you decide to visit is a good time.
Toscana Divino
Are you or your friends fans of wine and Italian food? Then book a reservation at Toscana Divino ASAP. The beloved Brickell business is home to some of the best pasta dishes in town and one of the largest wine collections. Sharing is caring, so order a few selections for the table and go to town. Highlights include the buffalo ricotta tortelli and the black seafood spaghetti, as well as the tuna tartare and octopus puttanesca.
The Wagyu Bar
Love steak? Then you'll love The Wagyu Bar in Coral Gables. Your experience at the humble steakhouse will not only be tasty, but also educational. This is one place that puts a huge emphasis on letting the customer know exactly what they're eating.
You'll find a large chart breaking down beef grading, and you'll leave with a greater appreciation of what goes into a great piece of steak. Some of our recommendations: the dry-aged Kansas Steak, any of the ribeyes, and the parrillada for four – meats on meats on meats – are all perfect for sharing.