If you're going out to dinner with a group of people, odds are there's probably one or two individuals who aren't completely sold on your restaurant choice. Maybe they're picky eaters. Maybe they're worried that the restaurant can't accommodate their special diet. Whatever the reason, these restaurants have stellar staff and plenty of options to choose from – odds are everyone will leave happy.
BBQ & Craft Company
Barbecue isn't for everyone, but at Brickell's BBQ Craft & Company, there is something for everyone (unless you're vegetarian). The meat-centric Brickell spot features all the traditional BBQ staples like beef brisket, dry rub wings, spare ribs, and pulled pork. What we really enjoy here are the appetizers, which run the gamut from fried pickles and deviled eggs to brisket sausage, cupcake cornbread, and St. Louis ribs. The sides are just as tasty: The collard greens, mac and cheese, and coleslaw are personal favorites. Need something lighter? The craft salad with a bevy of veggies and maple-glazed pork belly is one heck of a dish. A full bar makes sure everyone is having a good time.
Blue Collar
The food at some places just makes you feel at home – all warm and fuzzy inside. That's the case at Blue Collar, MiMo's go-to spot for comfort food. As you'd expect from a place known for homey fare, the portions here are as big as your head. The cuisine leans American, with items like shrimp and grits, pork and beans, Philly cheesesteaks and dry-aged cheeseburgers; this is a place where diets come to die. Daily specials are always worth a look with ribs, parms and braised items rotating regularly. The Veggie chalkboard is a neighborhood favorite: Load up on selections like roasted carrots, mushrooms, baby bok choy and broccoli to balance things out. One last piece of advice: Don't leave without trying the butterscotch Heath Bar pudding. You'll fall in love.
Blue Collar is located at 6730 Biscayne Boulevard, Miami, FL 33138. For more information, visit their official website.
Costa Med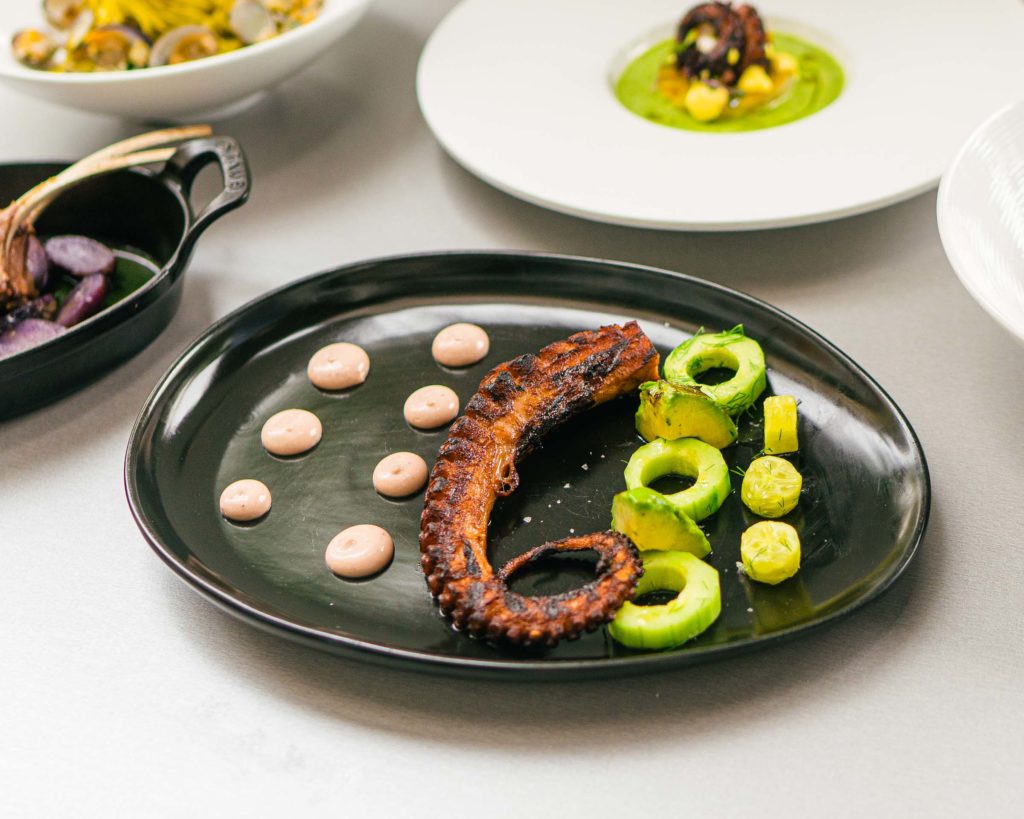 Over in Key Biscayne, Costa Med is serving up an extensive selection of Mediterranean-inspired cuisine. Emphasis on extensive: This menu is humongous, making it ideal for inviting just about anyone. The appetizer section itself is as big as some restaurants' entire menus: Be sure to try the crab cake pops, steak tartare, and burrata and prosciutto. Lighter fare like crudos, carpaccios and salads abound, as do pastas, seafood, steak and poultry – we weren't kidding about the menu size. The friendly staff will help you narrow down your choices, but we recommend items like lobster ravioli, honey roasted salmon, and veal chop. Don't forget to look at the wine list!
RED South Beach
RED isn't any ordinary steakhouse – it's THE steakhouse of Miami Beach. While many people will assume that Red only serves up meats on meats on meats, that couldn't be further from the truth. Yes, the restaurant is known for exquisite cuts like C.A.B. prime ribeye and porterhouse, there's a wealth of other options as well – we're talking raw bar selections, pastas, seafood, salads and everything in between. Non-steak standouts include the lobster fra diavolo, the Alaskan king crab and the wild king salmon; make sure you get some mac and cheese as your signature side while you're at it. And the wine list … it's something you need to see for yourself.
Zak the Baker
We don't talk enough about breakfast here on Dish Miami, and all that changes today. Zak the Baker in Wynwood opens early to offer up tasty bites like croissants, Danish, pastelitos, muffins, bagels … you name it, they got it. It's the perfect spot for grabbing and going whether you're in a rush or on a leisurely commute to your destination. Besides the pastries, Zak's also sells a ton of breads that you can take home; the sourdough collection is hard to beat. And should you come later in the day, the tuna melt is a must (we never thought we'd feel that way about a tuna melt). Just make sure to arrive early and things can sell out pretty fast.
Zak the Baker is located at 295 NW 26th Street, Miami, FL 33127. For more information, visit their official website.