Although plenty of South Florida restaurants are now open for dining al fresco, the events of the past six months have changed how many of us approach social activities—including dining out—despite heightened safety measures. You may find yourself reaching for your phone to order takeout or delivery more often than to make reservations at your favorite local eateries. That's totally fine, too; Miami's restaurants need our support now more than ever, and ordering a meal in is a great way to help local spots stay open. It's also a great way to practice social distancing without giving up the amazing flavors that have made our city's food scene one of the best in the country. To help you plan your next round of tasty meals at home, we've put together a list of four best Miami Beach restaurants that you can order delivery from. Each serves up mouthwatering cuisine ranging from authentic Japanese robata and sushi, to flavorful Mexican street food, organic seasonal goodness with a Polynesian twist, healthy super-food creations to help you maintain that summer body all year long, and elevated new American fare that's as imaginative as it is delicious.
Azabu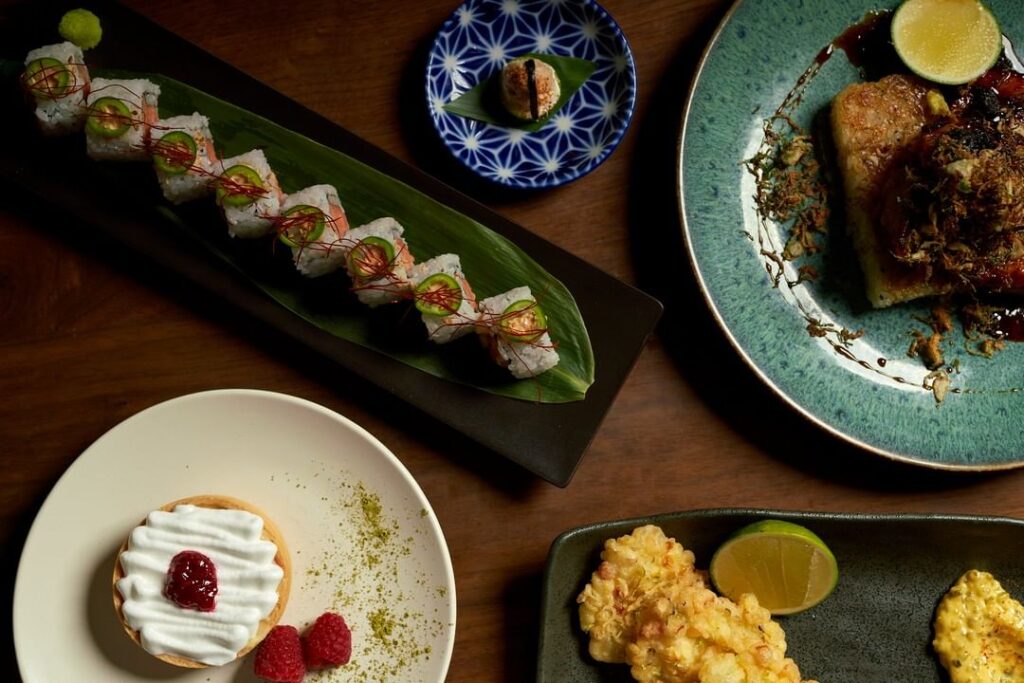 Since it debuted in early 2018, the Miami Beach outpost of this Michelin-starred New York City concept by the acclaimed Japanese hospitality group, Plan Do See, has been a hit among both locals and tourists. Their main menu features incredible options like succulent sea scallops from Hokkaido paired with creamy, rich uni, shichimi pepper, shisho, yuzu, and ponzu; Japanese wagyu tataki seared to perfection and drizzled with rich truffle oil; crispy golden lobster tempura served with spicy mayo and bubu rice crackers; and all kinds of delectable robata favorites, like Nagoya-style chicken wings with caramelized spice teriyaki sauce, and bonito BBQ pork belly skewers with bubu arare, chile, and lime. You can also choose from a broad assortment of sushi, sashimi and nigiri offerings, oysters on the half shell with Japanese mignonette, and a toro sampler, as well as a range of tempting rice dishes.
All of the restaurant's top items (including their Miami Spice lunch and dinner menus) are available for takeout or delivery — but that's not all. Azabu's exclusive omakase experience, The Den, also recently debuted a luxurious omakase to-go box featuring Chef Yasu Tanaka's selection of seasonal sashimi, nigiri, cold dishes and wagyu-uni bara chirashi for $120.
If you'd like to order food from Azabu for delivery, you'll have to use a third-party delivery service, such as UberEats, Seamless, GrubHub, or Postmates. However, you can support the restaurant directly by ordering takeout — just call (786) 276-0520. Azabu is located at 161 Ocean Dr., Miami Beach, FL 33139.
Pura Vida
Founded by husband and wife duo Omer and Jen, Pura Vida revolves around the concept of mindful living through delicious, healthy food crafted from locally sourced, seasonal ingredients. Diners who frequent any of its four locations across South Florida will tell you that Pura Vida isn't just a series of restaurants; it's a community fueled by the desire to indulge in a positive, healthful way of life — and that usually starts with good eating. The menu at Pura Vida truly offers something for everyone, from athletes looking to refuel after a workout, to families craving something healthy, light, and full of flavor.
You can sip one of their Superfood Smoothies, like the strawberry, banana, almond butter, and cinnamon-infused Sunshine Beach, or the passion fruit, banana, mango, and honey-flavored Welcome to Miami Beach. All the smoothies are gluten-free and several are vegan. Pura Vida's bowls are also extremely popular and come loaded with all kinds of nutritious ingredients. We especially love their summer chicken bowl, served on a bed of cilantro rice with arugula, creamy avocado, sweet pineapple, carrot, and red pepper. But you'll find some of the restaurant's top-selling items on their breakfast menu, which is conveniently offered all day long. If you're new to the Pura Vida game, you definitely need to try one of their toasts, such as the vegan avocado smash with micro cilantro and red pepper flakes, and the egg salad toast served with pasture-raised eggs, mustard aioli, fresh herbs, spices, and arugula. Or opt for the Fire Egg Wrap, prepped with quinoa, crumbly feta, spinach, and spicy soy ginger. You can enjoy all of Pura Vida's great-tasting options in the comfort of your home with delivery from their South Beach, Edgewater, and Design District locations.
If you'd like to order food from Pura Vida, click here and choose the nearest location to you. For more information on Pura Vida and its locations, or to see a menu, click here.
Bodega Taqueria y Tequila
Sometimes nothing hits the spot like tasty tacos al pastor, thick burritos stuffed with refried beans and drizzled with red chili crema, cheesy quesadillas loaded with all your favorite fixings, and crispy, crunchy nachos piled high with meat and flavorful toppings. The good news is you can order all your favorite Mexican dishes from famed Miami Beach restaurant Bodega Taqueria y Tequila for delivery direct to your door, no third-party app needed.
You can't go wrong with any of their tacos (named the best in Florida by USA Today). That said, we recommend you start your order with the housemade guacamole and chips, or the famous chili queso, made with a blend of melted Oaxaca, cheddar, and Monterey Jack cheeses. If you're craving something a little lighter and more refreshing, Bodega's ceviche de pescado is a great option. And if you're in the mood for something heartier that hits the spot, go for the surf and turf burrito, stuffed with grilled ribeye steak, grilled shrimp, Mexican rice, tomato, charred onion, fresh cilantro, and salsa rosada. Not a meat eater? No problem. The vegan "pollo" asado burrito is absolutely mindblowing, filled with refried beans, guacamole, pickled red onion, cilantro, Mexican rice, and crispy potato sticks. And for the ultimate accompaniment to your Netflix night in, there's Bodega's loaded carne asada nachos, heaped with grilled ribeye steak, chili queso, cotija cheese, chili crema, tomato, cilantro, and sliced jalapeno.
If you'd like to order food from Bodega Taqueria y Tequila, you can do so directly via their online ordering link, here. Bodega Taqueria y Tequila is located at 1220 16th St.,
Miami Beach, FL 33139. For more information, call (305)-704-2145.
Lilikoi Organic Living
When he was 16 years old, Manuel Torterola's family moved to Maui from Argentina, where he got his first years of experience helping out in the kitchen. Years later, he landed jobs at top international restaurants, like London's Michelin-starred Fat Duck, and Sydney's Aria. His wife, Tina, worked as a sommelier at Wolfgang Puck's Spago and later opened Ka'ana Kitchen at the Andaz Maui. In 2016, the two opened Lilikoi Organic Living (which means "passion fruit" in Hawaiian) in Miami's quiet South of Fifth neighborhood, now known for its incredible food scene. This cozy, surf-inspired bistro keeps things simple, fresh, and delicious. The menu features dishes made using organic ingredients sourced whenever possible from local farmers. You'll find lots of cool stuff worked into dishes most people don't come across often, like sprouted mung bean stew, gobo chips, spirulina aioli, coconut "bacon" and umeboshi plum.
Breakfast and brunch items here totally live up to the hype. In our opinion, there's no better way to start your day than with a bowl of Lilikoi's yogurt and granola, which you can top with bee pollen, cacao nibs, or goji berries. The gluten-free quinoa waffles with coconut whip are also a must-try treat that's pretty guilt-free. And we love their sourdough pancakes, served with housemade Nutella, bananas, and coconut whip cream. For lunch, try the mahi mahi burger, served with tomato, coleslaw, housemade tartar sauce, and gobo chips. Or go meatless with a vegan burger topped with Lilikoi's housemade ketchup, pickles, tomato, and caramelized onions. The shrimp coconut curry is legendary, made in house with millet, katuk leaf, mushroom, pineapple, and local sweet corn. And the buckwheat ramen noodle soup feels like a big warm hug on a rainy day, prepped with poached egg, bok choy, celery, sesame, and buckwheat noodles (it's also available vegan upon request). Pair your meal with an organic turmeric latte or a mushroom frappuccino if you're feeling adventurous, and save room for a slice of homemade banana bread served with sweet tahini drizzle.
If you'd like to order food from Lilikoi, click here for delivery or takeout. Lilikoi is located at 500 South Pointe Dr., Miami, FL 33139. For more information, call (305) 763-8692.