Taking a trip to the Mediterranean can be expensive. If travel isn't in your future, consider snagging a table at one of these great restaurants for a taste of the Med at a fraction of the cost. 
Byblos
Over on Miami Beach, Byblos is serving up some of the best Eastern Mediterranean cuisine in town. The sizable menu is full of stars like duck kibbeh, lamb ribs, black truffle pide, short rib kebabs, and rock shrimp rice. Two to three plates per person is the sweet spot for leaving satisfied and not hating yourself. As tempting as it is to eat with your eyes, don't order too much; you will definitely be back (this Dish Miami writer is a regular there).
Don't forget to check out the creative cocktail list that features items like the Instagram-friendly Rose Gulab, a beautiful drink comprised of vodka, house pomegranate syrup, fresh lemon juice, and rosewater. For something a little more familiar with a twist, check out the Byblos Old Fashioned that uses rhum barbancourt and house-spiced Turkish coffee syrup.
Byblos is located at 1545 Collins Avenue, Miami Beach, FL 33139. For more information, visit their official website.
Costa Med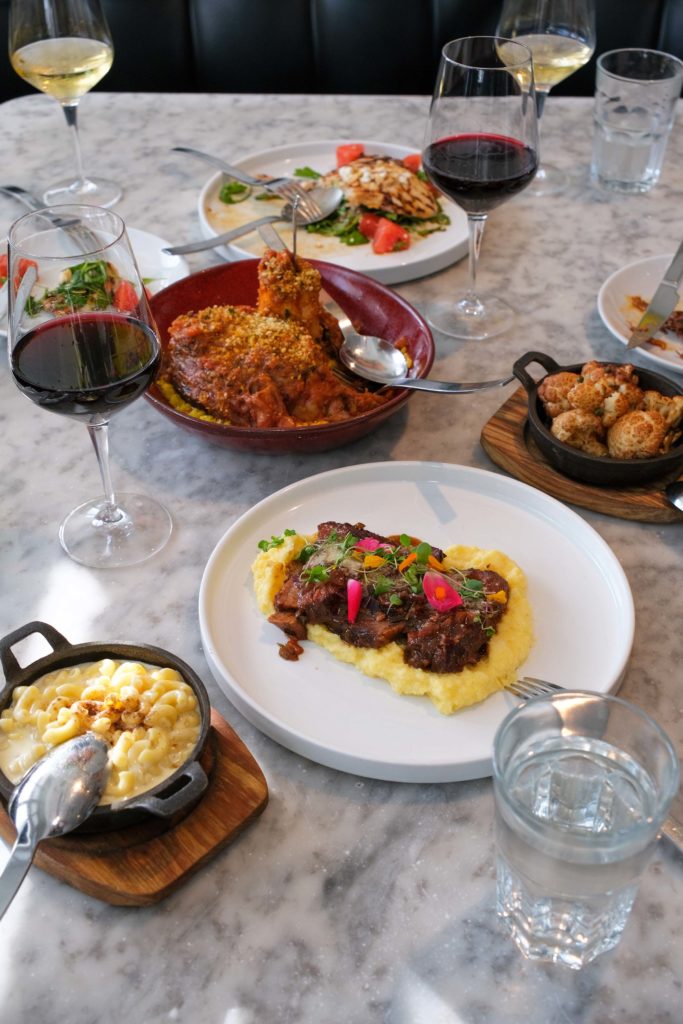 In Key Biscayne, food lovers will find one of the best Mediterranean spots in South Florida: Costa Med. This humble eatery tends to fly under the radar, but a reservation is still suggested. On the menu, you'll find a delicious assortment of Mediterranean-inspired fare like grilled octopus, Greek salad, branzino, veal piccata, and more; the large menu ensures there's something new to try at every visit. The wine selection is equally impressive and worth the visit alone due to an abundance of hard-to-find bottles.
Mandolin Aegean Bistro
You can't make a list of the best Mediterranean restaurants in Miami without mentioning Mandolin Aegean Bistro. The Buena Vista establishment is an institution, and it's always busy—good luck just walking in. Those lucky enough to snag a reservation will find lots to like, including highlights like roasted cauliflower, baked feta, manti dumplings, fried calamari, and moussaka. We recommend coming with a large party, so you can try a little bit of everything.
Mandolin Aegean Bistro is located at 4312 NE 2nd Avenue, Miami, FL 33137. For more information, visit their official website.
Motek
What started as a small Eastern Mediterranean spot in Downtown Miami has turned into a South Florida culinary juggernaut with expanded locations in Coral Gables and Aventura. While different locations offer different items—Coral Gables offer wood-oven baked flat pita, for instance—the quality of the food is the same: excellent. If you visit for lunch, try the crispy schnitzel sandwich or the award-winning Arayes Burger; the acclaimed burger won People's Choice at the South Beach Wine & Food Festival. For dinner, opt for the lamb shawarma plate or the whole branzino. One thing to note: Alcohol is only served at Coral Gables and Aventura.
Motek has multiple locations throughout Miami. For more information, visit their official website.
TUR Kitchen
If you visit TUR Kitchen for one thing, make sure it's the lavash bread. The Coral Gables restaurant has one of the best bread services available. There's not much to it—butter and maldon sea salt + crème fraiche—but it always hits the spot. So do the other tasty items on the menu, which range from oyster mushroom carpaccio and braised lamb pide to black grouper, duck magret, and lamb chops. We love the variety of proteins here, and we love that there are a wealth of vegetarian options as well. The price point is a little on the higher side, so if your budget is tight, visit during daily happy hour from 5 to 7 p.m. when guests can get satisfying pides and craft cocktails at a hefty discount.
TUR Kitchen is located at 259 Giralda Avenue, Coral Gables, FL 33134. For more information, visit their official website.