Whether you want a nice night out with family, or you can't seem to find a babysitter, fear not: We've rounded up the best kid-friendly restaurants in Miami. At these restaurants, you and your children can expect a great time.
Bachour
If your kid has a sweet tooth—and who doesn't?—then Bachour is heaven on earth. The award-winning restaurant and bakery is known for its mouthwatering treats from internationally acclaimed pastry chef Antonio Bachour. You can bring your kid here for a pastry or two—we love the red velvet croissant—or for a full sit-down meal of impressive savory selections. Some standouts on the menu include the Cuban sandwich, the wagyu sliders, and the guava and cheese pancakes; that last one is only available during brunch. 
Bachour has multiple locations throughout Miami. For more information, visit their official website.
CJ's Crab Shack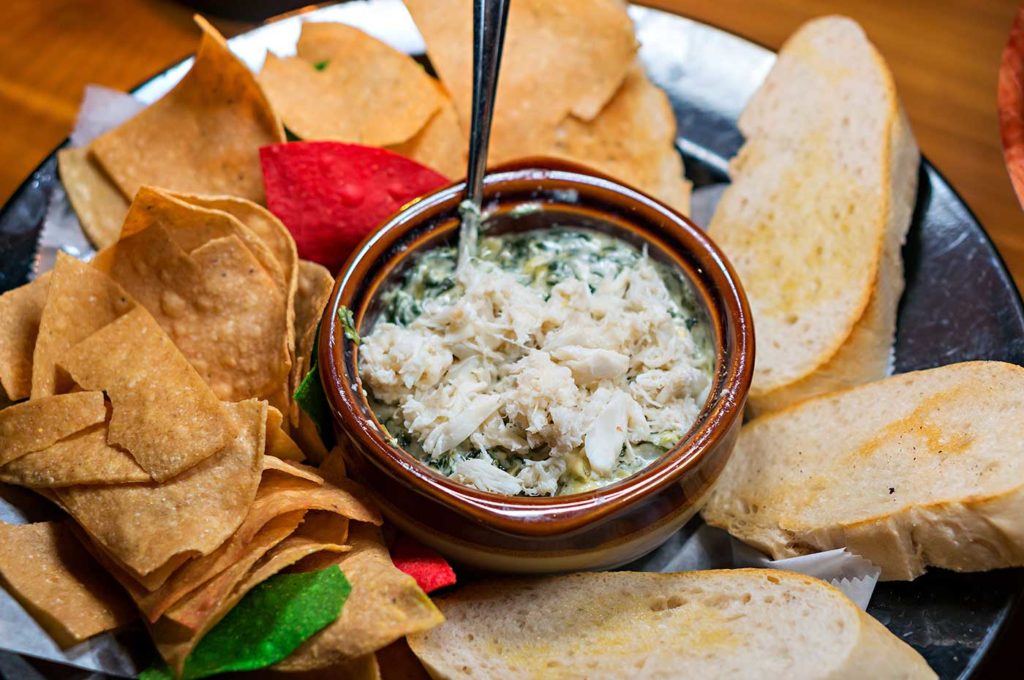 The vast menu and outdoor space at CJ's Crab Shack make it an ideal spot for enjoying the South Florida weather with your loved ones. While you nosh on oysters Rockefeller, snow crab, and king crab, your kids can partake in more approachable (and less messy) fare like chicken fingers, cheeseburgers, and popcorn shrimp. Adults can also indulge in rum punches, margaritas, and hurricanes—a must if your kids are acting up. And if it gets too hot—aka every day in Miami—there's plenty of indoor seating and shaded outdoor tables.
Greenstreet Café
It's no secret that kids are picky. And when you have a picky eater, the best thing you can do is take them to a place with a huge menu—something with a little bit of everything. Enter Greenstreet Café, the Coconut Grove institution that has been hosting family for over three decades now. The offerings at Greenstreet are all over the place, so you should have no issue finding something kid friendly. Truffle fries are an obvious favorite as is the mac and cheese. You also can't go wrong with a tried-and-true cheeseburger. Meat, seafood, salads, pastas, desserts … this restaurant has it all.
Greenstreet Café is located at 3468 Main Highway, Coconut Grove, FL 33133. For more information, visit their official website. 
Lobster Shack
Lobster Shack—CJ's sibling restaurant—specializes in the namesake dish, but there's more to this place than meets the eye. Parents will find seafood favorites like clam chowder, stone crabs, fish tacos, and shrimp salads among the many tasty offerings at this South Beach institution. Cocktails are plentiful, too: bloody marys, lemonade vodkas, and sangrias are just a few of the signature libations available.
While kids won't be able to enjoy the drinks, they'll be able to enjoy the above food selections AND a dedicated kid's menu as well. Options include a grilled cheese sandwich, toasted peanut butter and jelly sandwich, or a cheese quesadilla. Whatever your kids decide on, Lobster Shack does not disappoint. 
Ms. Cheezious
Kids and adults alike love grilled cheese sandwiches, and Ms. Cheezious offers them in spades. Guests can build their own sandwiches, or choose from mouthwatering creations like goat cheese and prosciutto, Southern fried chicken and waffle melt, and patty melt. There are even dessert ones like the S'mores Melt with roasted marshmallows, salted chocolate hazelnut spread and graham cracker crumble. You can't eat these sandwiches every day, but they're tasty treats for the family.
Ms. Cheezious is located at 7418 Biscayne Boulevard, Miami, FL 33138. For more information, visit their official website.
Sweet Dogs
Looking for a good hot dog? Look no further than Sweet Dogs in Flagami. The beloved local spot is known for its flavorful franks topped with grilled ham, smoked bacon, fried egg, sweet plantains, and other decadent accouterments.
The cozy shop names all of its main items after sports teams, and the Dolphin is a personal favorite despite it being a heart attack (totally worth it). The place is also home to some of the best mac and cheese you'll ever encounter. Best of all, it's cheap so bringing the whole family won't set you back much. 
Sweet Dogs is located at 4749 SW 8th Street, Miami, FL 33134. For more information, visit their official website.
World Famous House of Mac
What kid—or adult—doesn't love mac and cheese? At the World Famous House of Mac, the beloved dish is available in all sorts of variations. You could stick to something traditional(ish) like the five-cheese truffle mac or get wild with the jerk chicken mac, the jerk shrimp mac, or the chicken parm mac… The list goes on and on.
In addition to mac and cheese, the restaurant also offers pizzas and other entrees like Nashville hot chicken and parmesan-crusted salmon. If your family is trying to eat healthy, this is not the place for you.
World Famous House of Mac has locations throughout Miami. For more information, visit their website.