Desserts: Sometimes you have room for them, and sometimes you don't. While a great dessert can end your meal on a high note, a lackluster one will fill you with instant regret (and unnecessary calories).

So which ones are worth your while? These 11 hotspots are making sure their sweets make your meal all the more memorable.
Caracas Bakery
Caracas Bakery off Biscayne Boulevard serves up the best of both worlds: savory and sweet. You can order delicious eggy breakfast bites and get yourself a treat for the road – that's our usual plan of attack.
Some options to consider for the road: the kouign amann, the almond croissant, and the guava and cheese Danish. Caracas also has a location in Doral, albeit a little smaller.
There are not as many savory bites at this outpost, but they've got sugary sweets galore – either way, it's a win-win.

Caracas Bakery has multiple locations in Miami. For more information, visit their official website.
Casa Isola
Portions are huge at Casa Isola, so odds are you won't feel like having dessert. That is a mistake: No meal at this Miami Beach Italian eatery is complete without a sweet treat.
After you're done enjoying your rigatoni alla vodka, bucatini, or pappardelle alla Bolognese, ask for the dessert menu.

Both the tiramisu and parmesan cheesecake might sound boring on paper, but you'll be singing a different tune once you actually try them.
In fact, we recommend against splitting either of those desserts here—get your own because you definitely won't want to share. If you want something a little lighter, the sfogliatella lobster tail is a winner (and no, it's not actually a lobster tail).
Casa Isola is located at 1418 20th Street, Miami Beach, FL 33139. For more information, visit their official website.
Fireman Derek's Bake Shop
You can't talk about desserts in Miami without mentioning Fireman Derek's. The original Wynwood shop has given way to a larger Wynwood store and another outpost in Coconut Grove (as well as nationwide delivery).
On the menu is everything from cakes, milkshakes, and cookies to pies, brownies, and the kitchen sink. Crowd favorites include the key lime pie, red velvet cake, and turtle brownie. Don't tell your doctor or dentist about this place.

Fireman Derek's Bake Shop has two locations in Miami. For more information, visit their official website.
Glass & Vine
Coconut Grove's Glass and Vine is a neighborhood favorite, boasting a globally inspired menu and a gorgeous outdoor seating area. It's easy to fill up on succulent mains like lemon garlic pappardelle, steak frites and whole local snapper – portions are huge after all – but here's a tip: Don't do that.

Overdoing it with savory selections means less room for Glass and Vine's sweet side. Bread pudding, baked apple pie, and "mile-high" double chocolate cake are some of the decadent options available, but our go-to is the olive oil magic shell.

The name doesn't do justice to the description: vanilla bean ice cream encased in a chocolate shell with buttered panko, olive oil, and sea salt. It sounds like there's a lot going on (and there is), yet no one ingredient overpowers the other. It's a beautiful harmony of flavors – and perfect for cooling off in the South Florida heat.

Glass & Vine is located at 2820 McFarlane Road, Miami, FL 33133. For more information, visit their official website.
Jaguar Sun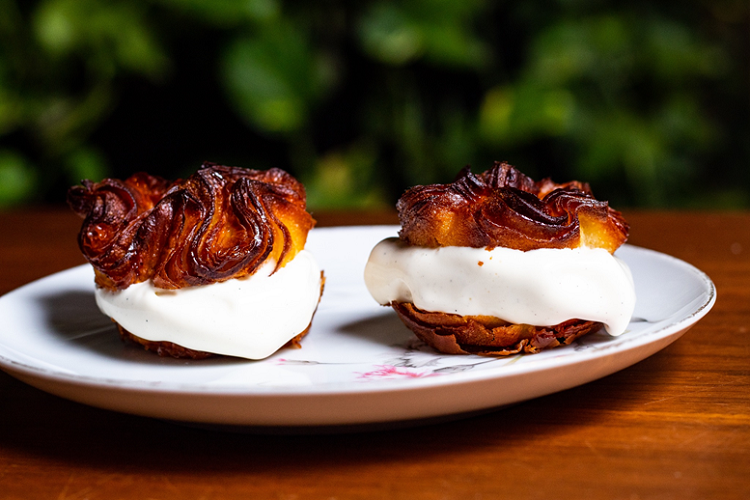 On first glance, you might think that Jaguar Sun is a typical lobby bar, but that couldn't be further from the truth. The restaurant, located inside X Miami, has garnered wide acclaim for its offerings, including recent Michelin recognition.
Once you're done devouring the eatery's delectable pastas, do yourself a favor and order dessert, more specifically the signature kouign-amann ice cream sandwich. It's simple and delicious – there's not much to it. Be sure to ask for extra napkins as it can get a little messy, though.

Jaguar Sun is located at 230 NE 4th Street, Miami, FL 33132. For more information, visit their official website.
Kaori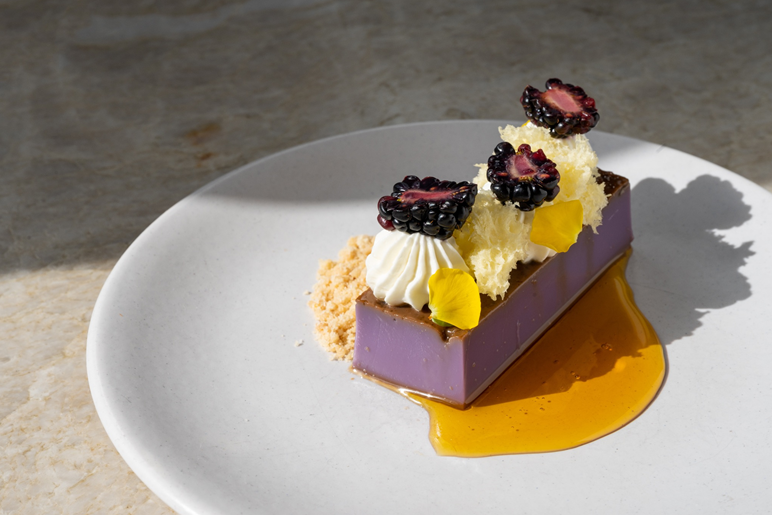 It's easy to miss Kaori in Brickell – we used to walk by it all the time without noticing any signs. Shame on us, as the modern Asian restaurant is among the best eateries in the neighborhood.
You'll probably be stuffed after trying delicious bites like the Korean fried chicken sandwich, seared scallops and spicy udon noodles, but you should ask for a dessert menu if there's even the slightest splace left for dessert. Here's why: the ube flan. "Wow", "Oh my God", and "Holy S—" were just a few of the positive reactions our table had after trying this amazing dessert.

Kaori is located at 871 South Miami Avenue, Miami, FL 33130. For more information, visit their official website.
La Fresa Francesa
Hialeah's La Fresa Francesa sticks out like a sore thumb in the Latin neighborhood – but for all the right reasons. Locals clamor for La Fresa's decadent offerings like French onion soup, croque madames and duck confit. That decadence extends to their dessert menu, which is home to some mouthwatering selections.

There are raspberry tarts, chocolate pot de crème and other classics up for grabs, yet we alw­ays find ourself gravitating to the extensive crepe offerings. Dulce de leche crepes, Nutella crepes, citron crepes … they're a doctor's worst nightmare, but as La Fresa puts it, French calories don't count.

If you only choose one crepe, though, make it the salted butter crepe. To call it life-changing is an understatement.

La Fresa Francesa is located at 59 W 3rd St, Hialeah, FL 33010. For more information, visit their official website.
L'Artisane Creative Bakery
­Over in Coral Gables, L'Artisane Creative Bakery is serving up the best vegan pastries in town—period. You'll be hard pressed to find a wider selection of vegan croissants anywhere else.

In addition to the croissants, the Gables eatery is home to a tasty assortment of cookies and macarons (as well as a ton of savory options). You'll most likely grab and go, but if you have time, the brunch menu and its tiramisu waffles are worth a bite.

L'Artisane Creative Bakery is located at 2526 Ponce de Leon Boulevard, Coral Gables, FL 33134. For more information, visit their official website.
Makoto
Makoto at Bal Harbour Shops is renowned for its incredible sushi. We could eat it all day, but we won't because that means there's less room for dessert.

The sweets at Makoto are just as impressive as its savory fare, making for an all-around memorable experience. The star of the show: the Toban Yaki, a flavorful mix of passion fruit-white chocolate, almond cookie crumble, mango sorbet – it's gorgeous. Other highlights include the yuzu chocolate cake and the daily mochi selection, the latter of which is nice and light if you're feeling full.

Makoto is located at 9700 Collins Ave, Miami Beach, FL 33154. For more information, visit their official website.
The New Schnitzel House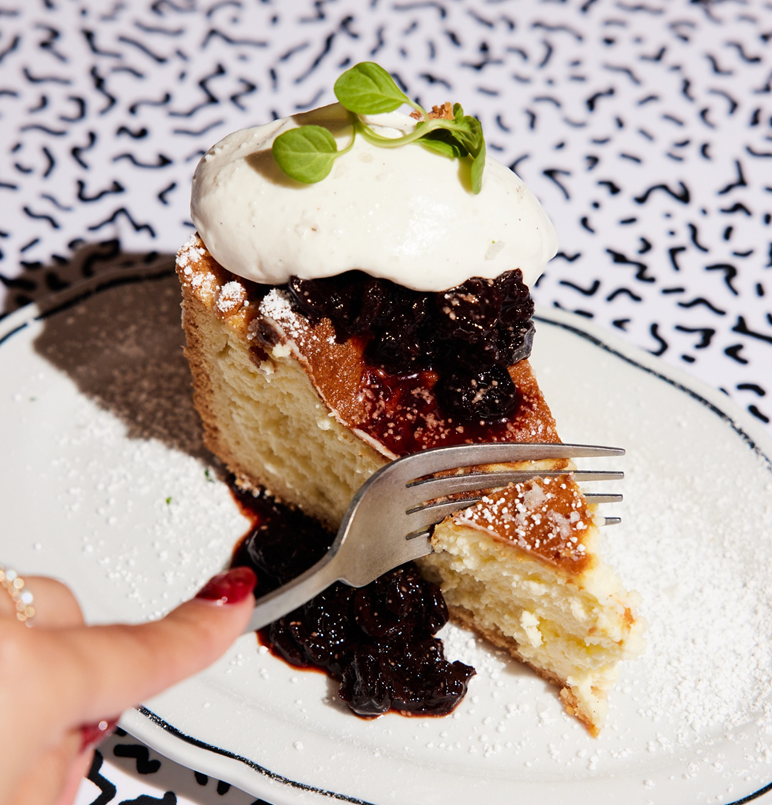 Literally the new kid on the block, The New Schnitzel House on NE 79th Street is brought to you by the team at Gramps.

They've taken the old Schnitzel Haus location and made it their own, adding a few Miami twists. Like Gramps, there's a big emphasis on drinks, but unlike the Wynwood staple, this is more of a restaurant: Expect to find options like house-made pretzels, bratwurst and, of course, chicken schnitzel.

End your meal here on a high note with an order of the German cheesecake with sour cherry compote, which alone is worth the trip. In short: good food, good drinks and lots of parking.

The New Schnitzel House is located at 1085 NE 79th Street, Miami, FL 33138. For more information, visit their official Instagram.