Whether you're a fan of traditional ceviche presentations or want something out of the box, Dish Miami has you covered. Get your ceviche fix at these five Miami hotspots: 
Costa Med
Here's the thing about Costa Med, Key Biscayne's shining star: Ceviche is just one of the many things that this Mediterranean restaurant does well. There are multiple crudo options like the tuna tataki and fish tartare—both of which are worth trying — but it's the daily fresh ceviche that really stands out. We love that it's served with green plantain tostones; the tasty addition makes the dish a texture party. There may be only one ceviche option on the menu here, but it's a darn good one. 
CVI.CHE 105
CVI.CHE 105 is one of those spots that needs no introduction. The Peruvian restaurant is everywhere these days with locations as far north as Aventura and as far south as Downtown Dadeland. It's quite the success story, and it's earned that success thanks to its consistent quality and diverse menu. This eatery easily has one of the largest ceviche selections on this list, with seven to choose from: classic, mixed, and everything in between. There's even a ceviche sushi roll! If you can't make up your mind, try one of the ceviche samplers for a little bit of everything.
CVI.CHE 105 has locations throughout Miami. For more information, visit their official website. 
Jaguar
Restaurants in Coconut Grove have come and gone over the years, but Jaguar has remained one of the neighborhood's constants. That's no surprise: It's one of the best places to eat ceviche in Miami. The quality of the ceviche selection is unmatched and loaded with delicious proteins like corvina, shrimp, and calamari. While you're here, consider ordering one of the tuna tiraditos to enhance your meal; you can leave full having eaten just a ceviche and tiradito.
Jaguar is located at 3067 Grand Avenue, Miami, FL 33133. For more information, visit their official website. 
Maty's
Over at Maty's in Midtown Miami, guests will find some of the best Peruvian food in town. That includes the ceviche selection: There are two to choose from, and you should order both whenever you have the chance. The cebiche tradicional has a delicious black grouper as its main protein, and we would eat it just on its own—it's that good—but the aji limon leche de tigre takes it to a whole new level. The same can be said for the cebiche mixto that adds octopus and crispy calamari into the mix (pun intended) for a flavor rollercoaster.
Maty's is located at 3255 NE 1st Avenue, Miami, FL 33137. For more information, visit their official website. 
Paperfish Sushi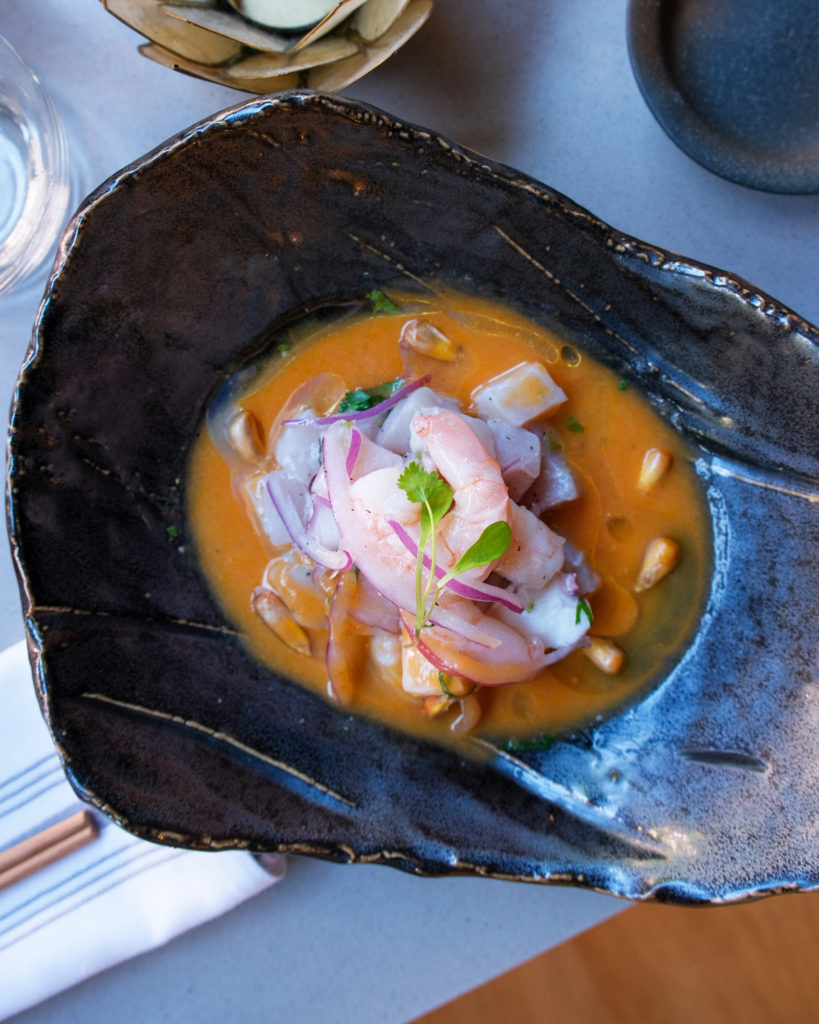 It doesn't matter if you visit Paperfish Sushi's Brickell location or South Beach location: The ceviche selections are all superb. The Nikkei restaurant is home to an assortment of delicious ceviche dishes that will turn you into a regular.
Those seeking something traditional can opt for the classic ceviche with its white fish, leche de tigre, cilantro, and red onion while those who want something a little different can choose the smoked rocoto ceviche, which comes with white fish, shrimp, and octopus. These are all shareable portions, too, so consider ordering more than one for the table. Either way, expect to be back soon. 
Paperfish has multiple locations in Miami. For more information, visit their official website.