Burgers are everywhere: You can't walk a few blocks without finding one on a restaurant menu. But not all burgers are created equal—and not all of them are worth the time, money, or calories. The ones on this list, though? They're worth it.
Babe's Meat & Counter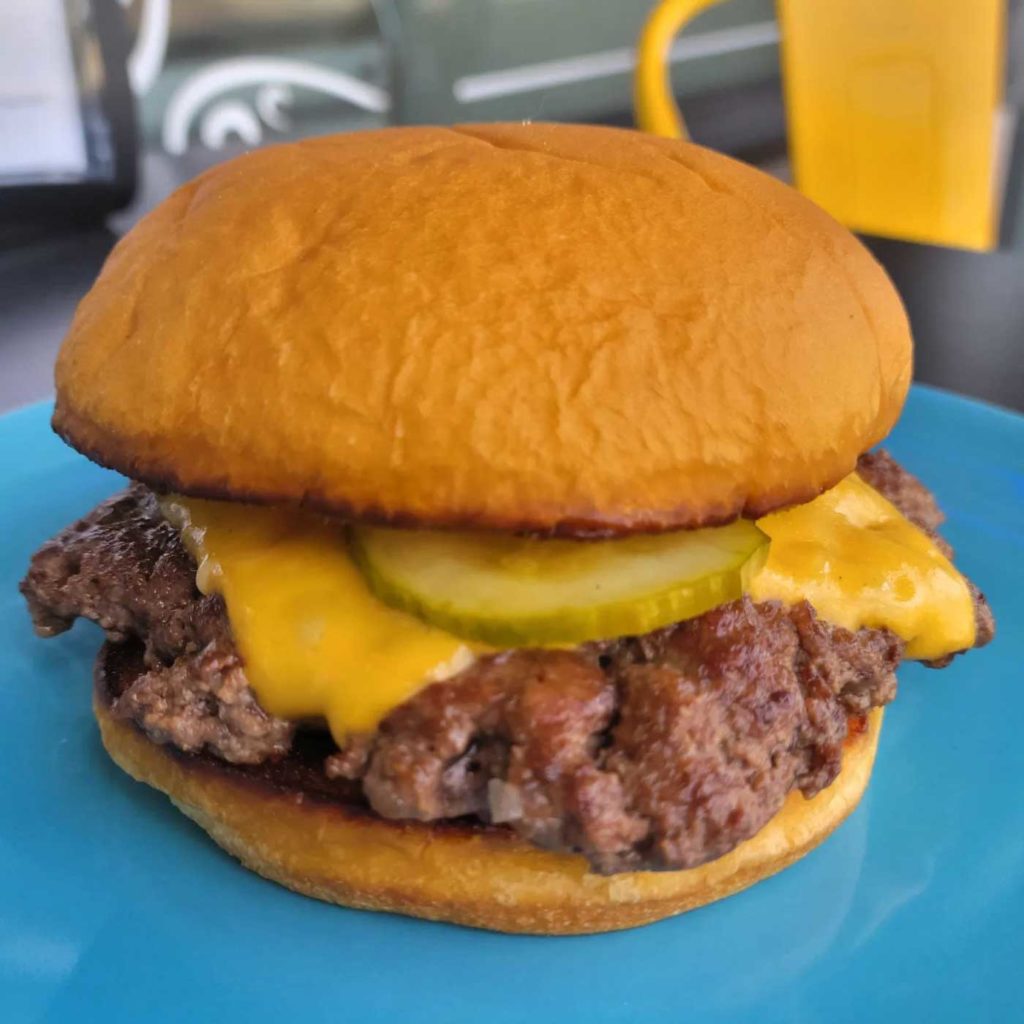 Babe's Meat & Counter is pretty far south, but should you make the drive to Palmetto Bay, you'll be rewarded with one of the best burgers in the city. The burger is made up of a fresh ground prime and wagyu beef blend topped with American cheese, sriracha mayo, and house-made pickles on a potato bun. One should be enough, but you'll be tempted to have another after taking your first bite.
Babe's Meat & Counter is located at 9216 SW 156th Street, Miami, FL 33157. For more information, visit their official website.
Le Chick
When people talk about Wynwood's Le Chick, the conversation usually starts with praise for the restaurant's amazing fried chicken; it's indeed worthy of all the glowing reviews. But the second thing most people talk about is Le Chick's Royale With Cheese, a monstrous double-patty delight with cheddar, chopped tomato, lettuce, house pickles, and secret sauce on a brioche bun. It won't do your diet any favors, but your taste buds will certainly be thankful. Pro tip: Try to visit during happy hour to get the burger at a steep discount.
Le Chick is located at 310 NW 24th Street, Miami, FL 33127. For more information, visit their official website.
Silverlake Bistro
You will absolutely need a lot of napkins for the Silverlake Bistro burger, one of the heartiest burgers on this list. This Normandy Isle restaurant's creation uses a blend of grass-fed sirloin and ribeye that's complemented by white cheddar, smoked thick-cut bacon, house-made porcini mayo, and special steak sauce. If you've seen the photos of it on social media, you know it's a beast. Needless to say, expect to need a nap afterward.
Silverlake Bistro is located at 1211 71st Street, Miami Beach, FL 33141. For more information, visit their official Instagram.
United States Burger Service (USBS)
Like burgers? Like puns? Then you'll like USBS. What started as a weekly pop-up has expanded into a full-fledged brick-and-mortar operation at The Citadel food hall. As you can probably guess from the name, the eatery really leans into the mail theme with items like ground (single patty), 2-day (double patty), and the carrier pigeon (fried chicken patty). There's almost always a punny monthly special going on, but first-timers should definitely start with the ground with government cheese and priority sauce. It's simple, tasty, and gets the job done.
United States Burger Service is located at 8300 NE 2nd Avenue, Suite 102. For more information, visit their official Instagram.
The Wagyu Bar
The Wagyu Bar has built a reputation for using quality meats, and their burger selection is no exception. There are three burgers to choose from at this Coral Way steakhouse, and all of them are the right choice: a dry-aged brisket burger on a brioche bun, a domestic wagyu beef burger, and a Japanese A5 burger. That last one is sold at a premium—it's more than twice the price of the other offerings—but you get what you pay for here; the only regret you'll have is not ordering it.