It's never been too hard to find a decent brunch spot in Miami Beach. However, finding the best among many good ones can be a challenge. Whether you're looking for American brunch classics, international flare, waffles in the wee hours of the night, or those age-old establishments that have seen it all – we've got you covered:
Abbale Telavivian Kitchen
Abbale is fresh on the scene in Miami but it's already had sufficient time to win over even the most stubborn epicurean hearts. If you've ever had a taste of a true Israeli breakfast or brunch — you'll have no question why. It's the perfect melange of decadent and fresh, utilizing eye-opening spices and a luscious presentation that will have you skooping up seconds and even thirds.
Abbale Telavivian Kitchen does brunch right. The best part? It's served all day every Sunday so you don't have to worry about sleeping in.
The brunch menu is loaded with Middle Eastern goodies and we recommend gathering a crowd 'cause the dishes here beckon to be shared. Rightfully so, the hummus here is divine, and we strongly suggest going with the masabacha, served with a perfectly jammy egg, a healthy dollop of tahini and olive oil, and a Jerusalem bagel. Then comes the shakshuka, but of course.
You won't regret adding the house-cured salmon glavlax and wiping the plate down clean with extra fire-baked pitas. As far as drinks go there's an extensive and impressive wine menu with some notable mentions from Israel and Lebanon. That renders it a Sunday well done.
Abbale Telavivian Kitchen is located at 864 Commerce St, Miami Beach, FL 33139. For more information, visit their official website.
Cafe Americano
Cafe Americano in Brickell serves up brunch specialties every day of the week so you'll never have to wait for the weekend to enjoy your French toast. The newly opened diner has already become the go-to for many a foodie looking for hearty eats early in the a.m.
Specializing in American classics with a Latin twist, if you're looking for a new addition to your regular brunch spread, the tres leches French toast here is heavenly — made with brioche, rum dulce de leche, whipped cream, and strawberries.
On the savory side of things, the barbacao chilaquiles are just as divine, served up with picante salsa, shredded beef, sunny side eggs, and avocado. If your idea of brunch is something light, go straight for the acai bowl topped with loads of fresh fruit and shredded coconut.
The brunch cocktail menu deserves a special mention as well: get the Brugal 1888-spiked Morning Coffee, trust us.
Cafe Americano
Cafe Americano, the city-favorite retro diner with a Latin twist, has unveiled its newest concept in Brickell. Palm greens meet soft caramel browns at this tropical eatery, giving a nod to hard-to-forget American diner classics like a jukebox, leather booths, and bar seats. Overall the vibe screams ideal South Florida diner if there ever was one.
Read More
The Local House
Tucked away in a hotel on Ocean Drive you'll find perhaps what is one of Miami's favorite brunch spots — the Local House. An indispensable eatery for locals and tourists alike, this adorable cafe has beach town vibes and food that will keep you energized for a work day ahead, sightseeing, or beach fun.
The benedicts are the star of the show here, with plenty of protein to choose from: our heart is taken by the buttery poached lobster benedict, served with home fries.
Be sure to add the truffle hollandaise! While those with a sweet tooth for brunch should take advantage of the zesty key lime French toast served with coconut cream and strawberries. It's heaven. All that's left is a carafe of mimosa for the table and we're sure you'll become a regular like us.
Local House is located at 400 Ocean Dr, Miami Beach, FL 33139. For more information, visit their official website.
News Cafe 
News Cafe is The Miami institution. Capital T. On the scene for over 3 decades, after a short pandemic hiatus it's back as if it never left.
It's the place to see and be seen and the old-school setting, newspaper-styled menus (an ode to the origins of the cafe doubling as a newspaper stand), and scrumptious breakfast and brunch menu make it the place you just can't help but come back to day in day out.
The menu here is loaded with American and continental breakfast classics. The holy grail of it all — the eggs benedict. News Cafe perfects the original recipe, whether you're opting for the thick-cut Canadian bacon or the smoked salmon.
This will be one eggs benny dish for the books. Another South Beach specialty here is the cafe con leche French toast, the ideal start to any morning. Finally, a little secret: forget the fancy coffee shops, New Cafe serves some of the best coffee-based beverages in town. Hands down.
News Cafe is located at 800 Ocean Dr, Miami Beach, FL 33139. For more information, visit their official website.
RED South Beach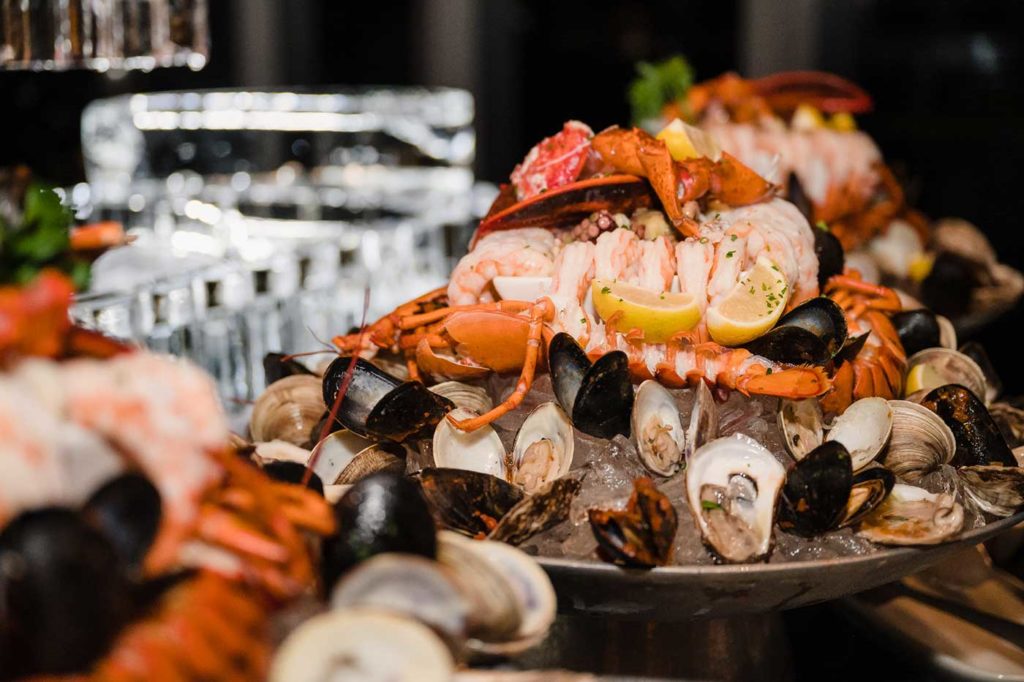 Looking for something fancy? Something extravagant? Something decadent? That something is RED. RED South Beach is not your ordinary brunch spot, folks.
Winner of multiple awards for the best steakhouse in America, RED takes its brunch offerings seriously and brings the same heat it brings to its steaks. Brunch here is every Sunday and reservations are highly recommended so snatch your spot on the red carpet while you can.
This is a place to go hard or go home — for $89 the city's gourmands get unlimited champagne, mimosas, bellinis, and bloody marys to start the morning off to its fullest potential. Unlimited appetizers include lavish options like blue crab ravioli, truffle pasta, and oysters on the half-shell, to name a few.
While on the entree list, you will find the now infamous filet Oscar benedict with an option to upgrade it to a King crab-crusted dry-aged tomahawak Oscar with crab bearnaise. We did mention it's a go hard kind of brunch, didn't we?
Yardbird
When the Southern food cravings hit you can bet your bottom dollar you'll find us at Yardbird. The Miami staple does comfort food right. And whether you've been out all night partying or simply want to dig into some crispy fried goodness — Yardbird is your brunch spot.
With locations throughout the United States and even Singapore, Yardbird knows how to fry up a bird. Their signature dish, the chicken and waffles, is an absolute banger, served with honey hot sauce, chilled spiced watermelon, and bourbon maple syrup, plus available gluten-free.
However, the menu is locked and loaded with sweet and savory specialties that will make your eyes run wild. Sips here deserve a book of their own, with an extensive menu of mixology's finest.
Bourbon naturally being a staple in the bartender's hand — make sure to try the Yardbird Old Fashioned made with bacon-infused bourbon. Only at Yardbird, folks.
Yardbird is located at 1600 Lenox Ave., Miami Beach, FL 33139. For more information, visit their official website.