"Breakfast is the most important meal of the day." You've likely heard that common saying in some form or another. Whether breakfast actually is the most important is arguable, but there's no denying it can set the tone for the rest of the day. So why not treat yourself?
Many South Florida restaurants offer up more than just baked goods in the morning. And with more and more people working from home, it's easier than ever to sneak in a quick outing before getting back to the daily grind. Check out these seven best breakfast restaurants in Miami for a fun start to your day:
Café Bastille
Since traveling right now is iffy due to COVID-19, the next best thing to a trip to France is a visit to Downtown Miami's Café Bastille. The French eatery serves all-day breakfast, so you can chow down on pancakes, benedicts, and all your favorites at any time of the day. Sweet, savory, in between… no matter your preference, Café Bastille has something for you.
If you like to start your days on the sweeter side, the café offers sugary delights in spades. Stuffed Nutella French toast and red velvet pancakes are among the more decadent sights here, while simple fare like Greek yogurt and croissants with jam make for lighter options.
Savory palates have even more selections to choose from, including the eatery's popular open-face croissant Benedicts; you can get yours with proteins like smoked salmon, cajun shrimp and turkey. Other favorites are the restaurant's signature crepes with fillings like country ham and chicken as well as the croque monsieur and croque madame.
Café Bastille is located at 248 SE 1st Street, Miami, FL 33131. For more information, call 786-425-3575 or click here to visit their official website.
Miami's Best in Your Inbox. Monthly.
Get the dish before it's served.
Cream Parlor
Since its opening, Cream Parlor has always prided itself on its fun take on ice cream. You can't help but giggle when you hear the names of all the different flavors like Unicorn Poop and Gopher Guts. But the Upper East Side restaurant offers much more than its name suggests: Cream Parlor also serves up an assortment of breakfast and lunch items throughout the day.
The big breakfast item on the menu is the almighty crepe, which comes in various sweet and savory styles. The standard breakfast crepe comes with two scrambled eggs with your choice of cheese and bacon or sausage patty. The Holy Crepe is stuffed with ham and cheese, while the Sweetie Crepe—we told you these names were cute—has Nutella and raspberry jam. You can even create your own if you prefer. Quiches are also available, along with side options like smoked salmon, turkey sausage, bacon and sriracha lentils.
While eating ice cream for breakfast may be frowned upon, Cream Parlor's specialty coffee drinks can help you get away with it. The Iced Cream Latte is a combination of a latte and a milkshake—that counts as coffee, right? The Nutella Hot Chocolate Heaven is another fascinating concoction with Nutella, chocolate and Reese's Cereal. If you don't feel like using up your daily allotment of calories in one meal, there are more traditional options like cold brew, lavender chai and a beautifully floral rose petal latte. Even if you don't plan on eating, Cream Parlor is worth visiting for their coffee and tea selections alone.
Cream Parlor is located at 8224 Biscayne Boulevard, Miami, FL 33138. For more information, call 786-34-4180 or click here to visit their official website.
El Bagel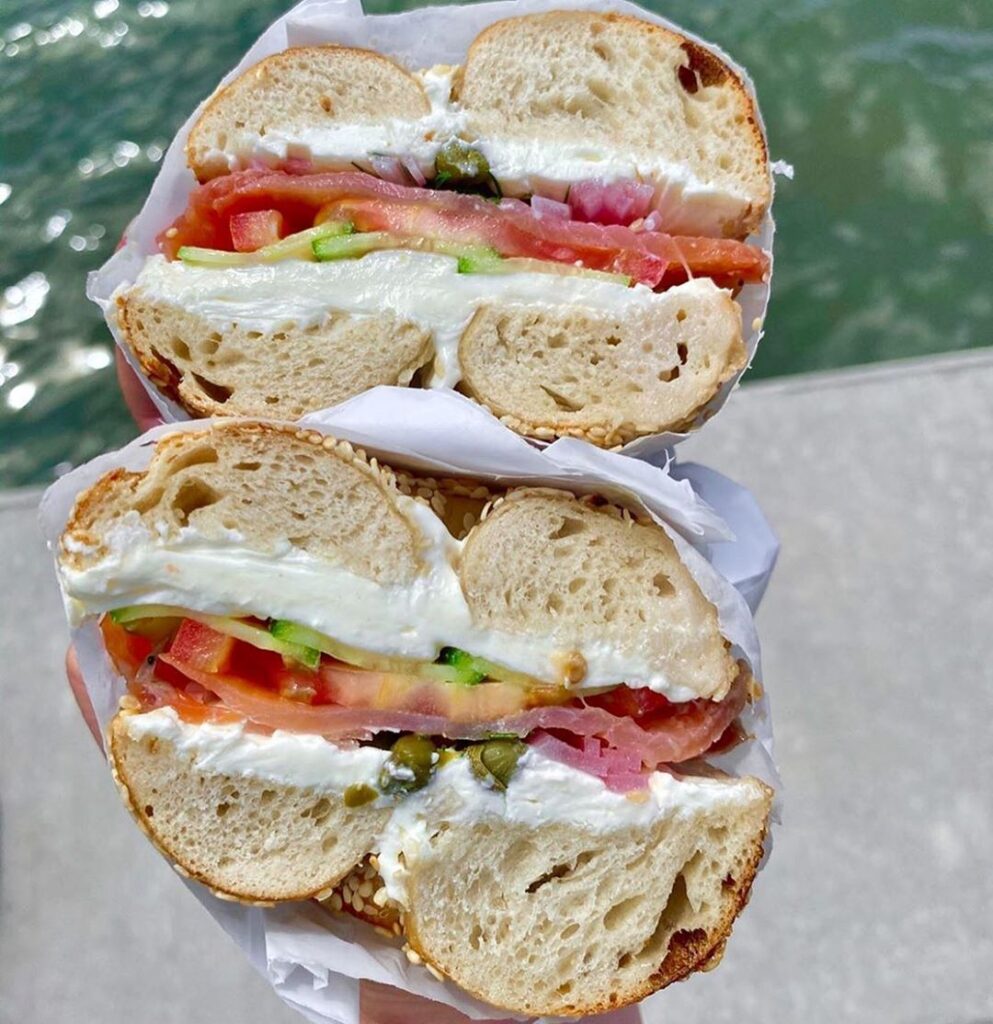 El Bagel is a Miami success story. This ode to bagel sandwiches started out as a food truck, making weekly appearances at local hangouts like Boxelder in Wynwood and Vice City Bean in Downtown Miami. The lines were sometimes outrageous, but the sandwiches lived up to the hype; seeing the same faces—and a ton of new faces—every week was a testament to the quality.
El Bagel has doubled down on the success with their brick-and-mortar store in the MiMo area, which is open bright and early for breakfast. The menu features crowd favorites like the King Guava—a sweet and salty mix of guava marmalade, plain cream cheese, fried egg and potato stixx—and the Las Tardes, a thin-sliced turkey and house-made tomato jam delight.
Should you prefer something lighter, El Bagel offers their bagels by themselves with a range of schmears including roasted veg and scallion. You can also order add-ons like lox, whitefish salad and tried-and-true bacon. Just an FYI: Wait times can still be a bit long (sometimes up to 2 hours) and El Bagel can sell out fast, so prepare accordingly.
El Bagel is located at 6910 Biscayne Boulevard, Miami, FL 33138. For more information, call 786-536-7365 or click here to order online.
Miami Diner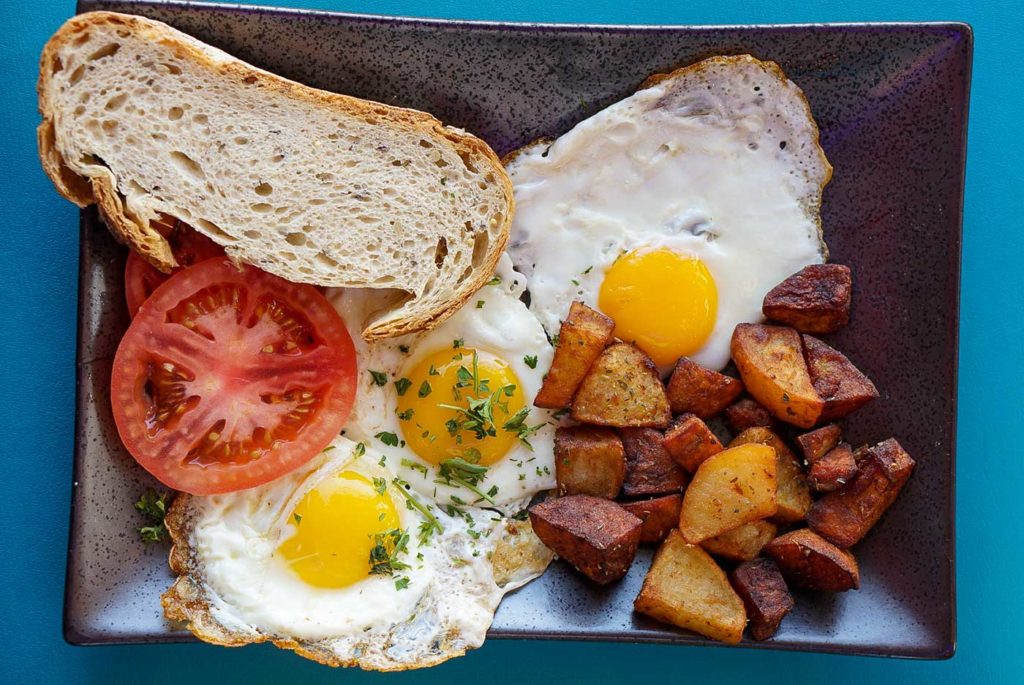 The only thing better than breakfast is all-day breakfast, so you can be sure you get your fix of breakfast munchies no matter what time your alarm clock is set to. With two Miami locations, one in Downtown and one in South Beach, Miami Diner offers all-day breakfast and so much more in its back-to-the-50's setting.
The first thing to decide will be, are you a sweet or savory breakfast kind of person? Rest assured—the Diner has plenty of options for both persuasions. On the sweet end of things, feast on the Miami Waffle, topped with oreo cookies, walnuts, Nutella, bananas, chocolate syrup, and served with vanilla ice cream. We're all adults here, so ice cream for breakfast is a total go. We do encourage you to pair it with one of the Premium Milkshakes, like the Instagram-worthy Nutella Ferrero—Nutella and vanilla ice cream topped with whipped cream, Ferrero rocher chocolate, and a Kinder Bueno chocolate bar. Everyone knows breakfast is the best time of day for a sugar rush!
Next, we got the savory breakfast items: eggs benedict, Croque Madame, loaded omelets, waffle sandwiches, or the Stuffed Avocado—two avocado halves stuffed with fried eggs, baked and served with home fries and toast. All the carbs will have you fuelled and ready for the entire day. Just make sure to get a nostalgic soda float to wash it all down. No regrets here. Like to go light for breakfast? No worries, just sub for the egg whites and any other side of your choice.
The downtown location is located at 140 SE 1st Ave. Miami, FL 33131; ​786-536-2400; South Beach location is located at 919 Alton Road Miami Beach, FL 33139; 786-536-2564; For more information, visit their official website.
Tasty Beach Café
If there's one word to describe the menu at Tasty Beach Café, it's extensive. When you hear the phrase "something for everyone," this place definitely fits the bill. You can choose something simple like three scrambled eggs or an egg and cheese croissant or opt for one of Tasty Beach Café's hefty breakfast wraps. The Miami Heat Egg Wrap, for example, is stuffed with scrambled eggs, sriracha, jalapeno, hot sauce, caramelized onions, and melted pepper jack cheese—it's a mouthful. So is the Heisenberg Wrap with egg, American cheese, veggie sausage, and breakfast potatoes. We hope you aren't counting calories.
For breakfast and a show, select one of the Instagram-worthy pancakes or French toasts. This is one of the few places in town where you can find pancakes stacked with Fruity Pebbles, Oreos, and Cinnamon Toast Crunch. No matter which pancake or French toast selection you order, make sure you have someone to split them with—they're not kidding when they say they're huge. Jumbo muffins, Danish rings, cinnamon buns… they're all here for sale, too.
Want to avoid a visit to the cardiologist? More diet-friendly fare is available in the form of fruit salad, yogurt parfaits and avocado toast—to name a few. We weren't kidding when we said there's something for everyone. This spot should have no problem satisfying even the pickiest of eaters.
Tasty Beach Café is located at 4041 Royal Palm Avenue, Miami Beach, FL 33140. For more information, call 305-673-5483 or click here to visit their official website.
Threefold Café
Stroll down Giralda Avenue in Coral Gables and check out Threefold Café for an Aussie-inspired breakfast. This charming Australian eatery has been cooking up a storm for locals since 2014. Since then, it's expanded into other neighborhoods like Brickell and South Miami. That success should come as no surprise considering the hearty, tasty offerings on the menu.
Don't let the whimsical names like Ducking Delicious and Big Bad Aussie fool you: Threefold is serious about their food. The former is a rich mix of duck egg, sweet corn puree and mushroom tempura that's unlike anything we've encountered in Miami. The latter menu selection lives up to its name with bourbon maple-glazed slab bacon, cannellini BBQ baked beans, fried eggs and much more; leftovers are a guarantee.
If you're more of a traditionalist when it comes to breakfast, no worries: Threefold Café has you covered there, too. Items like the Smashed Avocado (avocado toast) and Eggs Anyway are sure to please those seeking a lighter breakfast. There's even a kids menu available if you want to make your visit to Threefold Café a family affair. Another thing that the Coral Gables establishment is known for is its coffee. Espresso, cappuccino, an Aussie flat white … they're all here and locally roasted. The café is always coming up with specials, so follow them on social media for the latest updates.
Threefold Café is located at 141 Giralda Avenue, Coral Gables, FL 33134. The restaurant also has satellite locations in Brickell and South Miami. For more information, visit their official website.
Tinta y Café
Cuban restaurants are a dime a dozen in Miami, but Tinta y Café is among the best. This Coral Gables business serves up all the Cuban classics like tostadas, croquetas, pastelitos along with a variety of delectable hot plates. The appropriately named Breakfast Sandwich is a beast with egg, ham, cheese, and strawberry preserve on medianoche bread. The Huevones section of the menu features equally sizeable egg sandwiches that can be made to your liking; we suggest opting for a croissant as your bread option for some nice texture.
More impressive than the food is coffee. Frank, the resident coffee expert, is a master at café con leches and other Cuban staples. Ask for him at the window and get yourself some grab-and-go goodies for the road to go along with your coffee. If it's especially hot outside, order an iced café con leche—you may even like it better than the regular version!
Tinta y Café is located at 1315 Ponce De Leon Boulevard, Coral Gables, FL 33134. For more information, call 305-285-0101 or click here to order online.