Sushi, ramen, banh mi, dim sum, sake … There's no shortage of Asian food and drinks to be enjoyed. But where should you go for the very best in town? The following list will help guide you through some of the best Asian restaurants in Miami.
Buya Izakaya + Yakitori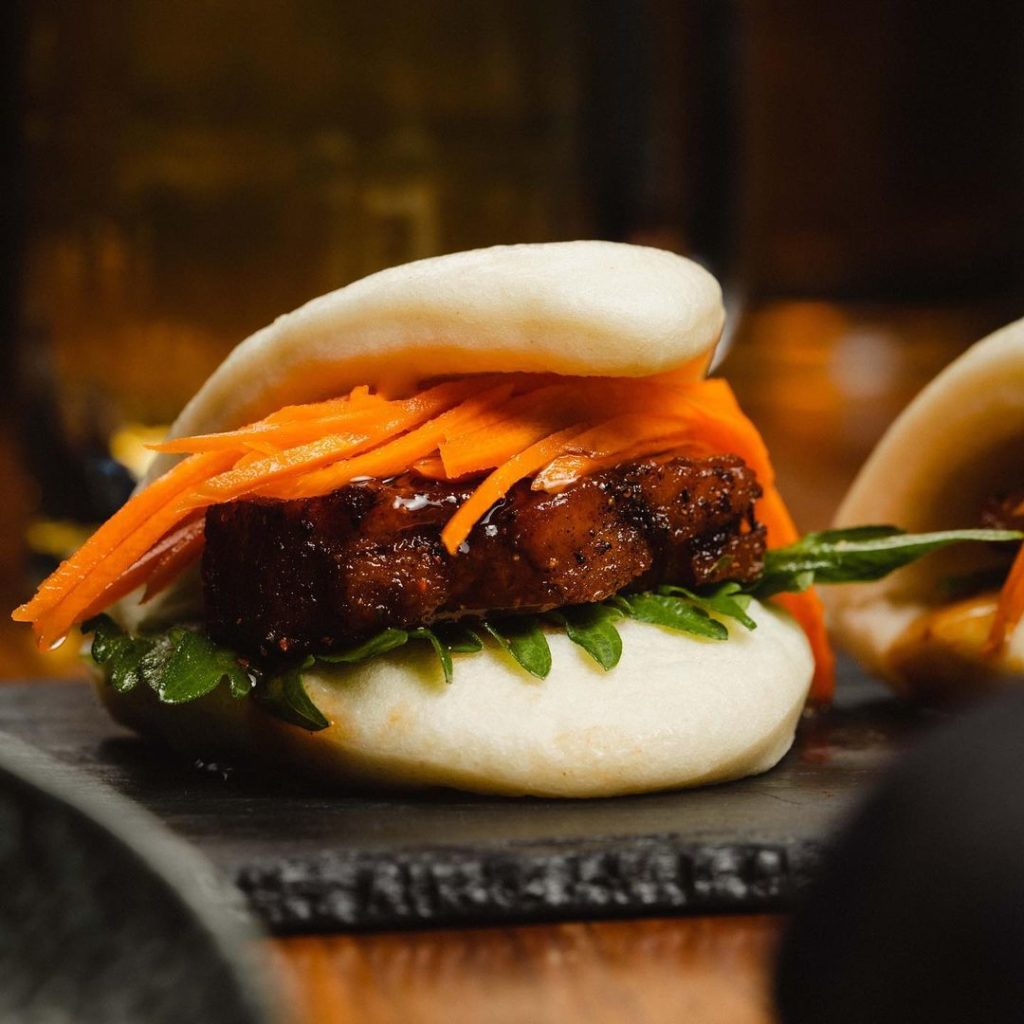 For casual bites and drinks, look no further than Buya Izakaya + Yakitori. Those not familiar with the izakaya concept should know that these Japanese bars are essentially informal hangouts. Don't let the laid-back vibes fool you, though: You're in for some seriously tasty food.
The menu is mostly comprised of shareable plates like pork belly buns, street corn, karaage chicken, and other classics; make sure to bring friends. If you're really hungry, opt for larger plates like the short rib ramen and spicy tuna dunburi. There are no wrong choices here.
Buya Izakaya + Yakitori is located at 250 NW 24th Street, Miami, FL 33127. For more information, visit their official website. 
Hachidori Ramen Bar
Up north in Little River, Hachidori Ramen Bar is making a name for itself with slurp-worthy bowls of the Japanese classic. There are only a handful of ramen options on the menu, but each one is loaded with flavor. First-timers should consider the O.G with a tonkotsu and miso broth and cured pork belly. Pick your spice level—hot is very hot—and dig in.
Other selections include a shoyu option with chicken broth and a shrooms option for plant-based patrons. While ramen makes up most of the menu, there are other items like Korean spicy wings, pork ribs, and sticky buns.
Hachidori Ramen Bar is located at 8222 NE 2nd Avenue, Miami, FL 33138. For more information, visit their official website.
Hiyakawa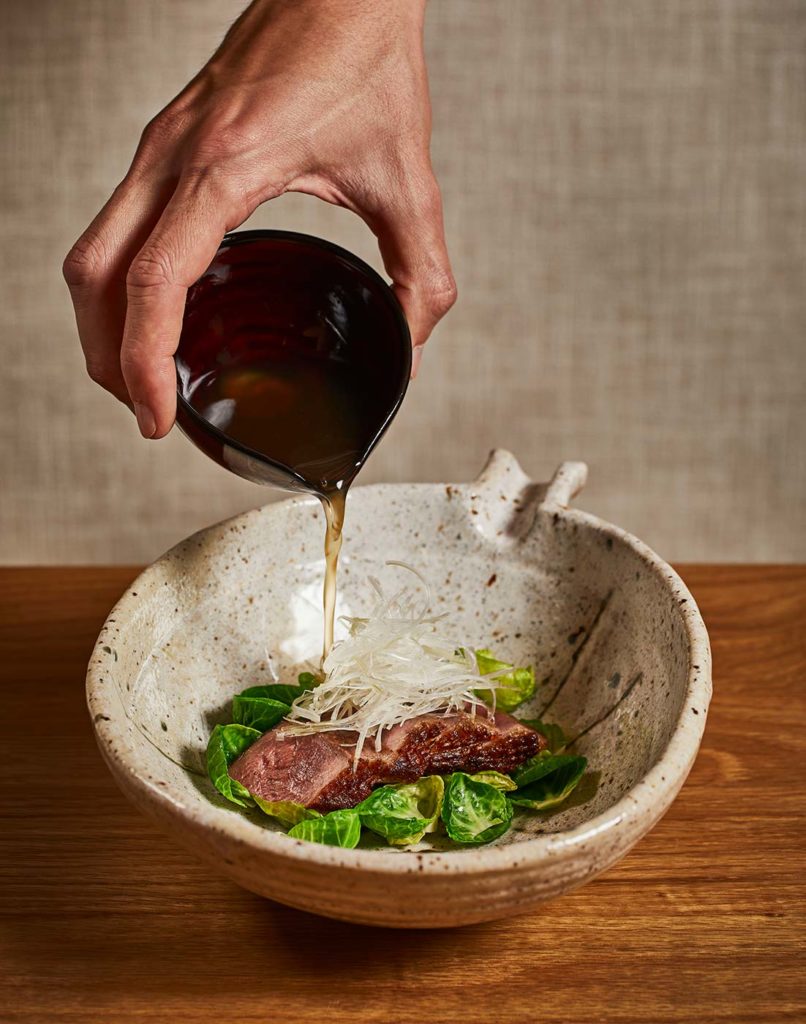 Hiyakawa, Wabi Sabi's upscale cousin, has been giving long-standing Miami sushi bars heavy competition since its opening this year. The minimalist sushi shrine shines the spotlight on the ingredients alongside long-standing tradition. Each element is approached with complete mindfulness. Nothing out of place, nothing out of season. Hiyakawa's menu boasts nigiri, sashimi, maki, temaki, and platters. If you find yourself craving something hot, there are options of fish off the grill, steamed or fried. Enough ingredients are prepared for no more than fifty meals daily, so reservations are highly encouraged.
Enter Hiyakawa as you would an art gallery, as each dish is no short of a masterpiece. The chefs behind the bar each possess an array of hand-made tools designated to put seafood on a pedestal. Bamboo brushes effortlessly make their way into little ceramic bowls filled with sauces, sharp sashimi knives glide through marbled fish, and fine silver chopsticks dexterously merge all the components onto one dish. If you find yourself sitting at the bar, expect the sushi sorcery to happen before your eyes. Word of advice — get a sake pairing for the exhibit.
Hiyakawa is located at 2700 North Miami Avenue, Miami, FL 33127. For more information, visit their official website.
Hutong
A more upscale Asian dining experience awaits at Hutong in Brickell, where guests can feast on an extensive menu of dim sum and other Chinese delights. The offerings are extensive, and items are mostly meant for sharing. Your best bet is to ask your server for recommendations, as things can get overwhelming fast.
Some highlights include the Sichuan-style lobster, prawn rolls, duck fried rice, and the beef rib in a lotus leaf. They're all tasty but expect to spend a bit while here.
Hutong is located at 600 Brickell Avenue, Miami, FL 33131. For more information, visit their official website.
Jia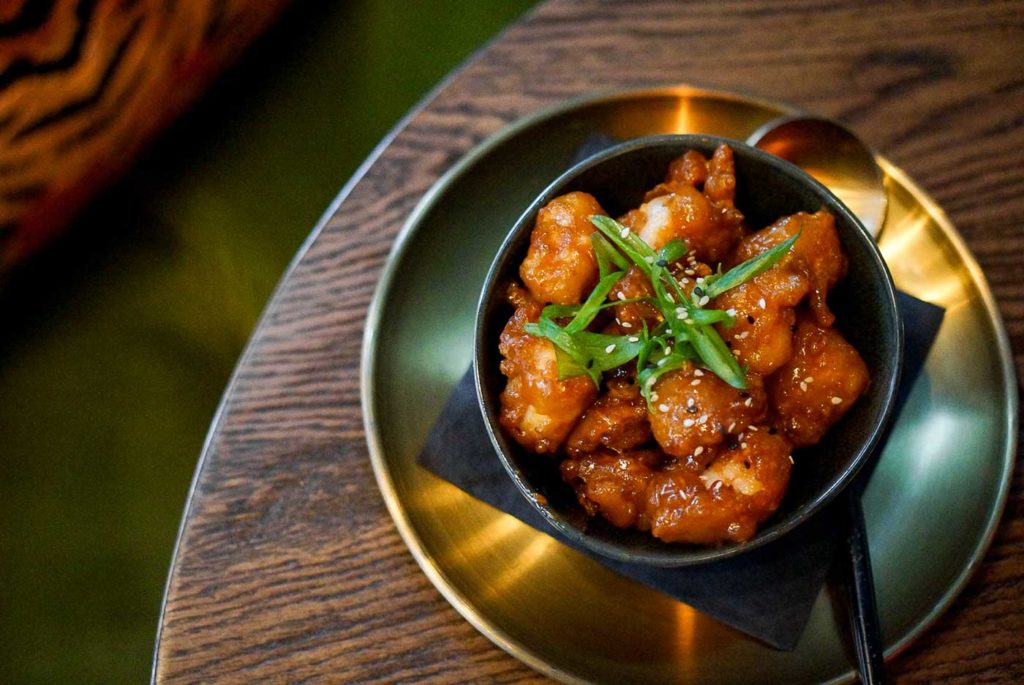 Jia might just be the swankiest Chinese restaurant we know along the whole East Coast. Yup, New York Chinatown included. The relatively new restaurant in the notoriously hard-to-survive-in South of Fifth area is already showing us signs of longevity, and we couldn't be any happier. Why? It's just so darn good. Not to mention, it's the first restaurant bringing upscale Chinese cuisine to the area. Much needed—which means we need it to stick around, seriously.
So what's Jia's scheme to success in South Beach? We can't claim to know all the secrets. Still, it simply boils down to three categories—a vogue setting (c'mon, you know we Miamians appreciate beauty); novelty (it's a dinner club, lounge, and restaurant all in one); and most importantly, the food. Yes, the food. We've seen it one too many times: good looks, zero substance. Chef Weng Choon Lai brings us an authentic yet modern taste of Cantonese cuisine's finest. We're talking Crystal Noodles with Crab Roe, Black Truffle Sticky Rice, and Master Char Siew—a Chinese delicacy cooked with white wine to substitute the traditionally used rice wine. The food at Jia is addictive in all the best ways and doesn't fail to keep you on your toes. Every single time.
Jia is located at 808 1st Street, #3, Miami Beach, FL 33139. For more information, visit their official website.
Kosushi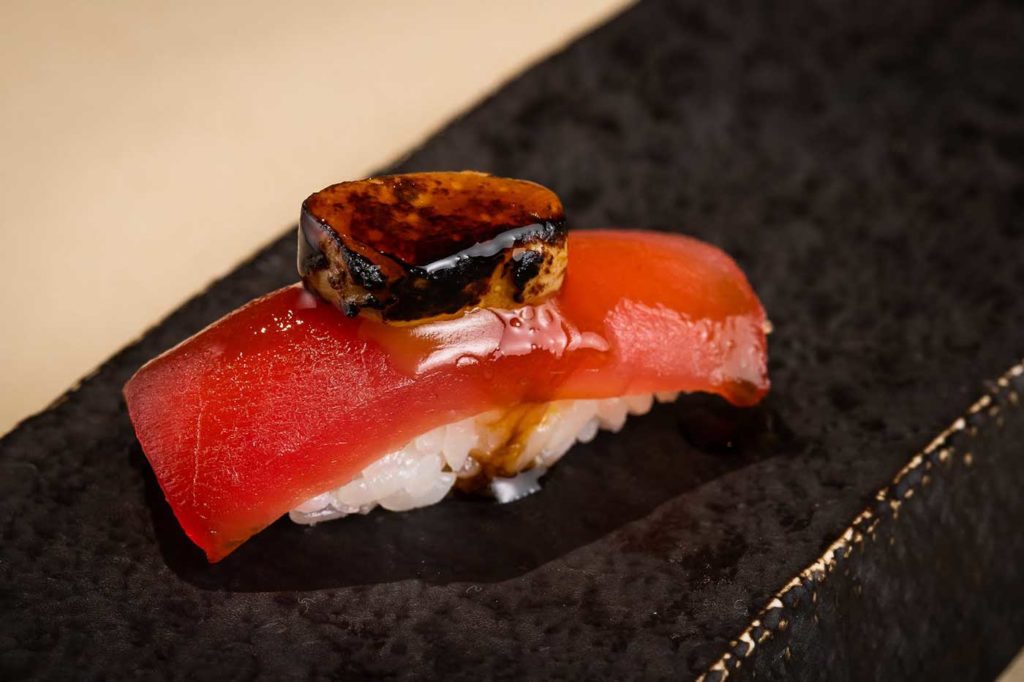 Internationally acclaimed sushi spot Kosushi has made its way to South of Fifth. The Brazil-based concept has brought with it a number of appetizing options for diners. These options include king crab truffle, salmon aji Amarillo with caviar, and wagyu gyoza. Sushi and sashimi selections abound: crab, salmon belly, uni, toro … the list goes on. A curated list of wines and sake round out the selections for a truly immersive and exquisite dining experience.
Kosushi is located at 801 South Pointe Drive, Miami Beach, FL 33139. For more information, visit their official website.
KYU
Rule #1 about visiting KYU: Always have a reservation. No matter the night, KYU is busy. Why? Because the KYU dining experience is unmatched. From the stellar service and beautiful décor to the delicious bites and whimsical cocktails, KYU knocks everything out of the park.
Rule #2: Get the tasting menu. At $75 per person, it's one of the best deals in town and you'll get to try all of KYU's greatest hits (and then some) like the famous roasted cauliflower, Korean fried chicken, and the coconut cake. That's all you need to know.
KYU is located at 251 NW 25th Street, Miami, FL 33127. For more information, visit their official website.
Pubbelly Sushi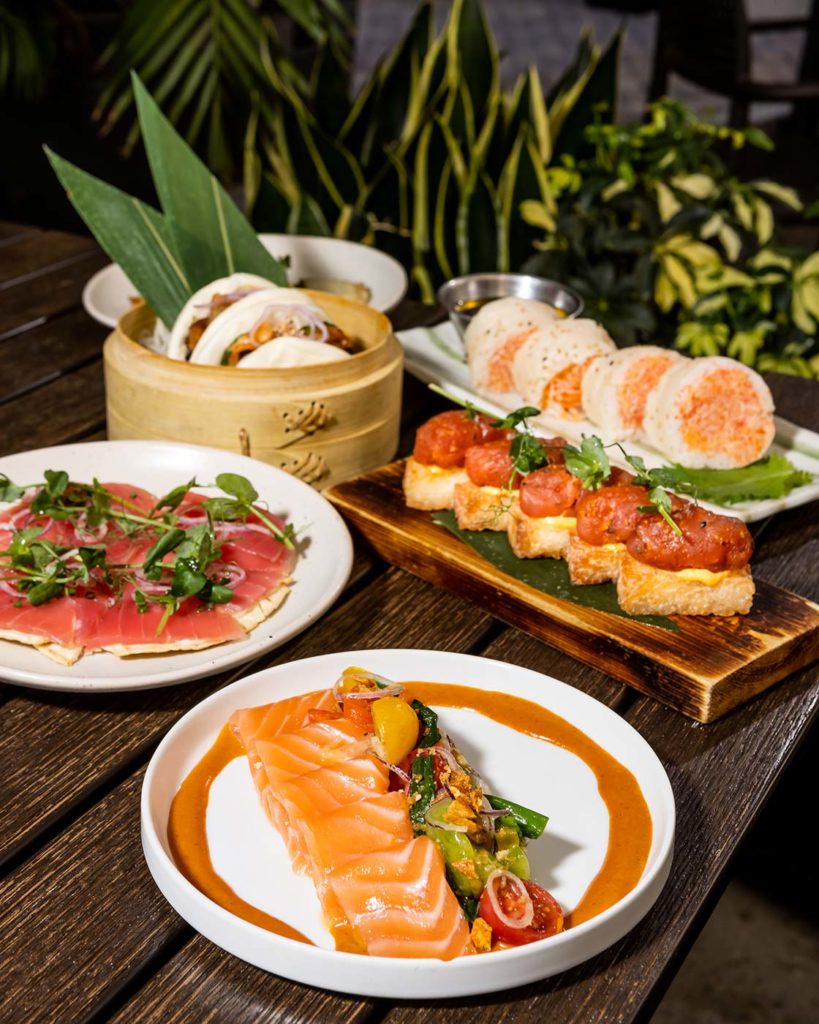 Oh Pubbelly, you have stolen our hearts with Asian fusion we thought no one can pull off, ever. The bravery exhibited at this sushi joint is like none other, and executive chef Jose Mendin has had tricks up his sleeves for over a decade. The 2020 Miami New Times Readers' Choice Award for "Best Sushi" holds weight, but after you try some of their signature creations, you won't be surprised as to why this spot has been so raved about. With multiple locations around the city, Pubbelly Sushi offers a well-stocked bar featuring imported sake and beer, funky cocktails, killer rolls, bomb bao buns, and hand-slapping Asian tapas. Meaning, it will be hard to share after the first bite.
Gastronomical highlights here include the Big Eye Tuna Roll, perfectly paired with mind-quenching truffle oil and crispy rice; the Short Rib and Truffle Dumplings featuring corn and parmesan; and the pistachio and miso dressed Shishito Peppers. Navigating through the menu might take a hot minute considering that the joint's creativity has no boundaries, which we are most grateful for. Our best solution — get a group of friends together, order to share, and order a lot. Trust us, you won't want to be fighting over that last dumpling.
Pubbelly Sushi has locations in Aventura, Brickell, Dadeland, and Miami Beach. To find a location near you, click here.
Tran An
Vietnamese food is hard to find in the 305, and Tran An is helping fill that gap. On the menu of this Little River sensation, you'll find staples like green papaya salad, pork, and shrimp imperial rolls, and an array of banh mis, bowls, and pho.
The OG classic banh mi is a must, with its tasty chili-rubbed pork and country pate; the braised beef one is also a solid sandwich. Other standouts include the lemongrass beef stew and the house special broken rice. Try them all; the prices are kind to your budget.
Tran An is located at 215 NE 82nd Street, Miami, FL 33138. For more information, visit their official website.
Uchi Miami
Texas-based Uchi has set up shop in Wynwood, where chef Tyson Cole's untraditional take on Japanese cuisine is making waves. Sushi and sashimi are the stars of the show, but the cool and hot tastings are just as impressive (and fascinating).
Some examples: the maguro and goat cheese; the pairing of bigeye tuna and goat cheese sounds strange, but it works. Same for the hirame usuzukuri, a dish made up of thinly sliced flounder and candied quinoa – an unorthodox but satisfying pairing. The key to making the most of your Uchi experience: an open mind and palate.
Uchi is located at 252 NW 25th Street, Miami, FL 33127. For more information, visit their official website.
Wabi Sabi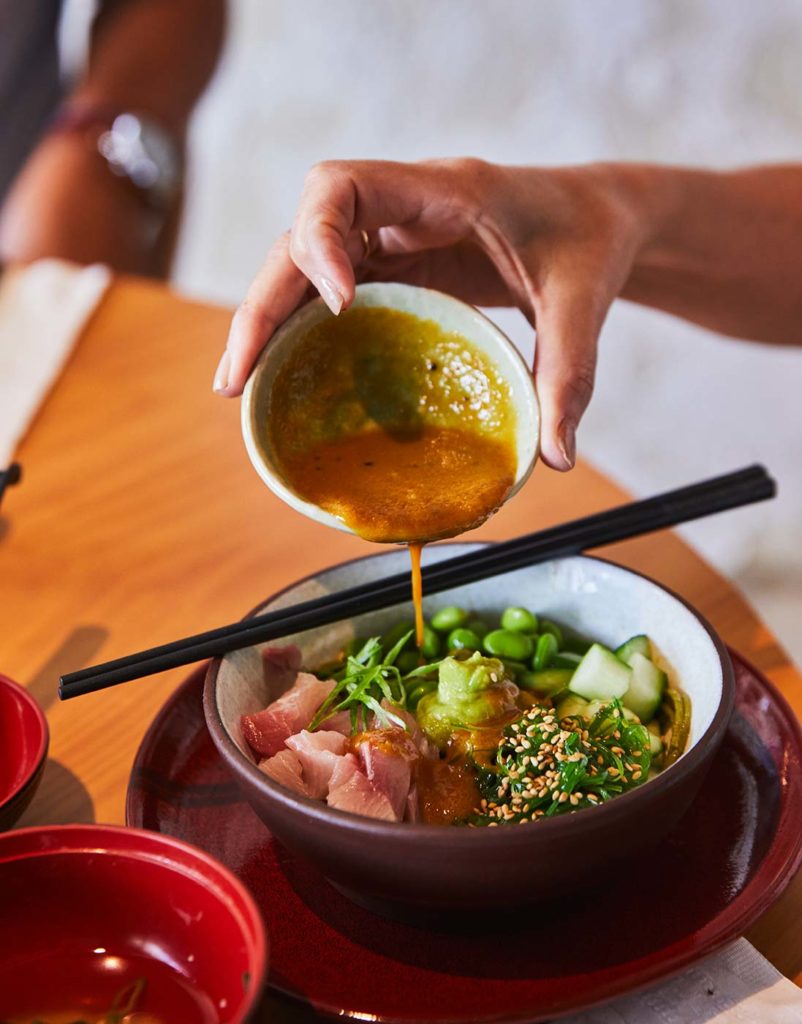 Step into the Zen Temple that is Wabi Sabi for an immaculate Japanese meal. Origami cranes adorning the walls, kokedama plants resting on the hushed wooden tables… It's the place to recharge and nourish your body to the fullest degree. The Upper East Side eatery offers casual fish donburi, sushi, and more upscale omakase experiences. All at a bargain price, granting the freshness of the fish and the artistry of the chef. It's literally the perfect place to take anyone, considering the sleek casualness yet gastronomic mastery that Wabi Sabi exhibits. Not to mention the bowls are customizable and veganizable.
The Wabi Sabi Bowl is a good starting point for someone wishing to sample a little bit of everything without breaking the bank. Salmon, tuna, blue crab, and shiitake mushrooms adorn a bed of sushi rice… or green tea soba, or mixed greens — anything goes here. Joining the mouth-watering fish is an assemblage of cucumber, edamame, seaweed, and avocado. All doused in a sauce of choice, like the crowd-favorite sesame-ginger. Made in-house, but of course. Oh, and don't worry about repeating yourself. Wabi Sabi keeps it fresh with rotating novel seafood offerings, like saltwater eel, Japanese uni, and firefly squid. Stop by for authentic Japanese fare, zero fluff.
Wabi Sabi is located at 851 NE 79th Street, Miami, FL 33138. For more information, visit their official website.