With Art Basel Miami right around the corner, we sat down with Alvaro Perez, an art dealer, and restaurateur who breathes art through everything he does. Born in Venezuela, Perez studied art in Florence and then later on at Parsons in Los Angeles. Coincidently, during his time in L.A., he entered the world of fine dining. Just at the age of 19, he was already working under the likes of internationally acclaimed restaurateur Joseph Suceveanu.
Alvaro dropped out of art school in light of his new career in the food industry. "I find food as a way to art. I took my art, and I thought to combine food and art, putting it together into one art form," says Perez. In 1989, Perez found himself living in Tokyo as an integral part of Suceveanu's team for the Japanese debut of Il Forno Trattoria. He ended up living in Tokyo for 15 years while gaining a deep and profound love and understanding of the Japanese culture, which now drives all his ventures.
Bringing Food and Art Together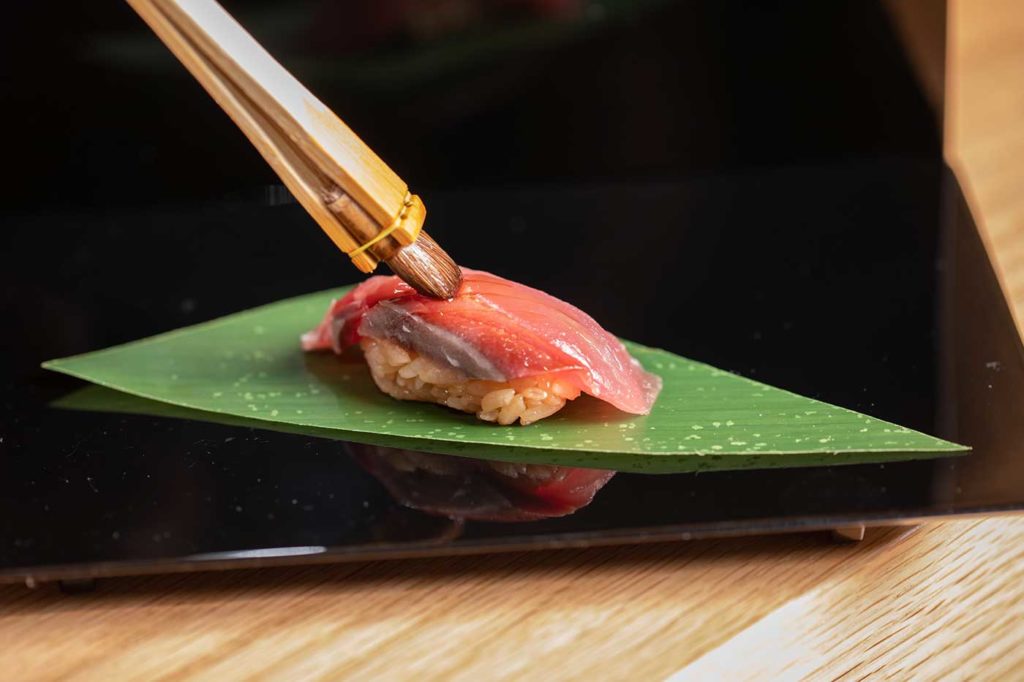 "In terms of food and art, Japan is the Ph.D. on what you want to do because you really learn that sophistication that Japanese people have for minimalism. Japan was not only an influence on my view of art but on everything I do," says Perez.
Indeed, Perez's career is all about the minute miracles that bring a smile to customers' faces. It's all but an accumulation of experiences—step by step, little by little.
"The simplicity translates to the Japanese culture," quotes Perez, as we reveled over the building blocks of Japanese craftsmanship. "The sakura which blooms in the spring is pink, but a single flower is almost white; when you put a bunch of cherry blossoms together, they look pinker. With that, I got very much in tune with the culture."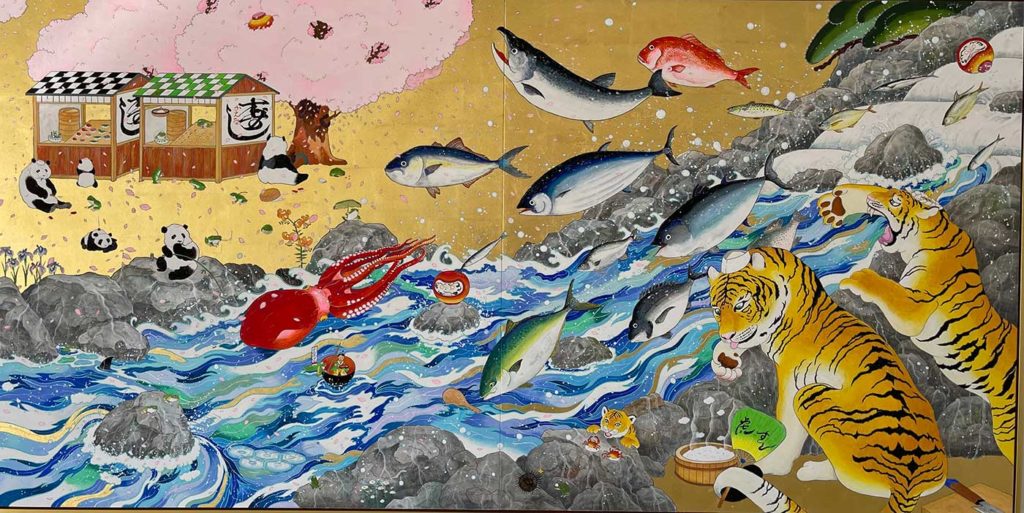 The grace therein is not a solo experience, yet a profound combination of the skill and artistry of many. The omakase allure would not exist without the fishermen and fishmongers of Tokyo's Toyosu Fish Market; the craftsmen of the knives, plates, and chopsticks cared for by talented sushi chefs; the customer's delight at the conclusion of the circle. It's a delicate symphony that only becomes more melodic and profound with each instrument.
Surely, hundreds have been seated at Perez's sushi bars by now. However, what is hiding behind flowing wooden panels and organically placed paintings is a long-growing respect for the arts. Perez was born with a love for the craft, always remembering himself being appreciative towards creative people. As a kid, Perez would follow the big names in the art world, learning about their style. "The Renaissance in Europe, Modernism in America, Simplicity in Japan… putting all of that together, for me, it's who I am".
Today, Perez owns two Japanese restaurants in Miami as well as the newly opened Japanese restaurant, Taiyo, in Mexico. When he is not greeting guests at the restaurants, he is at his art gallery—Black Ship Miami. Black Ship, or Kuro Fune in Japanese, refers to the first ship in which the Portuguese came and started trade between Japan and the West.
Perez's New Restaurant to Bring A Never-Before-Seen Side of Japan to Miami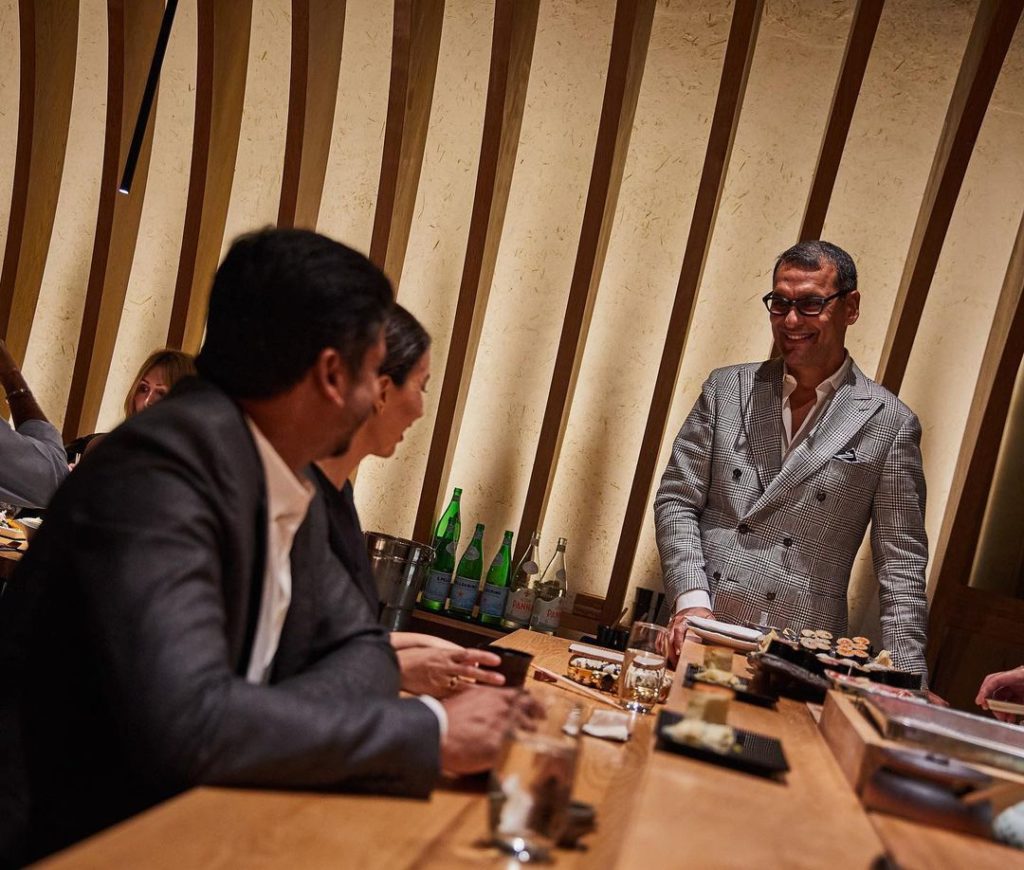 "I wanted to bring Japanese art [to America] because I fell in love with a Japanese technique called Nihonga", says Perez. Nihonga, an ancient Japanese technique that's 2000 years old, includes natural pigments mixed with rabbit skin glue, painted on washi paper and mounted on wood.
"Even the brushes are very particular. I work with a bunch of artists who brought this tradition and made contemporary Nihonga. For example, Ryota Unno is one of the artists that I work with. His pieces are beautiful," mentions Perez enthusiastically. Ryota Unno will also be the artist behind the restaurateur's new restaurant Ogawa, opening in Little River next year.
At Ogawa, guests will peer into a never-before-seen slice of Japan right in Miami. For the opening, Perez is bringing in chefs from Japan and partnering with Suntory to orchestrate a one-of-a-kind affair with patrons enjoying premium whisky in the restaurant's secret Japanese garden. Much like the visionary's other concepts, this restaurant will only seat 24 people per day, allowing each to experience the true soul of omotenashi—the art of wholeheartedly looking after guests. The phrase, originating from the Japanese tea ceremony, mirrors guests enjoying matcha during the Edo period's tea hut gardens.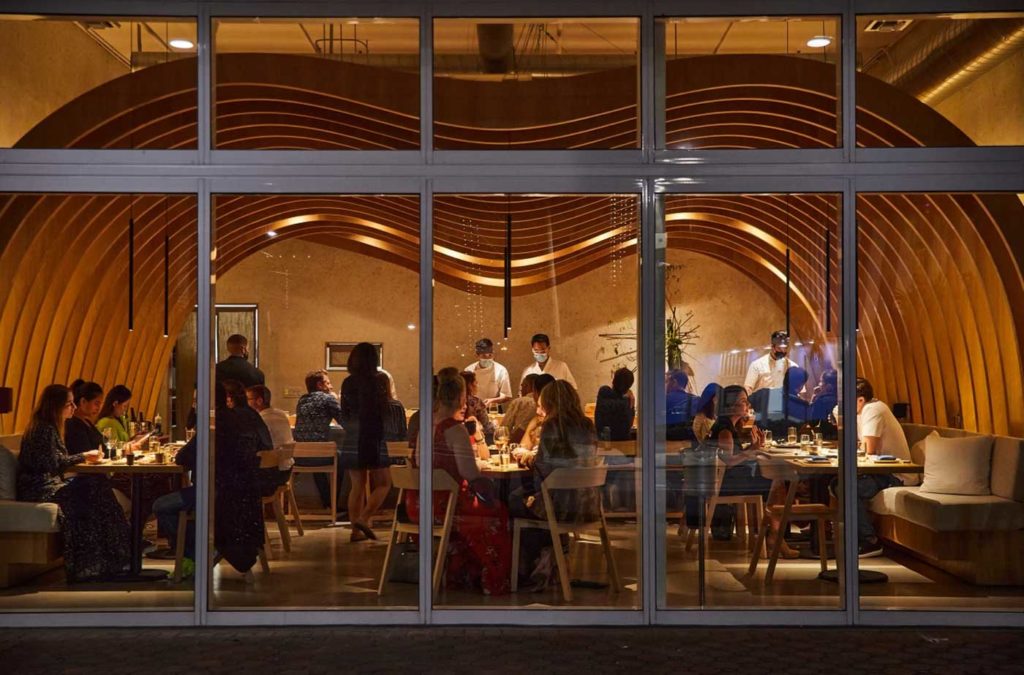 Today, Perez works with emerging artists because he sees merit in the dedication to one's work throughout its beginning stages. This same commitment can be seen in Alvaro's work—both at the casual, zen-like eatery Wabi Sabi, and its more upscale counterpart, Hiyakawa, not a thing is out of place.
What's Next?
Perez has no plans for gallery expansion as, for him, restaurants double as galleries. "I work with developers, and I place my artists in buildings around Miami to give them exposure. I want to open more restaurants because I see restaurants as vehicles to promote my artists", says Perez, as he adds: "We work with artists from every field: three-dimensional art, paintings, mixed media… I also do moments with music, food, and art together. I like to incorporate all those post-artistic elements into what I do."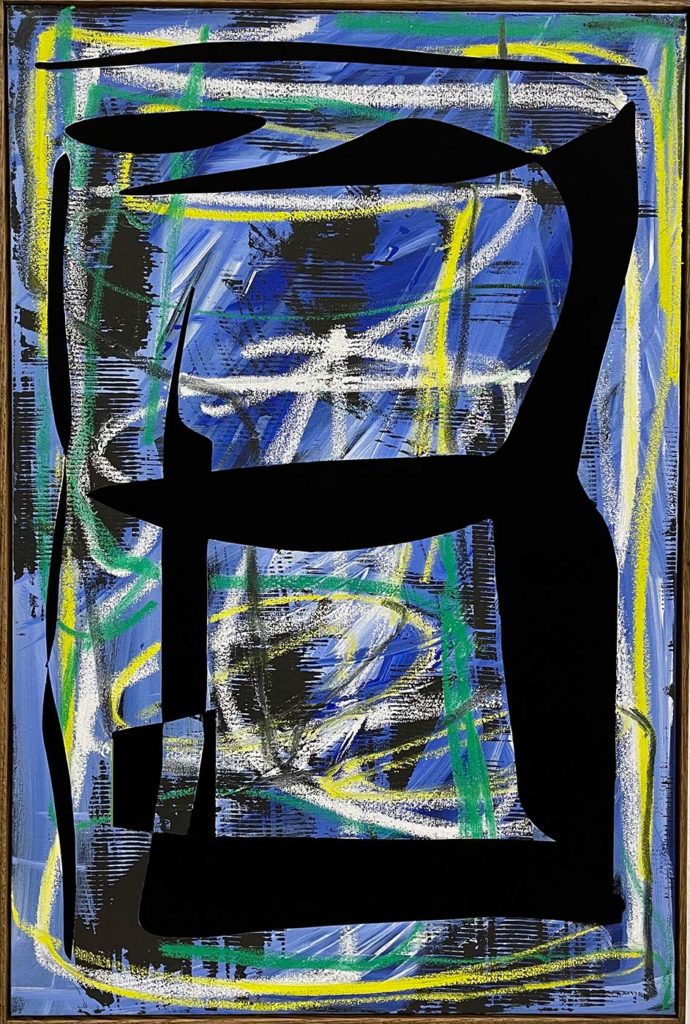 For January's opening of his new Coconut Grove restaurant, Midorie, Perez commissioned a Japanese pottery artist, Jud Tani, to make 400 little ceramic fish to display on the wall. In Japanese, Midorie has two meanings: the greenhouse or the green painting. "I wanted the design to be very organic. I felt the need to educate more… I wanted to do something that people would really have the curiosity to learn what it is. Also relating to green, to the environment, to using recycled things, that's the whole idea." says Perez. This same simplicity and wholeheartedness will be seen in the restaurant's humble menu, focusing on temaki or sushi hand rolls. In the future, Perez plans to open 20 of these zen establishments where guests can enjoy a quiet moment with seasonal food and immaculate artwork.
Alvaro Perez unequivocally shows us that galleries are not the only place to discover fine-tuned art on display. Art school is not the only institution where one can learn to appreciate it. At Hiyakawa, each slice of fish is presented in full honor. At this elegant sushi temple, you'll find work by Venezuelan artist Paul Amundarain adorning the walls and elegantly carved wooden panels centering the stage for sushi chefs who masterfully glide through sashimi before coating it with umami-rich sauces by way of hand-made brushes.
On November 27, Black Ship saw the opening solo exhibition of Paul Amundarain. Those who will be enjoying Miami's Art Basel this weekend should jot down Black Ship Gallery on their routes. Yet, what better way to close off a weekend of art basking than with a profound omakase at Hiyakawa or moments of introspection with seasonal sushi bowls at Wabi Sabi.