South Florida is slowly opening up again after closing for nearly three months due to the pandemic. But for those who aren't ready to venture out yet, there are still plenty of delicious options to make dining at home a little more special. Several of Miami's most popular restaurants have pivoted to take out menus, with many of them creating some of their most well-known dishes in easy and convenient take-home meal kits that involve little to no cooking with easy assembly at home.
Here are seven pre-prepped meal kits available for pickup (and a few for delivery) in Miami.
Eating House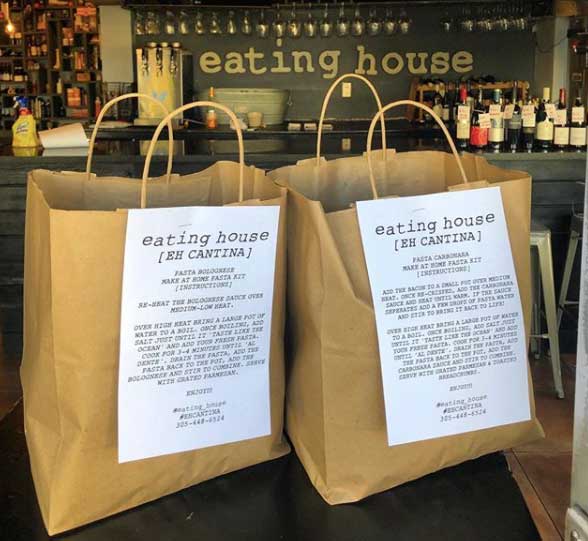 Eating House's famed Carbonara Pasta full of black truffle and cheese can now be eaten at your house. The make-at-home pasta kit comes in three other varieties including Pomodoro, pesto, and bolognese. Each kit is enough to feed four people and includes a mixed greens salad, Parmesan cheese, and custard dirt cups.
You can place an order online or by calling (305) 448-6524. Eating House is located at 804 Ponce de Leon Blvd. Coral Gables, FL 33134.
Fooq's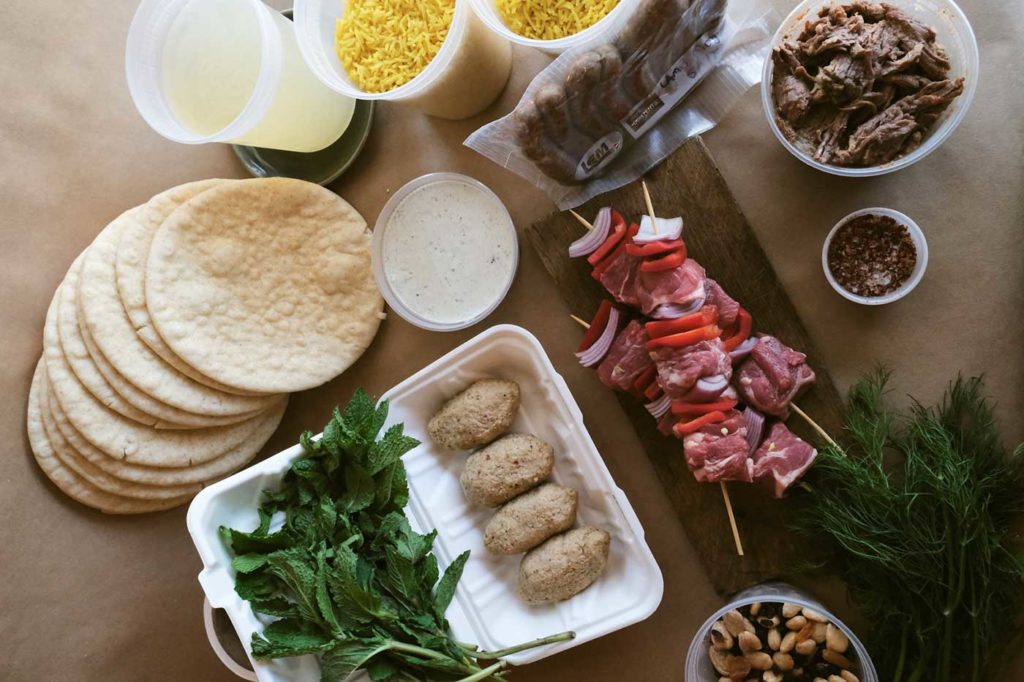 Fooq's has gone above and beyond to create several different feasts available for guests to enjoy while staying safe at home. Each aptly named feast serves 4 to 6 very hungry people and includes everything needed for creating a massive spread. These feast options include a lamb feast, pork & charcuterie feast, snack feast, pasta feast, fresh produce feast, brunch feast, and a dips & spreads feast. The lamb feast includes braised leg of lamb, 1lb of lamb sausage, lamb kibbeh, lamb stock, lamb kebabs, saffron rice, pita bread, sumac yogurt, and all of the seasoning blends needed to prepare various versions of the lamb dishes.
You can place an order online for pickup or delivery. Please note: 24 hours notice is required. Fooq's is located at 1035 N Miami Ave, Miami, FL 33136.
Jaguar Sun
The downtown bar has stayed open after quickly transitioning into a takeout spot with some of its signature dishes and a few new fun ones — hello double quarter pounder. Those missing its rigatoni or cacio e pepe bucatini can opt for ordering it to go as a normal dish or as a cook-it-yourself kit containing two portions of pasta, the sauce, and a chunk of 30-month aged parm to grate liberally on top.
You can place an order online or by calling (786) 860-2422. Jaguar Sun is located at 230 NE 4th Street Miami, FL 33132.
Stanzione 87
Bring a bit of southern Italy home with one of Stazione 87's pizza kits. Available in three styles including Margherita, Salami, and San Daniele — these pizzas are available to assemble on your own at home or can be picked up fully prepared and frozen, just needing to be popped in the oven and baked freshly at home.
You can place an order online or call (786) 360-1852 for pickup or delivery. Stanzione 87 is located at 87 SW 8th Street Miami, FL 33133.
STK South Beach
Craving a juicy steak? STK South Beach has the goods with already prepped meal kits available for two or four people. The 6oz filets are seasoned and ready to grill or broil right at home along with sides of mac and cheese and asparagus that just need to be heated up.
You can place your order online or by calling. STK South Beach is located at 2305 Collins Ave, Miami Beach, FL 33139.
Taquiza North Beach and South Beach
#TacoTuesday can happen any day with Taquiza's build your own taco options in bulk. Order fillings by the pound to go along with a 20 pack of their blue corn tortillas or go all in with the Taco Party Plate that includes two pounds of meat or veggies, tortillas, quinoa salad, elote, guacamole, garnish, and hot sauce — plus 4 non-alcoholic bottled beverages.
You can place your order online or by calling. Taquiza is located at 7450 Ocean Terrace, Miami Beach, FL 33141 or 1351 Collins Ave, Miami Beach, FL 33139.